When most people imagine laser cutting, they envision quirky personal projects or grand scale commercial ones. One of the last places you would expect to see laser cut designs is in a Physics classroom. But thanks to the inventiveness and commitment of one teacher, a classroom of students are now able to grasp the more complex fundamentals of Physics bother literally and figuratively, thanks to Ponoko's laser cut designs.  
In this blog, written by Physics professor Matthew Jacques at Pentucket Regional High School we'll see how Ponoko was able to build the tools, which enabled him to demonstrate his curriculum and ensure pinpoint precision each time. With Ponoko's help, ideas that were relegated to just a textbook came to life with tactility and are helping young minds experiment and learn Physics like never before.
(The following blog has been written by Matthew Jacques, Pentucket Regional High School, edited by Samantha Herald and republished here on Ponoko's blog with his permission)
When I am teaching physics, I always find myself thinking, "I wish there was a lab accessory or device to do this or that." Most of the time the thought lingers for a moment and I simply push on with the materials we have or ultimately discover with dismay the desired equipment simply does not exist. Such occurred when I began the year examining the core concepts of motion. The unit studies how an object change its velocity and distance from one second to the next when accelerating due to free-fall. It is challenging enough to guide the students to the conclusions through inquiry based labs, but it is even more challenging when the equipment introduces extra variables. I purchased a set of gravity drop kits that operate through an original mechanical release mechanism that drop marbles from rest through two CPO photogates. The mechanical release mechanism did not drop the marble from rest and was terribly inconsistent. If a student was not careful, the mechanism would give the marble an undue initial velocity. I instead needed an electromagnet to drop the marble consistently every time. No such mechanisms existed that could easily connect with the CPO base stands; however these could be specifically tailored by laser cutting sheets of woods.
A few years ago, I created a personal project from ponoko.com, a "maker" service that can laser cut materials such as wood, plastic, metal, and more out of varying thicknesses with, of course, laser precision. The premise was simple: a blueprint design could be created using either Adobe Illustrator, InkScape, or Corel Draw, and if a line was "blue", it cut the material and if the line was "red", it would engrave a line. The design process consisted of determining what type of lab equipment was needed, taking measurements to integrate it with existing equipment, and going through design iterations on the computer. Choosing a material and thickness is a critical first step since it drives the overall design and dictates how the sides fit together. I chose a wood laminate, as it was inexpensive, durable, and easily assembled with wood glue.
The cost of any Ponoko order is extremely variable based on the complexity of the laser cutting and the types of materials being used. Luckily, I was able to have an idea of the cost by uploading designs and receiving an instant quote through the Ponoko website. The quote allowed me to optimize the project and cut down on costs. For example, if you have two objects laser cut, by sharing a "cut line" between objects, you reduce the laser time and thus the cost. Certain types of laser cutting such as engraving an area costs far more than just creating an engraved line. Because I ordered the product through my school, I was given a generous 55% discount and a free subscription to their prime service. All in all, the entire order came just shy of $160 and took about two weeks from the time of order to the date of arrival.
The Ponoko order arrived in large sheets of wood which looked like jigsaw puzzles. After removing the paper backing, the pieces lifted out easily. It was a satisfying experience seeing the design on the screen become real and tangible objects. It is most likely the closest thing we have to the replicator on Star Trek. The parts were exactly as I designed them down to the most minute detail. Aside from some light sanding on a few pieces, the majority of the project fit together seamlessly.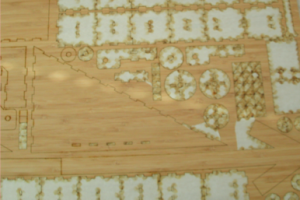 The electromagnetic marble releaser (or EMR) was the most challenging of all the builds due to its technical nature. The EMR uses a momentary switch to trigger an electromagnet and a slide switch to enable an LED indicator. Maximizing its usefulness, the device can fit on either a slanted straight track or vertically on a base stand. As expected, the EMR takes out the human element of releasing the marble and produces a much more consistent release.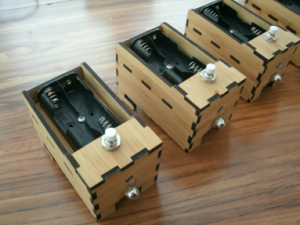 Moving forward, I can only hope to think of and create more laser cut projects for class. No longer do custom solutions need to be haphazardly put together with cardboard and tape; they can instead made with laser precision. If any fellow teachers are interested in learning more or acquiring these designs for your class, please email me at mjacques@prsd.org