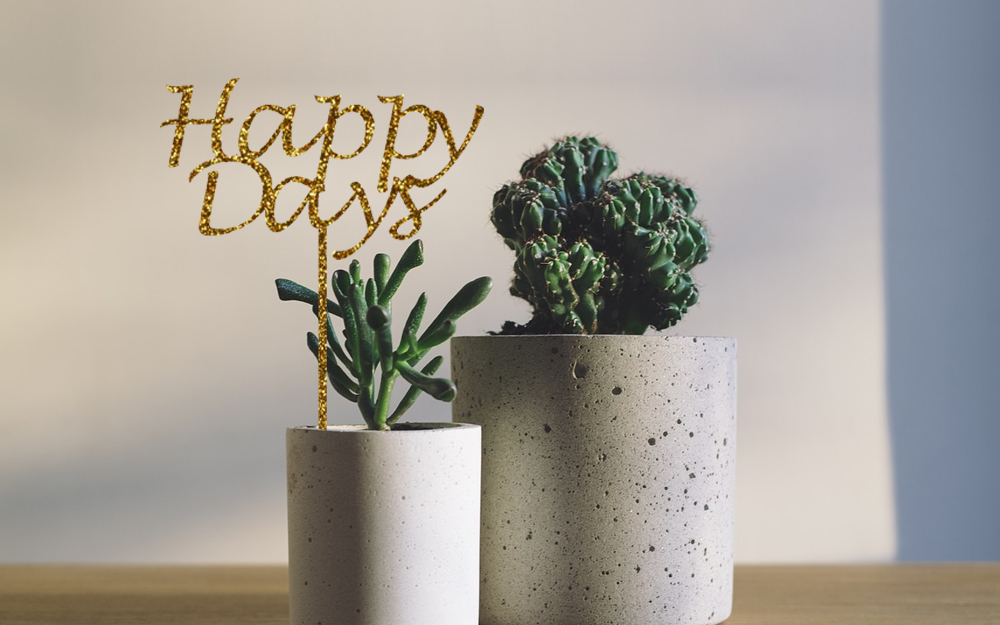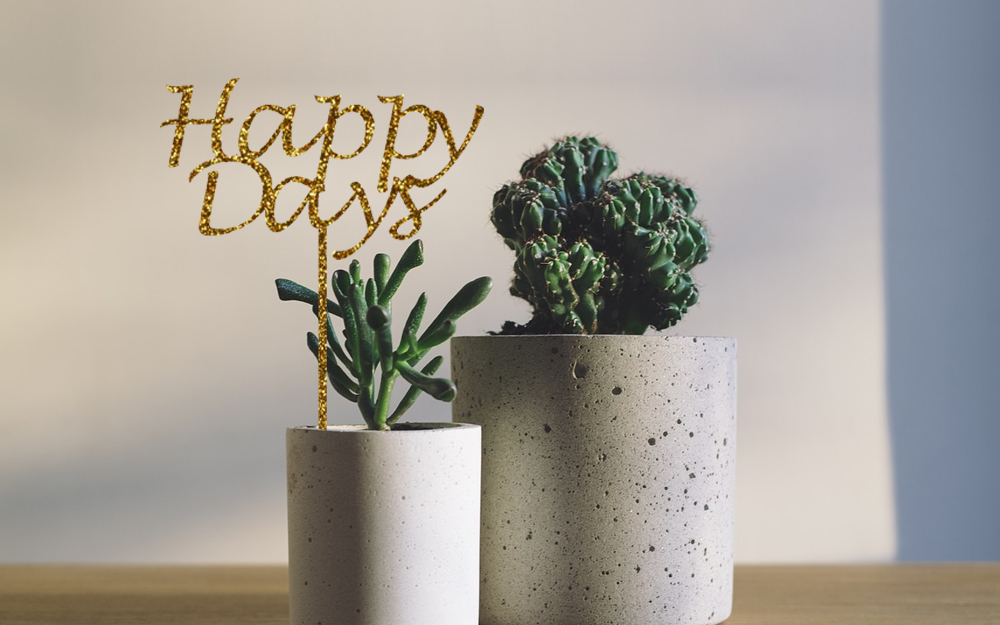 With New Gold Glitter Acrylic Added To The NZ Catalog, Businesses Can Make Their Brands Shine
Looking to add some shine for your next laser cutter project? Hello gold glitter acrylic. With specs of glitter embedded within clear acrylic resin, this new material in the NZ catalog has just the right amount of bling whether you're designing a product to sell or branding your business.
Gold Glitter Acrylic For Signage & Centerpieces
One of the most popular applications of gold glitter acrylic is wedding decorations, such as these Mr. and Mrs. signs that make perfect photo props. You could also hang them from the back of the bride's and groom's chairs during the reception for an extra touch of glam.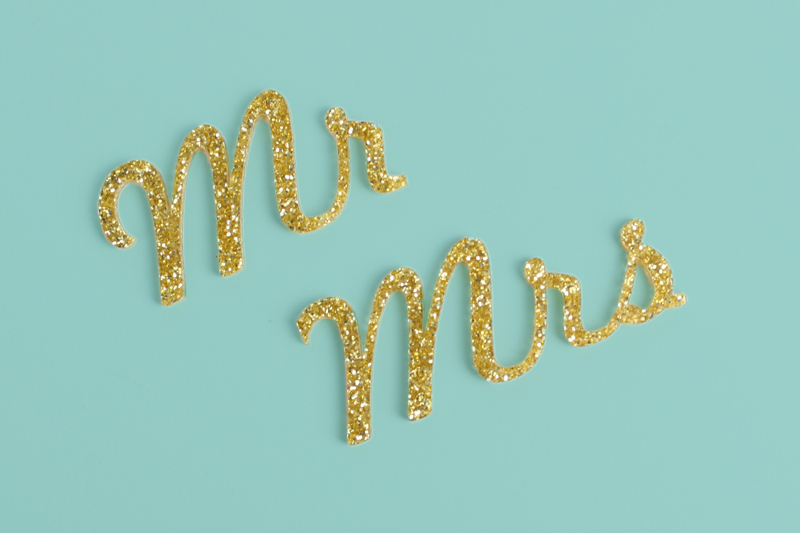 If you need eye-catching centerpieces, gold glitter acrylic has you covered. Use them for table numbers during seated dinners and receptions (weddings, award banquets, sales meetings, etc.). Create word art for special occasions (holidays, birthdays, anniversaries, etc.) to sell on Etsy. You could even laser cut company logos for use in business gift baskets or employee onboarding programs.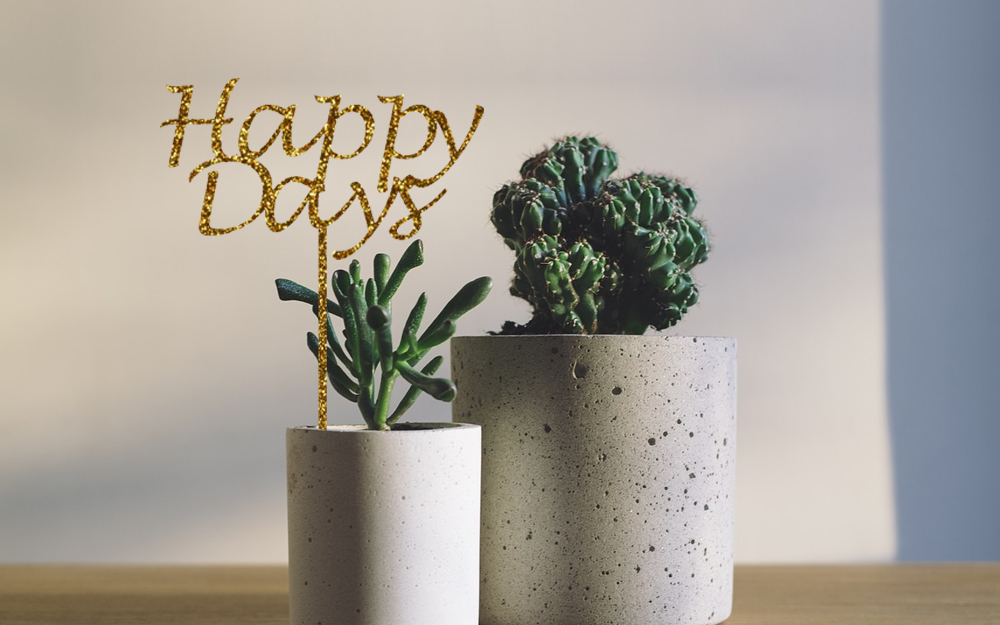 Gold Glitter Acrylic For Jewelry
No conversation about glitter acrylic would be complete without jewelry. This set of three stackable rings is so on-trend.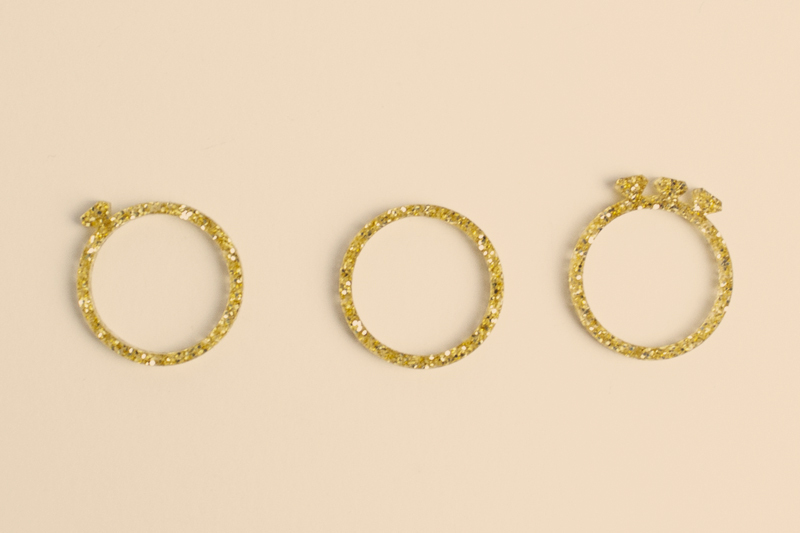 As with any kind of acrylic, geometric shapes laser cut really well. The gold glitter adds just the right amount of sparkle for use during the holidays, at prom—or anytime!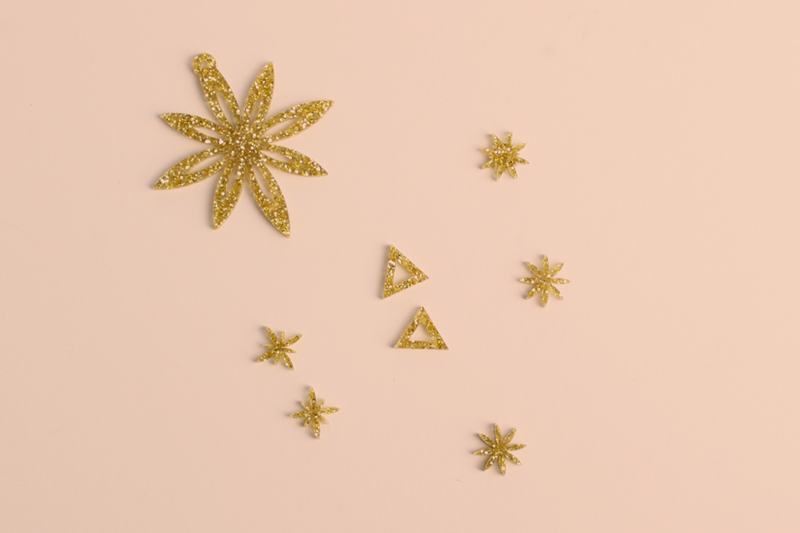 Now Available: Gold Glitter Acrylic
Want your next laser cutter project to shine? Get all the details on 3.0mm gold glitter acrylic for NZ here and grab a sample here. (If you're in the states, don't feel left out. Gold glitter acrylic is also available in the USA materials catalog. Get the 411 here.)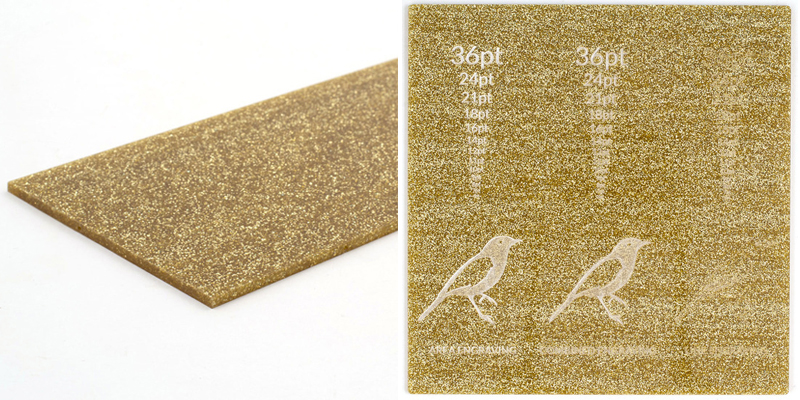 Maker Tips: Due to the manufacturing process, the surface finish on glitter acrylic may not be entirely smooth; there can be divots and scratches. The concentration of glitter also varies by batch, with some sheets having very dense glitter and some sheets having a more sparse glitter pattern.
With this in mind, you'll want to make sure the small details for cutting are a bit bigger than they would normally be constructed on standard acrylics. And if you're planning on engraving, area engraving has significantly better detail than line engraving. Prepare files accordingly.
What Will You Laser Cut With Gold Glitter Acrylic?
Feeling inspired after seeing some examples of gold glitter acrylic can be used? How will you use these new materials? Will you make signage, centerpieces or jewelry like we did? What about custom name badges for events or…robots?! Not gonna lie, a huge gold glitter robot would be AMAZING! Whatever you decide, give us a shout in the comment box and let us know what you can't wait to make!