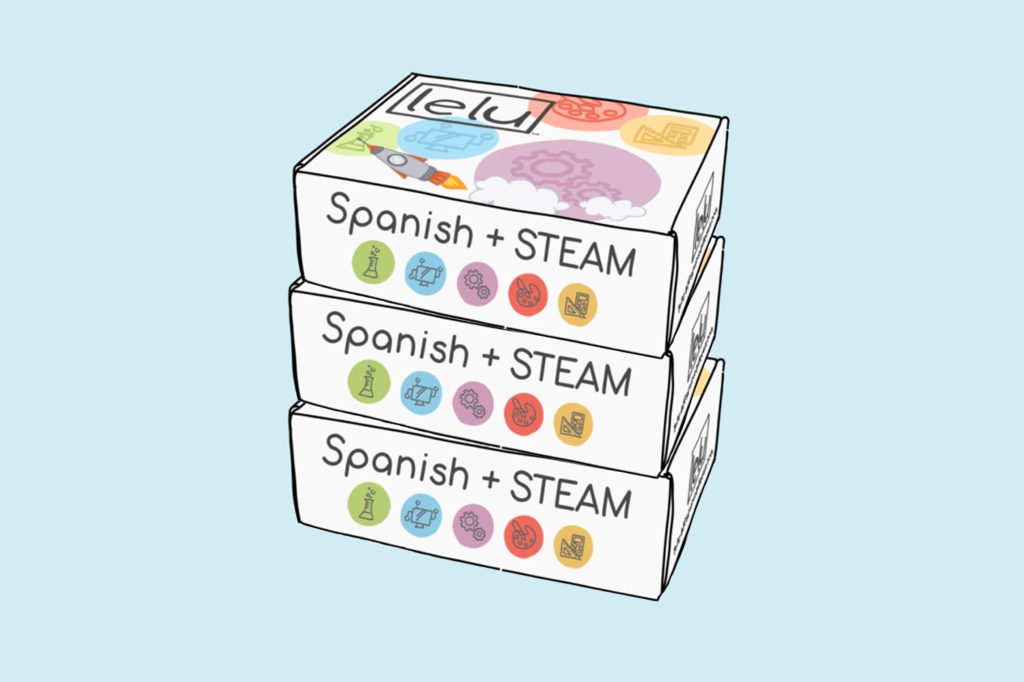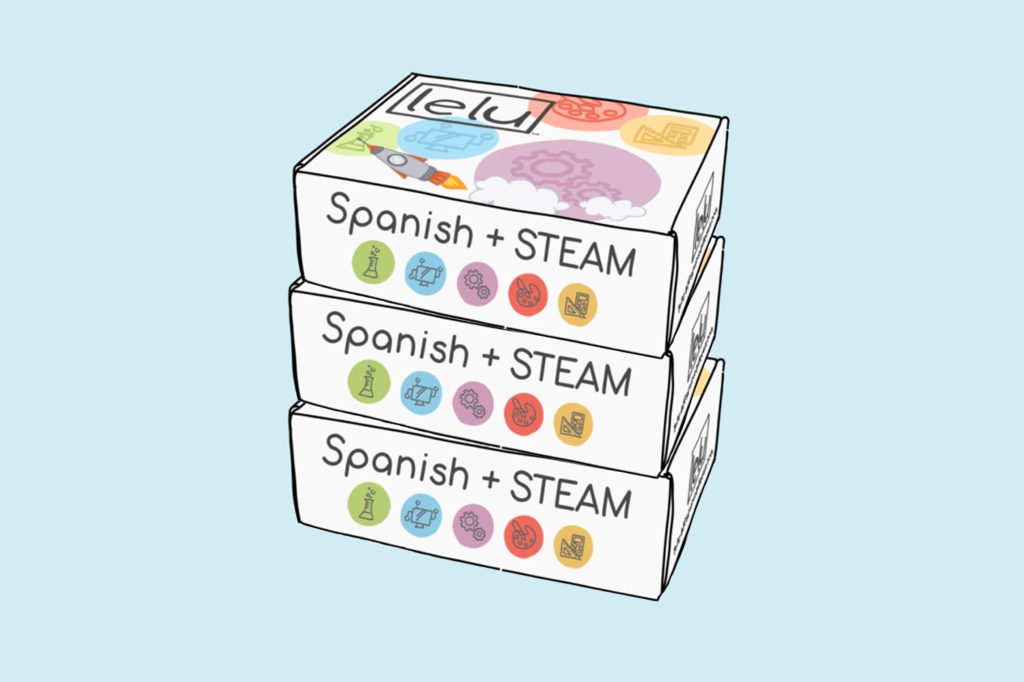 Lelu Combines Language & STEAM In The Ultimate Subscription Box
Lelu is on a mission to make bilingualism a vibrant part of every child's life. Through games, monthly subscription boxes, a digital learning platform and one-on-one tutoring with native Spanish speakers, the California-based company has found a way to supercharge bilingualism for families with elementary aged niños.
Just as they have a unique approach to language acquisition, the way Lelu incorporates laser cut parts into their product lines is unique compared to other customer success stories we've spotlighted in the past. Because the projects and learning objectives in the subscription boxes change each month, so do the laser cut parts required to bring each design to life.
Read on to learn more about Lelu's business model and how laser cutting is the only manufacturing option capable of meeting their monthly small-batch, quick-turnaround needs.
Teaching Spanish And STEAM—With A Twist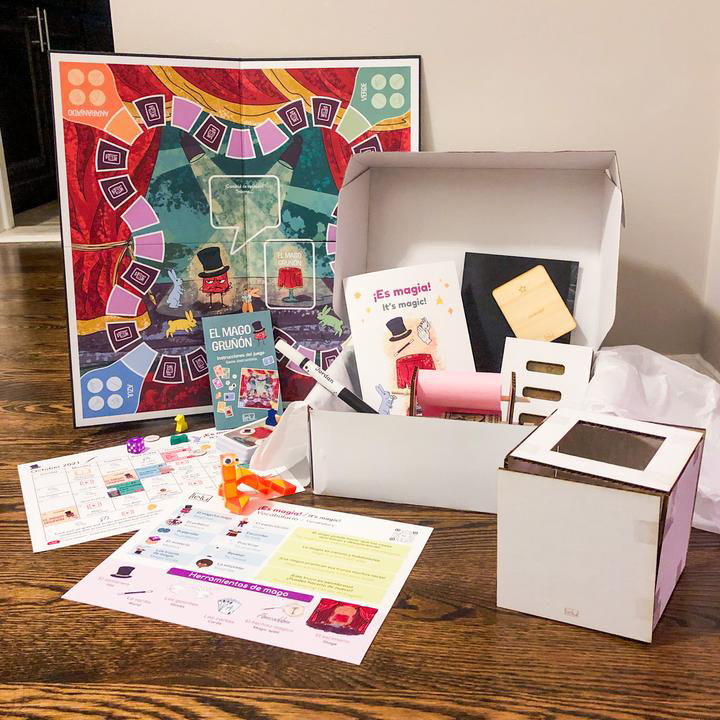 Lelu takes an innovative approach to teaching. Rather than the typical classroom methods of teaching, Lelu's philosophy is that languages need to be lived and, in living them, they are acquired.
While teaching Spanish to children was the impetus of the company's formation, they're doing it with a twist—building the curriculum through the lens of STEAM: Science, Technology, Engineering, Arts and Math. All content in Lelu's programs is written both in English and Spanish with understandable language adapted to children. This kind of multidisciplinary learning increases engagement, boosts retention, is incredibly effective and is significantly more fun for kids and their families.
"There are other products in the market (such as HolaAmigoBox and KiwiCo), but they do not blend STEAM and language learning the way Lelu does, nor do they provide as many entry points to the language," says Mathieu Penot, Lelu's lead learning experience designer. "For example, beyond the hands-on projects, we provide videos, audio guides, card and board games, an original song, conversations with real-life experts, live building sessions, one-on-one online classes and more each week. Lelu makes Spanish fun and meaningful for the whole family by providing a comprehensive framework to make bilingualism a joyful shared experience."
Since Mathieu and the Lelu team are creating new learning experiences each month, they must develop the concepts, design product prototypes, order parts, assemble everything and ship to recipients—all on time and on budget. There's a lot to manage conceptually and logistically, and having a reliable manufacturing partner was key.
To make that decision, they had to evaluate a number of considerations:
Problem: Finding Parts That Fit Project Design Parameters
When designing products for monthly subscription boxes, Mathieu says the main criteria is the capacity for the piece to enhance the educational or entertaining aspects of the project. You could spend hours (if not days) searching online for just the right part. And even if it does exist, there could be issues with required minimums and shipping times depending on country of origin.
Solution: Creating Custom Laser Cut Parts
"Most often, we turn to laser cutting because the piece we want children to work with can't be found as-is on the shelf, either because of a specific shape or because of unusual dimensions," Mathieu says. "One of the advantages of laser cutting is also to be able to engrave certain information on the pieces themselves."
Take the Wind-Up Boat, for example. Through this project, children learned about buoyancy as well as elastic potential energy. Not only did the boat need to be constructed out of a material that could get wet (acrylic, in this case), but it also required specific hole placement so the corks could be secured to the frame. And since the Lelu logo is engraved on the boat, it's properly branded.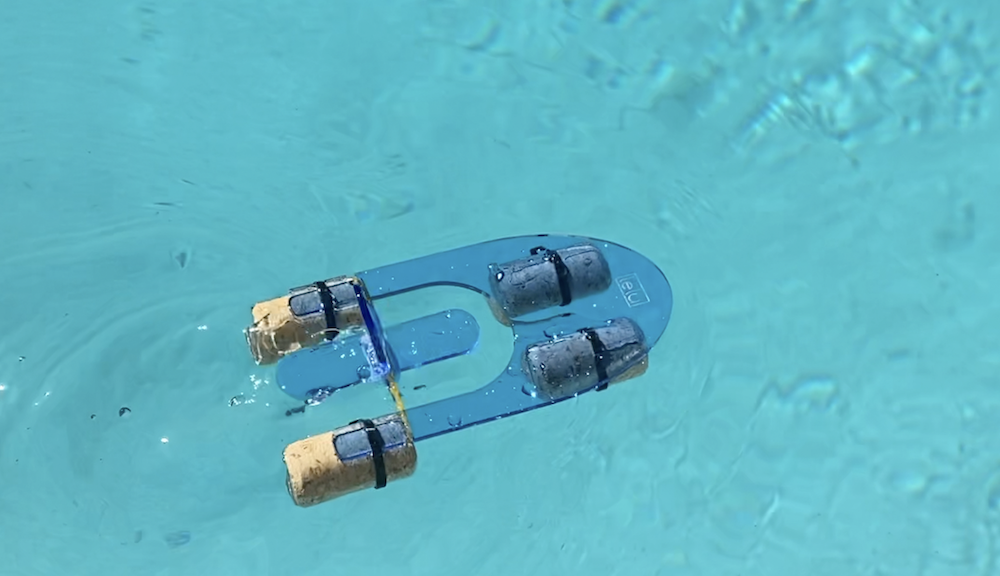 "Laser cutting is the most convenient process to get cardboard, wood and plastic original parts in small batches," Mathieu says. "There is no other alternative that could solve this problem."
Problem: Finding The Right Materials
Because the projects are varied each month, there's no one material that can be used for every build. "We want to create designs that are approachable to children and feel like they can easily manipulate them and learn from the process as well as from the finished product," Mathieu says. "The possibility to use materials such as cardboard and wood that are familiar to children is also something that I was looking for."
Solution: Using Ponoko's Vast Materials Catalog
Having a wide selection of materials is essential for adapting to all the possible project designs. "Depending on the needs, we choose to use either white corrugated cardboard, plywood or acrylic," Mathieu says.
"Usually, we use cardboard when the creation doesn't need to be especially sturdy and to make it easier for children to personalize it by writing or drawing on it.," he continues. "For creations that require more strength, we use either wood or acrylic. The choice is usually based on aesthetics, in particular when it comes to engraving which can be more or less visible depending on the material.
Aesthetics played a role with the July 2021 subscription box that featured Chispita, a mascot celebrating the Olympics.
Each month, we send a different mascot aligned with the theme to accompany the children," Mathieu explains. "Chispita was designed after the Olympic Flame. We wanted a color to make her unique and remind us of the Olympic Flame, so we chose orange acrylic. It was the material that was best suited to give this unique look to Chispita and was in budget."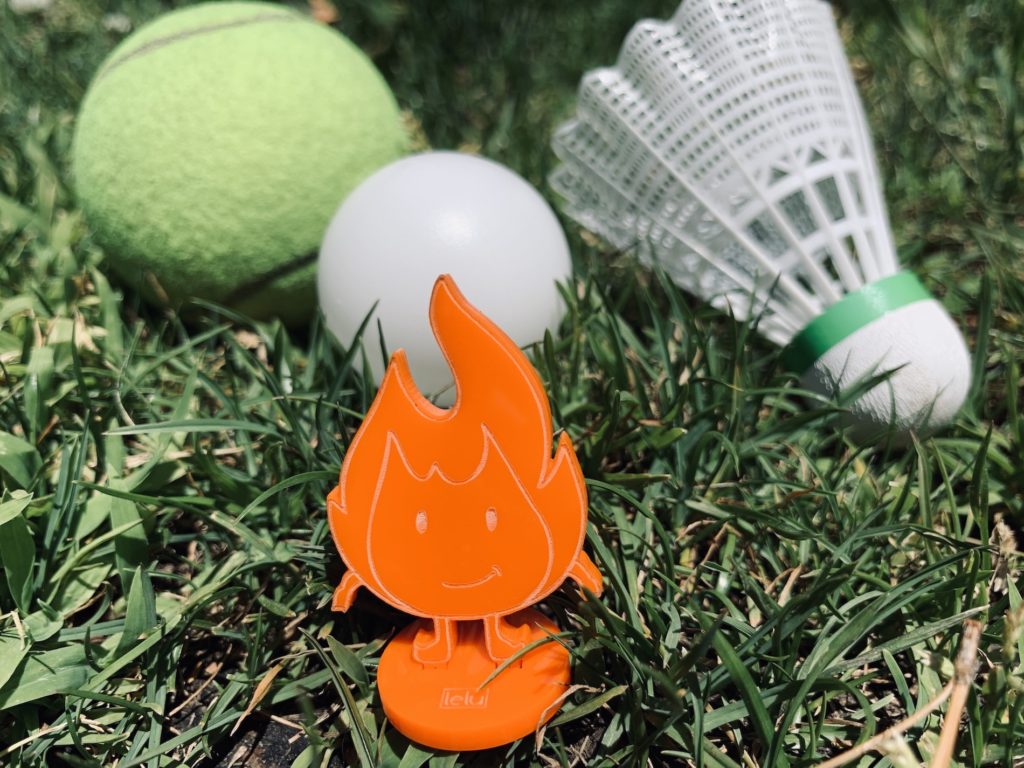 "We initially used the opaque acrylic (above), but then we tried the transparent acrylic (below) and found it made Chispita prettier, therefore this is the one we sent to the families," Mathieu says.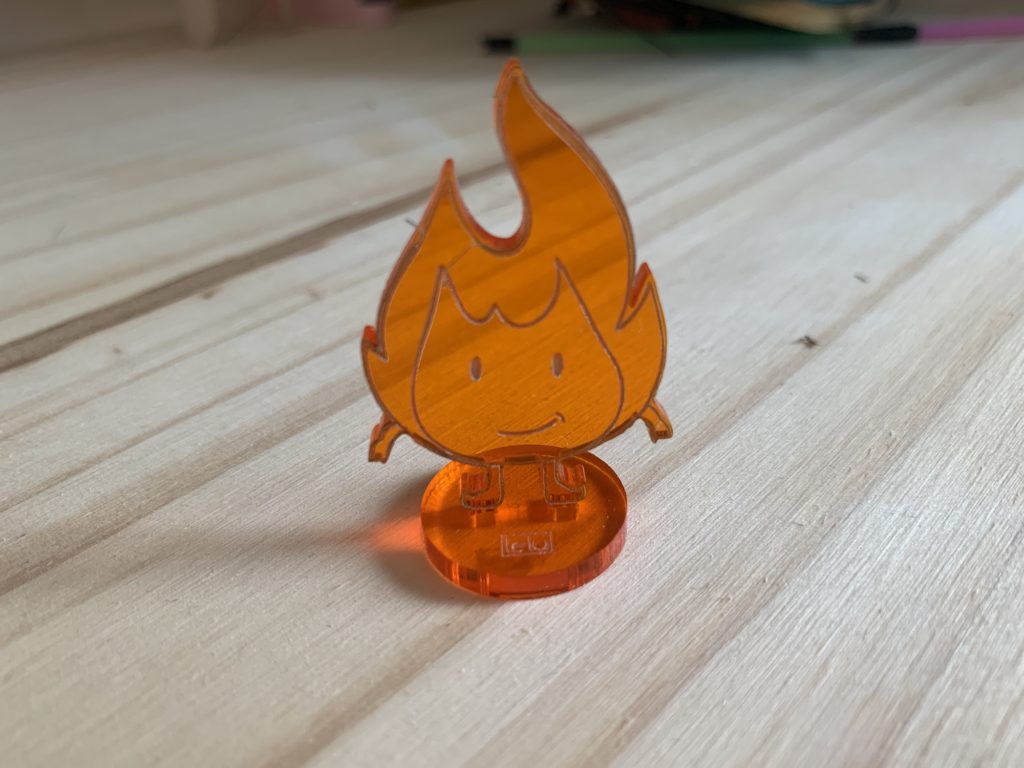 Problem: Determining The Best Manufacturing Method
Laser cutting allows Matthieu to create custom parts from a variety of materials, but he still needs to determine if this means of manufacture fits within budgetary and delivery requirements or if there are other options to explore.
"3D printing is something I've looked into," he says, "but the cost, time to print, limitation in materials and size, and capacity to design in 3D make it non-ideal at this time."
Solution: Choosing Laser Cutting For Speed, Versatility And Budget
Mathieu says that "budget is a major limitation," but small batch, on-demand parts keep costs within parameters. Since there are no minimum quantity requirements when laser cutting with Ponoko, he can order only the quantity required without having extra inventory.
Additionally, there's no tooling or big set ups with laser cutting, which saves money and time. "We are a young company, and we work on tight timelines with new projects delivered to families every month," he says. "We need an extremely fast turnaround to be able to design, prototype, order and put together the boxes every month. Laser cutting is fast and relatively inexpensive."
Mathieu finds it's easy to design for laser cutting, and appreciates the flexibility it provides. "The versatility of the laser cutting process helps to create different types of pieces, whether core to the projects or supporting other materials," he says. "It fits well in supporting the diversity of activities that we design every month, and it also opens more perspective and opportunities while ideating and coming up with unique projects."
Bringing All The Parts Together To Create An Exceptional Educational Experience
Initially, Mathieu did not design with laser cutting in mind, but that's changed. "The flexibility and effectiveness of using laser cut pieces changed the design process by opening up many more possibilities right at the ideation step," he says. "Knowing that I can laser cut pieces informs my design process as early as when I brainstorm ideas."
To get a sense of the projects that kids get to complete with Lelu's program, check out these highlights:
The Balance Scale Project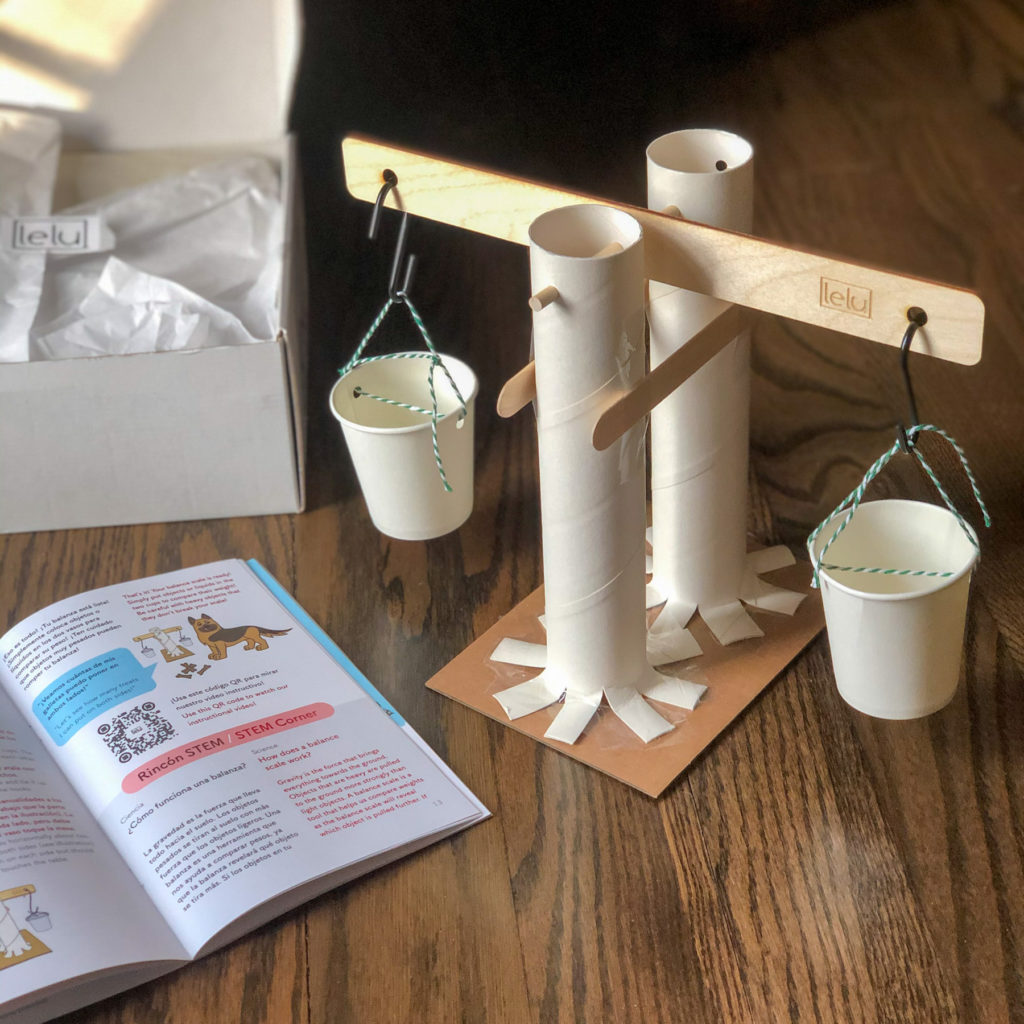 Which is heavier: A single M&M or a gummy bear? With a simple balance scale, children learn about the weights of everyday objects. But that's not all.
"In this project, children learn about the center of gravity (Engineering) as well as data collection (Math) by building their own balance scale and playing with different weights," Mathieu explains. "Because they make the balance scale themselves, they are able to internalize the science concepts deeper."
For the laser cut pieces of the balance scale, plywood was chosen because it is cost effective while still having the right aesthetic and physical properties to make the scales work.
String Marionettes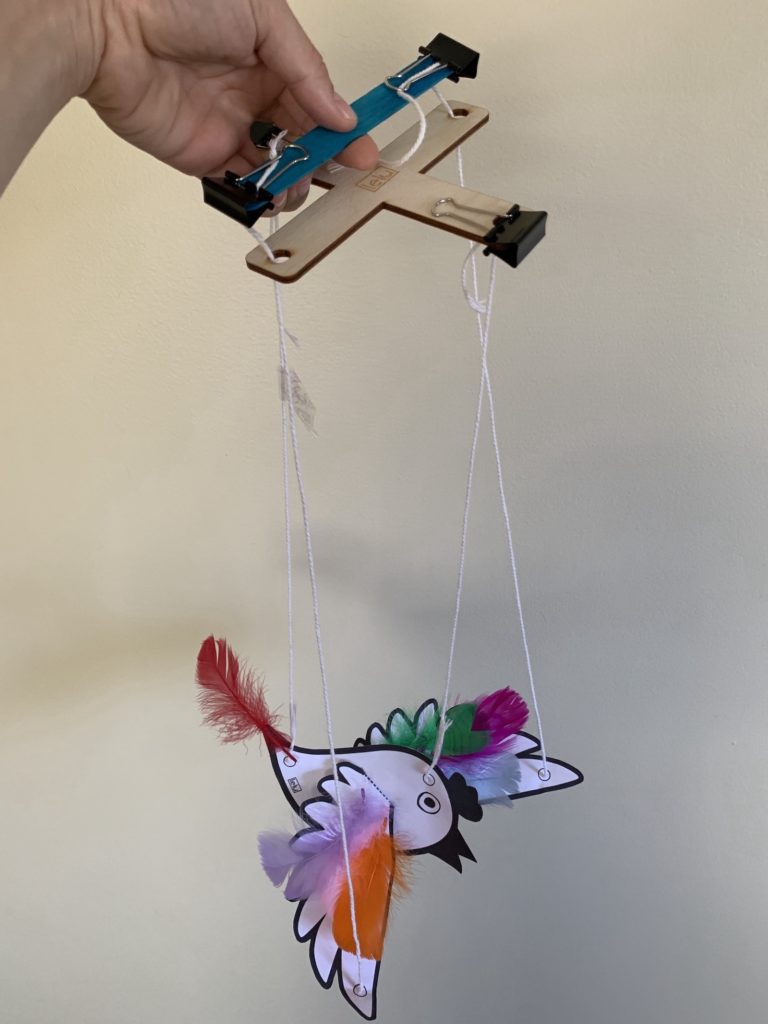 Marionettes are as fascinating as they are fun. In this project, students are able to study the concept of string marionettes (Art) plus learn how birds fly (Science). The experience was particularly memorable for one child. "Six months later, a mom told me that her son was still playing with it, which is a testimony to the impact these projects have with children.," Mathieu says.
Like the balance scale above, plywood was laser cut for the marionette handle because of its price point and attractiveness.
Space Exploration Box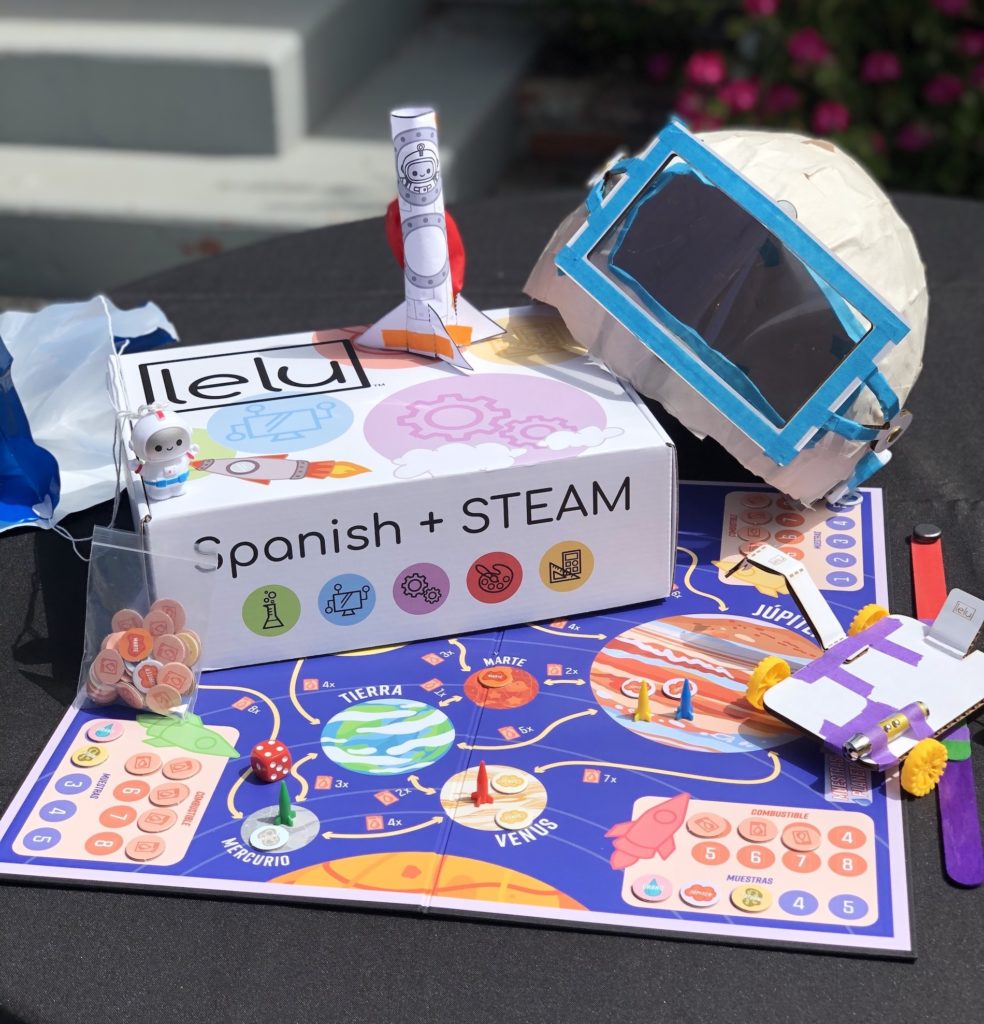 In addition to the monthly subscription boxes, Lelu also offers one-time box purchases like the Space Exploration Box, which includes a laser cut cardboard rover (right side center) as well as laser cut helmet frame (upper right side).
"Laser cutting cardboard enabled us to give the rover the shape we wanted that worked with the wheels and the little magnet at the back (kids stuck a magnet to the part that comes up at the back and made the rover move by placing another magnet behind)," Mathieu says. "Cardboard was particularly useful for the arm because it is easily bendable so kids could do the two folds that make the arm move like a mechanical articulated arm."
Additionally, laser cut parts were used for the frame of the helmet and the two parts that connect the frame to the helmet. "We put together a mechanism that enabled kids to slide the visor up and down," Mathieu says. "All together, it made building the projects easier and more personal to the kids and helped open the door to more in-depth learning about STEAM concepts around the theme of space exploration."
It's Magic Box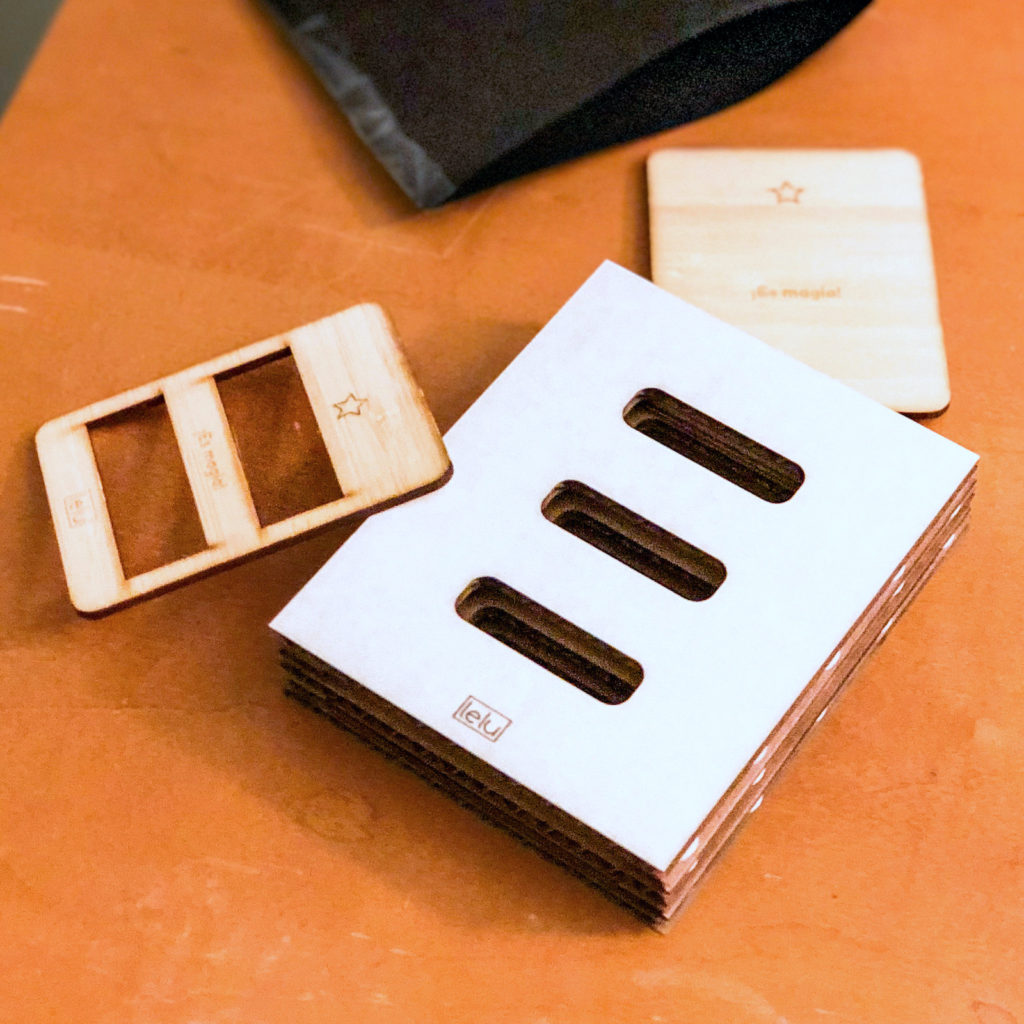 Kids (and adults!) love magic, which is why this one-time box purchase is so popular as a family project. "The laser cutting process was particularly useful for the magic box since you need precise items to do the magic tricks," Mathieu says. "All projects had some laser cut elements that were central to the magic trick."
In the photo above, the large cardboard box with three slots is constructed from nine laser cut pieces. Laser cutting was also used for both wooden cards, one with holes and one without.
"The trick is to insert the card in the cardboard part and make it magically disappear and reappear somewhere else," Mathieu explains. "The kids not only put together the different parts of the magic trick but also learn how to perform it. For this trick, we added learning elements about the difference between making matters and information travel (Science) and explaining how credit cards work (Technology)."
Working With Ponoko
Mathieu first used laser cutting at a makerspace to create pieces for a class project when completing his master's degree at Stanford University. When it was time to find a laser cutting source for professional projects, he took to the internet to search the options.
"Ponoko was the first option we tried, and we were pleased from the beginning with the quality of the parts, the speed of production and the relationship with the customer services," Mathieu says. "It is super easy to use, affordable with no minimum order and is a great way to bring original designs to life."
While he found the order interface straightforward, there have been situations where further guidance was needed. "Ponoko's customer service has been very helpful and supportive for the different last-minute changes and questions we've had," he says. "Additionally, being able to easily check the cost for a new part, make some changes, quote again, etc. online and as many times as needed is very helpful during the design process and to make final decisions based on our budget."
Incorporating Learning Into Everyday Experiences
When you think about how we learn, it's clear that ordinary experiences accumulate to have significant impacts on cognitive networks. Lelu products and programming are designed incorporate using Spanish into ordinary experiences, creating the opportunity for the lived experience that make learning language easier.
It's exciting to see how Lelu creates meaningful topics of conversation and activities to draw children into wanting to listen intently, engage with and reply back to what they're hearing. Thanks for allowing our laser cut parts to be a part of your success story.
Impressed with how Lelu is creating a bilingual hands-on learning environment? Check them out at https://lelu-usa.com/.
Inspired by what the Lelu team has designed and want to start laser cutting for your next project?
Here's how:
1. Upload files to Ponoko to get an instant quote for making and shipping them to you today.
2. Make just 1—or 10,000!