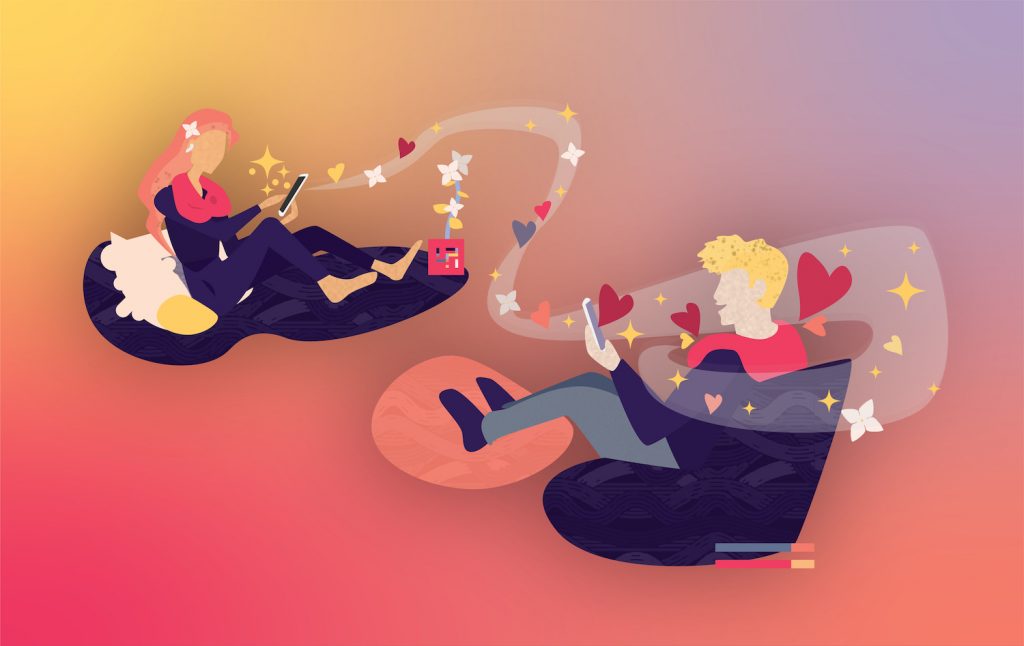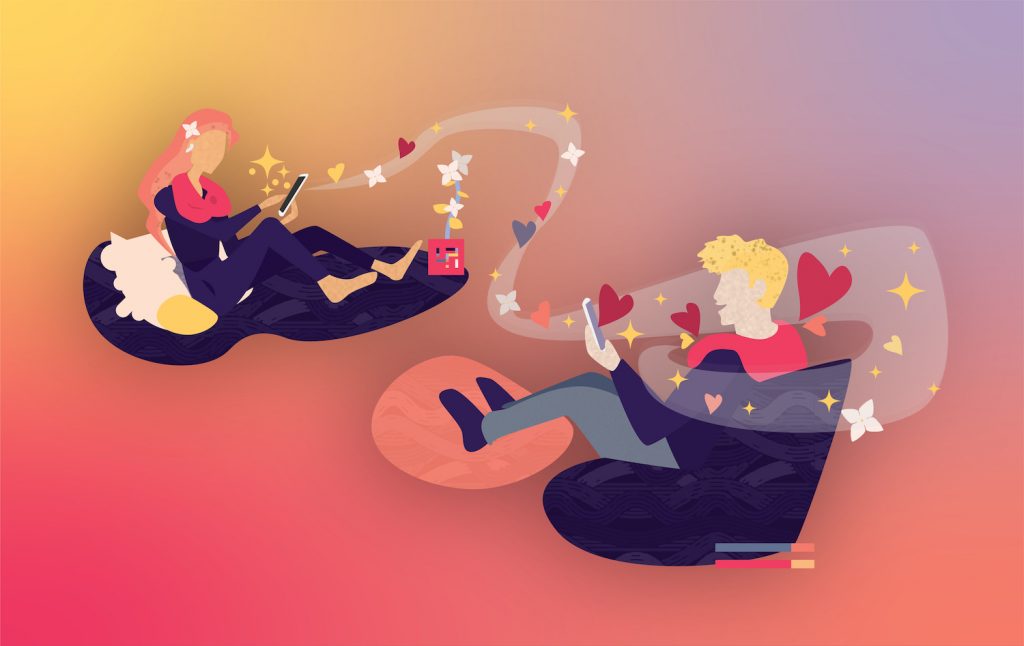 Tangible's "Teleportation Kit" Simulates Hugs, Easing The Pain Of Social Isolation
"Tangible was born out of the most deeply personal experience of my life," says Akshay Dinakar, founder and CEO of Tangible, whose mother passed away from cancer in 2020. Because of COVID restrictions, Akshay and his father were banned from visiting her at the hospital.
"All I wanted was two things; either to physically be in that hospital room to emotionally support my mom or be comforted by my friends," he continues. "But shelter-in-place restrictions eliminated both options."
As harrowing as that experience was, Akshay says he learned something incredible: The secret to human happiness.
"Happiness is a recipe," he explains. "There are four happy hormones that humans experience in life: Dopamine when you earn a reward, serotonin when you feel valued, endorphins when you burn energy and oxytocin when you feel physically close with loved ones. For too long, we've been stuck in this mindset that a video call is the best way to feel present with loved ones over distance. But clearly that's not true, because if video calls were as satisfying as real-life interactions, we wouldn't be sick of social distancing."
Why aren't video calls fulfilling? According to Akshay, they're in 2D and only incorporate serotonin from verbal interaction; the rest of the feel-good hormones are missing.
With that in mind, is there a way to incorporate all the happy hormones into virtual communications? Is there something beyond video calls that can tap into the hormones we need to feel connected? That's what Akshay and his team set out to learn, and they knew haptic technology would play an integral role.
What Is Haptic Technology?
Haptic technology creates an experience of touch by applying forces, vibrations or motions to the user. If you've used gaming systems that click or bump when using game controllers, joysticks or steering wheels, you've experienced haptic technology at the basic level.
However, this field isn't limited to games. Adding the sense of touch to virtual reality experiences could impact everything from physical rehabilitation to online shopping—and how we communicate with loved ones.
If you think being able to simulate touch is difficult, you're right. "Haptics is a notoriously hard industry to enter because of the technical barrier to implementing solutions," Akshay says. "You have to worry about the electronics, the firmware, the software and the way the product is worn. Once you're past all that, there's still a human-centered problem of creating sensations of touch at an abstraction layer that is appropriate: Are you trying to exactly replicate reality or create a new dimension of sensations?"
Throughout the years, there have been a number of immersive-presence devices and wearables introduced to the market. "Many of these items fall into the trap of being over-designed/expensive and still failing to recreate reality, such that they fall into the category of 'too high-tech' and 'not actually useful/effective,'" Akshay explains. "Others are bracelets or wristbands that vibrate. While you can convey a sense of presence to a loved one through a morse code vibration, you can't extract significant emotional meaning in a way that is truly immersive, so those form factors didn't make sense for our use cases."
Instead, the Tangible team seeks to find the balance. "We abstract away the complexity of the tech and instead focus on using design metaphors that are delightful and solve important emotional needs," Akshay says. "It's all about making a sci-fi product feel familiar, almost like the natural or expected solution. In the same way that NASA has made some of the most complex aeronautics and smart clothing design in the world (space shuttle + space suit) feel so design friendly and warm, we want to achieve that for the future of smart haptic clothing."
Introducing Tangible And The "Teleportation Kit"
Seeing the need for friends and family to better connect during lockdowns and knowing that haptics could create a more personal experience, Akshay and his team began looking for solutions.
"We are building what comes after the video call," Akshay says. "We have created a communication medium that incorporates all four happy hormones, and we're calling it our 'Teleportation Kit.'"
The kit is based around the Tangible Telepillow—a neck pillow that feels like a cozy weighted blanket and uses invisibly-nested electronics to create delightfully comforting sensations of touch. The Telepillow uses clever vibrations to trick the human brain into feeling delightfully immersive sensations of touch throughout the users upper body—from a hug to a hopping bunny.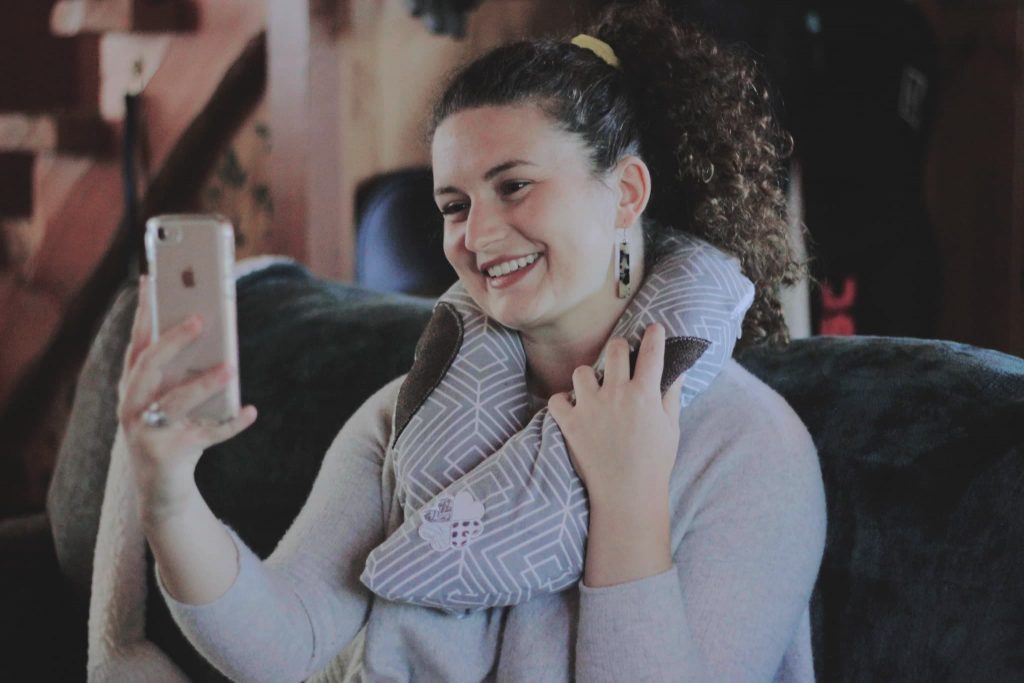 Pair two Telepillows with the Tangible App to form the Teleportation Kit, which gives users the power to physically comfort each other via an augmented-reality infused video call. With intuitive gestures, users can share a hug, blow a kiss, give shoulder squeezes and more. It's a joyfully immersive way to be present with loved ones without physically being in the same room.
"We are passionate about helping distance-separated families and individuals eliminate the feeling of social isolation," Akshay says. "We're currently razor-focused on helping grandparents and grandchildren better connect over distance but are also valuing long-distance couples, separated siblings, single-parent families and military families as ideal Tangible users. We also believe that Tangible can make a big difference in retirement homes and hospital units."
Manufacturing Tangible Telepillows Using Laser Cutting Infused With Haptic Technology
While much focus is spent on the haptic tech, there's more to consider when manufacturing Tangible Telepillows. These smart garments include a number of components: The electronics, weighted beads and memory foam in the middle, surrounded by three layers of laser cut polyurethane foam, which is encased in an inner sleeve of neoprene scuba fabric. This "pillow" has a case made from super soft organic cotton flannel (same material as pajamas) to complete the product. The resulting Telepillow is a beautifully organic, comfortable form factor that feels like a weighted blanket on your shoulders and chest.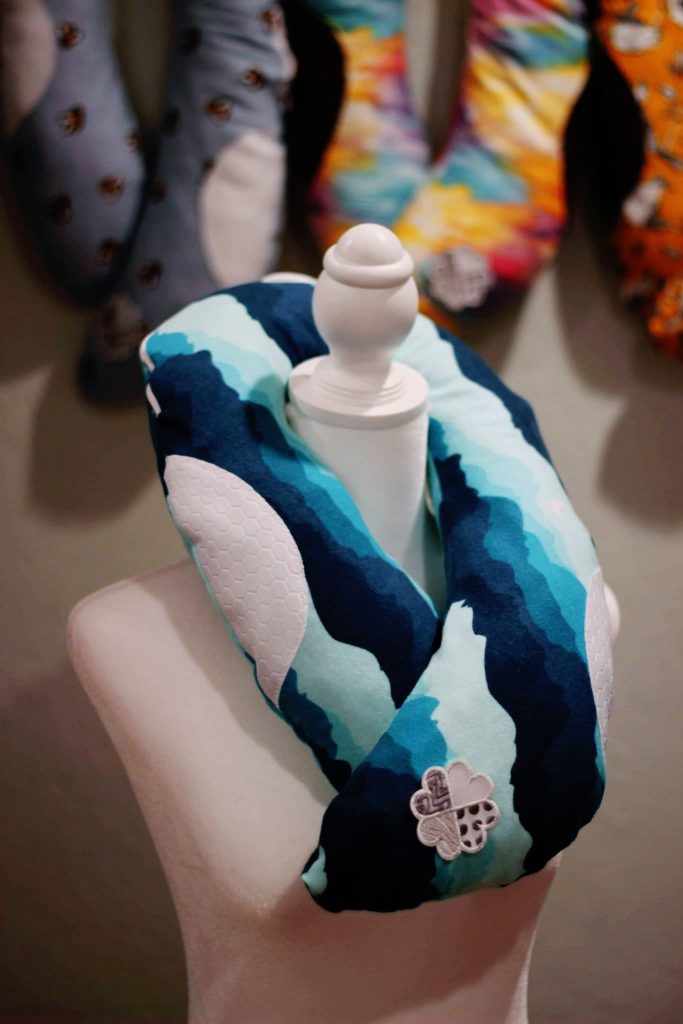 Ponoko was chosen as the laser cutting partner to fabricate the internal foam core, which allows the Tangible team to safely nest the electronics within the garment and create world-class haptic sensations.
As with any manufacturing process, challenges come up and iterations are done to perfect the product.
Problem: Identifying Appropriate Nesting Material
Telepillows are premium quality garments, so the Tangible team needed a nesting material that perfectly blends with the memory foam interior filling while securely holding the electronics and weighted beads.
Additionally, for haptic reasons, they needed a material that provided good draping (also known as "haptic grounding") on the body, one that has a coefficient of stiffness that would conduct vibrations at a high level of precision.
Solution: Using Polyurethane Foam
"We prototyped a lot of materials, and the polyurethane foam was an ideal solution because it provides a luxuriously smooth surface and a nice cushion for electronics," Akshay explains. "Additionally, it has a great stiffness that lends itself well to conducting haptic signals through the foam, which was perfect for our application."
Problem: Determining Consistent And Cost-Effective Manufacturing Method
"As a premium product experience, we really care about automation and reliability of product quality in our supply chain," Akshay says. "Injection molding is good for rigid components (and maybe larger silicone pieces), but terrible for our application. Manually cutting and stitching the foam doesn't work either, as it's imprecise and expensive in terms of labor cost."
Solution: Using Laser Cutting For Polyurethane Components
"Laser cutting was a natural choice, as it gives us a manufacturing process with no up-front tooling costs. Plus, laser cutting allows for quick turnarounds with variable quantities, and it assures precision and standardized quality of each unit," he continues. "In this way, Ponoko has saved us cost and complexity. It's honestly a huge stroke of luck that we're able to avoid tooling costs for large molds and use laser cutting as an affordable and unique option for nesting electronics inside a smart garment."
Problem: Integrating All Design Elements Beyond Haptics
Many people say "haptics is hard" because they think it's technically challenging. "That's true, but the hardest part is that it's actually a very difficult design problem," Akshay says. "We've spent just as much time designing the outside of the garment and how the product is described as we've spent optimizing the interior electronics and software."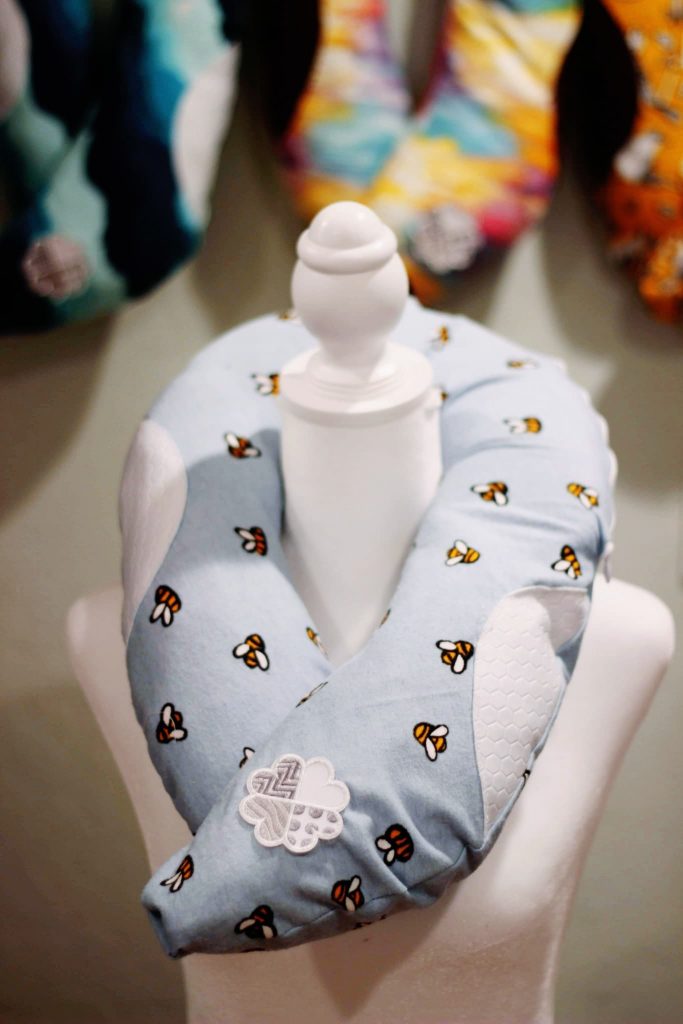 Solution: Prototyping And Iterating Until Desired Outcome Is Realized
In fact, Akshay has been working on solving the problem of creating a "joyfully immersive connection over distance" for about two years, building everything from stuffed animals to smart jackets to haptic gloves and prosthetics. Ultimately, about a dozen cycles of design + manufacturing iteration have led his team to this current concept they're thrilled about.
"We have been using polyurethane foam to test the design for about the last six to eight months; it's worked great!" he says. "We had to overcome the problem of nesting electronics in a way that they are physically and visually 'invisible' to the user; they should neither feel nor see the electronics hidden within the garment. When the garment is moved, bent, waved around, etc., it's also important that the electronics do not rattle around or potentially shift locations. This has been one of the areas where we've had to prototype using multiple layers of foam as well as different nesting and sealing techniques."
Working With Ponoko
When Akshay was looking for laser cutting services, it was the customer service + easy quoting and ordering that initially drew him to Ponoko. He stayed because of so much more.
"Ponoko is a startup-friendly, tech-savvy, emotionally-intelligent manufacturing partner that every designer wishes all vendors were more like," he says. "They place great intention in building authentic relationships with their customers and makers by supplying world-class customer service, speedy production, transparent pricing, incredible materials selection and great packaging. Ponoko has been able to serve as our one-stop-shop for early stage prototyping and our larger-sized production batches. I'm a happy repeat customer!"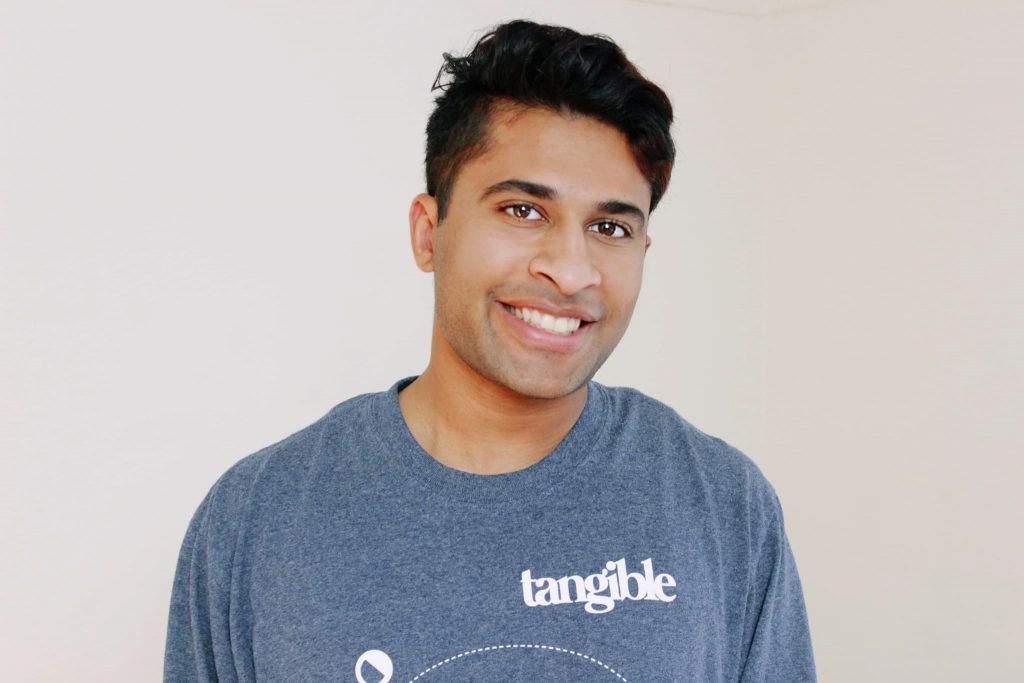 As Akshay mentions, this isn't our first time working together. In January 2019, we profiled his work on the Stikato, the world's first music stand that can stick to any surface and support the weight of an entire binder of music. As an internationally touring violinist, he's been able to put his love of useful engineering solutions to work in that space as well. (Read all about the Stikato project here.)
Between his work on the Stikato and with Tangible, what has Akshay learned about the benefits of incorporating laser cutting in the prototyping phase as well as into the final product?
"Regardless of what you're building, it's a great exercise to think about your creation as a laser cut assembly of 2D components," he explains. "It forces you to simplify your design, think about structural strength and durability, and develop a sense of how the pieces will all join together to form a functioning system.
"Ponoko is an amazing interface and manufacturing partner to use when exploring this kind of approach," he continues. "Making a laser cut component through their interface is as easy as designing a t-shirt on Custom Ink. Create a design using a wide array of compatible softwares/file types, upload it, customize your material and get an instant quote."
What advice does Akshay have for other engineers who are considering laser cutting and want to get the best pricing? "Combine part designs together," he says. "We use multiple layers of foam that stack on top of each other, which allows us to share elements across the top and bottom layer and use the same design on both. This saves cost based on quantity."
An additional tip: Make all your corners rounded. "It's better for structural strength of your parts and also results in less cutting distance/complexity," he says.
Taking A Leap Forward For Humankind
Growing up, Akshay always knew that his eventual career would be centered around humans and creativity, whether that was in engineering, marketing or design. In early high school, he was actually fairly convinced that he would become an architect. "I used to get in trouble with teachers for doodling blueprints instead of taking notes in class," he reminisces.
A recent Stanford University graduate (B.S. Product Design 2019) who fell in love with his major on the first day of college, Akshay believes that his work today still shares several core similarities with architecture in that it:
1. Satisfies the needs and wants of a particular target audience
2. Makes the most of a specific set of resources or human capital
3. Creates a cultural artifact; something that is impactful, lasting and beautiful, plus is designed with the next generation in mind
An impact-driven designer and entrepreneur, Akshay is passionate about emerging physical interfaces and constantly asks himself, "What comes after the iPhone?"
He's also a big believer in the human-centered design process. "As designers and engineers, our team at Tangible loves low-resolution prototypes and 'building to think,'" Akshay says. "We treat everything as an experiment and are very data-driven, fusing the worlds of statistics, social psychology and ethnography in our user research efforts."
This mindset is serving them well as they seek to define new ways of using haptic technology to enhance the human experience. "We think reality is beautiful and that the best use of haptic technology is to allow us to experience new sensations we couldn't before rather than try to replicate what's already there," he says. "Tangible will be able to let you feel a fairy-dust tingle, a spaceship traveling at lightspeed or a hummingbird flutter."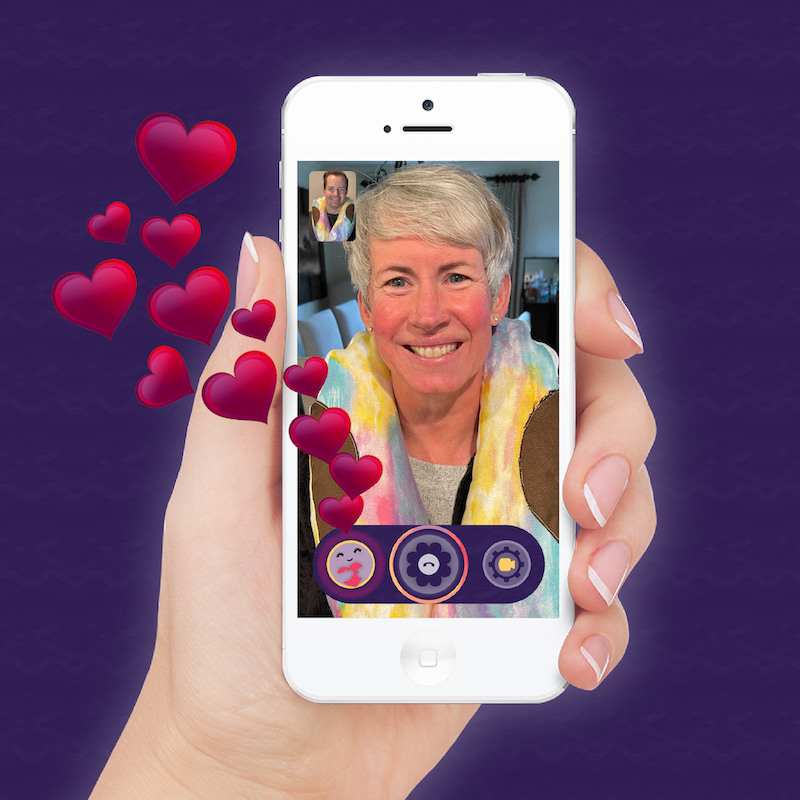 Whether you look at Tangible as a consumer hardware company or see it as the world's next communication medium, they are inventing the future of immersive communication beyond video calls. Akshay sums it up: "Our team is on a mission to 'take a leap forward for humankind' in the way we can create communication technology that better connects humans-to-humans over distance rather than humans-to-computers-to-humans."
---
Interested in experiencing the Tangible Teleportation Kit for yourself? From February 14 to March 15, 2021, they're taking preorders—with an early-bird discount—here: https://www.tangible.team/preorder.
---
Inspired by what Akshay and the Tangible team have designed and want to start laser cutting for your next project?
Here's how:
1. Upload files to Ponoko to get an instant quote for making and shipping them to you today.
2. Make just 1—or 10,000!