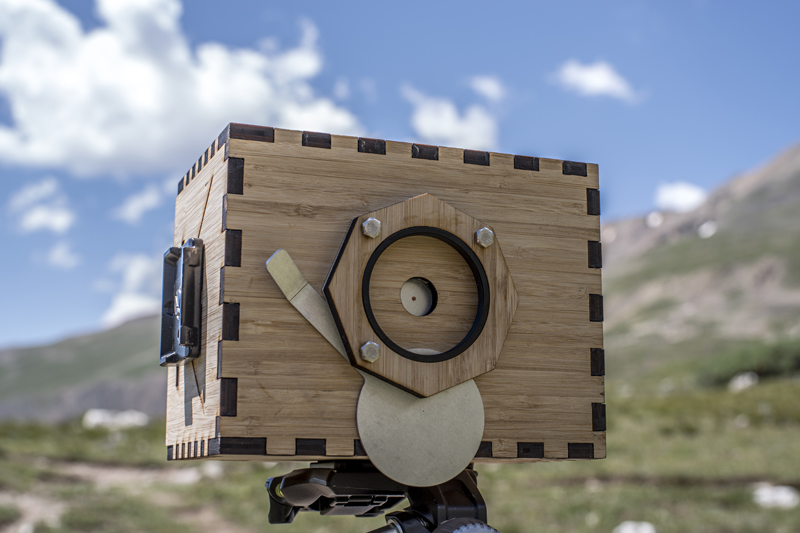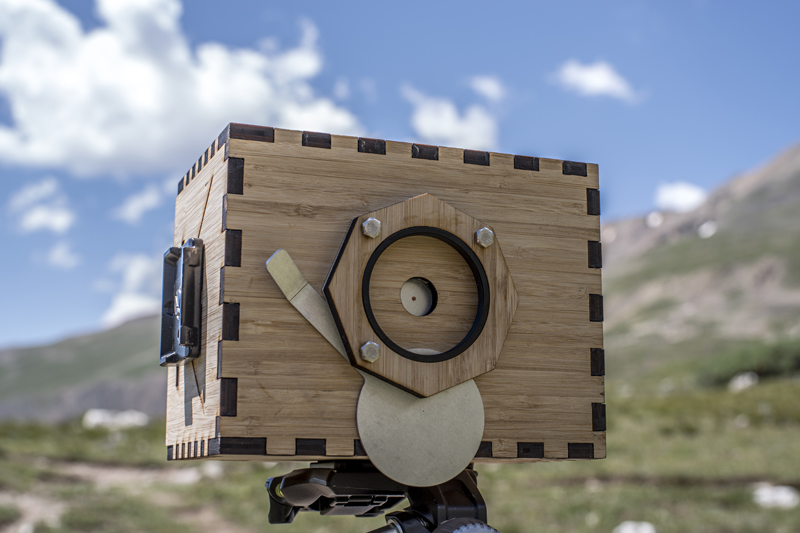 Developing A Pinhole Camera Anyone Can Use
Modern cameras don't provide photographers who have accessibility challenges the ability to create photographs easily. Photographer and YouTuber David Hancock developed this Kickstarter project to address that very real problem. His project aimed, from the onset, to make cameras that anyone could build and use at home. Specifically he was seeking to restore for photographers who have lost, through health or injury, their ability to explore their creative vision.
David first approached Ponoko with project designs in early 2019. He developed and refined every aspect of the cameras through multiple design generations (he lost count on how many!). Each iteration presented a new set of improvements that simplified and streamlined camera construction and use. Ultimately, David developed cameras that use a pinhole, a fractional-millimeter-diameter hole through thin metal that focuses light just like a camera lens. The cameras also use traditional photographic film in common sheet film formats. This setup produces stunning visual results and also means they can be assembled and used by almost anyone.
Photography and Accessibility
Cameras and cell phones share a major accessibility flaw: small dials and buttons. Photographers with arthritis, damaged limbs, or poor eyesight often struggle to use cameras. For photographers who lost mobility, dexterity, or vision, that loss also impairs access to a hobby or profession. This project uses parts that fit together easily to deliver quality images. Oversized text and composition guides on the cameras provide photographers with the ability to use the cameras easily and reliably to deliver predictable results.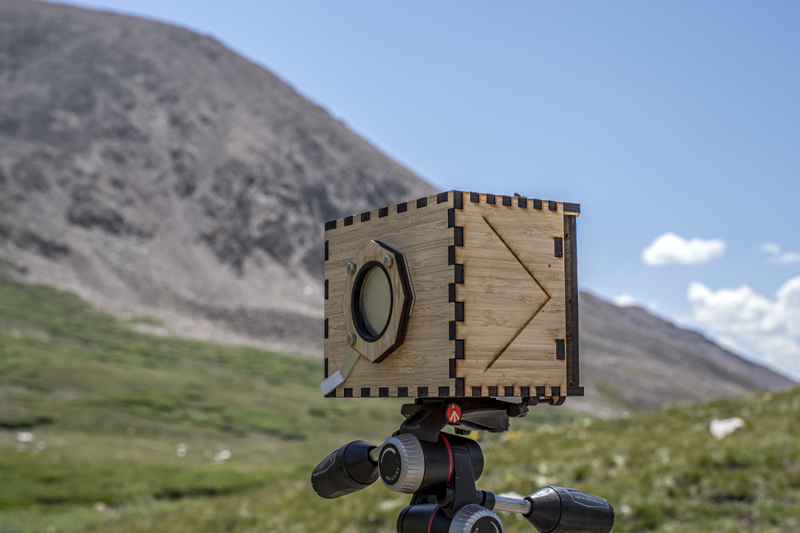 The photo above shows some key accessibility elements. For photographers with limited dexterity, the aluminum shutter features a bent-outward handle for easy use. The shutter resistance, adjustable with a pliers or fingertips, allows photographers to set the resistance to their needs. Thick, dark sighting lines allow photographers with almost any visual capacity to view a scene and understand what in that scene will be recorded on the film. Internal felt linings, designed with overlapping flaps, allow anyone to put this together and know their camera will be lightproof. Lastly, the thick, 6.7mm bamboo pieces can only be correctly assembled one way, and the parts fit together easily. The cameras assemble so easily, in fact, that they need only be held together with rubber bands while the glue sets, not clamps.
Supporting Photographers' Creative Visions
The above points address only the features that increase camera usability; these designs also allow photographers to express great creative vision, too. Using sheet film, pieces of film as large as typical photo prints, provides great creative control over image composition and appearance. Using a pinhole instead of a lens requires very long exposure times – up to six minutes for one of the camera models. Also, the cameras accept standard film accessories to allow improved expression of photographers' creative vision. And because the laser cutting provides high accuracy, the cameras consistently deliver predictable images as all the parts align within fractional millimeters of perfect component placement. This last point also means that the pinholes used in these cameras deliver the best images they can.
Below, the photo shows an image typical of what the smallest of the cameras can take, with no editing or corrections. The long exposures blur water and movement in trees. With the largest camera model, cloud motion can blur. Pinhole cameras, by their nature, work well as landscape cameras. They capture dramatic, slightly soft images that allow photographers to create images that convey a sense of the feeling of a place, more than just a simple snapshot.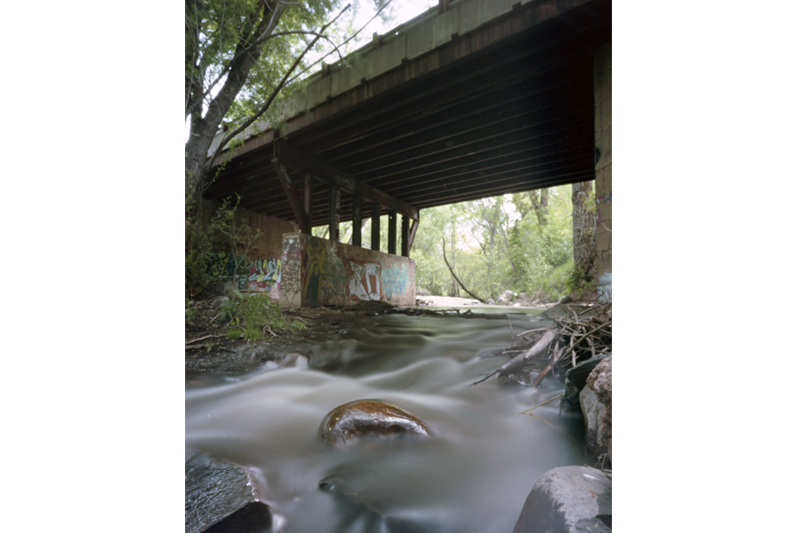 Creative Design
Designing a line of cameras from scratch allowed David an element of design freedom. In addition to designing the cameras around peak performance for their film size, David used laser cut components to explore a new camera format. This line of cameras includes a unique design developed by David to shoot images in a way that no other camera has ever done before. David developed a panoramic camera, based on a common format, and a sample image appears below. That camera can also take two smaller images at once when loaded with a different film size. Insofar as David could find, no one had ever tried this before. This camera shoots multiple formats without a significant configuration change, preserving use access and interface simplicity. This is another unique feature that has made his Kickstarter quite popular.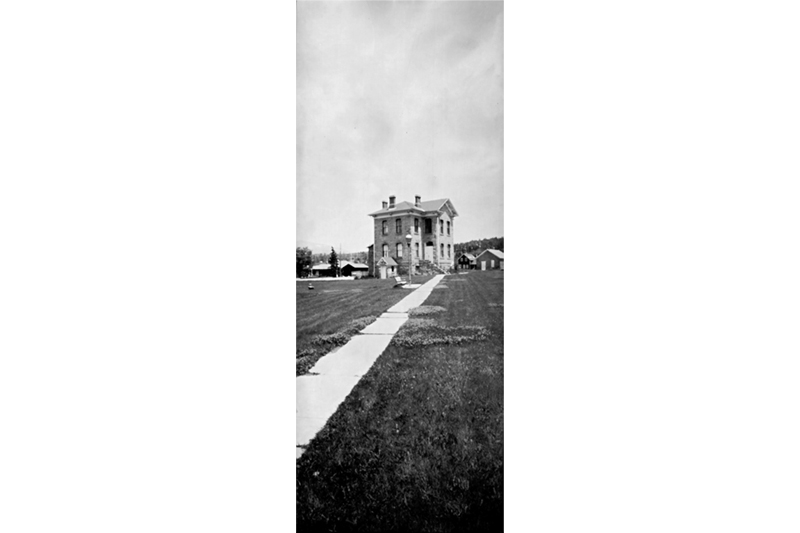 Ponoko as Partner
We asked David why he chose to work with us. Simply, he said, because "…the customer service always excels. My questions receive fast and complete responses and I enjoy talking with the Ponoko team. Talking with the Ponoko team, it's not like talking with most customer service teams, who might as well be artificial intelligence, if they already aren't. Ponoko's people are helpful, knowledgeable, and friendly. Ponoko's team lets me know that I'm valued as a project partner."
David also noted that working with Ponoko allowed him far greater tolerance control for designs than would 3-D printing. "My laser-cut designs have tolerance accuracy to within a fractional millimeter or the optimum focal length for each camera. Ponoko's laser-cut pieces have performed consistently across each design revision, which lets me know that when my customers receive their cameras they will have a predictable and reliable product."
Ponoko is proud to make more than 97% of the materials for this product. We cut the 6.7mm-thick bamboo plywood housings, interior liner felt that ensures the cameras are lightproof, and the aluminum parts for the shutters. These parts combine to create cameras that give back creative photographic vision to those who struggle to maintain it through changes in health or ability. This project truly demonstrates the power of creative design coupled with precision production to enhance photographers' abilities to explore their creative vision.
Learn More About this Kickstarter
If you'd like to learn more about this project and get one of these cameras for yourself, check out the Kickstarter here. The campaign is running for August 2021.
Inspired by what David has designed and want to start laser cutting for your next project?
Here's how:
Upload files to Ponoko to get an instant quote for making and shipping them to you today.
Make just 1—or 10,000!