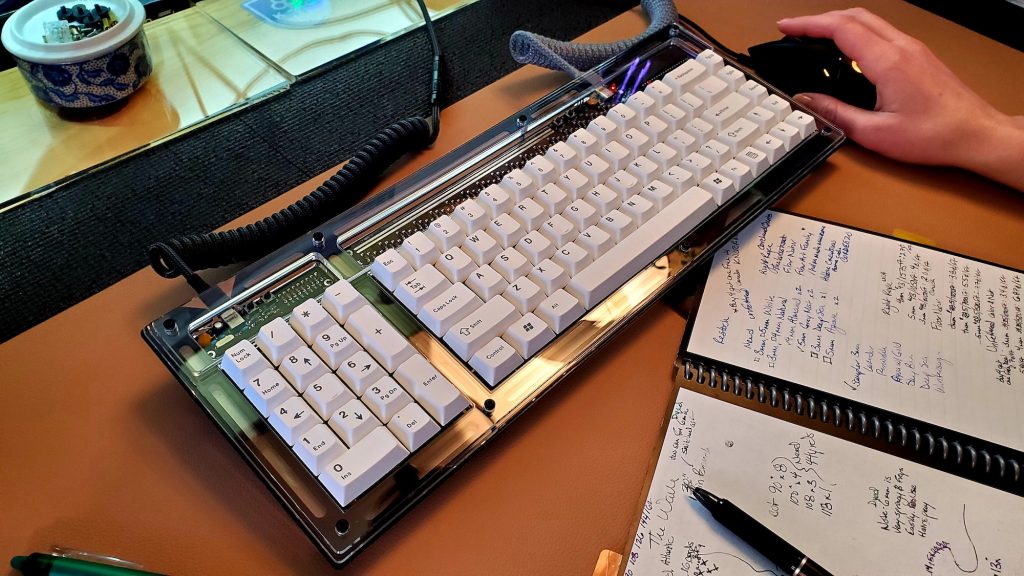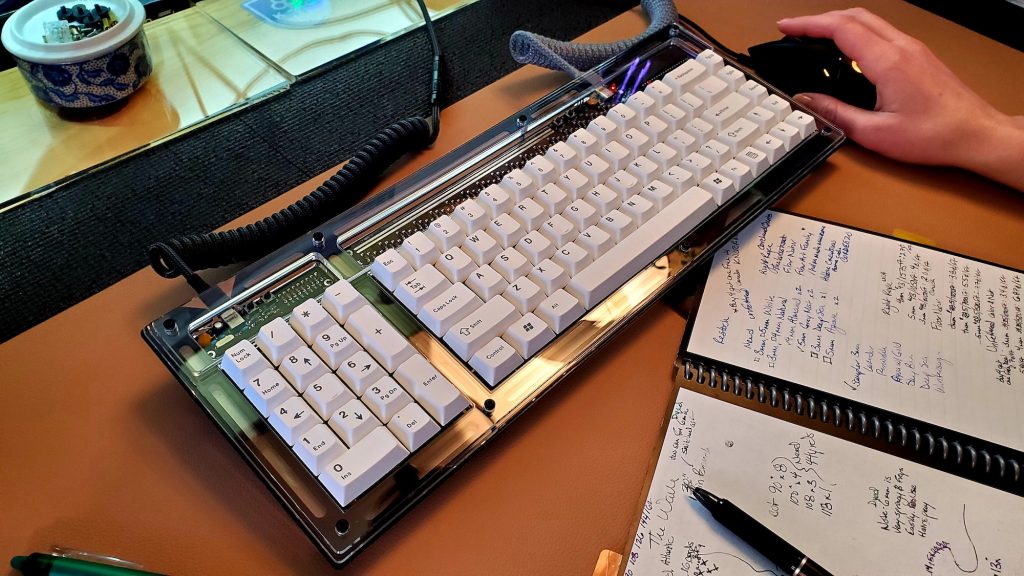 Limbo Keys Builds Laser Cut Custom Mechanical Keyboards For Working, Learning And Gaming
When the lockdowns from COVID-19 hit in the spring of 2020, Bryan Callaghan, like most people, had a lot of time on his hands. Rather than binging his way through the entire Netflix catalog, he focused even more intently on his online computer science courses that began in January 2020. In doing so, he discovered the mechanical keyboard niche.
"With hundreds of thousands of people suddenly required to work from home, there was a massive wave of demand for all technology and components people needed to telecommute: Computers, laptops, microphones, headsets and keyboards," he says. "I saw the demand and interest in customized mechanical keyboards spike, so I tried making my own and fell in love with the assembling process. I sold a few of these first hobby keyboards in Spring 2020. I enjoyed making them so much and they were so well received that a business naturally came together, so I ran with it!"
As a mechanical keyboard artist and founder of Limbo Keys, Bryan designs and builds custom PC peripherals with a focus on custom mechanical keyboards. His debut product is the Limbo Keys Sidecar Acrylic Case, a stacked acrylic case designed to house two of the most iconic PCBs in the mechanical keyboard community: The CFTKB Discipline 65 and its companion, the Discipad.
"Their form factor is a 65% mechanical keyboard and a 17-key mechanical number pad, respectively," he explains. "My product is the very first dual PCB case the mechanical keyboard market has ever seen, and I am sincerely grateful to have been able to work with Ponoko to make my vision come to life."
Introducing Limbo Keys Custom Mechanical Keyboards
Like many budding entrepreneurs, Bryan started his new business venture out of the spare bedroom of his Beverly, Massachusetts home. But unlike many new businesses, he didn't have to look hard for initial customers. "I started receiving tons of custom mechanical keyboard commissions," he says, "which inspired me to start designing my own stacked acrylic cases."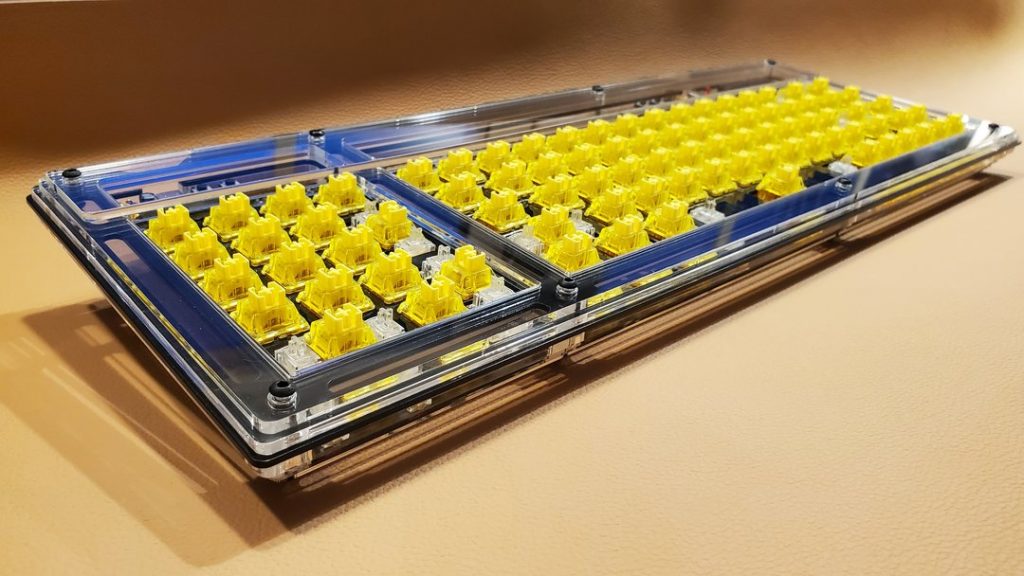 His creative process starts with problem solving, and when it comes to building custom mechanical keyboards, there are several considerations:
Problem: Creating The Overall Design Aesthetic
An artist for many years in Tucson prior to living on the East Coast, Bryan has historically created products using agave, wood, crystals, gems, resins and glass. He had to translate what he knew working with organic materials into a design that made sense within the inorganic nature of tech.
Solution: Building A Stacked Design
"Designing comes easily, but often I need the designs to catch up with my ideas," Bryan explains. "I came up with the stacked design to achieve the look I wanted— modern, raw, industrial and sleek. The design consists of eight layers of stacked acrylic arranged with a tapered offset of about 2mm for every layer. What I'm most proud of are the precise tolerances in the design. Ponoko's precision laser cut acrylic was instrumental in finalizing my designs."
Problem: Identifying Appropriate Materials For The Stacked Design
While Bryan is interested in incorporating wood, steel, brass and copper, it was clear that acrylic was the right choice for the first Limbo Keys design.
Solution: Choosing Clear Acrylic
"I was pretty set on acrylic, as it was the only material I could use to achieve what I wanted in my designs," he says. "Clear acrylic highlights the hand-soldered diodes on the printed circuit board (PCB) under the keys. This allows my designs to play with light, shadow and color while featuring the raw electronics."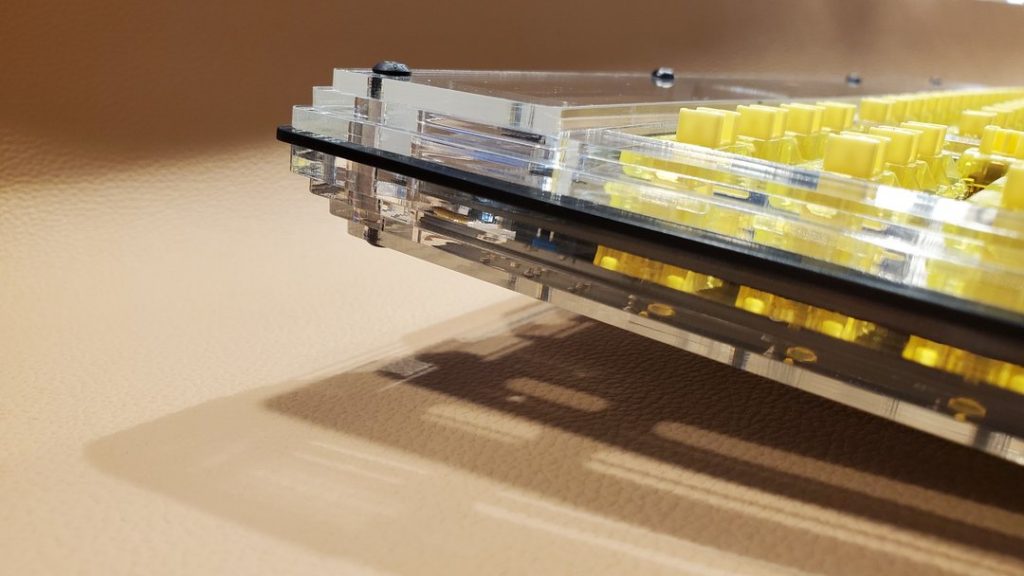 Problem: Determining The Most Cost Effective Manufacturing Technique
Bryan initially considered CNC machined aluminum as an option. "The drawback to this material was the time and cost involved in the process of designing, manufacturing and selling," he says.
Solution: Using On-Demand Laser Cutting
"Laser Cutting was the only way I could achieve my stacked acrylic design," he continues. "Keyboard designs require precision cuts only a laser cutter is capable of producing on a consistent basis. The tolerances I need in my designs are complex and often require accuracy levels down to 0.2 millimeters. I would not be able to achieve this with hand tools; laser cutting is simply the best way for me to achieve these details.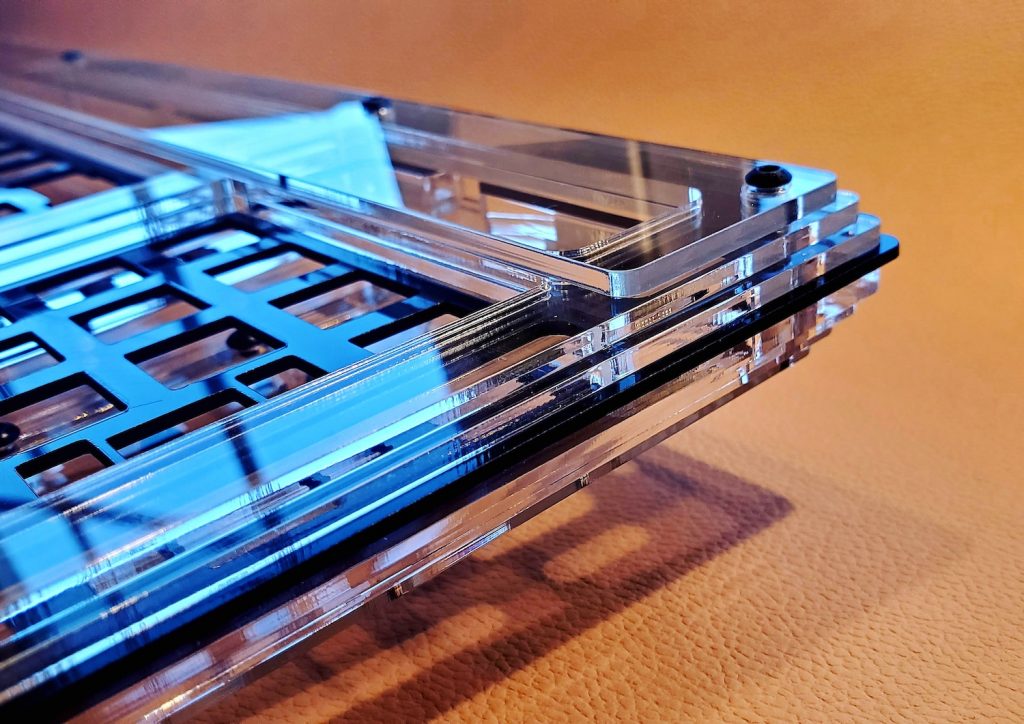 Benefits Of Custom Mechanical Keyboards
Mainstream factory keyboards have been standardized with one-size-fits all switches and layouts. But does one size really fit all?
"Most people don't think about or appreciate using keyboards," Bryan says. "Equally as important as the mouse, keyboards are the gateway to our computer. They are how we communicate with the computer and, in doing so, keyboards are our gateway to the digital world."
Bryan's clients and the mechanical keyboard community at large value keyboards that provide an experience aesthetically pleasing to the touch, the ear and the eye. By personalizing the modifications, Bryan is able to transform the experience of communicating with a computer whether you're learning, gaming or working.
"People working from home are customizing their home offices with devices of all types to make their work lives easier, more enjoyable and stress free," he says. "Custom keyboards are part of the movement to make your home office work for you."
There are a number of ways Limbo Keys customizes mechanical keyboards:
Keyboard Pressure
For those who find factory keyboards too light and accidently trigger the wrong keys when transitioning from key to key, then a keyboard with firm switches is for you. Limbo Keys can even specify the exact pressure used to trigger each key.
"On the other hand, I've had clients reach out to me with modifications to aid them with physical disabilities that make using a traditional keyboard difficult," Bryan says. "Most recently, a client needed ultralight pressure to trigger the keys to accommodate her arthritis."
Keyboard Sound
With home offices popping up in kitchens, dens, basements and bedrooms, oftentimes typing sounds are distracting to others in the room. If that's the case, Limbo Keys offers silent switches for that.
Conversely, perhaps you love the clack clack clack sound of high heels on marble. "I describe the sound of mechanical keyboards as a mix of tapping bamboo and raindrops," Bryan says. "Typing on a custom keyboard with its distinct thock thock thock (the customary term 'thock' is used to describe the unique sound of mechanical keyboards and is different than the usual 'click' sound found with factory keyboards) is so satisfying to type on and hear. To me, this experience feels motivating; it makes the typing fun and my words take on more meaning"
Keyboard Color
If you really want to have some fun with custom mechanical keyboards, add some color. Make everything electric green, brilliant blue or even a rainbow of colors. Add LED lights that change color at your command. Back lighting and underlighting is huge for those who like to work at night, in low light or just want to see their fingers glow.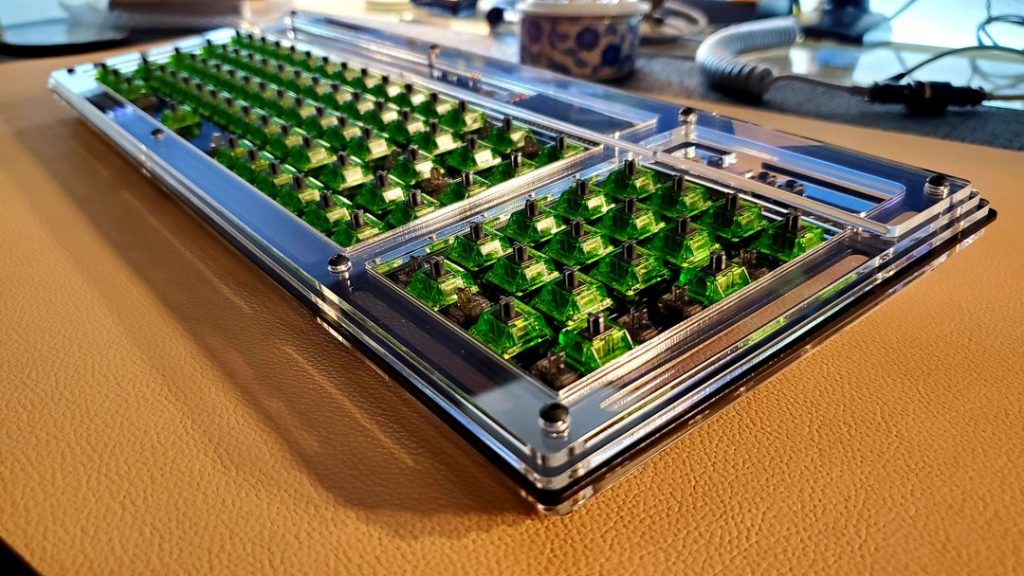 Keyboard Layout
Layouts can include every key imaginable, or they can cut down the seldom used keys to a 65% layout, all the way down to a tiny barely-more-than-the-alphabet 40% layout. Whether your all-the-frills or no-frills, there's a keyboard layout for that.
Keyboard Style
One of the biggest benefits of custom mechanical keyboards is the ability to bring more of a customer's own style to their home offices and workstations. Maybe the décor vibe is industrial, futuristic, mid-century or vintage; a custom mechanical keyboard can be built to match.
Artisan Luxury
When you combine keyboard pressure, sound, color, layout and style, the result is a one-of-a-kind mechanical keyboard that brings a more enjoyable typing experience and personalized aesthetic to a vital piece of technology people use every day. This kind of artisan luxury is in high demand.
"Millennials are surrounding themselves in artisan items inside and outside their homes,' Bryan says. "The market of one-of-a-kind handmade vendors like Esty is exploding, and as the millennial workforce becomes aware that keyboards have the opportunity to be customized, they will order one, or two, or a collection. These keyboards are hand crafted from start to finish, and the sky's the limit in terms of design. Many of my clients have multiple custom keyboards that they rotate to suit their mood or their function, such as work vs. gaming."
There's also the collectible aspect to consider. "Custom mechanical keyboards are produced in low quantities with many buyers jumping at the bits for the opportunity to purchase one," Bryan says. "These high-quality, short-run keyboards become coveted. Collecting and trading keyboards is very active within the mechanical keyboard community."
Working With Ponoko
Bryan stumbled upon laser cutting while browsing the internet and learned of Ponoko via google search for laser cutting services in the U.S. "I chose Ponoko because of their reputation for quality and accuracy," he says. "The quality of Ponoko's work has allowed me to price my designs with confidence."
Speed was also a significant consideration. "I often go from idea to product in a matter of weeks, and Ponoko does well to keep my pace," he continues. "In the past, I have ordered my parts and received them in 24 hours [from the San Francisco hub]…and I'm on the East Coast!"
To make a laser cut product that sells well, Bryan recommends spending a great deal of time refining thee designs. "Being open to and having the patience for multiple prototype iterations is incredibly important for you to achieve a refined product you and your customer can look forward to," he says.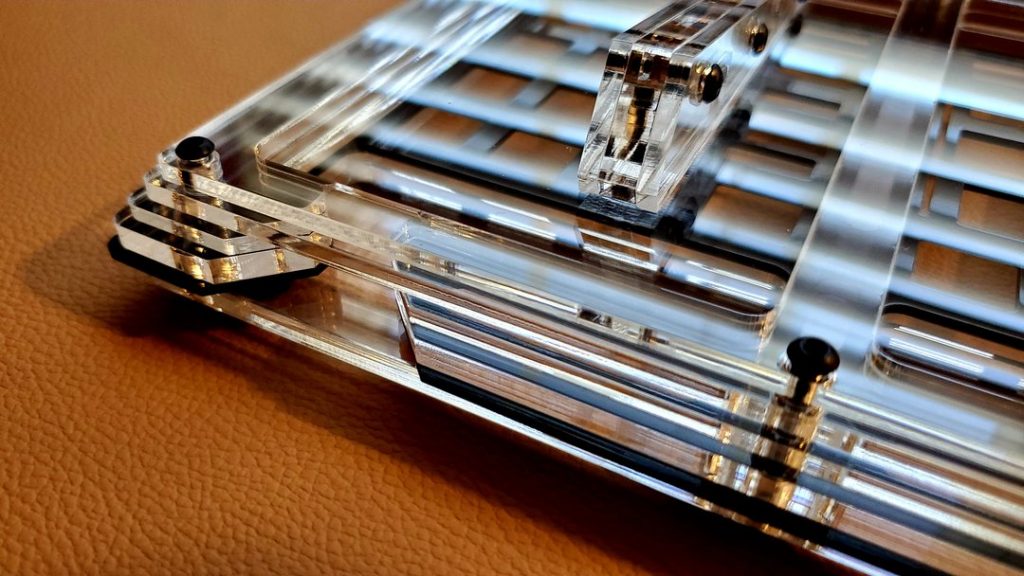 For the Limbo Keys Sidecar Acrylic Case, Bryan's prototyping process started with checking his designs "obsessively" for a few weeks. "After checking and rechecking the measurements dozens of times, I went straight to laser cut acrylic. It took roughly three iterations before deciding on the final design," he says. "I had to make minor tweaks to accommodate 3D limitations. For example, my tolerances for the screws were too tight and cracked my first prototype, so I made the small adjustments in my design until it worked. When in doubt, reach out to the Ponoko team for help; they have been instrumental in the progress and success of my work."
Meeting New Work-From-Home Demands
Apart from the common keyboards available at any big box store, mechanical keyboards find their relevance in customization and transform the user experience. Through the custom mechanical keyboards Limbo Keys offers, Bryan takes this experience a step further into unique styles and original design elements that separate it from the other designs currently on the mechanical keyboard market.
"I love building custom mechanical keyboards, and I love sharing my art with other people," he says. "The customization process my clients and I go through is heartfelt. We comb through every detail they want to include in a mechanical keyboard to make it uniquely their own. There is so much variety that many of my clients are now collectors of mechanical keyboards and have a different keyboard if they are using one for work or for gaming—or simply to suit their mood."
Bryan saw the rise in demand for custom mechanical keyboards, and through on-demand manufacturing, he was able to quickly meet the demand—and create a business for himself.
"I have always been a connoisseur of customization," he says. "I have found a perfect way to make a living while doing something that makes me happy. My products fulfill my audiences' need to transform a device they use every single day into something uniquely their own. Keyboards among other PC peripherals are truly our gateway into the digital world. My goal is to bring comfort and joy to that communicative experience."
Interested in custom mechanical keyboards? Check out all Limbo Keys has to offer at https://limbokeys.com.
Inspired by what Bryan has designed and want to start laser cutting for your next project?
Here's how:
1. Upload files to Ponoko to get an instant quote for making and shipping them to you today.
2. Make just 1—or 10,000!