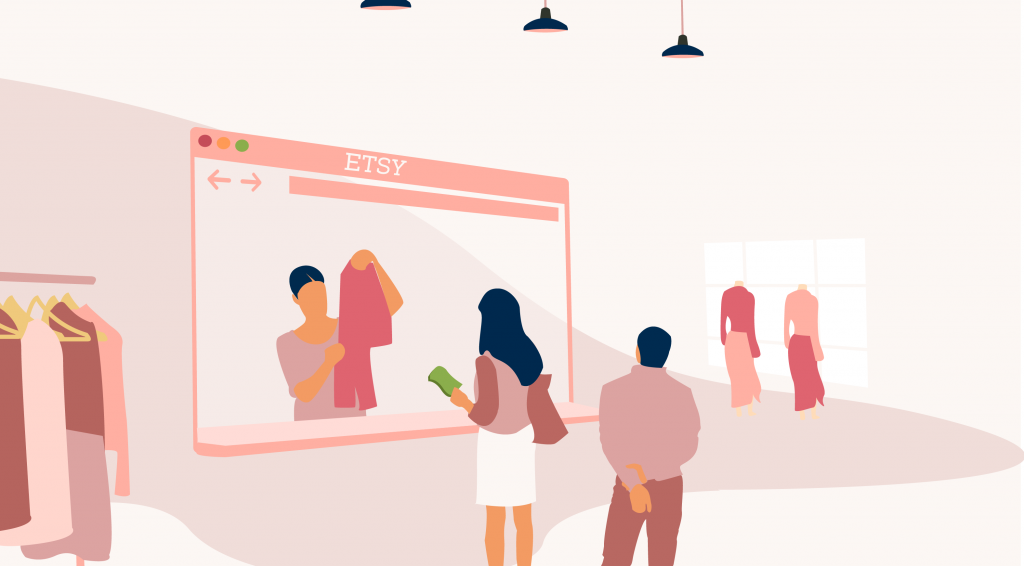 How Does Etsy Work?
Etsy is a platform for buying and selling handmade goods, supplies, and vintage products. It's an endless online crafts faire with 1.8 million booths, and millions more customers looking to find just the right thing that you might sell. For some small fees, Etsy hosts your shop and provides powerful tools for you to manage your business, and for potential customers to find what you have to offer. It's popular platform for good reason, and this guide to selling on Etsy will show you how to get a piece of that handmade pie.
Why Does Etsy Work?
While the Industrial Revolution may have happened centuries ago, allowing the mass manufacture of goods for a rapidly glowing world, in the context of our creative history, it really wasn't that long ago that everything was "hand made." Despite our overly commercialized reality, the curious, crafty, and entrepreneurial folk who enjoy doing things on their own terms, and with a personal touch, didn't disappear in the last century. The big box stores had shelves of plastic wares at low low prices that could easily outsell custom goods made by individuals, but it was far from just price that restricted the artists, tradesfolk, and craftspeople from reaching markets beyond their local community. As the small economic trails across the planet evolved into high speed interstates and shipping lanes carrying cargo from port to warehouse to store to home, it became possible to have a truly global market. For a time, the logistic complexity and cost of reaching the world meant that only big companies could do that kind of global business. For a time.
Now, nearly all of us are connected. Instantly. While online marketplaces have been around for as long as the Internet itself, computers are more affordable and powerful, and networks are fast enough that visually rich websites for shops are accessible (and mostly functional) for people who don't want to muck about with web scripting to make the digital store they want. For many crafty one woman or man companies, that means they're going to sell on Etsy.
How Do I Make Money On Etsy?
Like with any business, success happens when you find the overlap between what you can produce and what people want to buy. Here's a breakdown of the basics for your future Etsy ecommerce journey:
Ideas
What are you actually going to make? Even if you haven't the slightest clue as to how you'll start your craft empire, all is far from lost. Browse the main page and categories that pique your interest. Once you're on a shop page, you can click the number of sales next to the shop name to see what products sellers are successfully pushing. If they're selling it, then so can you. Sell the products that you would want to buy.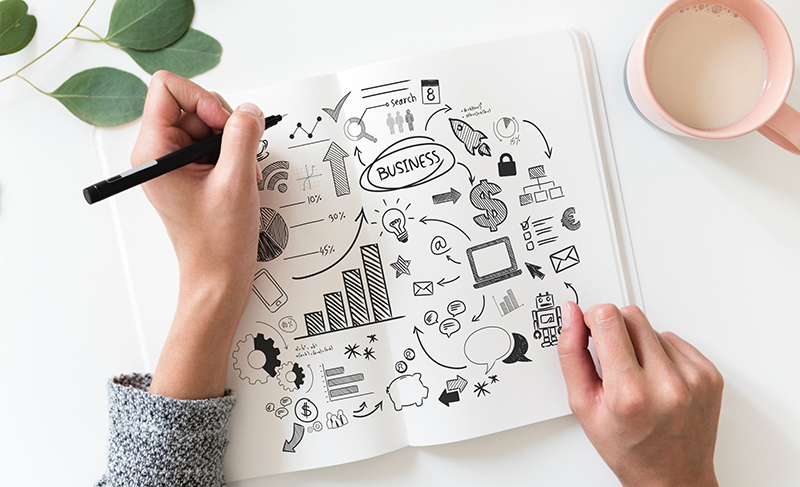 The Plan
Assuming you want to make a modest income with your shop, then you'll need to sit down and figure out concrete goals and deadlines. Time management will be the most crucial aspect of your overall plan, as this will be the limiting factor in terms of where you want your shop to go. Aside from living your life, and most likely maintaining another job, how much Etsy time can you budget in total? You'll need to further divide this bulk time between producing your products, photography, creating the listing, marketing, packaging and shipping, inventory storage and organization etc. Needless to say, there are a lot of decisions that need to be made and carried out even if you only make a single product.
You are starting a store after all, so what is your financial plan? How will you price like a pro? I'll touch on taxes and fees a bit later, but for now you'll need to consider that Etsy does take a cut, and your time is valuable, so in addition to the raw cost of materials, you'll need to calculate what to charge in order to make a profit.
Resources
You've only got the most fleeting of interactions with your customers in the form of thumbnail images, followed by a brief snippet of text to communicate that they need this thing, your product. You will need a camera and a tripod since every product will need it's own set of photos. A tripod is essential for taking consistent shots of different angles of your items while keeping a common background. Although a fancy DSLR and a swath of lenses would be a bonus, most modern smartphone cameras are more than capable of taking the kinds of macro product photos you'll need.
I would recommend some kind of lighting equipment for shooting, but the best light source, our friendly neighborhood star, is also free. Outdoor photography presents endless creative backdrop opportunities for your items and is only limited by the weather and time of day. Who knows though, perhaps you want a snowy sunset or a rainy afternoon to frame your latest creation?
Once you've taken your photos, you'll need to take a few more steps before they're ready for Etsy. While the Adobe Creative Suite is the standard for making those pixels just right, you can certainly succeed with free tools when it comes to finishing your photos. I would recommend GIMP for tasks like cropping and color adjustment, and Inkscape for overlaying text and creating logos and the like.
A Mirror
While a literal shiny surface isn't necessary, taking regular breaks where you reflect on where you've been, and are, is. After your shop has been open for a while, you'll be able to better "play to the audience" and focus on the products that actually sell. At the end of the day though, you'll always be adapting, not only to your own needs, but to trends in the market and the interests of your customers.
Top 10 Laser Cut Products That Makers Sell On Etsy
With Etsy being a virtual nirvana of handmade goods, what kind of laser cut items do makers sell in the marketplace? Here are our top 10 product categories:
Jewelry
Jewelry is hot, Hot, HOT on Etsy. Why is it so popular? There are several reasons why:
Selection: Etsy is like having an entire mall dedicated to jewelry. With thousands of stores. Oh rejoice! Buyers know they can find reasonably priced remarkable pieces on Etsy unlike the mass-produced pieces in traditional retail stores, so makers continue to sell their wares at the online marketplace to meet the demand.
Price Point: If you look for one-of-a-kind hand-made items in a jewelry store, there's typically a high price tag associated with them because they're marketed as "art pieces" that are made of precious metals and stones. Plus, retail stores must cover lots of overhead costs.
Not so with Etsy. The fees are reasonable, allowing makers to tailor their pricing accordingly. And there's a HUGE audience of buyers who want the same kind of originality in their jewelry but with more casual materials to fit their lifestyle—and budget. And that's the sweet spot DIY makers can hit.
Size: Jewelry pieces are often small and are easy to store and ship, which also helps with price points, too.
One maker who has found success on Etsy is Galactic Affair. This fashion design major turned jewelry maker is making quite the statement—not only with her designs, such as this laser cut quartz-inspired necklace, but also with her revolution against fast fashion. Check out her story here.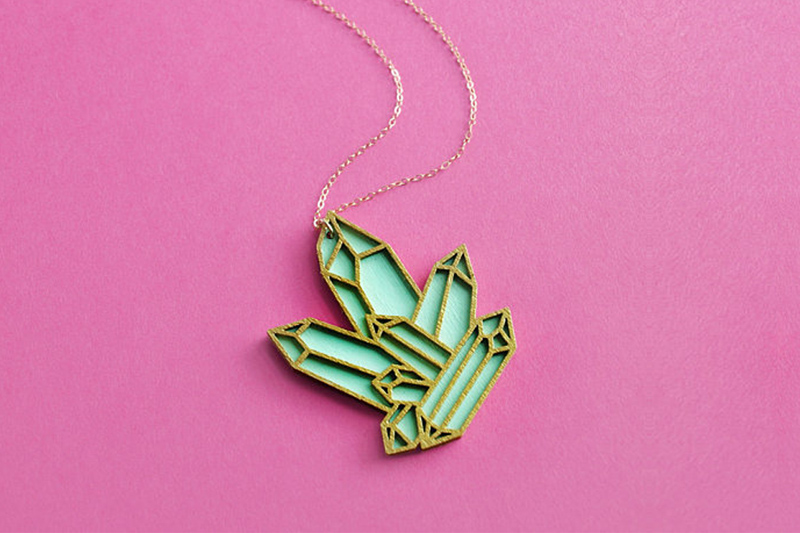 Melanie Lynn Design also has an interesting take on her jewelry. She blends traditional jewelry making techniques (such as wire wrapping and beading) and classic materials (such as stone and leather) with her laser cut wooden and acrylic jewelry designs to make unique and whimsical pieces, all at an incredible accessible price point. See how she does it here.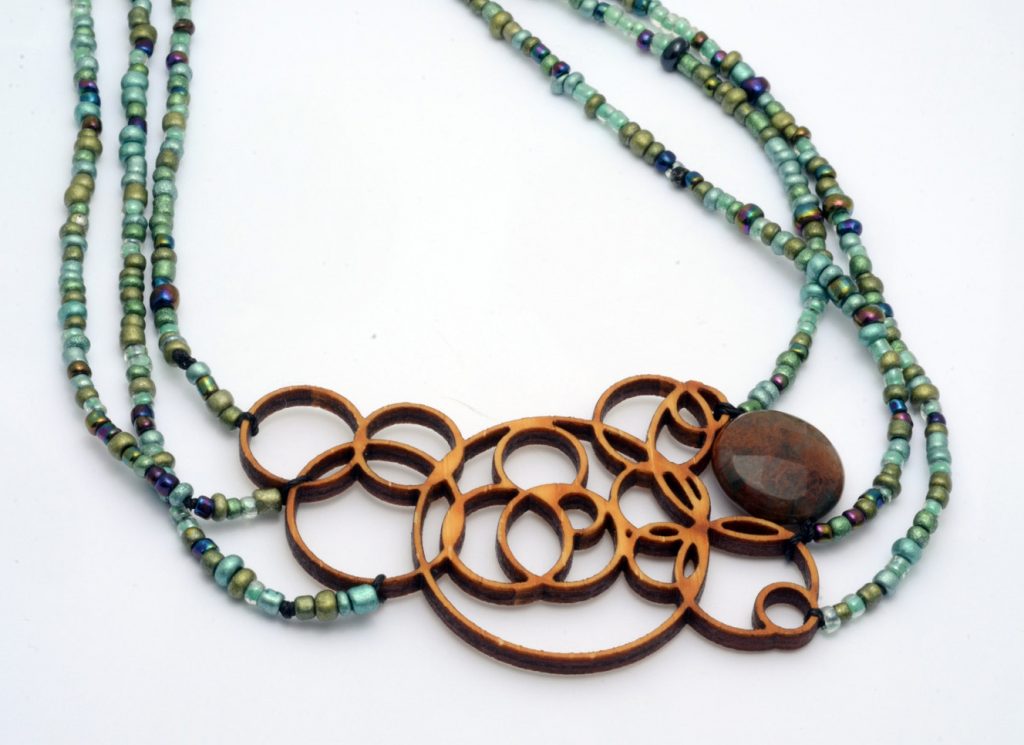 For more inspiration and to go behind the scenes with even more jewelry designers who have found success on Etsy, check out Cottage On The Cliff, GioGio Design and The Moon Lab. And if you want to make jewelry to sell, bookmark this jewelry making guide for beginners.
Wedding Decorations
Another super successful product category is wedding decorations. Today's couples want a distinctive experience for their nuptials that is individual as they are—and that can't be bought at any-old store. That's why brides and grooms are flocking to Etsy to find custom wedding décor, and makers are finding quite the business opportunity.
One such maker is StylineDesigns, who offers an interesting twist on save-the-date notifications: Refrigerator magnets. Everyone loves refrigerator magnets; that's why businesses use them as promotional tools. So why not take that same principle of creating awareness + excitement and translate it to a wedding save-the-date? What's great is that these save-the-date magnets become keepsakes after the wedding. Every time guests see the magnet on the fridge, they can remember the beauty—and fun—of the big day.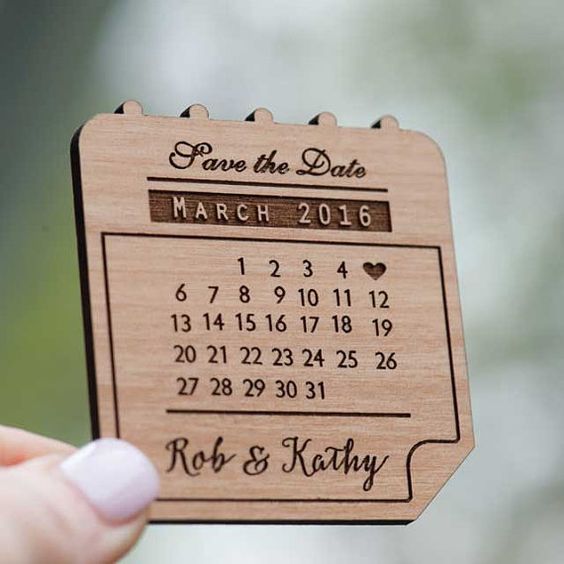 LettersToYou specializes in custom hand lettering and calligraphy, and these table numbers show that a computer isn't required to create a beautiful script. These custom table signs are all hand drawn, laser cut in sturdy MDF wood and painted in gold, rose gold, silver, black or white to coordinate with a variety of wedding color schemes.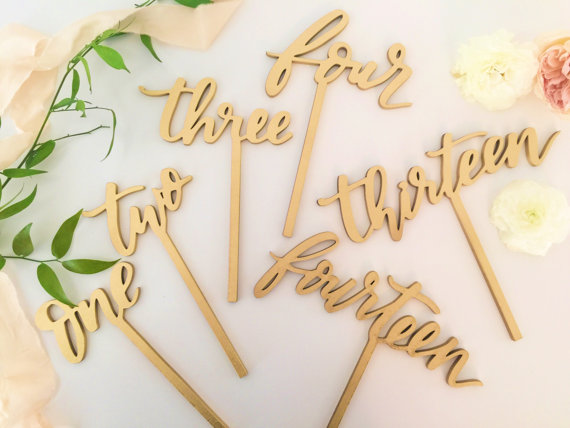 If the wedding market makes you want to say "I Do!" to selling on Etsy, this ultimate guide to making wedding decorations will help you get started.
Bookmarks
Sure, e-readers are convenient for reading New York Times Bestsellers, keeping tabs on the latest business trends or perusing the pages of the classics. But, real books are back. Which means that there's one thing every bibliophile needs: A bookmark that's just as amazing as the books being read. And that's where the opportunity lies for Etsy sellers who carry unusual bookmarks, such as these two shops.
While the natural color of wood is nice, these bookmarks from LasercraftWorkshop have a welcome pop of hand-painted color to make them stand out from the competition. The engraved "I Fell Asleep Here" text combined with the laser cut nighttime stars is a perfect companion to any bedtime story.
While Axadesigns18 laser engraved a stag on this cardstock paper bookmark, you could substitute in any corporate logo and turn this bookmark into a memorable—and affordable—promotional product.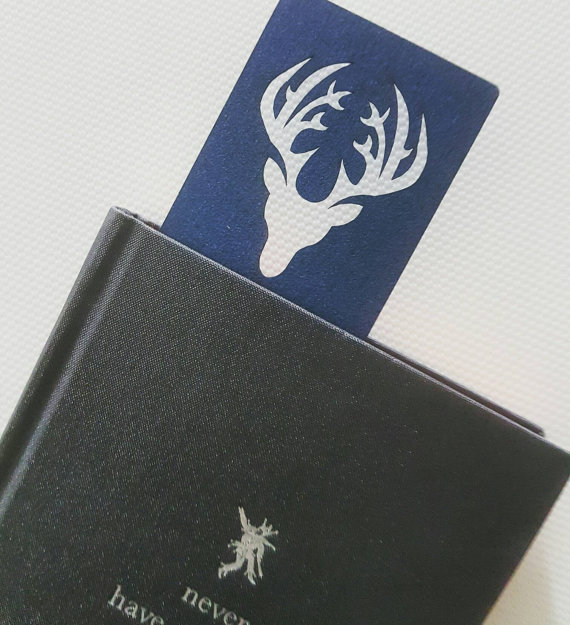 With all the bookmark designs available for sell on Etsy, where do you begin? A good brainstorming session is a great place to start, as this allows you to figure out what you like (and don't), determine what is already on the market and identify any gaps that could be filled with your creativity. This guide for making bookmarks can help.
Signs
Spend any time on Pinterest or Instagram, and you'll find beautifully styled rooms that incorporate signs—anything from simple words to famous quotes or meaningful scriptures. And since buyers want home décor that reflects their diverse personalities, they need custom signs that align with their design aesthetic.
One hot decorating trend is farmhouse signs. AnnMarieAccessories incorporates the rustic décor style made famous by Chip and Joanna Gaines with laser cut script words such as blessed, dream and gather as well as custom signs with names and scripture.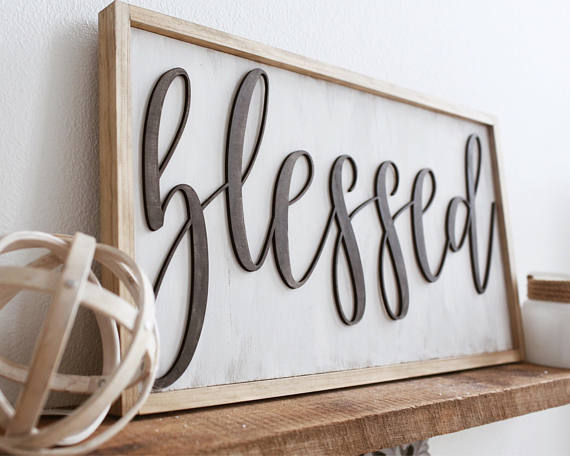 But home décor isn't the only market for signage on Etsy. Custom business signs are hot sellers, too, such as these funky bathroom signs from grayskunk. While bathroom signs must be clear to avoid any embarrassing encounters, this Etsy seller has decided to have a little fun with them. Designed for a restaurant or bar, these restroom signs use negative space—and some cleverly placed beverage vessels—to designate the men's room from the ladies' room.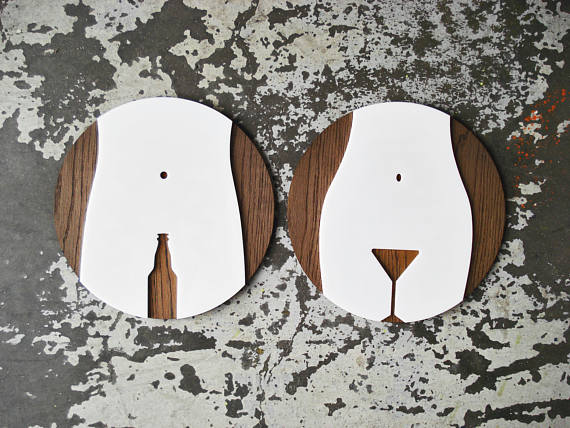 If you'd like to hang your own (virtual) shingle and jumpstart your sign-making business, don't miss this must-have guide to making signs.
Clocks
You've seen the stories all over the internet that millennials can't tell time using analog clocks. Oh, the fake news! If you want to do your part to ensure all generations know the difference between the hour hand and the minute hand, then try your hand at making and selling clocks on Etsy.
But clocks are about much more than telling time. Today's buyers want them to integrate seamlessly into their décor choices. So you better make them interesting!
SnazzyNestShop does just that by transforming this wall clock into a work of art that includes two birds "flying" out of the clock. Ah, time does fly when you're having fun!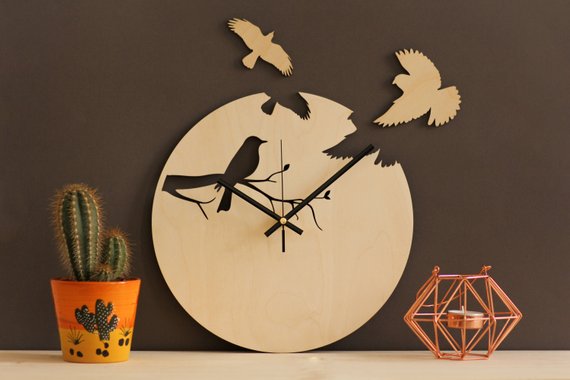 But not all clocks sold on Etsy are for home use. There's also a market for clocks to be used in the workplace. While this example from DYours has a barber shop theme, you can imagine designs for sports, fitness, teaching, restaurants, apparel, animals or nature themes. Or create a design incorporating a logo for one-of-a-kind branded timepieces.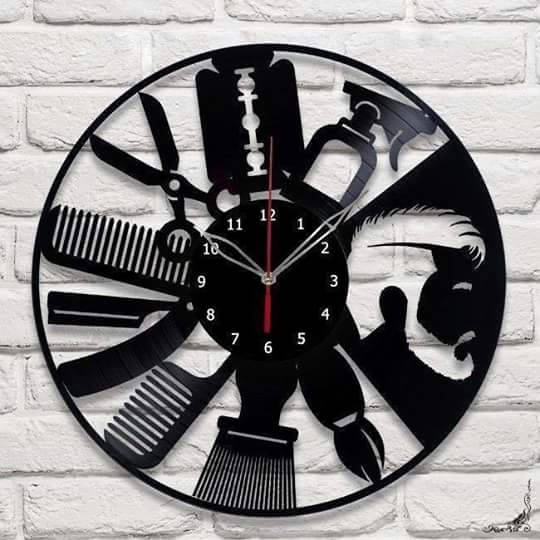 If you've been wanting to open an Etsy shop, do it! Time's a wastin'! This guide to making clocks will have you up and running in no time.
Robots
While robots have been around for a hundred years, they've mostly been restricted to large corporation or the silver screen. But thanks to increasingly affordable and powerful electronics available today, making robots has never been easier. And with this increased demand for building robots, there's an ever increasing opportunity for enterprising makers to sell them, too. See what we mean with these Etsy sellers.
You may think of robots as high-tech metal machines, but Craftismo proves just how cool a laser cut wooden robot can be with this steampunk style DIY robot kit. In addition to its retro style, the Orpheus robot contains a hand-crank music box and the heart illuminates a yellow light when played. LOVE!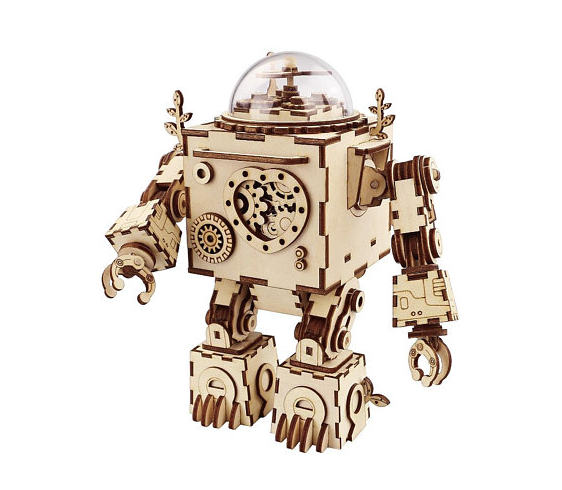 For a more traditional take on robotics, MicroBotLabs offers this fantastically fun robotic arm kit to learn the basics of industrial robotics and motion control concepts. And since this robot has a MeArm compatible design, which has been described as the "Perfect Arduino Project for Beginners," it's a great kit to get anyone started in the world of programming, electronics, robotics and engineering.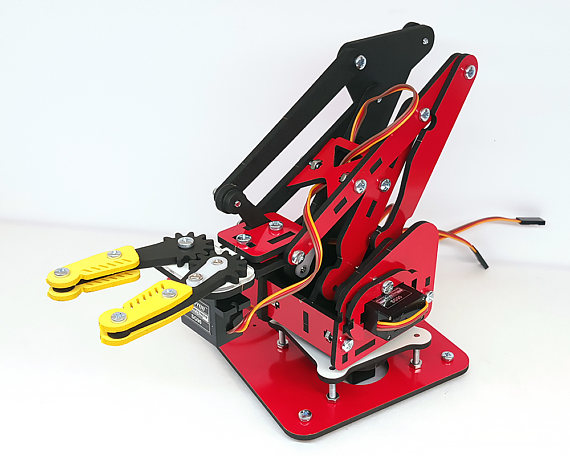 Pretty exciting, right? If you're ready to dive into the world of DIY robots, read this introduction to robotics and robot making first.
Name Badges & Luggage Tags
When you think of name tags, the boring "My Name Is" stickers may come to mind. But no longer. There's an entire market on Etsy for creative name badges and tags that are not only personalized but also fun.
From businesses with customer-facing employees or event marketers hosting a convention, there are all kinds of uses for name badges. They can even be used at large weddings, baby showers and family reunions. Pretty much anywhere there's a gathering of people and you want to make introductions and remembering names easier, there's a use for name tags. Because let's face it, asking someone his or her name for the fifth time is just a.w.k.w.a.r.d.
This name badge from RobertoSand does so many things right. The unconventional shape makes it stand out from standard rectangle name badges available in catalogs, and the laser engraving of the logo + the complementary font used for the name looks professional yet playful—an important consideration given these are chefs for children's urban agriculture!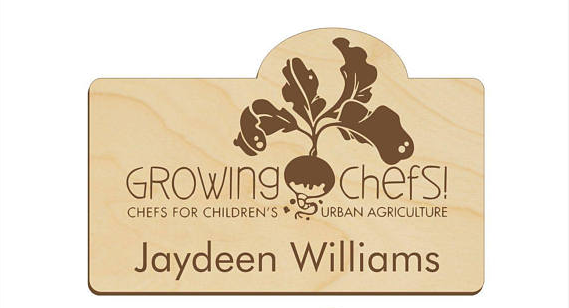 A cousin to name badges, luggage tags are basically name tags for your bags. In a world of black suitcases that have little differentiation, a custom tag helps travelers easily identify belongs in a busy airport, sea port, bus terminal or train station. So give wary road warriors an alternative to paper suitcase tags provided at check-in, and sell some cool tags on Etsy.
This leather luggage tag from AUdesignsStudio uses high-quality leather and a beautiful laser engraved script to let the adventure begin.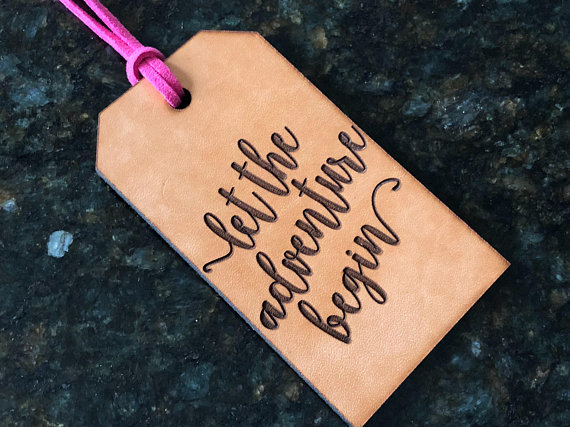 In addition to travel related quotes and sayings, luggage tags make great promotional products. Simply replace the text with a logo, and you can help businesses build their brands. Get more ideas on making custom name badges and tags here.
Coasters
Are you sipping a beverage as you read this? We are. (Just iced tea. It's not five o'clock yet!) And we're using a coaster to protect the table. But just because a coaster is a utilitarian item doesn't mean that it can't be interesting. Like other home/office décor items, coasters give makers an opportunity to carve out a niche on Etsy. Check out these examples.
While these monogrammed cork coasters from EngravedSensations make inexpensive wedding favors, you can easily envision a company name and logo laser engraved for a memorable—and useful—promotional product.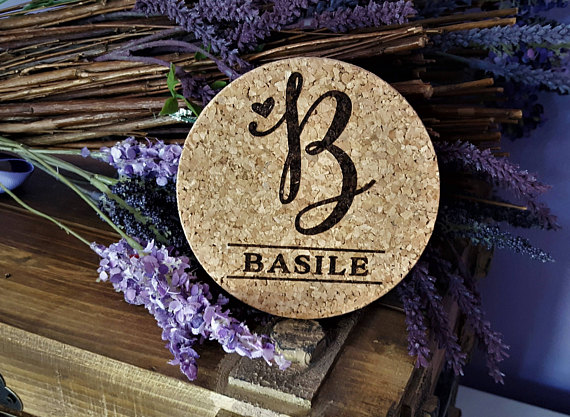 For the maker behind Nine Day Weekend, it's all about finding a new way of looking at familiar images, such as these white melamine finished MDF coasters." By creating an artistic interpretation to put a fresh take on classic products, he is able to craft an enlightened series of pictograms, distinct illustrations that depict recognizable features of each of the 59 U.S. National Parks, composed entirely of the letters that spell out each park's name. Get the entire story here.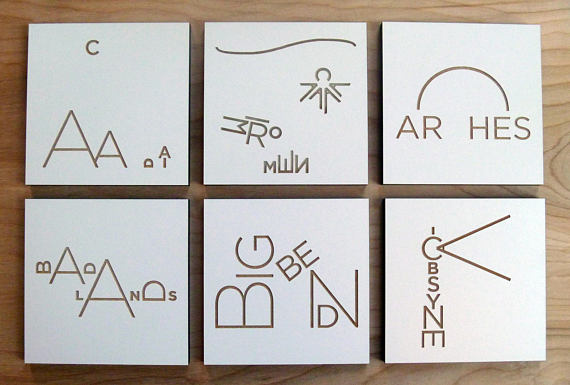 To get started making your own coasters, check out these geometric coasters, these wooden coasters and these designer coasters for inspiration.
Stationery Products
Sure, printed stationery is nice. But the graphic impact of cut paper is much more striking. And while you can create paper cut artwork by hand, it takes painstaking hours of work and massive attention to detail. Ugh. Here's a better idea: Skip all that hard work and let the lasers cut the cardstock paper perfectly, with precision, every time.
This consistency is especially important if you are selling products on Etsy or you're creating multiple designs to promote brands and agencies. Competitive differentiation + more visual interest + uniformity of product = #win.
Here's an interesting take on business cards from LBonDesign. The interactive design lets recipients remove laser cut pieces to reveal a classic office scene.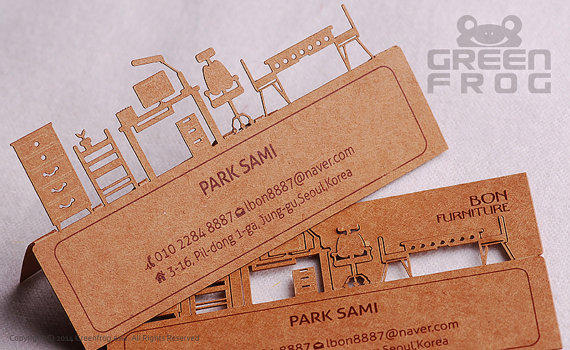 Why buy off-the-shelf greeting cards when you can send unexpected designs such as intricately detailed laser cut pop-up greeting card from Gegegiggle. This "Flower Fairy" design appeals to princesses of all ages and makes a pretty decoration during and after celebrations.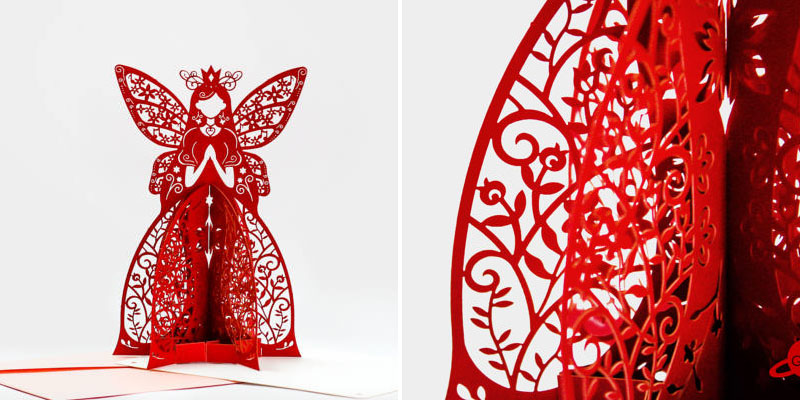 For more ideas on the kinds of stationery products you can make—and sell—check out these ideas using red cardstock paper as well as this sweet suite of wedding stationery.
Electronics Enclosures
Since Etsy launched in 2005, it has historically been dominated by female buyers and sellers. But that's beginning to change with more men shopping the site as well as opening up shops to sell their products.
While there are plenty of tech-savvy women making electronics enclosures, this particular category tends to skew toward a more masculine demographic. So perhaps that's why there are not a ton of Etsy shops offering these items…yet. Limited competition could spell a great opportunity for makers who want to make a mark in this category.
One Etsy seller doing amazing work is theC4Labs. Check out this laser-cut birch enclosure that incorporates a beautifully unique hot-rod design that turns a humble Raspberry Pi into a high-octane centerpiece worth displaying prominently.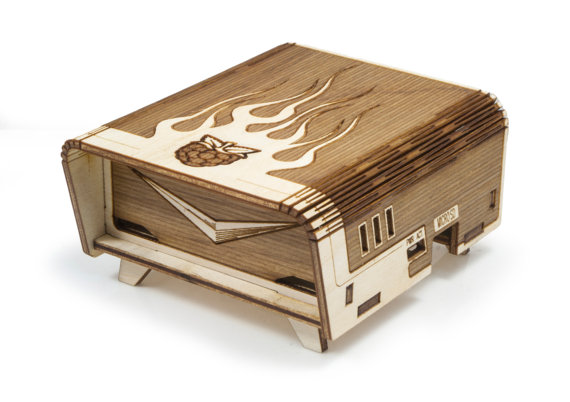 This laser cut Arduino enclosure, also by the imaginative folks over at theC4Labs, houses the Arduino Uno R3 in eye-catching fluorescent green acrylic to add a bit of explosive creativity to this electronics case.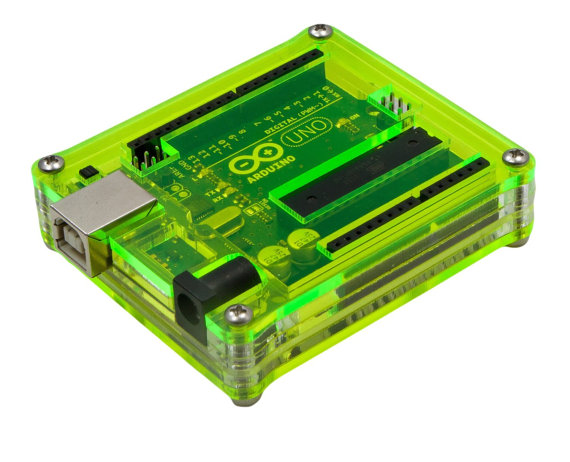 So if you want to get into this space and dominate, this guide to making electronic project boxes will help you create professional designs worthy of a profit.
Starting An Etsy Shop
It's time to open a store! The actual process of getting started selling on Etsy is fairly simple. First you'll need to create an account, which can be tied with your Google or Facebook account if you so choose. Then, you'll need to actually name your store, so take some time to come up with something that represents you or your products. You'll be required to create at least one listing before completing the shop creation process, so you'll need to have at least one fully designed, built, and well photographed product. Said item will also need a thorough description, that, beyond the basic details, should provide background information on its construction telling the tale of your crafty, creative process. Finally, you've got to provide your location and financial information so you can properly pay and be paid.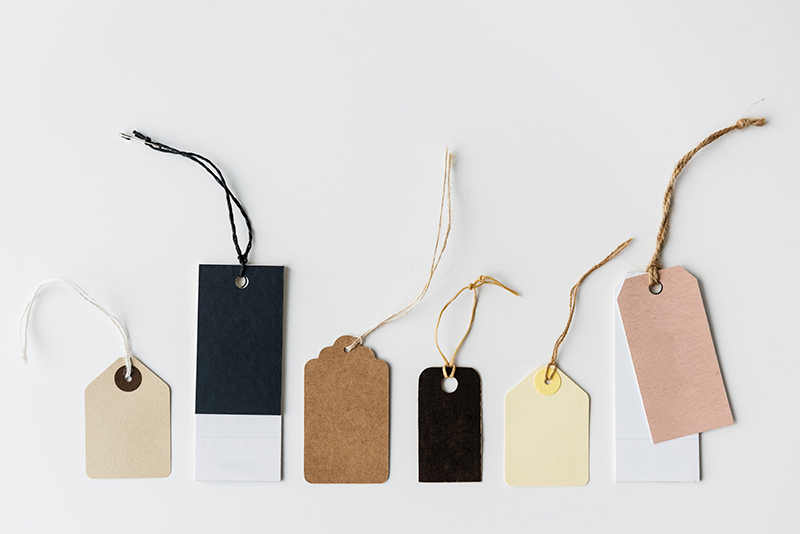 That's the bare minimum to open a store, but at this stage your profile is totally blank! Now you've got the opportunity to be that brand that represents what you believe. You'll need a main shop image and one for your store owner profile. Many stores opt to use a traditional logo, or a wordmark over a background image of your products or theme. Beyond the visual, you'll also want to fill out your shop profile. Remember, people are here to buy from somebody, not something, so tell your story. Why are you making these things? How did you learn the skills to do so?
Etsy Fees
Etsy provides access to millions of customers and takes care of mounds of technical work that happens behind the scenes to provide an easy-going shopping experience. In exchange for their wonderful service, Etsy asks for their share of seller fees in return. Each listing you post costs $0.20 USD regardless of the price of the item and whether or not you make a sale. Posts have a lifespan of four months before they expire and can be set up for auto-renewal (auto-renewals also cost $0.20). In addition to the listing fee, Etsy also receives 3.5% of your listed price for each item.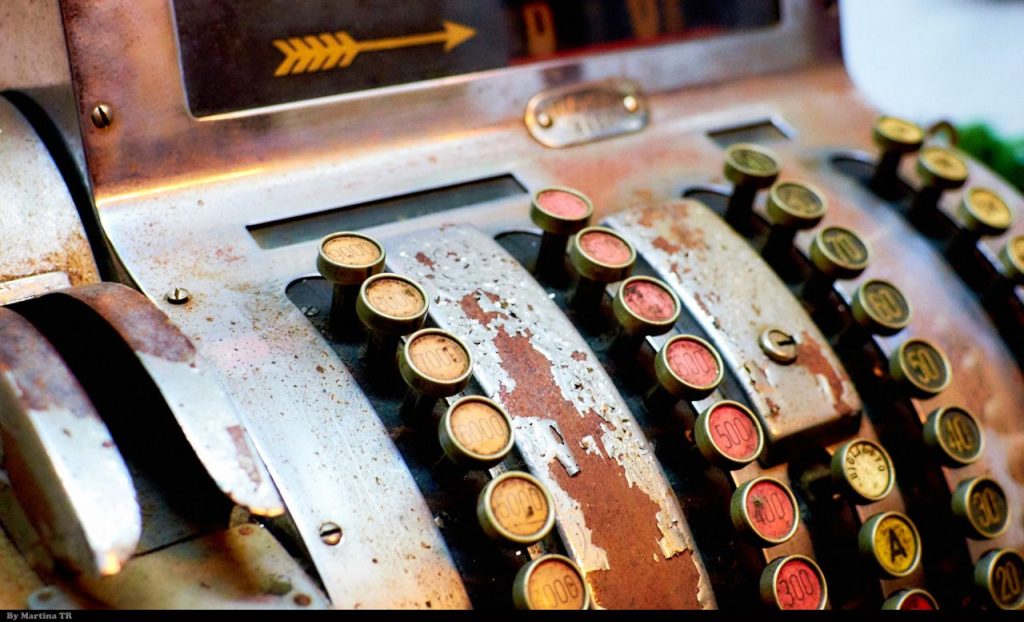 The listing and transaction fees are the only unavoidable Etsy costs, but you'll also encounter payment processing fees if you choose to enroll in Etsy Payments, which allows your customers to pay with ten of the most common digital payment services. Sure, you could avoid using this, but in the long run it's likely to be beneficial. The less difficult you make it for people to make a purchase, the more likely it is to happen.
Sales down or non-existent? Well, boy have I got a great deal for you! You too can have your very own Etsy Ads (ehem, "promoted listings") or Google Shopping ads by paying yet more fees.
If you happen to live in Canada or the US, then Etsy will happily provide you with a shipping label for your goods for, you guessed it, a small fee which varies according to the typical shipping factors.
You won't need an Etsy fee calculator, thankfully, big E wants to make it easy for you to pay them too, so your sea of fees get pushed to a singular Etsy bill to be paid monthly, or sooner if you really wanna.
Etsy Taxes
Make some tea. Take a deep breath. Read this sales tax article. Take another deep breath. Feeling alright? You should, because the least creative aspect of your new online business is unavoidable, but totally doable on your own. It's beyond the scope of this article (and well below my interest level) to discuss the nuances of international tax codes and how they apply to your shop, but you should also take a peek at this page as well for more info.
What If I Have Problems?
So you've shipped the wrong product or encountered a customer who wants a little bit too much of your attention. Worried about what to do?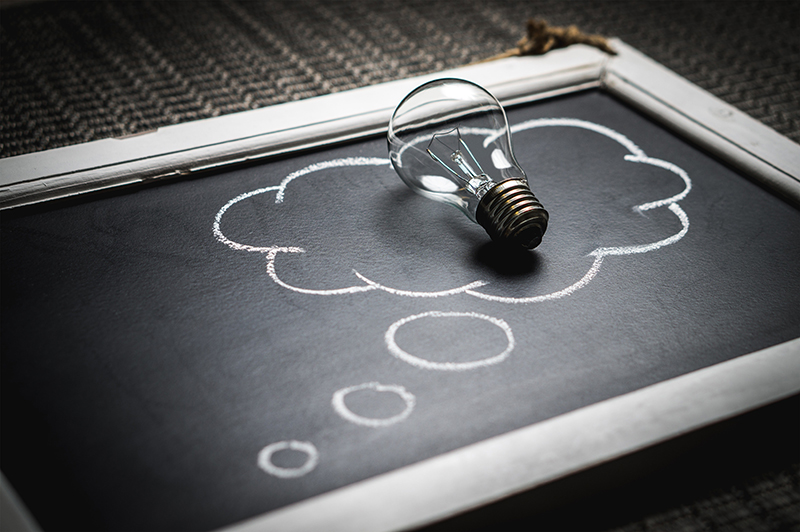 Chances are you aren't the first person to have a little trouble when it comes to their Etsy business, so before you send a frantic email to Etsy HQ, head to the forums. With a little digging, you might be able to support yourself faster that you could by reaching out to Etsy customer service.
Etsy Alternatives
Etsy has a defined community and a strong hold on the independent, handmade marketplace, but it is far from the only digital means of selling your llama wool knit scarves. Here are some of the most popular alternative and complementary services for your online business:
Shopify
Shopify allows you to quickly create your own online store. For a monthly fee they'll host your website, process payments, simplify your shipping process and provide most of the other features that store would want. Unlike Etsy, since it's just a platform with no theme, you can sell whatever you want, presented however you choose. Shopify vs Etsy is a false comparison though. Why not have both? The easier you are to discover, the better. Giving people more options to buy your products, just be sure not to list a one of a kind item in both stores.
Remember how Etsy is an endless crafts faire with millions of customers? Well, once you open your Shopify site, you're now a lemonade stand in the middle of a barren desert. You'll have to drive traffic to your store just like any other website. At this point you'd need to consider Google Ads or Facebook adds to kick some folks your way.
eBay
eBay is a tried and true alternative for selling your goods online. The auction format puts additional pressure to make a purchase sooner rather than later. People are already here ready to spend money, but you'll be competing with the millions of other listings for eyeballs. eBay is ancient in terms of internet years, but that also means there are years of research and tutorials for becoming a successful seller with the platform.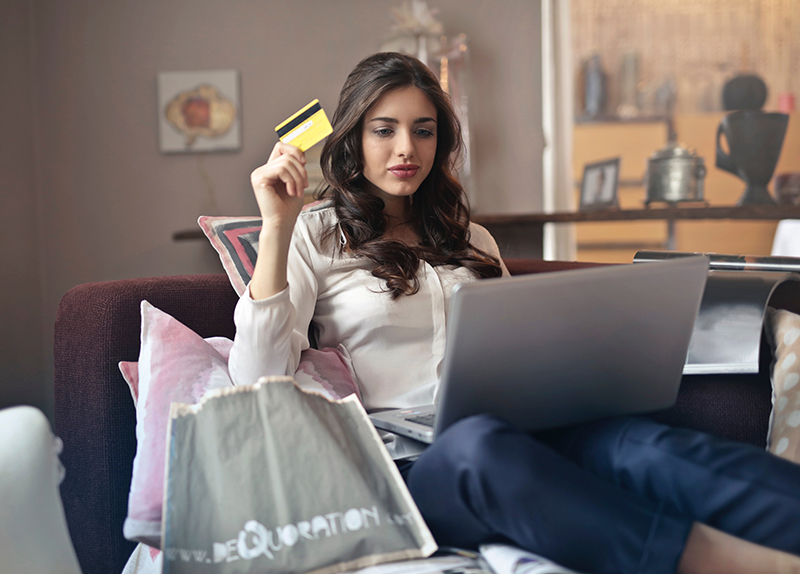 Amazon
Amazon sells it all, and they'd happily sell your wares too for the right price. Selling via Amazon comes in two tiers, individual and professional (oddly separated by whether you sell 40 or more products per month). Depending on the category your product falls into, you may also need additional approval from them to make a listing. While it may seem a bit trickier to set up, one of the largest advantages to choosing Amazon as your platform of choice, is access to their fulfillment system. As long as you label and package your product according to their guidelines (you can pay them to do this too), they will fulfill the order through their own system; your products will also be available for Amazon Prime, which means an even more irresistible sale.
Tindie
For those of you who are more electronically inclined, you may want to check out Tindie. Tindie bills itself as the "Etsy of Electronics" and offers a marketplace of small scale gadgets and DIY kits made by and for individuals.
Taking The First Step
You don't have to be the next Martha Stewart when it comes to your own creative commercial adventures, but it is now easier than ever to express your passion for the things you design and make, and to earn a living while doing so. People who shop on Etsy know they'll be able to find something unique and handmade. They don't want something that just-does-the-job and is punched out by the millions in a factory. They want the crafted, the ink-stamped note that bleeds just a little, the feeling of something hand cut by scissors. They want You.
Additional thanks to Lisa Horn for supplementary writing and content editing.