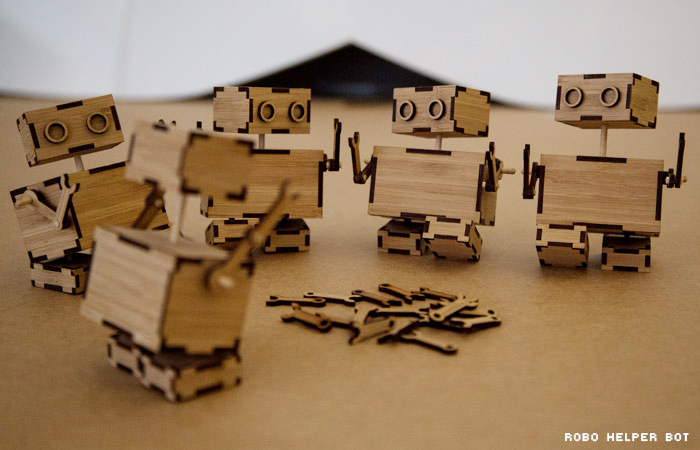 Ponoko-made products from Charles Wade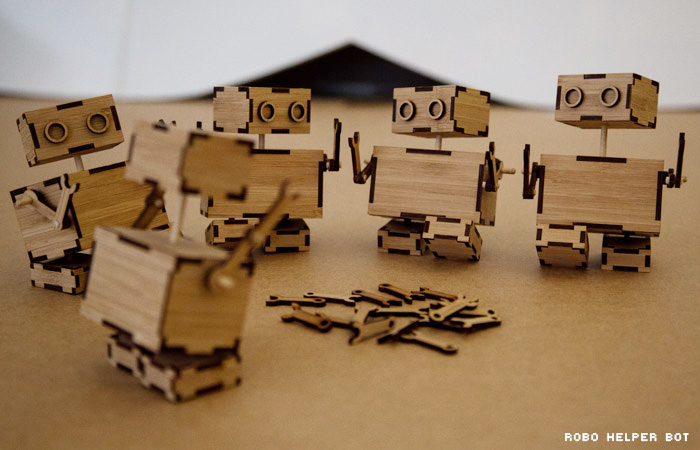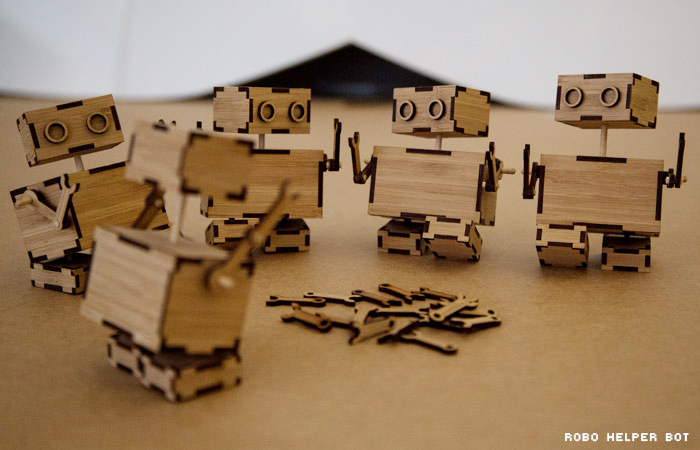 Charles Wade is a busy guy. He works at a newspaper in North Carolina doing graphic design, web development, social media, and IT; and teaches graphic design and multi media at a nearby college.
But despite his packed schedule, Charles was able to start a product line in time to sell at a local festival.
His side business, ROBOMUSTACHE, sells blocky wooden animals and robots, printed paper craft creatures, and more.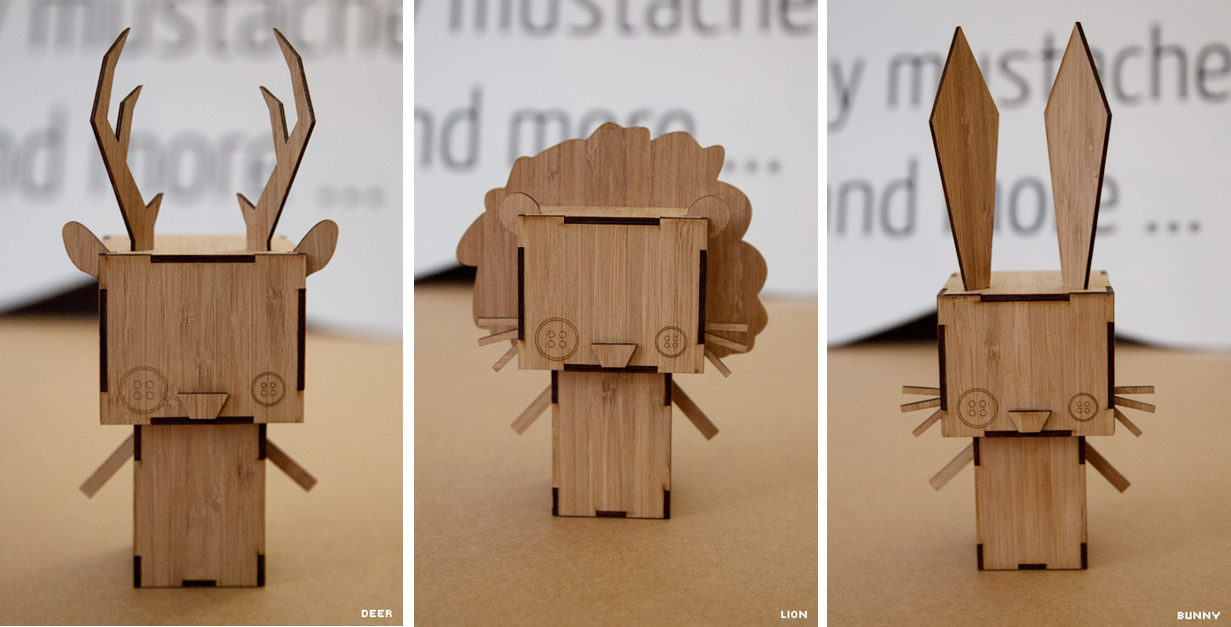 "I basically worked a full time job, a part time job and at the same time developed all of these ideas," he says. "It's hard to make time to get the materials I need, go to the shop (most are 1+ hours away) and manage all of those things while working as much as I do."
So in order to get his robots ready, Charles decided to use Ponoko's laser cutting service.
"Ponoko gives me the ability to order things whenever I want and get it delivered straight to my door," he says.
Charles had previously designed several paper crafts which he used as a starting point for his laser cut designs. "I took the paper craft elements and reconfigured them into wood crafts," he explains. He then ordered the laser cut parts in bamboo.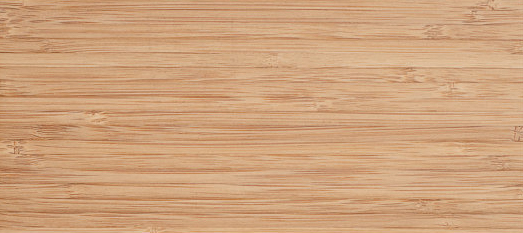 Charles fully assembles the wooden parts, and each piece moves independently so you can pose and animate your toy. For those that want to put the design together themselves, he plans to offer DIY kits for sale too.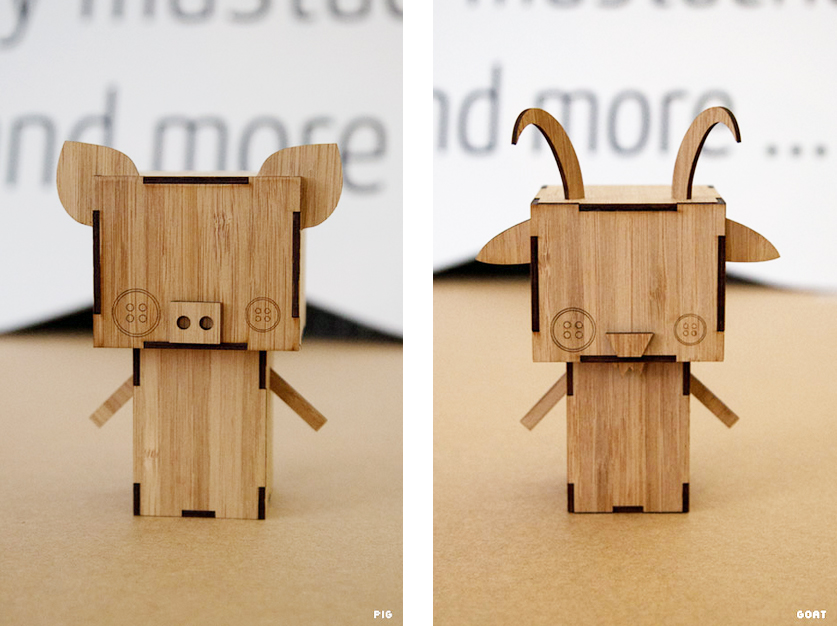 (Of the sixteen animals in his 'bamboo creature army' my favorite is the goat and the pig. $30 on Etsy)
He's also got brand new products available in preparation for holiday sales. "I actually just got some things in the mail on Thursday. I'm making cute and silly charms for necklaces and such," he tells me.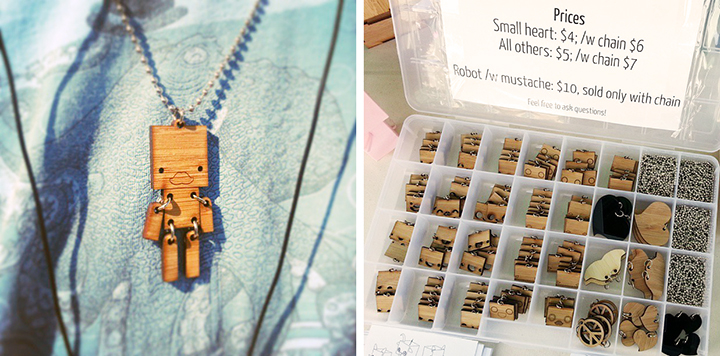 ROBOMUSTACHE products are mostly sold at craft fairs and festivals, but you can also purchase from the ROBOMUSTACHE Etsy store.
Interested in starting your own product line? Learn how to make stuff with Ponoko — and like Charles, you'll be ready to start selling your designs just in time.