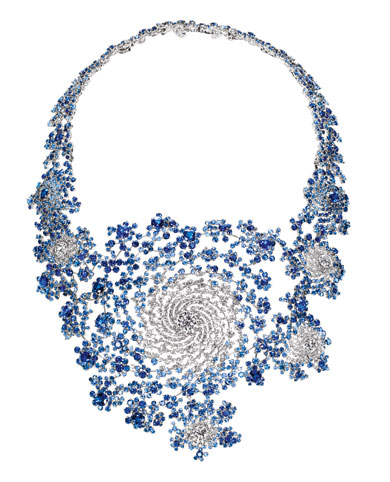 Diamond and Sapphire Julia Set Bling…..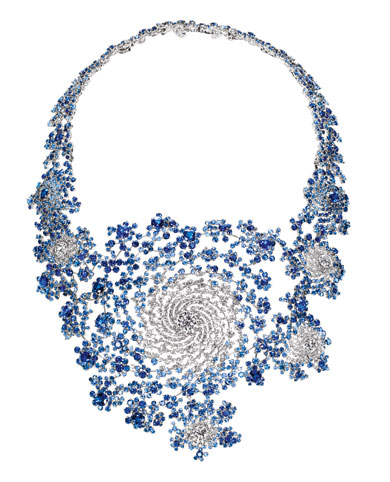 Those of you who are aware of the work of Australian industrial designer Marc Newson may be a little surprised to see the form he has chosen for his latest 'collaboration' with French jewelry house Boucheron.
Best known for his slightly blobject like furniture and interiors like the Lockheed Lounge (the 20 year old hand made chair recently sold for $968,000 at Sotheby's in New York, setting a record for the highest price paid in history for furniture by a living designer) and more recently seating for both first class and cabin class seating for Qantas.

Newson's Julia set is in no way soft and curvaceous but a little harsh and angular, taking on the fractal geometry of the Julia Set, named after the French mathematician Gaston Julia who investigated their self replicating properties circa 1915 with the formula z4 + z3/(z-1) + z2/(z3 + 4 z2 + 5) + c.
The necklace contains around 2,000 paved stones and took Boucheron's craftspeople 1,500 hours to realize using rapid-prototyping technology and a minimal three-prong setting, so the stones appear to float on the wearer's throat.
Though the form is unlike Marc's usual style the move to jewellery harks back to his original studies at Sydney College of the Arts in the 1980's.
To compare this work to other designers using algorithmic formulas such as Nervous System and Arthur Hash which seem to have a much more rigerous and sophisticated.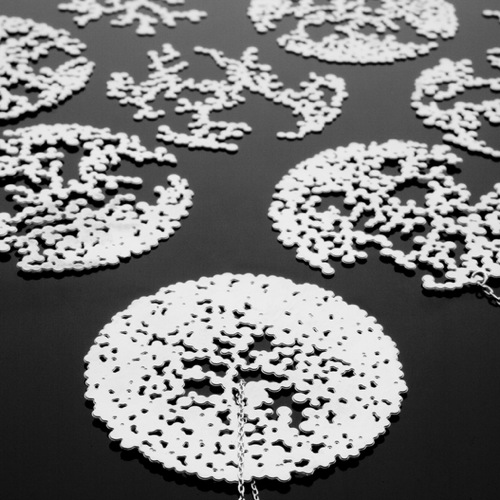 Julia image Copyright Xavier Reboud 2008
Via The Moment