made in Italy

The new Vectorealism site is live! You can now have your designs made in Milan by accessing Vectorealism directly. The site is available in Italian and English, and prices are listed in Euros.
Powered by Ponoko's online making system, Vectorealism provides fast, accessible, and user friendly laser cutting and engraving services. They have worked with a variety of fashion designers, interior designers, architects and artists in creating one-of-a-kind designs.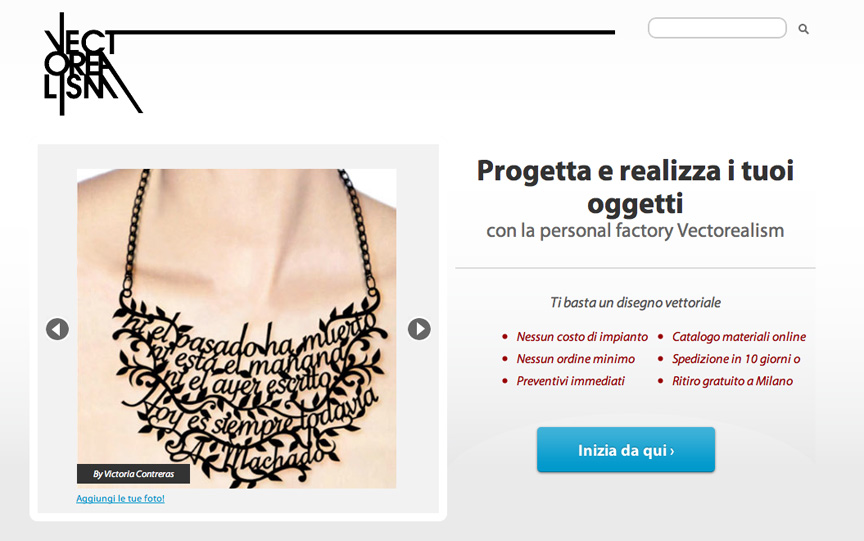 Vectorealism's founder Eleonora Ricca is excited about the launch. "We have been offering services through the Ponoko site since May, but now people can come to our new, dual-language site and order through Vectorealism directly. Having the site in Italian and using Euros makes everything more efficient for us and our customers. We won't stop here. We're about to announce something new and a lot of new materials through our blog and Twitter; stay tuned!"
Ponoko is also really happy about the transition. "This new launch continues Ponoko's evolution into becoming a platform for online making services," says Ponoko CEO David ten Have. "And it continues our dedication to providing a global network of makers, crafters, and designers with access to local making facilities."
To celebrate, Vectorealism is offering 50% off shipping & handling — to everyone, everywhere. Use coupon code RTHIPI by 11 September to receive your discount. CLICK HERE to turn your designs into real products with Vectorealism.
*Note: To open an account you will need to create a different username than the one you use here at Ponoko.