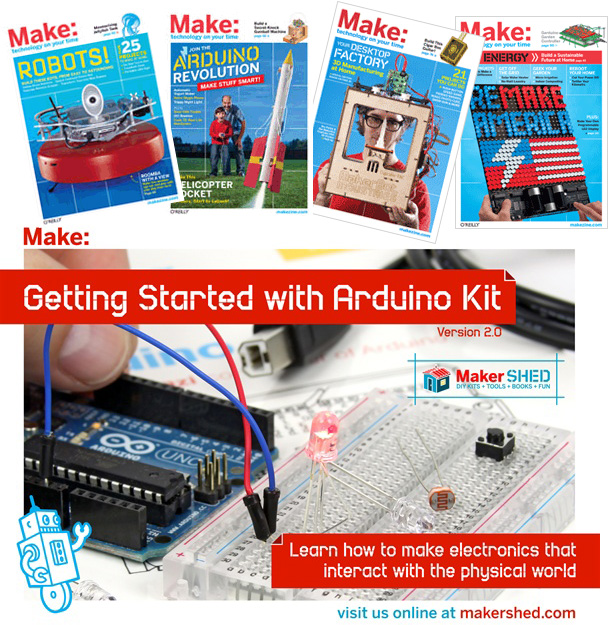 contest closes 31 August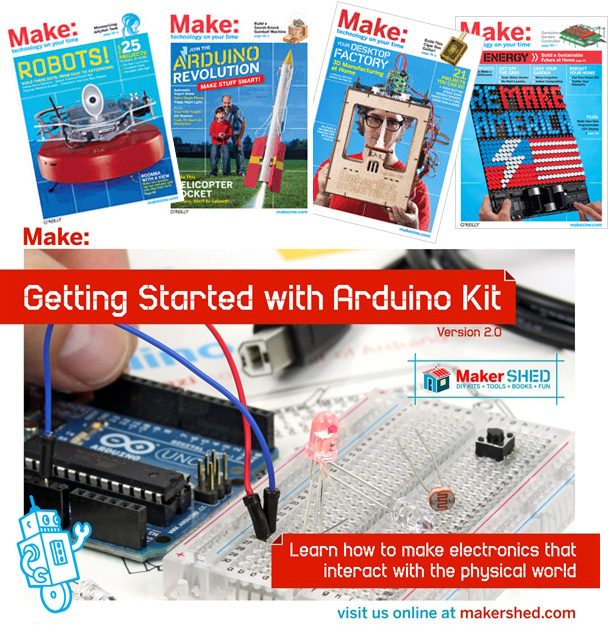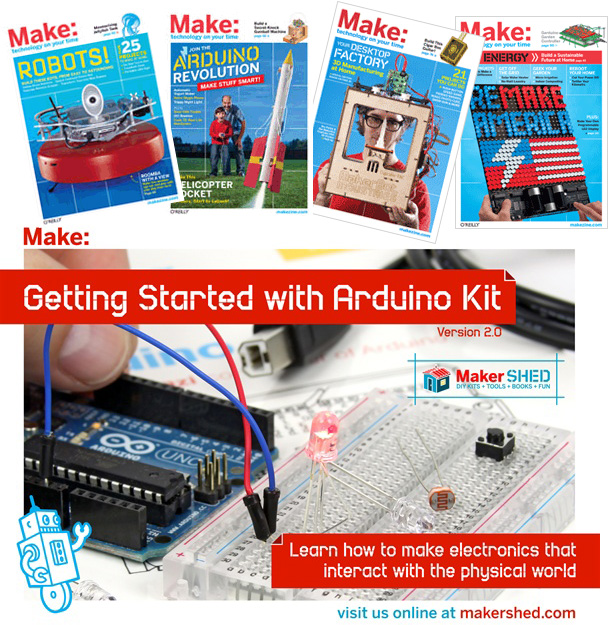 This month the Ponoko blog is teaming up with MAKE to hook you up with some hard copy Make: magazines, plus one super lucky winner will also get an Arduino starter kit.
We're giving away a year's subscription to Make: magazine to four winners. And one grand prize winner will get the subscription plus a Getting Started with Arduino Kit v2.0 from The Maker Shed store!
How to enter
---
To enter, just tell us the coolest thing you ever made and leave a link for us to see a photo. It can be anything: a robot, a scarf, a table, a delicious chocolate cake — anything as long as YOU made it!
A Guide To The World Of Arduino
Everything you need to know about Arduino.
We're not here to judge your projects, we just want you to share. So we'll be picking the winners randomly.
Update: Please just one entry per person. Thanks.
Contest closes Wednesday 31 August at 10pm pacific time.
Prizes
---
• Grand Prize: 1 winner will receive a one year subscription to Make: magazine plus Getting Started with Arduino Kit v2.0 (over $100 value)
• Four winners will each receive a one year subscription to Make: magazine
About MAKE
---
MAKE is a community, resource, and quarterly print publication for DIYers. They've got a bumpin' blog, tons of DIY projects for every hobby you can think, video shows and podcasts, and The Maker Shed store stocked with DIY craft kits, electronics, books and more.
There's also the more girlie and traditional-craft-for-today focused sister site, Craft. Oh yeah, and they're the folks bringing you Maker Faire.
About Arduino
---
You've probably heard the name Arduino a lot lately, but might be wondering exactly what it is. Well lemme tell ya, Arduino makes DIY electronics easy and accessible. There's Arduino hardware (some circuit boards) and Arduino software (a programming environment). With it, you can make all kinds of cool electronics. And the Getting Started with Ardiuno Kit is the perfect introduction to Arduino and physical computing.
About Ponoko
---
We're the creators of
Personal Factory
— a virtual factory that lets you make your own stuff from your computer. You just upload a design file, pick out materials, and we manufacture your design and send it to your door.
Learn more about Ponoko in this MAKE video interview with CEO David ten Have. And sign up for your own Personal Factory. (It's totally free to sign up.)