Delivering the digital making revolution to your door.

Fab@Home. MakerBot. RepRap. All three rapid manufacturing machines are now available for download, customizing, ordering, cutting, and delivery from Ponoko. Downloading the design files for each one is free. You can then modify the files, upload them to your Ponoko account, and order your customized 3D printer.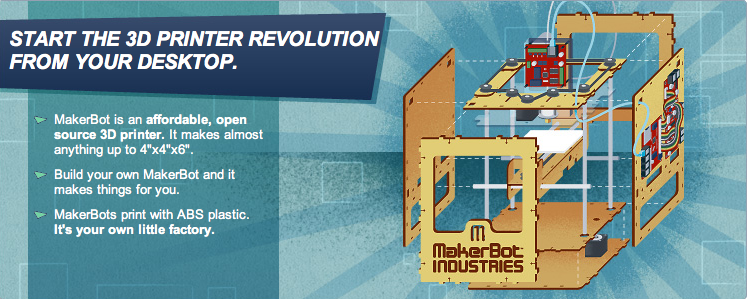 Easy access through open-source plans and affordability has been part of the plan since the beginning for each of these 3D printing manufacturers. "We decided to make it easy for people to make derivatives of our design and push the frontier of DIY 3D printing farther by putting the manufacturing tools of Ponoko in our users hands!" said Bre Pettis of MakerBot Industries.
(Download or order your own MakerBot here.)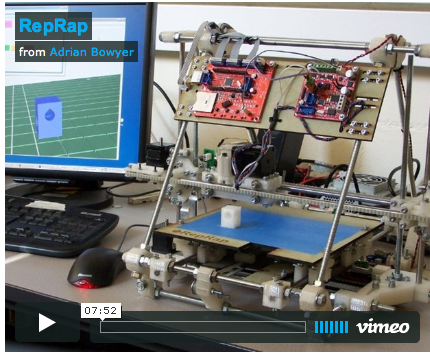 Vik Olliver of RepRap noted other benefits of putting their printer on Ponoko. "Ponoko allows me to distribute kits for the 3D printer without holding stock. It's already allowed me to get dozens of machines into the hands of enthusiasts. Now those people are designing and creating 3D objects, and hopefully sharing their work with others, too."
(Download or order your own RepRap here.)

Unlike MakerBot or RepRap, Fab@Home doesn't have a central distribution network or the ability to boot strap their machine. "Fab@Home requires the use of an existing manufacturing infrastructure," said Jeffrey Lipton of Cornell Univeristy's Computation Synthesis Lab. "Ponoko makes that infrastructure available to us all. As open hardware projects grow and develop, Ponoko will be a place as means for production for de-centralized projects."
(Download or order your own Fab@Home here.)
The availability of 3D printers in the Ponoko showroom is just one more step towards creating the world's easiest making system. As new fabrication machines are developed and existing ones improved, we hope to become a central resource for users to find, make, and share tools that spread the democratization of design.
We will post more on the progress and playfulness going on with these printers. All this excitement is giving the Ponoko team butterflies…