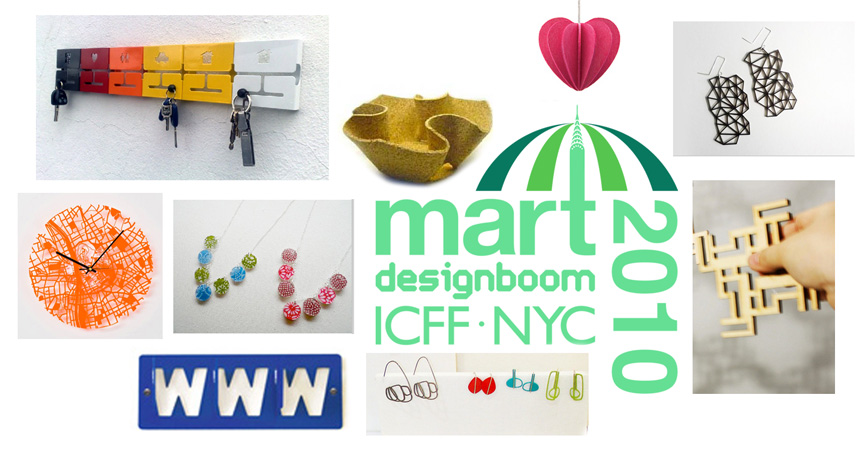 designboom mart at ICFF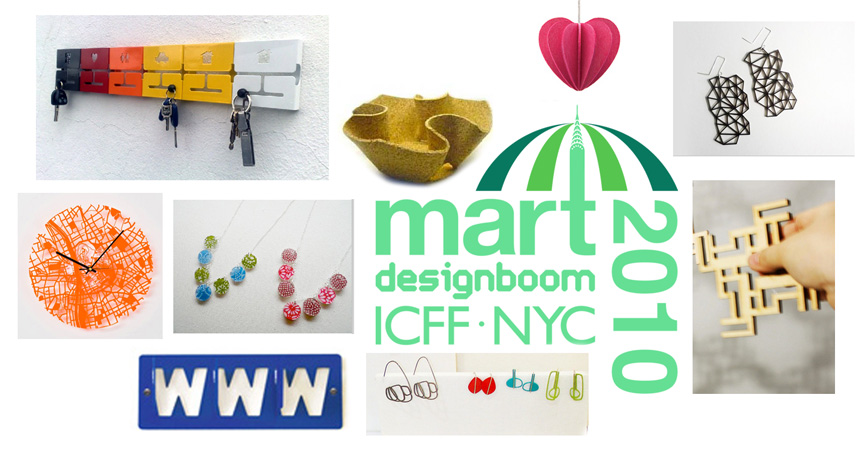 Hitting the floors of the International Contemporary Furniture Fair always takes longer than you think. But this year, I knew where to start. I spent half of my entire first day at the designboom mart.
Before I get into the wonderful people and great designs, let me just say that designboom is doing this trade show right. Trade shows are called such because they are open only to the trade – to industry professionals. But the last day of ICFF has been open to the public for a number of years. The public is in love with design, but they aren't there to request orders for their boutique or outfit their client's homes. The public wants to shop, and the designboom mart is the place to do it.
Designboom Mart offers "design souvenirs" – personal and home accessories ranging in price from $10–$100 – made by young designers from all over the world. I zeroed in on the many designers using digital fabrication methods to realize their product lines.
Yumi Endo is a "UI/Visual Designer during the day, jewelry designer on the week nights and weekends." Cut by Endo Design is a collection of geometric, laser-cut jewelry.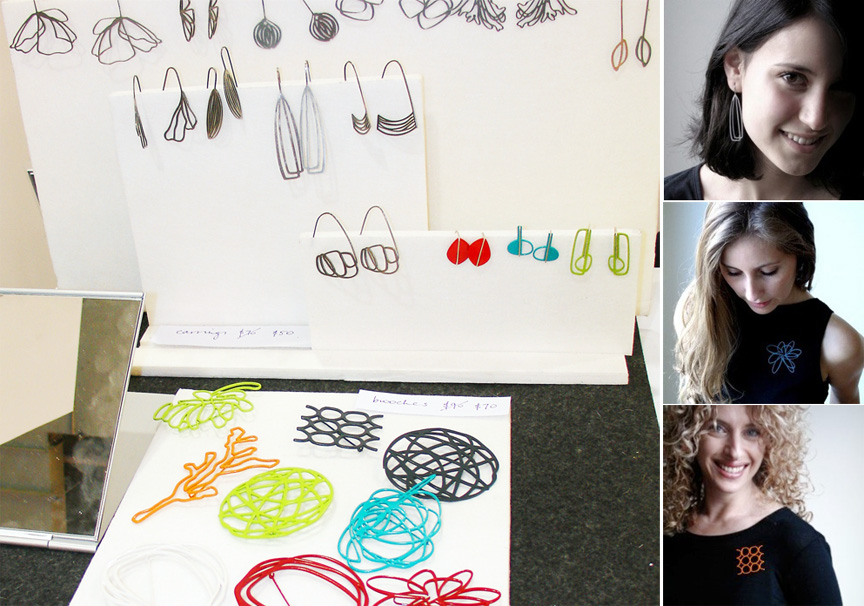 The jewelry line from Australian company In-Sync Designs was organic and free from, ranging from earrings like blind contour drawings of flowers to broaches in the form of frantic tangles. The ladies behind In-Sync, Iris Saar Isaacs and Jane Barwick, are trade show pros. Check out their events list and blog for the latest on their busy lives of design.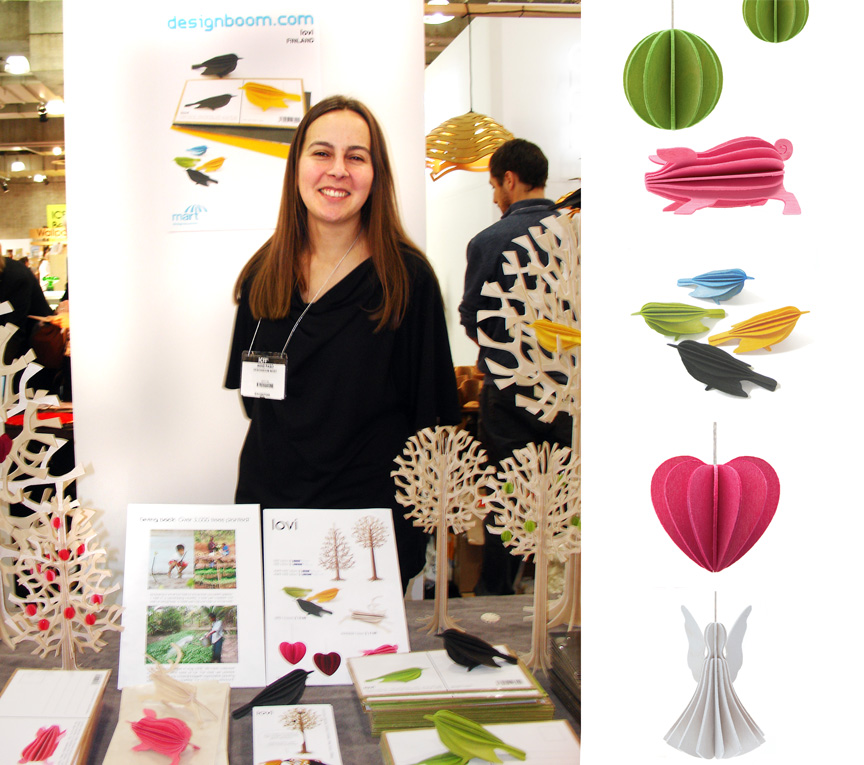 Finnish brand Lovi, previously mentioned on the blog, was at the dboom mart with their unbelievably cute flatpacks. Designer Anne Paso was a sweetheart, and I was tempted to buy a bird in every color plus the pink pig. Who could not love Lovi?
Matthew and Takako Copleand of Family Tree bring a little something extra to the laser-cut jewelry genre. They use colorful, patterned Japanese rice paper encapsulated in the acrylic before laser-cutting their "whimsical & slightly nostalgic Japanese shapes."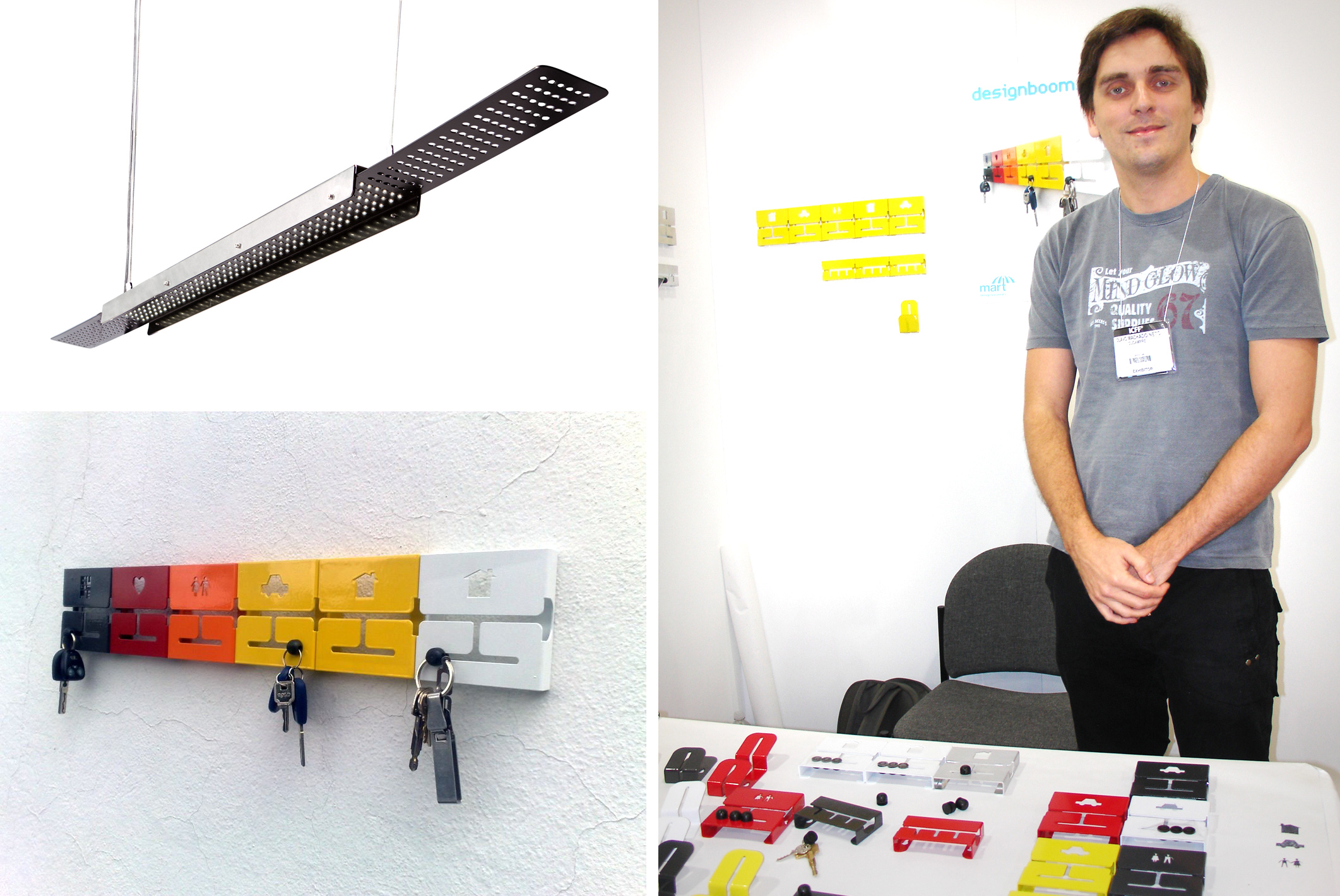 Cucampre is a product design company from Brazil. They currently have a series of clever, wall-mounted key organizers as well as a stainless steel LED lamp.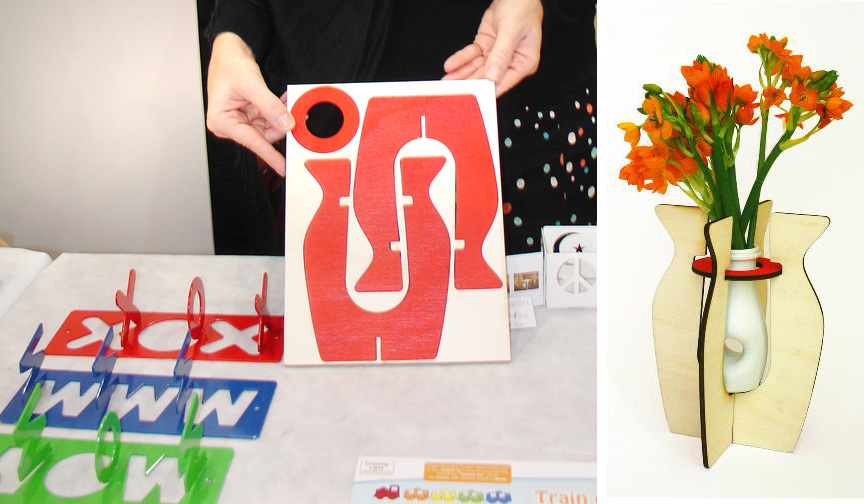 Limor Yaron, a product designer hailing from Israel, had more powder-coated stainless steel wares including a cool line of contemporary Judaica plus a flat-pack, wooden vase.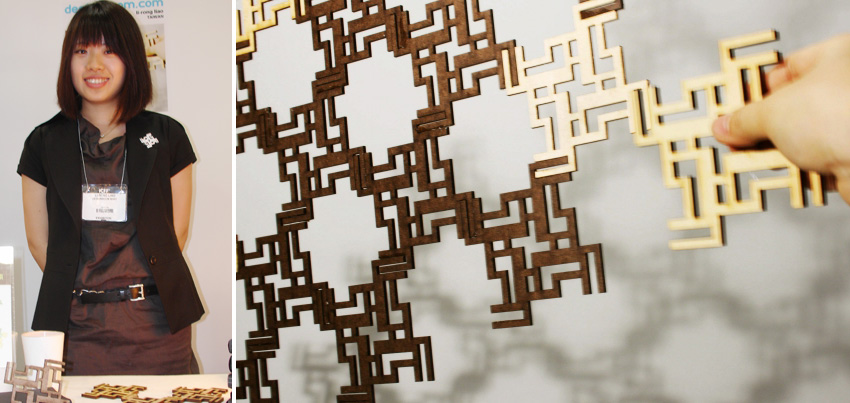 Ponoko fan Li-Rong Liao presented her Iscreen (previously blogged here) and Vine jewelry stand. You can purchase Liao's designs in her Ponoko showroom.
Laser-cut cork was the stand out material from Portuguese designer Tiago Sá da Costa. Undulating lamp shades were suspended over wavy cork bowls. Even the designer's business card is a a black screen print on a piece of soft, flexible cork. Also shown above, Lotus Lamp in aluminum.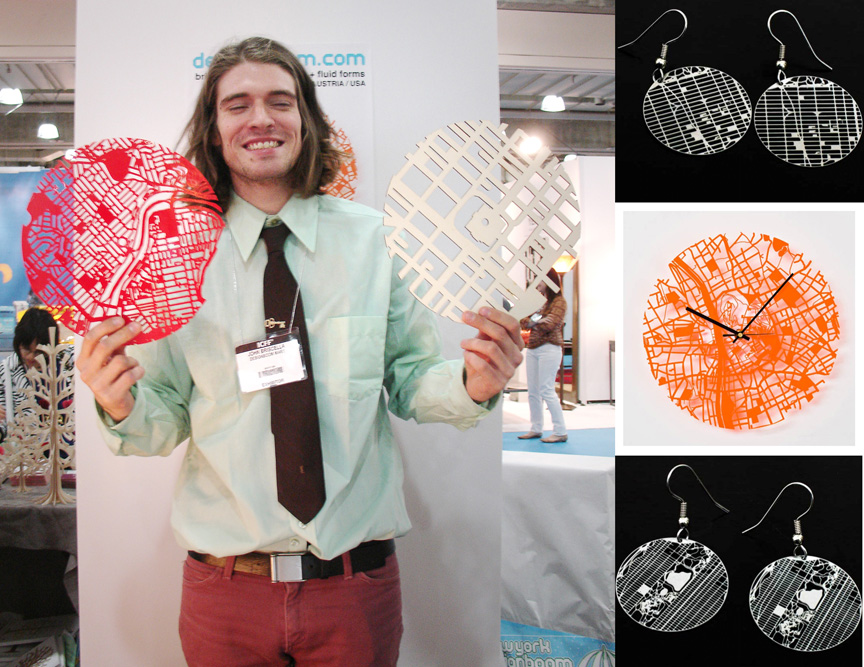 World-traveller John Briscella translated his love of cities around the world into customizable street-map product designs. Clocks and earrings can be laser-cut from pretty much any city in the world. Customize a design with your favorite city at Fluid Forms.
For more NY Design Week Coverage check out:
• Materials at ICFF 2010
• Digital Fabrication Trends at ICFF
• Model Citizens NYC