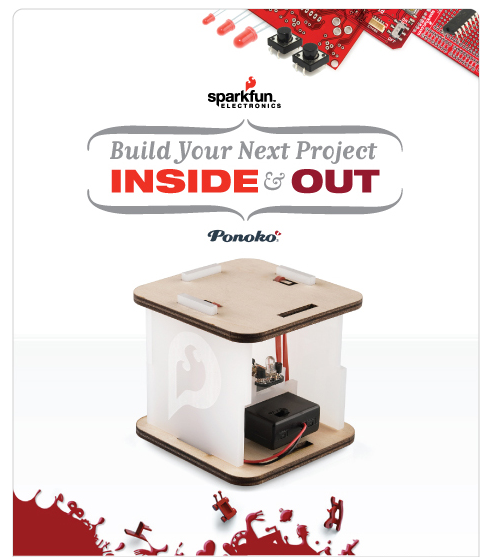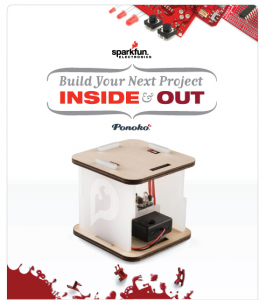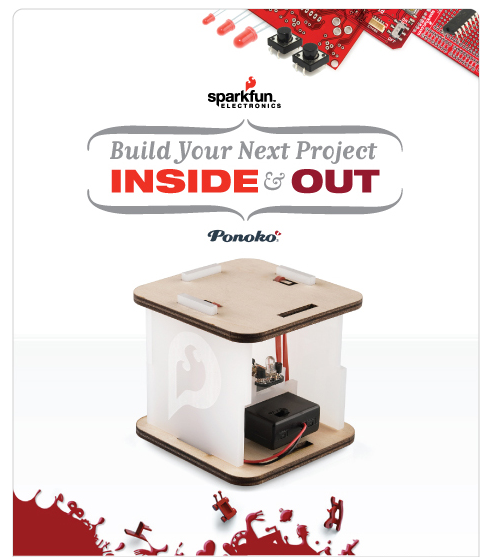 Ponoko And SparkFun Announce Partnership
It's official!
Ponoko has teamed up with SparkFun Electronics to help make it easy for you to build custom electronics products using your online personal factory.
This combines the digital making wizardry of the world's easiest making system with a 1500+ strong electronics catalog from open source electronics supplier SparkFun.
This new service extends Ponoko's materials catalog to include electronic gadgetry as well as timbers, plastics, fabrics, metals and other sheet materials.
"It's the first time we've offered non-sheet materials," says Ponoko CEO David ten Have. "Adding hardware to the mix opens up new possibilities on several fronts. Creators can order all the parts they need with one click, rather than needing to go to multiple sources. They also have a single place to describe and store their product design and its components – in this case, the custom parts and the electronics hardware."
The electronics catalog has been slotted into the existing Ponoko making process so there's virtually no change from the current making system. Creators upload their designs and select flat sheet materials. Then they have the option to add electronic hardware to their order at the same price as buying direct from SparkFun. They get an instant online price, check out and all of their items are delivered to their door – custom parts from Ponoko and electronic parts from SparkFun.
"This partnership with Ponoko is more than just business. Rather, it represents another step in our goal of 'enabling electronic enthusiasts,'" said SparkFun Chief Operating Officer Trevor Zylstra. "SparkFun and Ponoko are working together to create an easy way for our customers to make polished, complete projects. We want the SparkFun community to have the resources to create unique custom enclosures for their projects. Working together with Ponoko, we think we have accomplished that."
The new service also makes it more practical for creators to sell their custom made electronic products.
"Anyone can sell their custom made goods on Ponoko, including electronic products," says Mr ten Have. "They just take photos of their finished items and upload them to their free Ponoko showroom along with a description. Customers order online and we take care of the fulfillment process – delivering the custom parts and hardware direct to the customer for self assembly."
More than 60,000 user generated goods have been made so far using the Ponoko system. Providing easy access to materials is as much a part of its popularity as easy access to making technology and the Ponoko team hopes to continue to expand its material catalog over the coming months.
Give it a go, and let us know what you think in comments below!