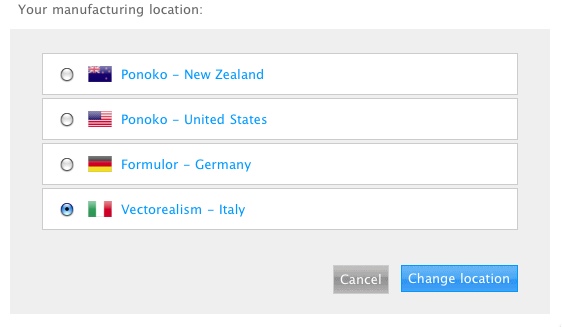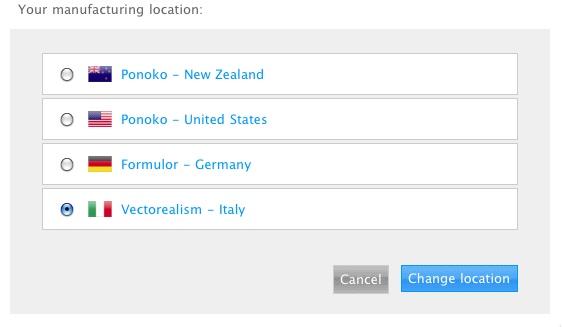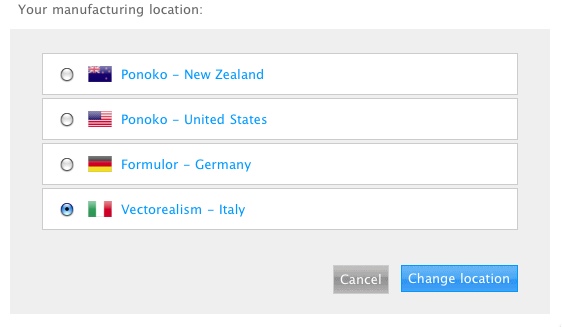 A little more detail on our Italian connection for existing members
Now that Vectorealism has come on board with an independent making hub in Italy, you'll notice a few changes when you log into your personal factory. Nothing major – but we'd thought we'd cover them off anyway just to be super thorough.
The addition of a new country flag
When you log into your personal factory, you'll continue to see your existing products with a US, New Zealand or German flag. This flag tells you where your product will be made and shipped from. When you select Vectorealism as your preferred making hub and upload new designs to be made there, they will be auto tagged with an Italian flag.
A new set of terms and conditions
If you want to make and ship from Vectorealism, all you need to do is change your default country preference to Italy. Set it and forget it.
But remember, when you select Vectorealism (or Formulor in Germany) to make and deliver your stuff, you are contracting with them direct, and not with Ponoko. You will need to agree to Vectorealism's terms of use, which are unique to them.
A reminder for Prime subscribers
Ponoko Prime is limited to items made at Ponoko USA and Ponoko NZ hubs, but not the independent European hubs. As a Ponoko Prime user, you will pay the same rate for their services as everyone else.
It goes without saying, but we love our Prime members (a lot). While we've figured out the bones of a new solution for you, we're a little way off from implementing it because we're so busy getting these new making hubs live. But we will, promise.
The effect of selecting Italy as your country preference
You'll notice two things if you choose to change your country preference to Italy:
1) Your EXISTING products will be tagged with a US, NZ or German flag
Your existing products will continue to be made and shipped from whatever was your preferred hub at the time you uploaded them. This is because the materials have been selected from the US, NZ or German materials catalog.
2) Your NEW products will be tagged with an Italian flag
Your new products will be made and shipped from Vectorealism's Italian hub. This is because the materials have been selected from the Vectorealism materials catalog.
USD currency
For the moment everything continues in USD – all making, materials and shipping in the EU are priced in USD. So while Ponoko USA and Ponoko NZ charge US$2 per minute for making, Formulor charges US$2.73 per minute, and Vectorealism charges US$2.50 per minute.
Now 4 materials catalogs to choose from
Ponoko shows the USA materials catalog by default. You can view the other catalogs by using the US/NZ/Germany/Italy toggle button at the top right hand side of the materials catalog.
New shipping rates
The simple rule is – the shorter the distance something travels, the lower the shipping cost (and lower the carbon footprint).
Currently if you live next door to one of our making hubs or one of the new independent hubs your shipping cost will be the lowest possible. If you live some distance from one of these hubs, the cost will be higher.
For those in Europe, the addition of Vectorealism's Italian hub and Formulor's German hub means that shipping rates to Italy and Germany are fantastic. Rates to other countries in Continental Europe are much better than they were before these independent hubs came on board.
The new rates to the UK are much lower than those from Ponoko's US hub, but are comparable to those from Ponoko's NZ hub. This is because we are still subsidizing shipping from NZ to the UK. We will continue to do this until a UK making hub opens and local shipping rates are available.
In all these cases, remember that shipping costs are controlled by shipping providers – not Ponoko and not Formulor or Vectorealism. That's why our goal is to connect digital fabricators as close to you as possible. First Wellington NZ, then San Francisco USA, then Berlin Germany, and now Milan Italy.
For those in other countries, there are more hubs coming, and your location might be next …
Want to get making?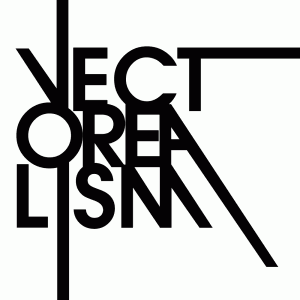 Check out the special $1 per minute offer from Vectorealism – it ends midnight May 31st 2010 !!