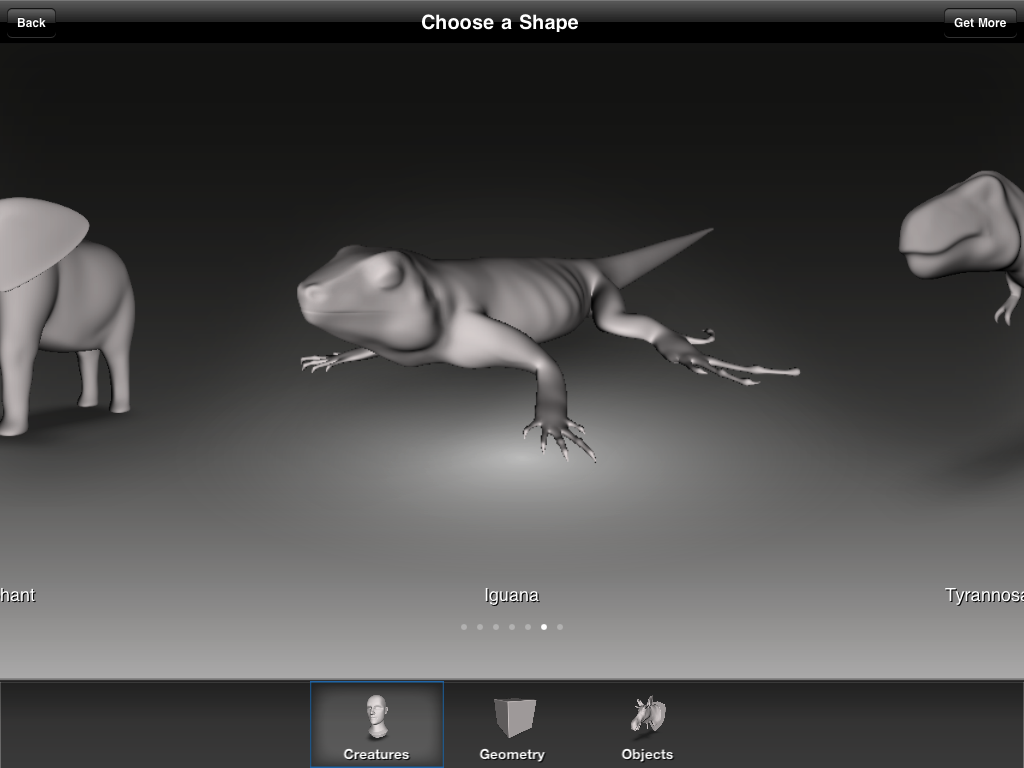 Autodesk's 3D sculpting app for iPad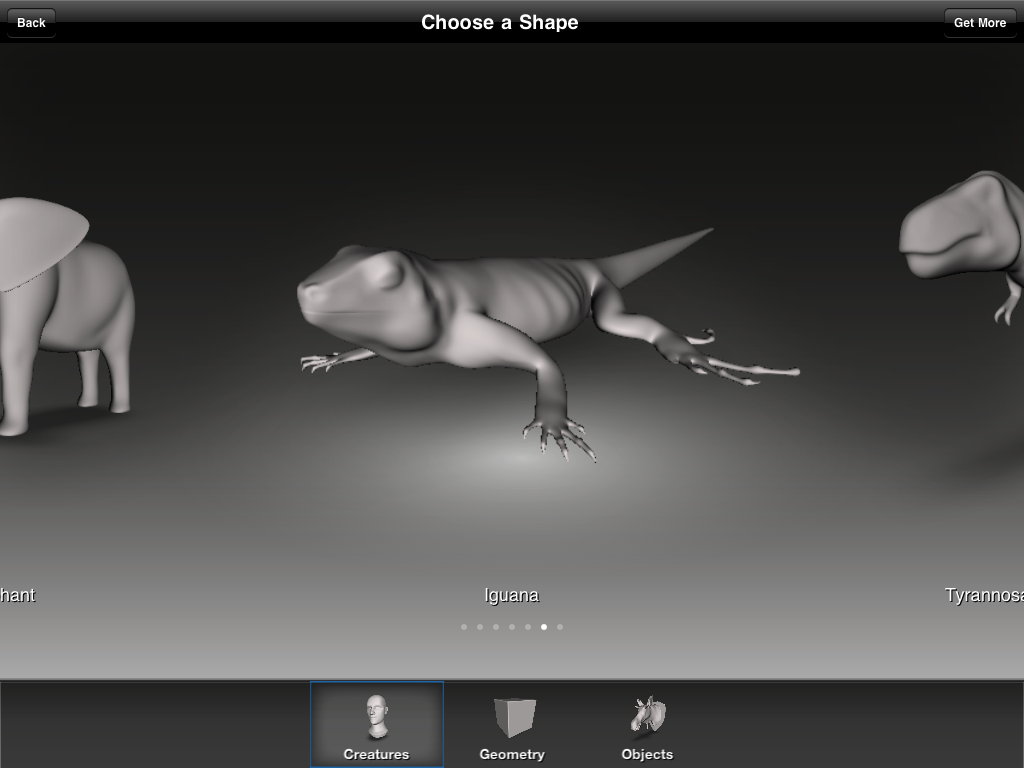 I borrowed an iPad 2 over the weekend to check out Autodesk's 3D sculpting app. 123D sculpt is, not to be confused with Autodesk's free solid modeler also called 123D. 123D Sculpt is a 3D modeling app for iPad that uses a clay sculpting metaphor for generating and manipulating 3D forms. 123D Sculpt feels very much like Pixologic's Sculptris, a minimal feature set 3D sculpting application that is available on Mac and PC. For any experienced 3D modelers, take note this is no ZBrush, this is aimed at concept organic sculpting that is accessible to anyone.
Performance
I was fairly skeptical of how Apple's A4 low power processor and graphics chipset would handle 3D content generation, but I came away pleasantly surprised at how well it managed. It kept up with my quick strokes, without noticeable delays.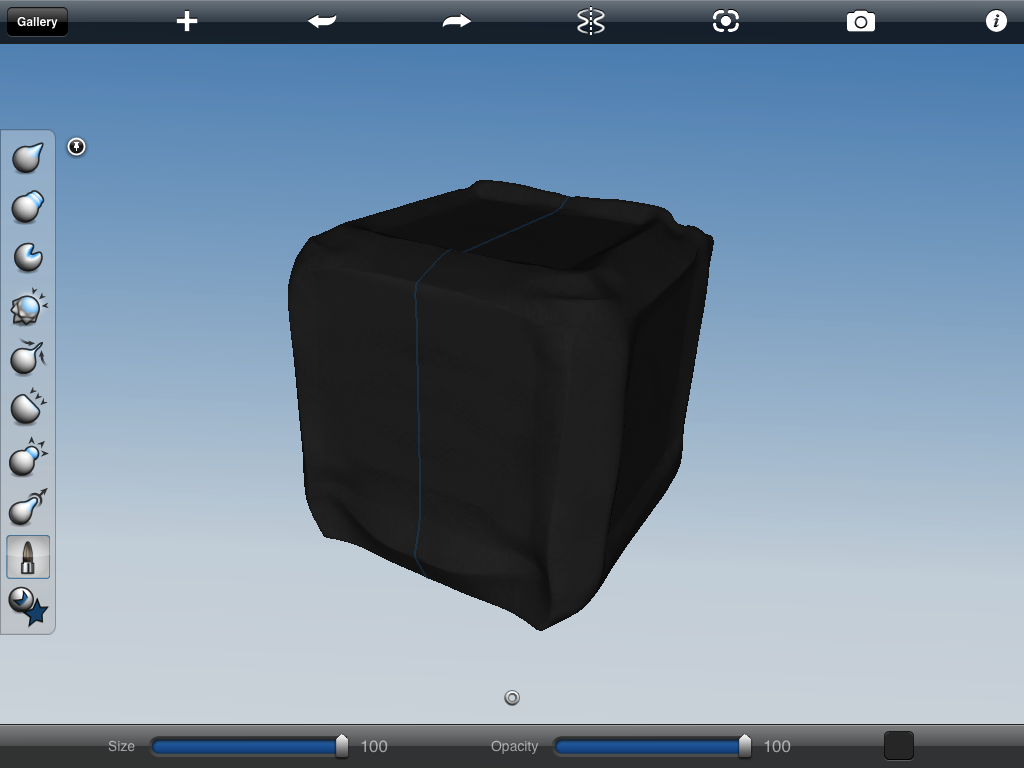 Interface
I found it very user friendly – I'm not particularly familiar with touchscreen interfaces, but 123D Sculpt follows the conventions of iOS well – pinch to zoom in/out , two fingers to pan, etc. Similarly rotating around the 3D interface is very easy and intuitive. Autodesk has suceded in making a very natural 3D space to navigate within. I typically use a mouse/wacom tablet for 3D modeling and for the most part I didn't miss these pointer devices. It does feel harder to accurately place details with a finger than with a mouse in Sculptris, but Autodesk's 123D gallery shows with a little patience amazing results are possible.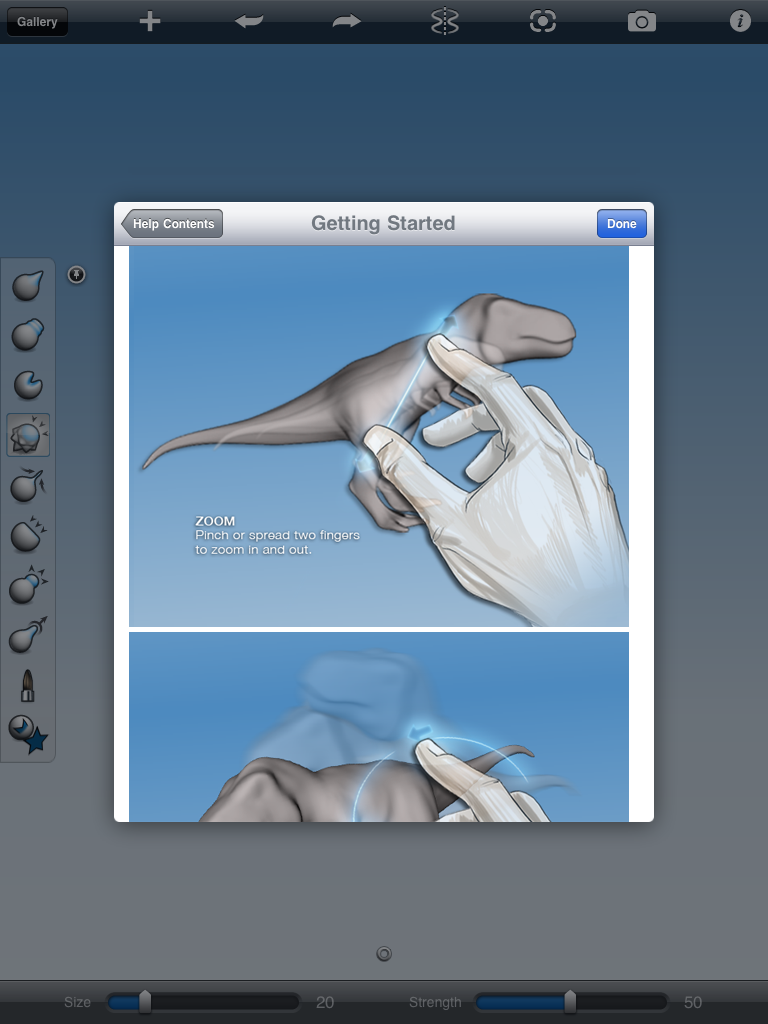 The tools are fairly basic, but useful – pull, push, smooth, flatten and sharpen edges are all accesible from the main screen, but it is also possible to hide the toolbars for a clutter free modeling space. It includes a few features that Sculptris lacks – stencils where you can paint over image overlays and project them onto the surface of the 3D model. It would been nice if this feature had some form of texture or bump mapping, but its still cool to lay textures over the top.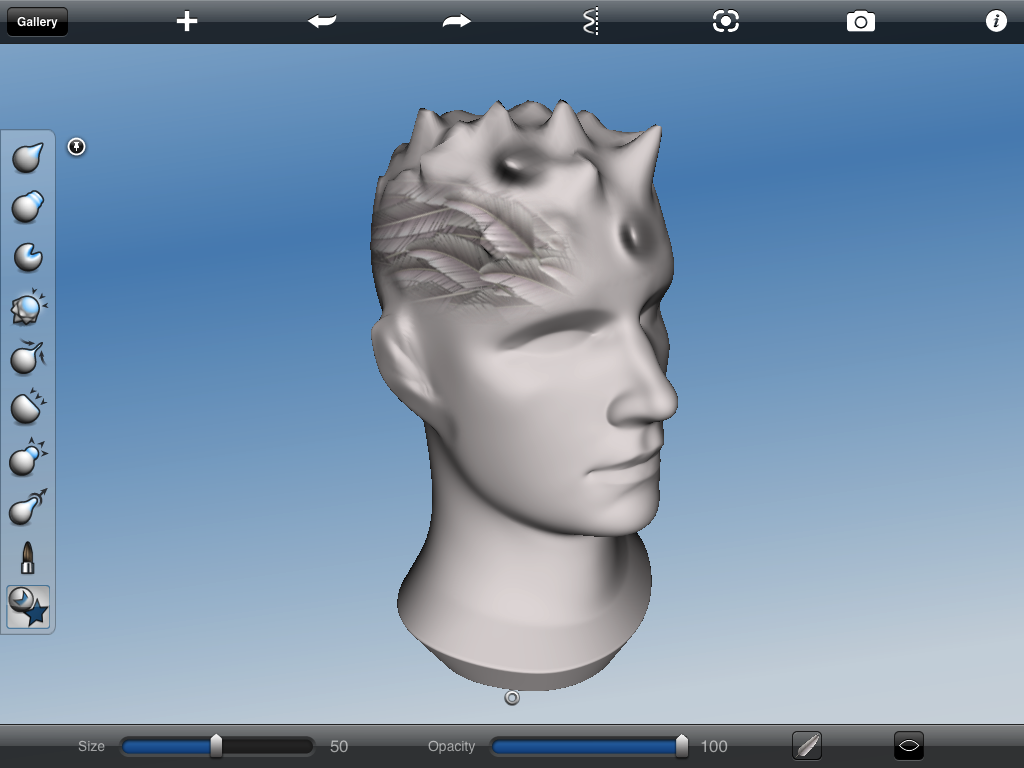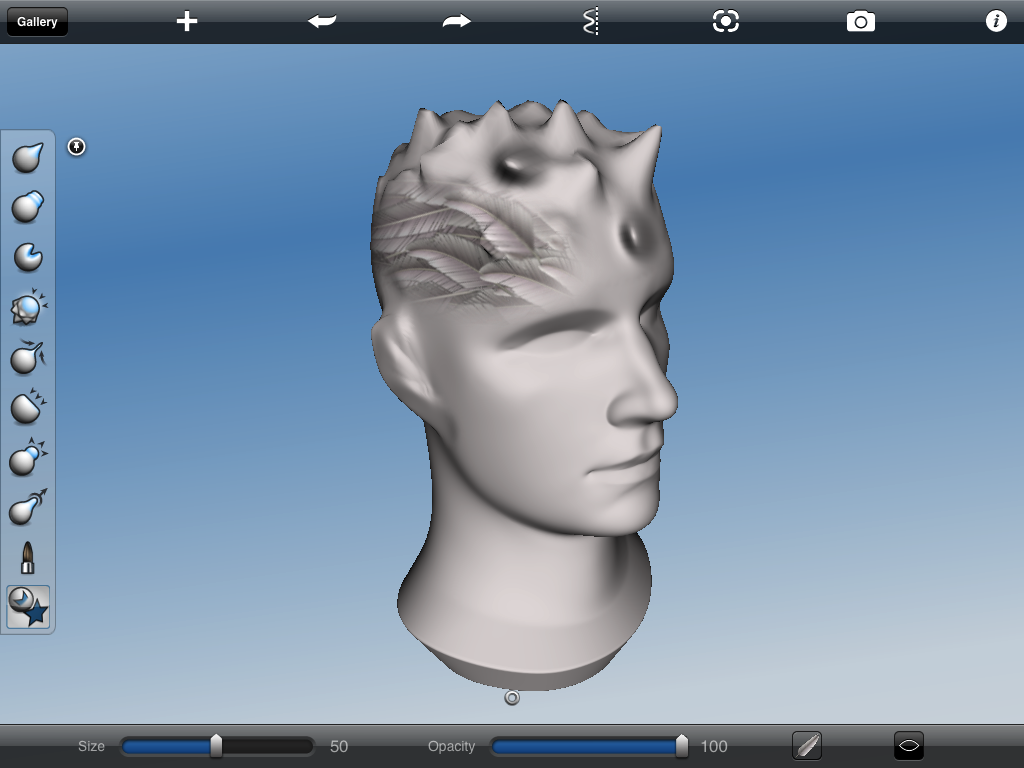 Starter Shapes
The app comes with starter models you are able to manipulate – geometric solids, animals, a human face and body. Additional base models or Start Shapes are available in sets of 4 from Autodesk for NZD$1.29 each. (I assume these are priced the same as iTunes songs in the USA app store for $0.99c.) These packs include animals, medieval and transportation themes.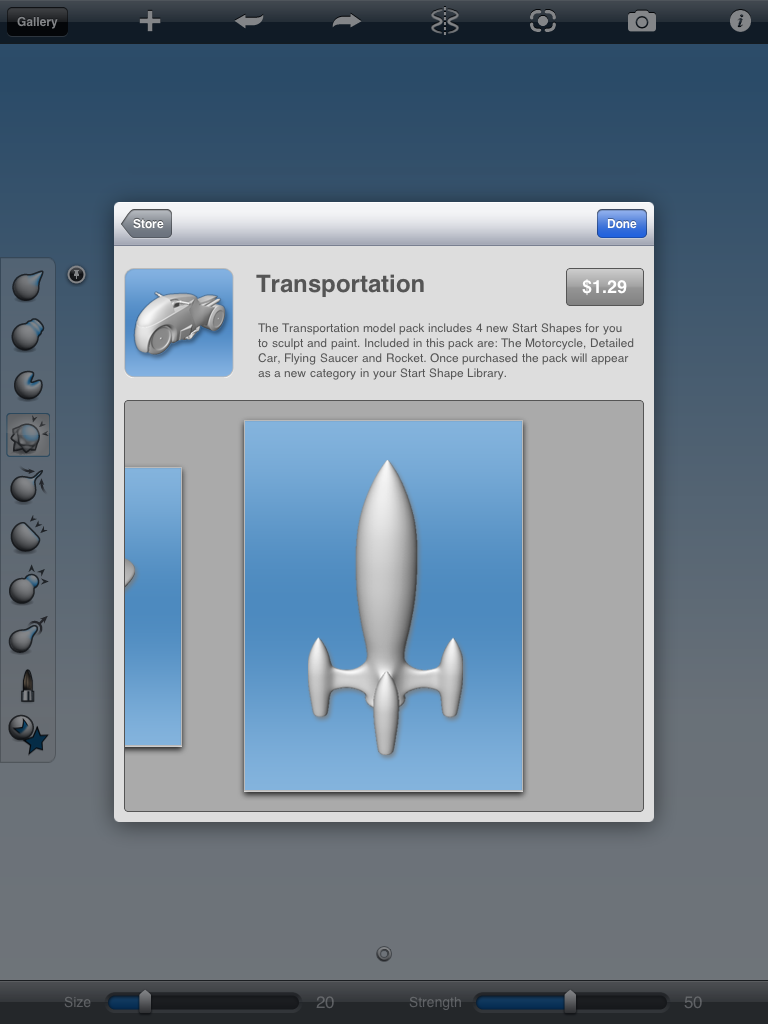 My only real negative comment on 123D sculpt is that it currently feels a little like a proof of concept. It lacks a few features most notably – no import or export for 3D files, (so no 3D printing just yet) however, watch this space. I expect Autodesk is listening closely to people on the 123D Sculpt support forum who are crying out for this feature and will likely implement it in a future version. Overall I'm very pleased that Autodesk has proven that 3D content generation on touch screen tablets is not only possible, but feels quite natural.
People who are interested can download 123D Sculpt for free at the App store.
---
David is an industrial designer from New Zealand. He contributes a weekly 3D print or CNC article for Ponoko. You can follow him on Twitter
@dizymac