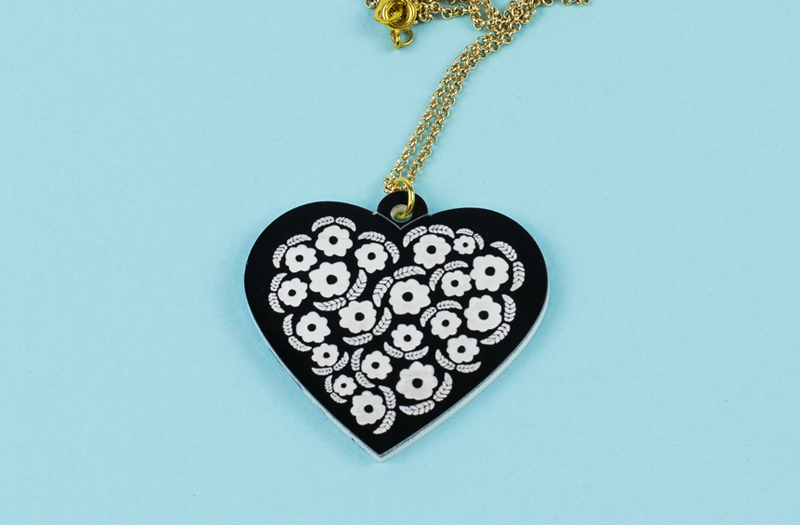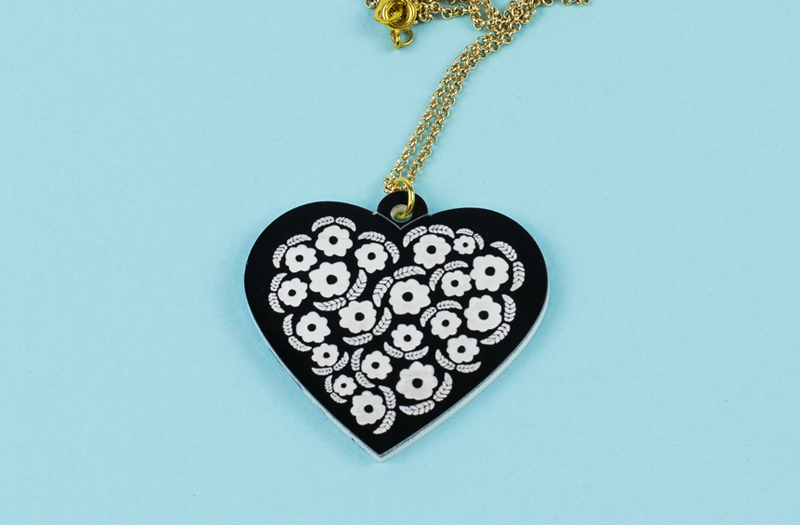 With Thicker Two-Color Acrylic Added To Both The NZ And USA Catalogs, You Have Even More Design Options
There's something special about two-color acrylics. The contrast. The professional presentation. Previously only available in 1.5mm thickness, now 3.2mm black-on-white acrylic has been added to the NZ catalog and 3mm black-on-white and white-on-black acrylic to the USA catalog for even more design options.
Whether you're making jewelry, electronics enclosures or signs, the contrast two-color acrylics provides not only visually organizes information but also grabs attention and creates focus. Perfect! But how?
Contrast is one of the key principles of design (in addition to alignment, hierarchy, balance, repetition, proximity, balance, color and space). While contrast is critical for successful designs in print and online, it's especially important when it comes to laser cutting.
In the past, makers would have to painstakingly hand paint details onto jewelry and other small parts to get a striking contrast. But since the introduction of two-color acrylics, achieving a sharp finish requires waaaay less work.
Two-Color Acrylic For Jewelry
When it comes to making jewelry with two-color acrylic, it's all about the laser engraving. Just look at the precision of the floral design on this heart pendant. The detail is incredible. Plus, it's consistent—an important consideration if you're making a product to sell. And with the new thicker sheets, pieces are more substantial and can command a higher price point—meaning more profit for you!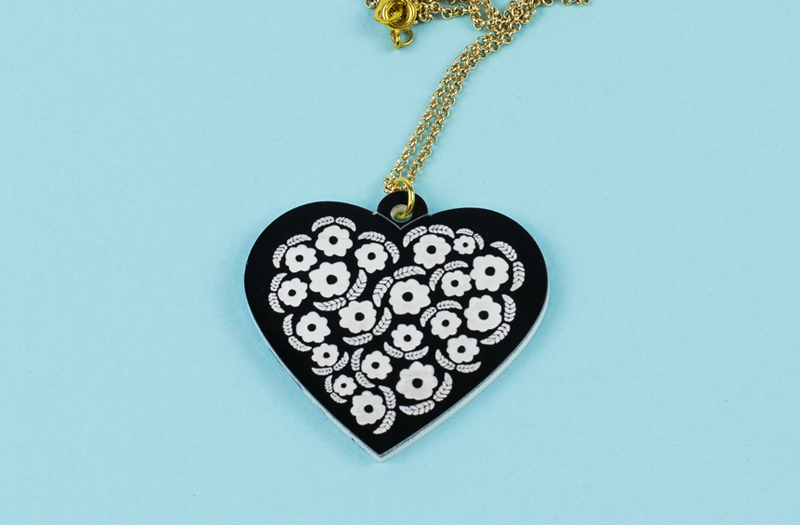 It's clear that a high level of detail can be achieved when laser engraving two-color acrylic. But how do simple cuts and geometric shapes turn out? Let's take a look.
In this example using white-on-black acrylic, the left side shows a combo of laser cutting + area engraving while the right is laser cutting only. Once engraved, the black has a somewhat softer grey appearance. This is inherent to the engraving process, which tends to create a frosty finish. Additionally, white-on-black acrylic tends to get some dark flaring on the white surface that may need to be cleaned off (as we have done here). What's really interesting in the right pendant is the sense of depth that is created with the black edges, giving the piece a three-dimensional appearance.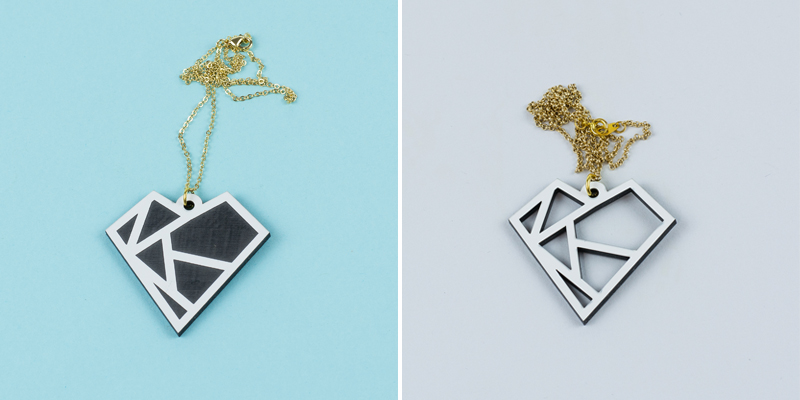 On the other hand, black-on-white acrylic tends to have greater contrast when engraved. As with the above example, we laser cut + area engraved the thicker sheet on the left and only laser cut right. Since the underneath color is white, note that the frostiness of the engraving doesn't cause color issues like how the black was muted to a grey above. Also, the low melting point on this material means internal cuts can have a little bit of the lower color come through.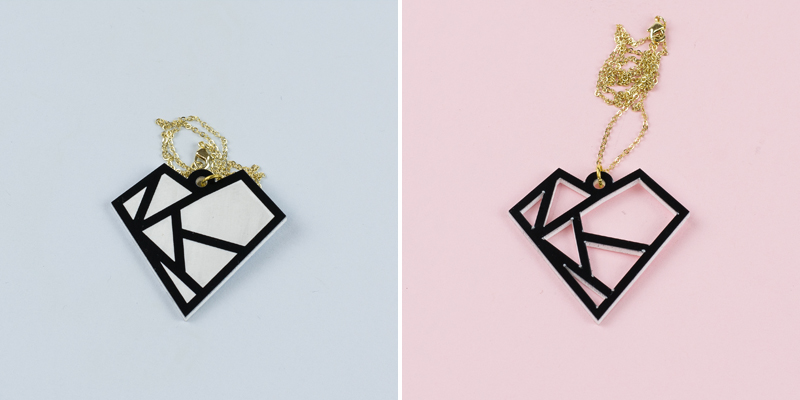 Two-Color Acrylic For Electronics
When building engineering projects, using thicker two-color acrylic not only gives you the opportunity to have detailed engraving designs, but it also results in a more substantial, stronger box or panel.
Check out this Stacking Pi Case, for example. Sure, all those slotted parts would look nice in a solid acrylic, but it's so much sweeter with white-on-black acrylic where the black edges and definition in the engraving makes the case distinctive.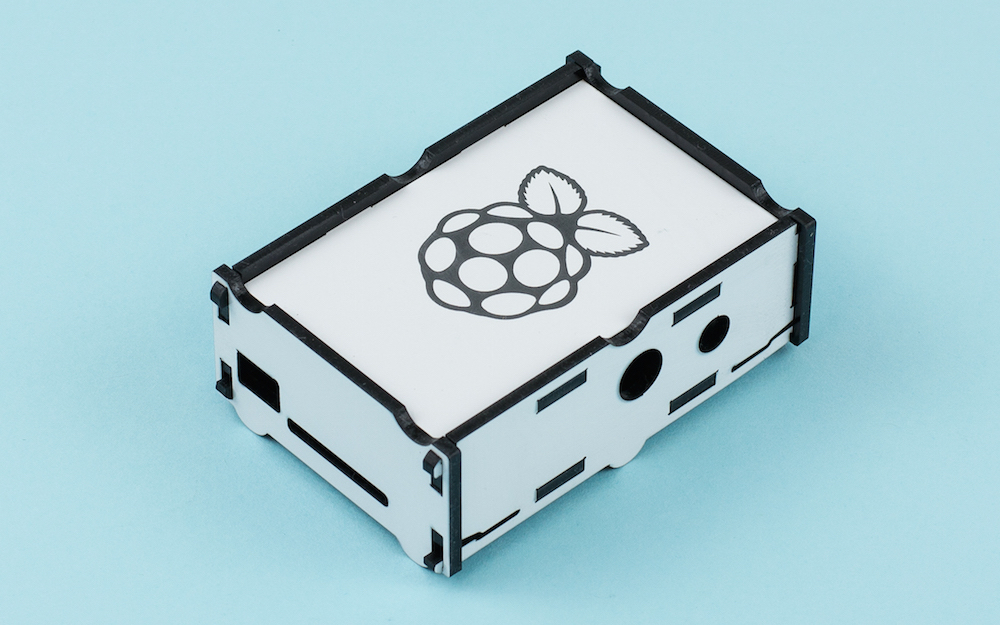 Since electronics often need labeling, custom panels are one of the most popular laser cutter projects. Customer Volker Ritzka designed this Tomato Tent panel to professionally customize the back of a grow lamp control box. The holes are for snap-in connectors, and the long slits are for cooling.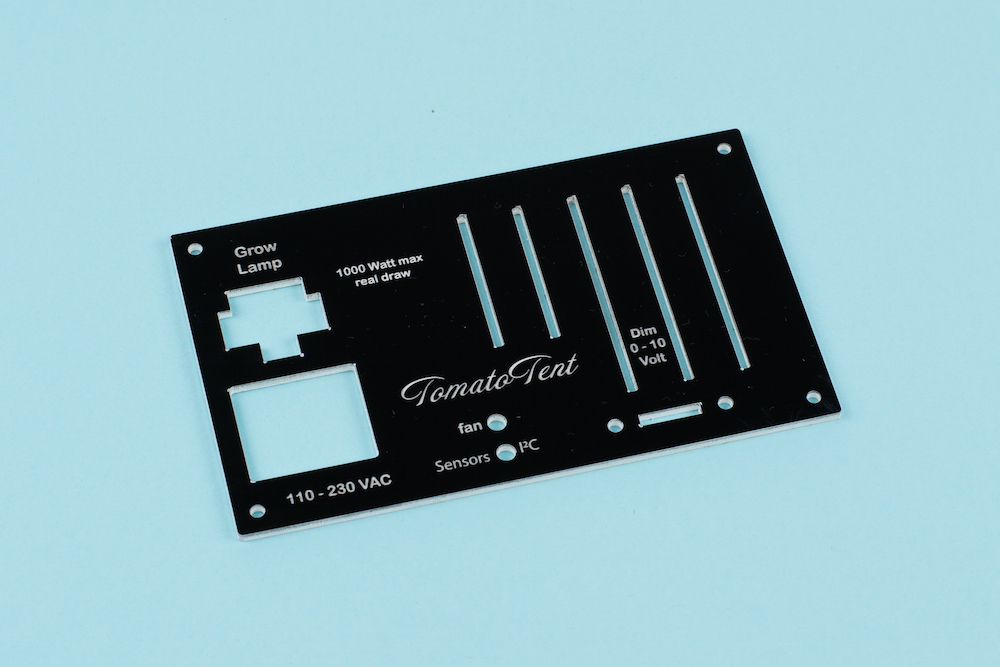 Unless you're a robot, digital sound files must be converted to analog wave files for human ears to hear the resonance of a voice, the reverberation of a guitar or the roar of a crowd. Whether you find nirvana with Kurt Cobain's angst or Sheryl Crow makes you happy, having a properly labeled DAC (like this one laser cut and engraved from white-on-black acrylic) will ensure you can still rock in America (or wherever you live).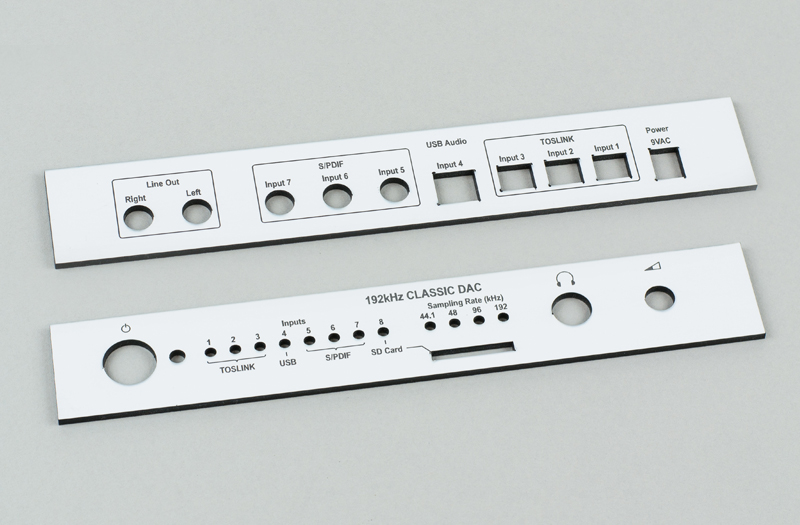 Two-Color Acrylic For Signage
A lot goes into typography design, especially when designing signs. Serif. San serif. Kerning. Line space. Alignment. Deciding between fonts that communicate masculinity vs. femininity, modern vs. retro, professional vs. casual, serious vs. whimsical.
Typography establishes a visual identity and expresses personality. So when your designs incorporate wordplay, think about how you can use thicker two-color acrylic to your advantage to showcase your message.
For the strongest contrast, nothing packs a punch and communicates more clearly than black-on-white acrylic, as can be seen in this directional sign.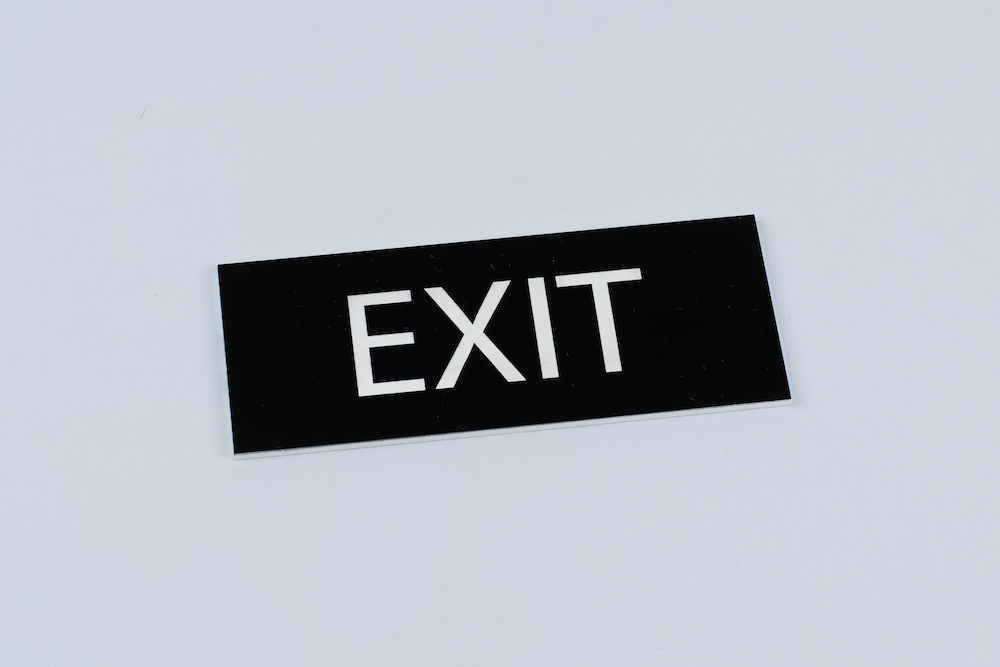 Logos and symbols work equally as well, as demonstrated by this recycling symbol using black-on-white acrylic.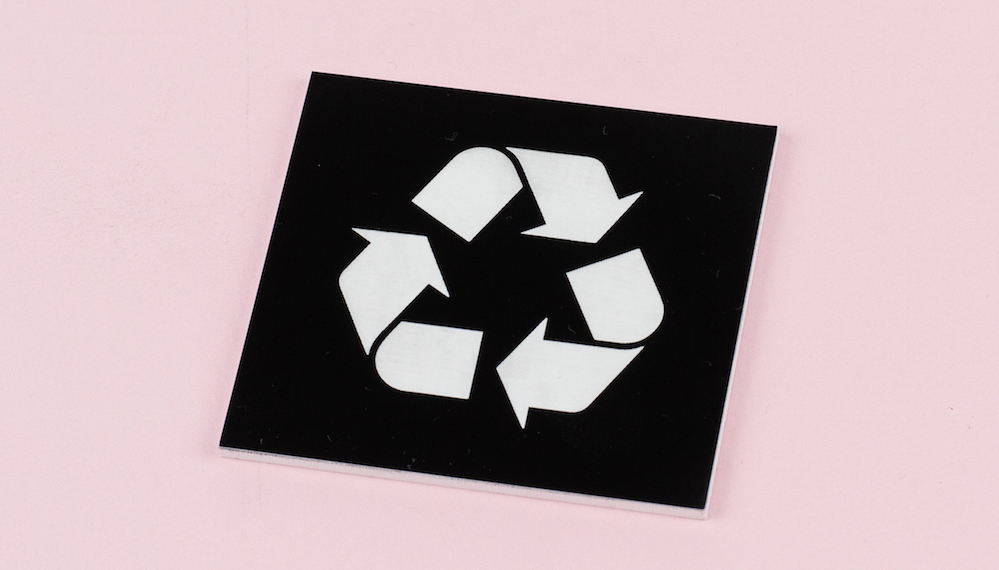 But what if you need a more subtle approach? White-on-black acrylic still has excellent readability but with a softer look.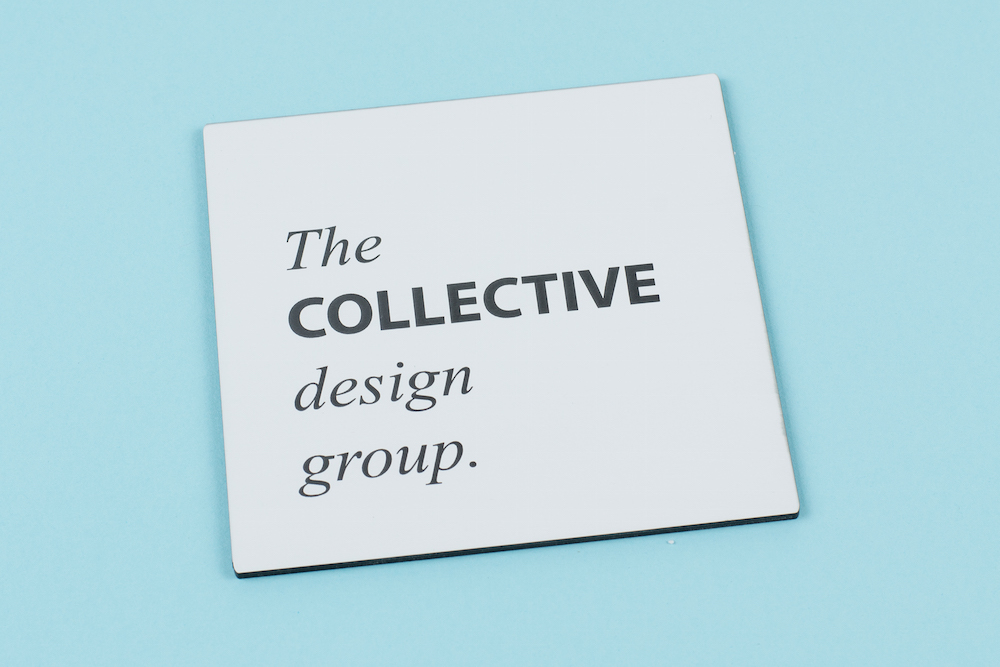 Now Available: Thicker Two-Color Acrylic
Two-color acrylics are super versatile and have a number of benefits. Because the top layer is engraved away, the bottom layer of the acrylic is revealed. This results in excellent readability because the precision of the laser cutting gives the illusion that the graphic and lettering work is printed. Thus, two-color acrylics are ideal for products that need text or graphics along with the unique shape achieved with laser cutting.
Two-color acrylics are also manufactured with a UV-resistant additive. So while there will naturally be some fading with extended sun exposure, these acrylics hold up much better in UV light, making them quite durable for signage applications.
Finally, this material is Microsurfaced Impact Modified Acrylics. This means it contains a small amount of polymer that is similar to rubber to give the acrylic extra strength and flexibility. As a result, two-color acrylics are slightly more flexible and melt a bit more during cutting than standard acrylics. This ability to be bent makes two-color acrylics particularly suitable for trophy plates.
If you have some beautiful laser cutter projects in mind for 3mm black-on-white acrylic, USA-based peeps can find all the details here or snatch up a sample here. For those in NZ where the sheet is 3.2mm thick, read all about what makes it special here and get a sample here to see it for yourself.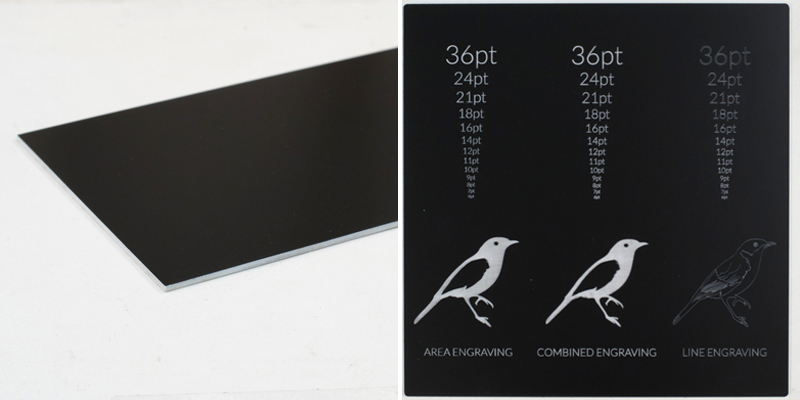 If you see 3mm white-on-black acrylic in your wildest making dreams, learn more about it here and pick up a sample here. (Only available in the USA catalog at this time.)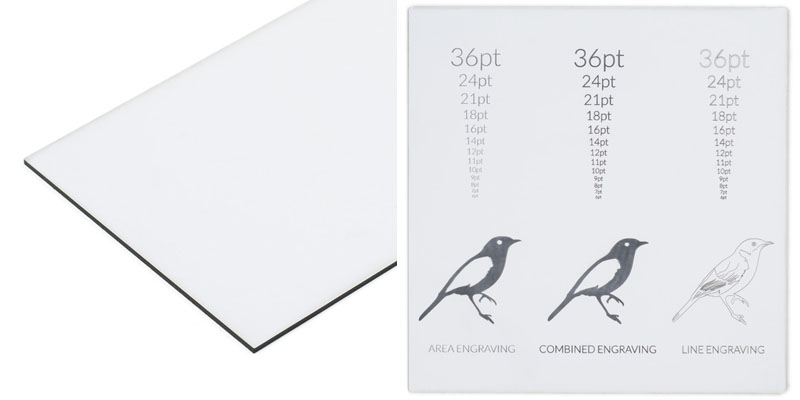 Maker Tip: When designing for this material, make sure the small details for cutting are a bit bigger than they would normally be constructed on standard acrylics. Also keep in mind that the top layer is very thin so the underlying substrate is sometimes visible along the cut line as well. This is most noticeable in corners or angles of designs, so prepare files accordingly.
What Will You Laser Cut With Thicker Two-Color Acrylic?
With thicker two-color acrylic added to both the NZ and USA materials lineup, what will you make? Will you try your hand at jewelry, electronics enclosures or signage like we did, or will you branch out into name tags and event badges, bookmarks or something else? Jump into Adobe Illustrator or Inkscape and turn your inspiration into tangible ideas.
If you plan to sell your products, be sure to get this Guide To Designing, Making & Selling Laser Cut Products so you create with confidence. Whatever you decide to make, share your ideas in the comments below. We'd love to hear about it!