MDF is actually quite useful


MDF, love it or hate it, it can be a very useful material.  I'm not a fan of MDF in the workshop because breathing in resin particles is something I can happily do without.  Luckily, there are none of the MDF-associated health hazards when it comes to lasercutting, so it's time to put prejudices aside.
In many ways it's similar to corrugated card because it's a common prototyping material.  Just like the card, the thin stuff is cheap both in terms of its price and its cutting efficiency.  It's also incredibly easy to glue together with pretty much any type of adhesive including cheap craft and wood glues; and can be painted with different types of paint from tube acrylics to spray enamels.  These attributes make MDF not only excellent for prototyping, but a great model-making material.
Keep reading for examples:
Karthik Janardhan's 3D rhino is a great example of turning this utilitarian sheet material into a really cool sculptural design.  So why would you make this out of MDF, as opposed to, say red acrylic (unless, of course, you're after the woody aesthetic)?  Well, MDF is cheaper.  It's more lightweight, and if you drop it, it's less likely to break.  Assembly is easier because you don't need to source solvents with very long names for gluing the layers together.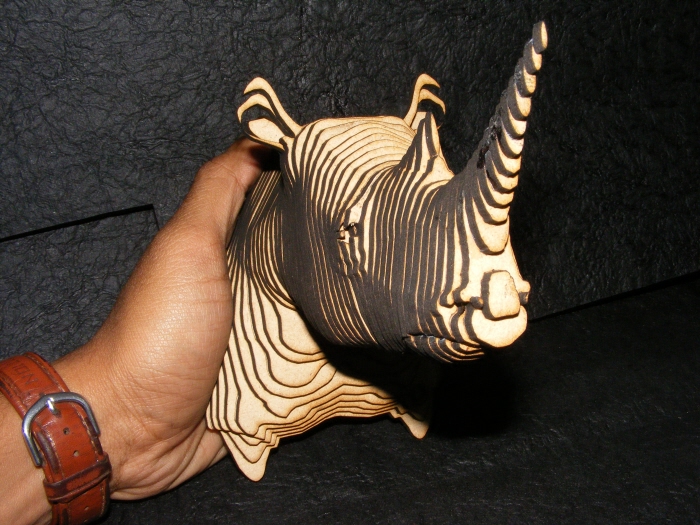 The idea of creating 3D topography can extend past the layers-as-the-object.  Jack Bush used the initial laser cut planes as a base for a vacuum formed mould, which was then used for casting concrete.
The versatile nature of MDF means that its applications range from the utilitarian, such as copy stand below; to the more refined, such as Dan Emery's table and wine rack or Simon Wilkinson's light house.

MDF is available in different thicknesses from NZ, US and European fabricators: Formulor, RazorLAB and Vectorealism.