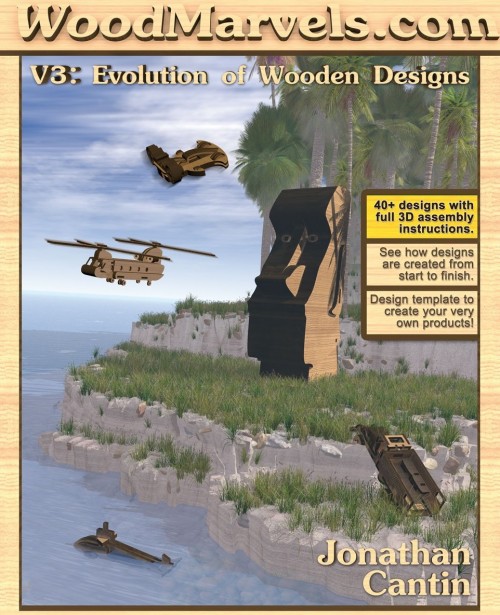 Evolution of Wooden Designs – 200 pages of laser cut patterns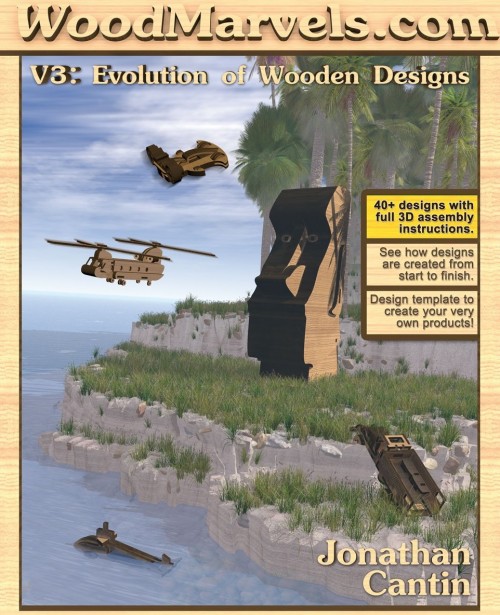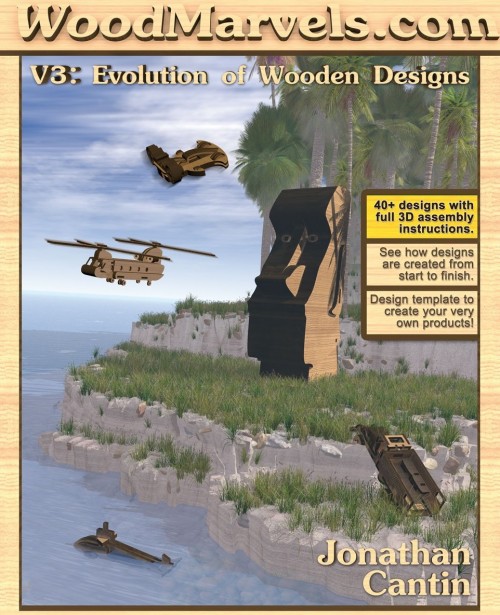 If you're a frequent visitor to the Ponoko Showroom, then chances are you've already come across the prolific works of Jon Cantin.
Operating under the banner of WoodMarvels, he has produced hundreds of laser cut designs featuring toys, games, vehicles and more.
WoodMarvels 3: Evolution of Wooden Designs is now available in print and download versions.
What sets this latest publication apart is the format in which the 3d designs appear. Each project includes 3d rendered step-by-step assembly instructions, as well as a pattern on a grid layout. By utilising the grid, Jon incorporates the material thickness – thus giving users a reference point at which they can scale the designs to suit whatever material they wish to work with.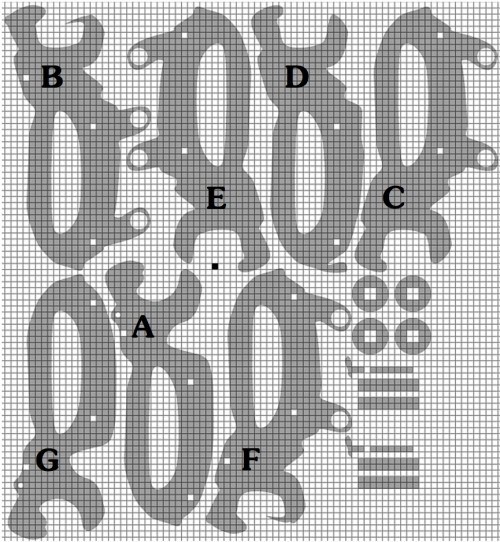 The catalogue of designs is quite broad, from architectural and historical landmarks, creatures and vehicles of all sorts, through to desktop organisers and even a light-table. As is the way with most wooden toys, actual historical or anatomical accuracy is sometimes tweaked in favour of outcomes that simply work better using the technologies and materials at hand. Jon is always careful to ensure that the completed designs look just right.

One thing that is really nice about this publication is that each design can exist as a project in its own right. Along with clearly defined levels of difficulty, this means WoodMarvels Volume 3 is equally suited as an educational tool or as a project book for a hobbyist to work through at home.
Click through for some Q and A with Jon as he reflects on this particular milestone.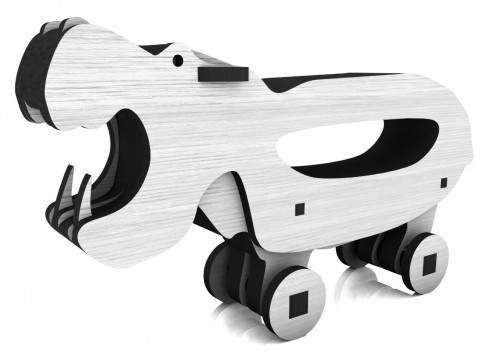 Let's kick things off by talking about your process and how things have changed for you over the years. Does Volume 3 represent a different approach to previous publications?
It's light years ahead of the first volume which required wooden dowels to complete the models, it's really hard to compare the two but a similar approach was taken with the second volume in form and substance. The approach is the same – sketch (sometimes), model, cut it out, animate, produce EPS/DXF then sell – though the technology has changed tremendously over the past few years. I am working towards making the animations and post-production of the models professional and really kick it up a knotch for online video marketing purposes. Making the model is the easy part, marketing it to a worldwide audience is quite a different task.
The designs have a neat, playful look about them and this visual language is consistent across your range. To what extent is this driven by the use of lasercut ply?
Although I offer my models to be CNC'ed as well, they originally started as 100% laser cut due to the precision involved and lack of knowledge in the CNC arena. Luckily, I'm going to ShopBot Tools in a few days for some intensive training to get me up to speed on that end of things!
Does the software you use determine how the outcomes look? What is this software, and why have you chosen it over other options?
I use 3DS Max 2012 – it's wicked overkill for this but it's what I'm comfortable with coming from a self-taught industrial 3D animation background. I have customers and friends who use everything from inkscape to illustrator to build their designs, I can't imagine their workflow anymore than they can imagine mine. The greatest advantage to using 3DS Max is I can visualize the model in 3D, doing all my testing and picture taking from one piece of software. This means I don't have to cut what I sell, which saves me thousands of dollars… though I plan on doing this over the next year for each and every one of my models to show others that yes, this stuff can be built beyond the testimonials I get around the world from others proving my designs work.
How has your process changed, as the DIY and digital manufacturing industry grows and develops?
If anything, I've gotten more efficient. My first model took me over a week and if I were to build it again, it would take me just a few hours, be of higher quality build and not have any mistakes! I learn by trial and error… and with errors comes new enlightenment as to how NOT to do things… eventually the kinks work themselves out and you learn how to build things instinctively that not only look good but function perfectly. I think this makes you a far better designer, for instance, you can learn how to ride a car from a person who learned from their mistakes or a bookworm who's fresh on the road… I'd put my life in the hands of the guy who crashed a few times… he knows what to watch-out for!
Some of the designs are quite large and/or complex. When you are developing these, how do you know when to stop?
I try to limit myself now to something no bigger than a meter square and roughly 200 pieces… but basically, I can keep refining things for weeks on end. I think when you get to a point where everything looks as it should, it's time to stop. It's hard to explain but sometimes adding MORE turns a model from GREAT! to sh*t in short order. I also have to keep in mind that somebody actually has to build this…. and that person isn't me… so if there are thousands of pieces, I doubt somebody would buy the model as the costs involved go up with every piece.
The patterns and instructions are quite comprehensive, but I'm not clear on whether people who buy the book have access to the files – or do they then need to purchase files as well?
The book teaches people how to build what they see. I see it as an educational tool that would have helped me tremendously in the early days. It's one thing to see a car, quite another to see how it's made. The customer can then buy the files if they wish from the website and cut their own, using the book to help them assemble the finished piece.
You suggest that people who purchase the book can make the designs in materials of their own. What other materials have you worked with yourself?
I'll have a ShopBot Desktop CNC in a week so I'll let you know…. I would like to make some of my models in steel and stone, glass would be cool too but so far, I've just had my products cut using plywood. The plans are based on material thickness, so if the material at hand doesn't change contours or shape (foam for instance would) then everything should assemble and fit perfectly. I've only seen plywood versions of my models so far.
What do you do with all of the models and prototypes that you make? Will there be a Jon Cantin laser cut museum one day?
They are ALL in my computer, so there is only stored pixels, not plywood models in my workflow. This will change in a few months thanks to ShopBot Tools. I would LOVE to get into far larger and complex installations, a few thousand pieces but for those, I'd have to be the one assembling it as building a 3D puzzle isn't something most people can't do without developing a serious headache! With time though, my workflow just gets more efficient, my designs stronger and better thought-out… so although I doubt there will ever be a museum dedicated to my designs, I wouldn't mind having a little section inside of the Ponoko Museum, Google Museum, Trotec Laser Museum, Autodesk Museum, ShopBot Tools Museum, HP Museum, Microsoft Museum, Adobe Museum etc… as without these companies, I wouldn't have a business!
Thanks for these insights, Jon.
Head over to WoodMarvels where you can learn more about this latest publication, available in print and as a digital download.