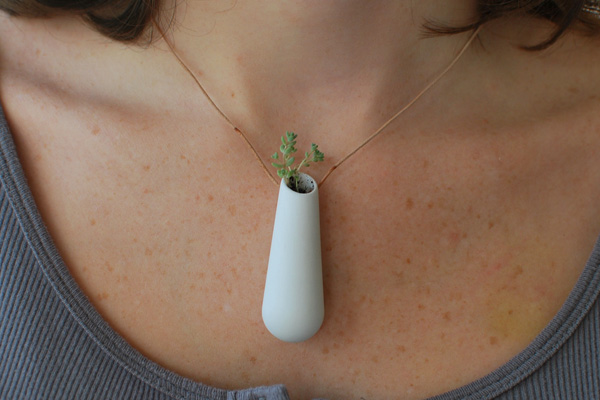 3D printed planter jewellery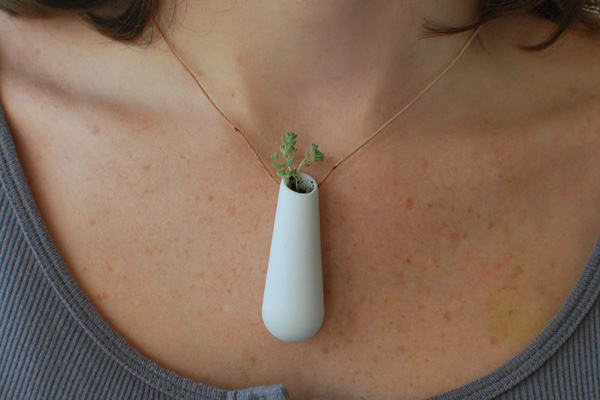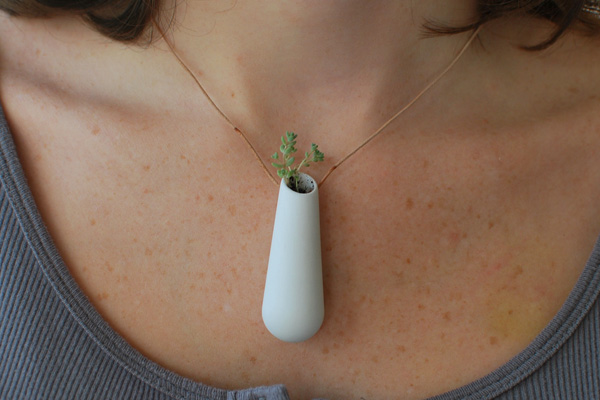 We usually think of potted plants as something that decorates spaces, not people. Georgia Tech Industrial Design graduate Colleen Jordan challenges the idea that plants have to stay at home by creating tiny and wearable 3D printed planters that carefully cradle your favourite little flower or succulent. The design evolved from her research project on Material Perception, which explored the notion of beauty in plastic.
The miniature planters are printed in Durable Plastic, and Colleen experiments with textures by sanding or rubbing the surface with acetone. The experimental process ensures that the designs are constantly evolving, regardless of how they are fabricated. Colleen is also planning on creating laser cut bracelets and using CNC routing to make a bench.
More from Colleen under the cut:
Have you used 3D printing before Ponoko? Yes! I've done a lot of 3d printing, actually. In all of the printing I've done, I've noticed that I like objet printing the best because of the quality and durability.

How would you describe your creative process? Not very linear. I get inspiration from my surroundings, so sometimes I go through huge dry spells where I just have to observe the world around me, and sometimes I'm constantly at work making everything that comes to my head. I have to think problems thorugh really well before I'm willing to commit to them, so I send a lot of time just thinking and making quick sketches to help with that thinking.
What are you favourite materials? I love acrylic- both in the 3d printed and sheet form. I'm also a huge fan of wood and glass. I love the textures of these materials and the way they react to light. I also really like ceramic and clay, but I'm not very skilled at actually making anything in those materials.

Have you been surprised by anything in the Ponoko process? Yes! Ponoko totally saved me when I needed 3d printing ASAP for an exhibit- they totally came through with getting my stuff printed and delivered on time.
Do you have any tips for other users? Make what you love, and talk about it with your friends. If you're a maker, you'd be surprised at how much knowledge your friends have that can help you out to finish a project.