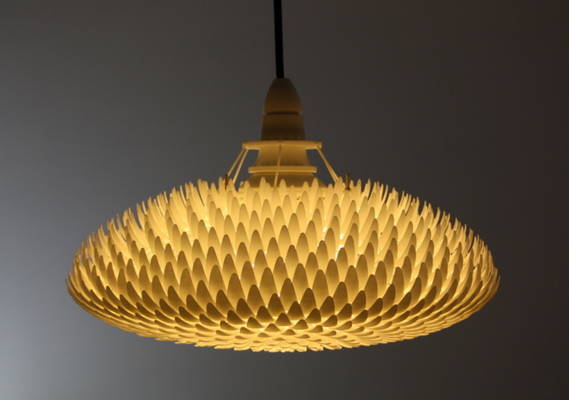 Amazingly intricate interior luminaries inspired by Australian fauna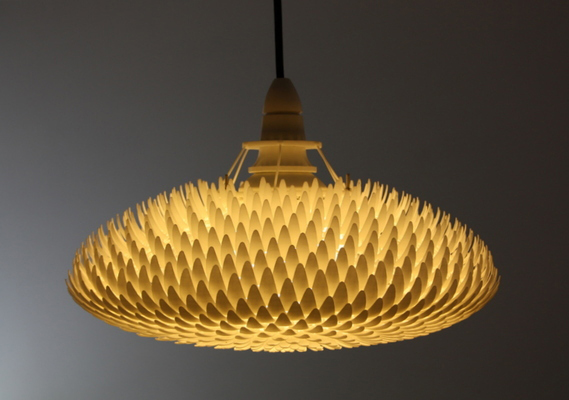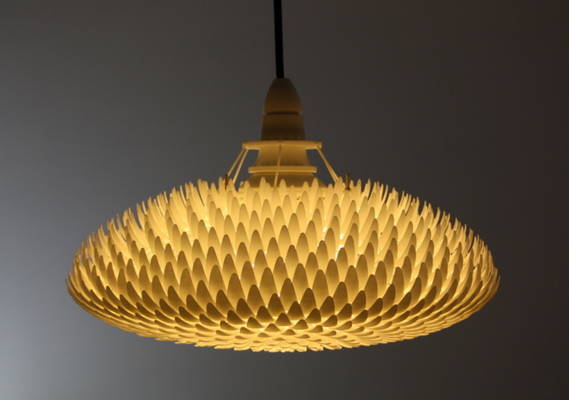 Replicating something found in nature is common in product design, but manufacturing biomorphic forms can be incredibly challenging.  That is unless 3D printing is the fabrication method.  Additive manufacturing is like magic, but without the squashed pigeons, and the potential for producing intricate organic forms is incredible. This is exactly what James Cleary, the founder of a Sydney based lighting design company SandFlora discovered.
SandFlora's first collection Waratah is inspired by the iconic Australian flower of the same name.  The 3D printed collection will feature a floor lamp, pendant and table models.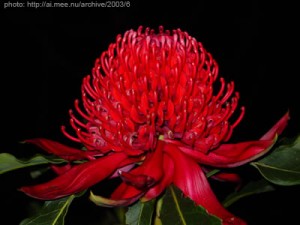 "A Waratah luminaire has over 1000 petals which are uniquely shaped, joined by a spiderweb-like lattice and fabricated as one piece."
It's remarkable that something as complex as the Waratah light is James' first product – something he started working on when Ponoko launched its 3D printing service a few months ago.  Until then, his fabrication experience was limited to a few 3D tests prints to become familiar with the materials.

Unsurprisingly, James loves lights.  He believes that interior lighting should more than something only serving a functional purpose, and instead, sees it as an opportunity to create something beautiful for people to enjoy interacting with.
Read more about James' process:
How would you describe your creative process? Creativity for me is getting out into the natural environment and keeping your eyes open. I love walking around Bouddi National Park north of Sydney. So many natural forms are stunningly beautiful and inspiration is never hard to find. From there, I work hard to choose just the essential 1 or 2 elements of the form and focus on getting them right. They become the vision for the light and I sketch these elements using plain old cartridge paper and an HB pencil. With the Waratah luminaires this is the Fibonacci pattern of the petals around the core plus the way each petal is cupped and how this interacts with a central light source.
The first time I cracked that sequence on the screen was spine-tinglingly good. It was just a flat disk of dots on the screen but was beautiful in its own form.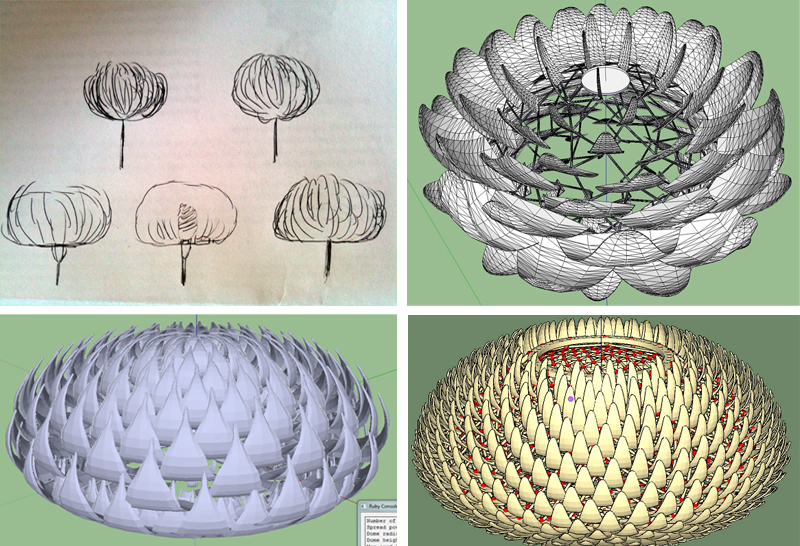 Then there is a period of many, many iterations to get the design to gel into something I am happy with and that will fab properly. This can be a tough period of the creative process where a lot of unexpected and unexciting obstacles need to be overcome. A great way to re-energise is to step back and test the design against the original vision. I go back to the original pencil sketches and see how the evolving design is representing the key elements. Be ruthless if you are not capturing what inspired you in the first place.

What materials do you work with? 3D printing is at an exciting time for a stack of reasons. It provides enormous design flexibility.  Utisilising this for mass customisation is on the horizon for this year and I'm testing a few ideas.
I'm keen to try full colour printing. This is a fundamentally different material to the SLS PA 2200 and much more brittle so won't suit the Waratah collection but will be great for some new ideas. I'll also do some laser cutting fab this year.
How has Ponoko surprised you? The Ponoko Prime support process rocks and Rich has been really responsive on queries. Services like Ponoko provide designers with an engine that abstracts the all that complex glue between a digital design and a product. That's really important when new materials and fab processes are being introduced all the time.
It's scalable. It's just as easy to fabricate 500 products as it is one.
Tips for other users? Keeping one eye on the fabrication limitations while creating a design is critical, like minimum thicknesses and shapes, to avoid getting bogged down later with production issues that should have been sorted out at the beginning.