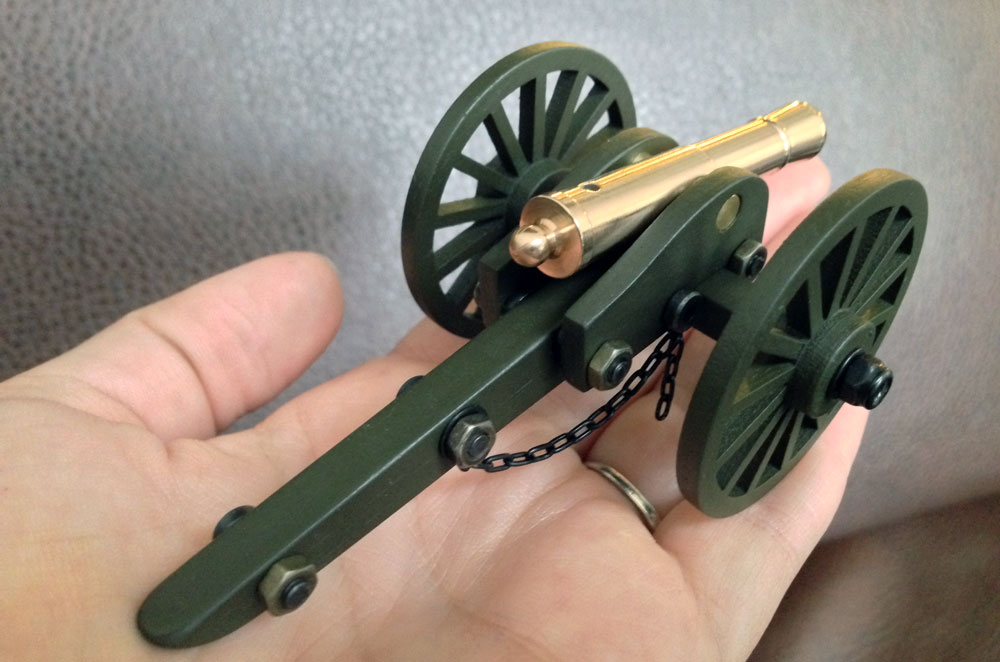 Fully Functional Black Powder Cannons from Mini Cannon Tech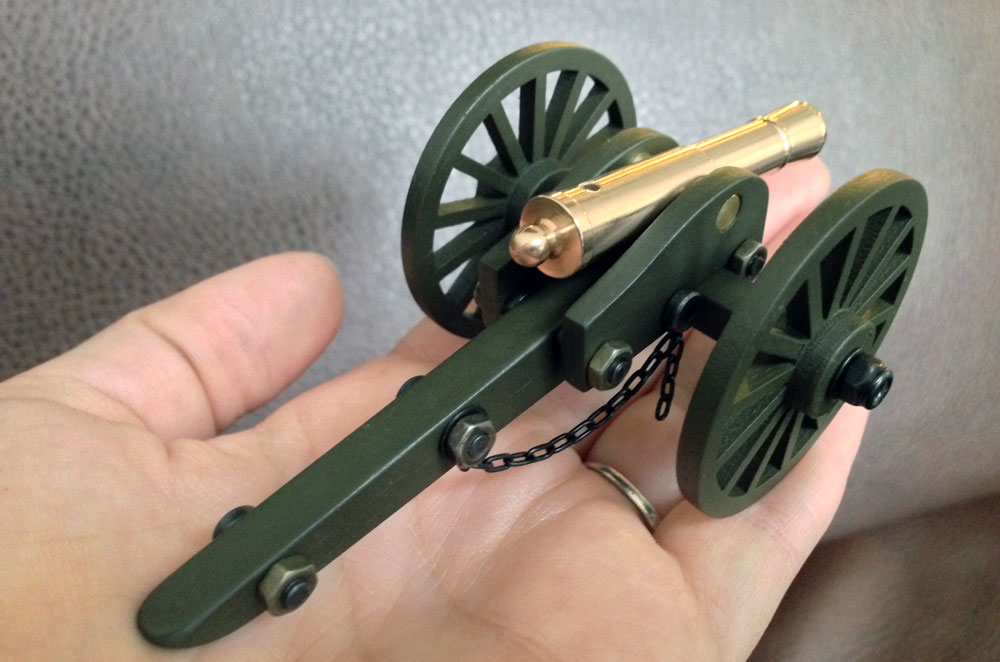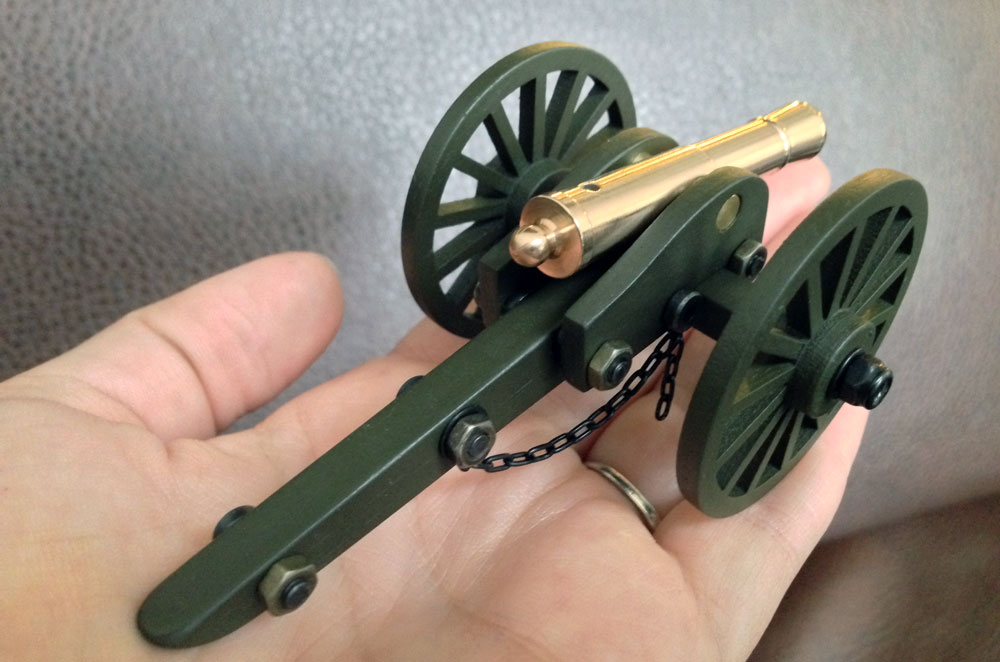 Alexander Sarnowski is the product designer behind Mini Cannon Tech – fully functional mini-sized cannons that combine CNC metal machining with wood laser cutting.
For as long as he can remember, Alexander has been building everything from his own morse code machines to home made rocket motors. For his 16th birthday his father bought him a mid-sized lathe, and since then he's been designing and cranking out parts every chance he gets.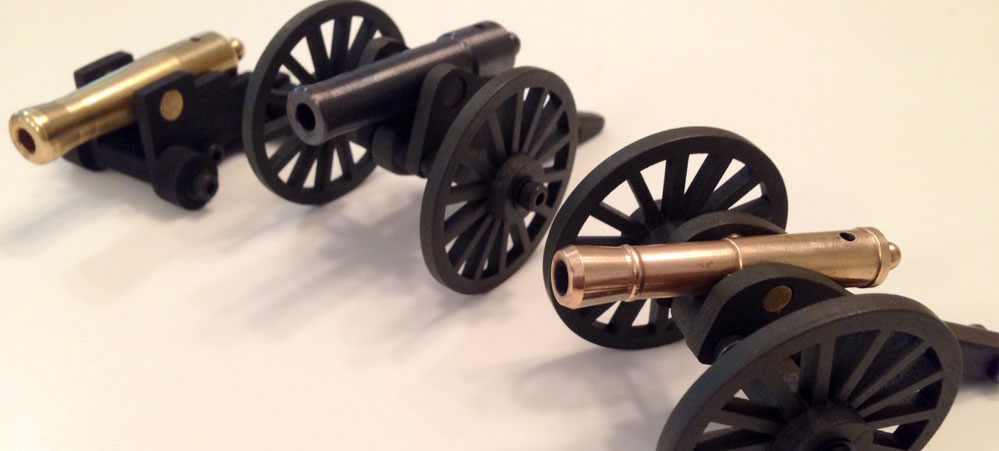 The inspiration behind his miniature civil war cannons came when he manufactured a cannon for his grandfather's birthday.
"I made him a fully functional miniature civil war mortar out of brass, and he was more excited than I've ever seen him about anything. I think that was the point where I realized that I might be on to something."
Alexander started his research on the mini cannon market and quickly found that while there were plenty of functional cannons available, most of them weren't nearly as realistic as the ones he had in mind. So he set out to create a scaled down civil-war era black powder cannon that was fully functional, small enough to fit on a desk, and made from historically accurate materials. 



Alexander knew his way around a lathe, so the barrels wouldn't be a problem. The wood carriages however, would have been impossible to make by hand at the scale he wanted. That's where Ponoko came in:
"My roommate had ordered laser cut parts from Ponoko for one of his robotics projects, so I asked him if Ponoko also cut wood. I had plenty of CAD experience, so discovering Ponoko was the last piece to the puzzle."
Once he learned what was possible with Ponoko, designing the first prototype "only took me a few hours" he says, adding that "the time it took me to bolt it all together was only a few minutes, thanks to how accurately the laser cut parts were." He cites the help he got early-on as one of the top reasons he likes Ponoko:
"I have made some orders where I didn't compensate for the heat of the laser properly," he says "so Ponoko sent me exactly what I had ordered AND a redesigned layout for my parts to insure that my parts came out correctly."
Mini Cannon Tech is now the producer of some of the smallest, and most realistic shootable Civil War cannons online. And yes, these incredibly small cannons can really fire! Using the same process as a real cannon, real black powder is used to fire a small projectile over 100 feet. Check out the video below to see the cannons in action:
His first run of cannons quickly sold out to customers worldwide. I asked Alexander if he had any future products on the horizon.
"The great thing about model cannons is that there are literally thousands of different cannons that existed throughout history so we will never have a shortage of ideas and new products." he says. "Right now in the works we've got models of Civil War mortars, the highly acclaimed Parrott rifle, and the champion of the Mexican War, the 1841 6-Pounder Smoothbore."
What is Alexander's advice for designers hoping to make "bang" with their product? "Only make something you are truly passionate about. If you do this, your products will inherently improve over time and your passion will show to people who are looking for a quality product. Don't do it because you can, do it because you want to. "
You can get your own realistic, miniature shootable cannon at Mini Cannon Tech.