Before discovering Ponoko, Jen had been making jewellery for 17 years.  So what's different now?
How did you used to make products before Ponoko?
The process for constructing the finished jewelry it much the same – my two hands + materials.  I wouldn't be doing what I'm doing today if I hadn't dabbled with all sorts of jewelry making processes – from bead weaving, glass fusing, lampworking, Precious Metal Clay (PMC) to metal-smithing.  I've tried it all.
As my style evolved, I increasingly became frustrated with pre-made components.  Everyone had the same box of crayons, it seemed, and I wanted to do something to express my own style and set myself apart from the pack.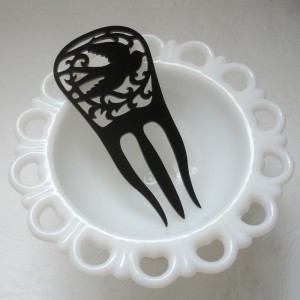 How would you describe your design process?

I have little scraps of paper floating around with ideas I thought were just fantastic.  Some of them are…and some of them are indecipherable now!  I consider myself quite fortunate that I have inspiration around me daily – between my job as curator in a history museum and my typography obsessed graphic designer husband I swear it's coming out my ears.
Stage two is doodling.  Or half doodling.  One reason you never see my doodles is that I am incapable of drawing things symmetrically.  So I work in halves, quarters, thirds – whatever my design needs – then I take it to the computer to mirror it to see the complete design, trace it, and see what I think.  If it's good, I will spend hours, if not days, obsessing over every single anchor and bezier curve until the design is to my satisfaction.  "Nudge" is my friend.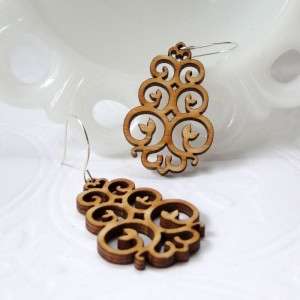 What are your material preferences?
I mainly use acrylic, black, for my jewelry.  I really like the simplicity of it, the shininess of it, and the consistent quality and strength.  I also am in love with bamboo.  I love that it is a renewable resource, and how amazingly lightweight it is.  Some of my products, like the Mustache Love Pin look smashing in the wood grain.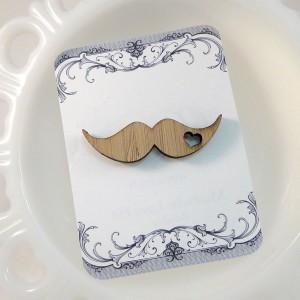 Have you been surprised by anything in the Ponoko process?
I'm continually surprised by how much I love being a Prime customer!  I order maybe once a month, and it's absolutely worth it to me.   Also, I was surprised that there is steady traffic (and buyers!) to the Ponoko showroom.  A pair of my earrings made into Lucky magazine thanks to it.  I need to get better about utilizing it more!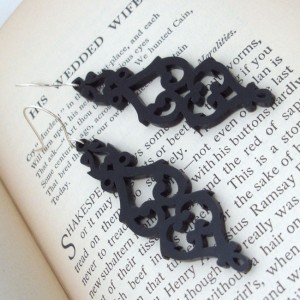 Anything that frustrated you?
Ponoko's growing pains, really.  The material changes from the NZ to the US hub was the worst.  And now that you're so popular, turn around times aren't as fast.
The showroom does need some work, too, to make it a better shopping and selling experience.  But I hear that one is coming down the pipes 🙂
Delighted you?
Every time I get a box on my doorstep, I'm so excited.  My first order was amazing though – it literally arrived in time for my birthday.  I had my mustache ring prototype on my first sheet, and I wore it all day, laughing.  Everything had mustaches on my birthday – my friends, forks from dinner, pets, random signs we were driving by…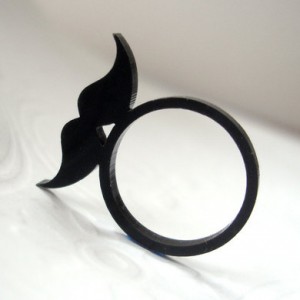 Do you have any tips for other users?
Uploading files can be frustrating, but they have great tutorials out now and so many people on the forums to help!  Also, know that the first order is a prototype, and build that in to your timeline if you are thinking about production.  It's frustrating to make multiples of things that physically won't work (ie – I have a sheet of Epershands in 3mm bamboo that will never see the light of day!  The material is not good for thin, scrolly lines!)  The material sample kits, though pricey, are awesome to just have in hand.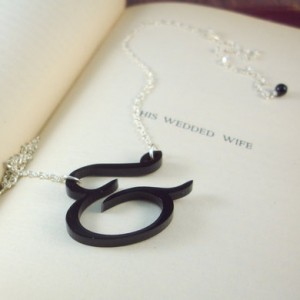 Links to your work welcome=]
http://isette.com/, http://isette.etsy.com , http://www.ponoko.com/showroom/Isette