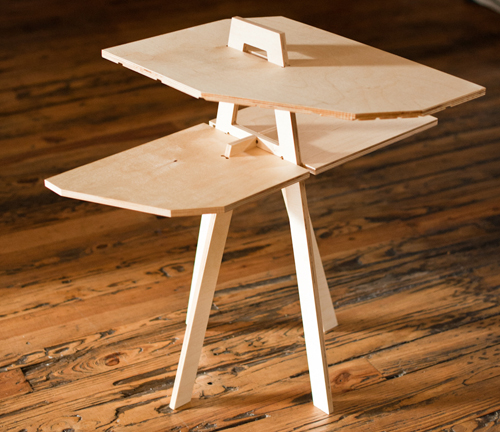 Digital form generators get behind physical product designs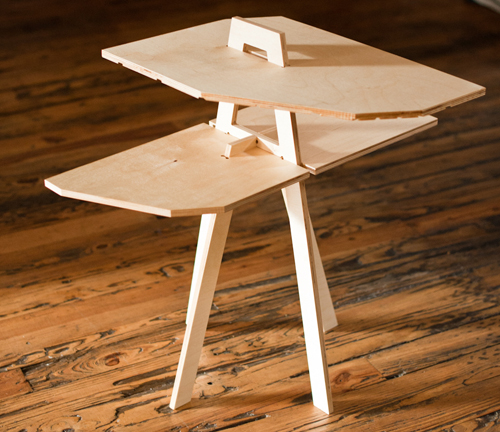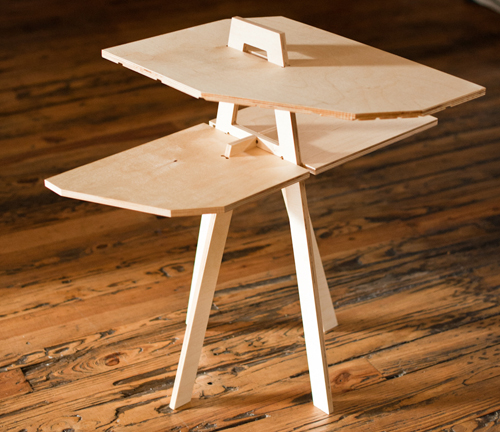 NY designers thefuturefuture jumped on CNC routing as soon as it became a Personal Factory feature.  Their first project is a flat-pack end table.  The duo of Brandt Graves and Carrie McKnelly (also of SoftLab) are very excited about the availability of CNC routing service and the possibilities that it offers to outputting their design skills.  Their next step is combining their experience in design for 3D printing with CNC routing to create products that explore the merging of the two fabbing methods.
Experienced with laser cutting and 3D printing and having access to both technologies, thefuturefuture partners were a little stumped when it came to CNC milling.  Before it was on offer through the Personal Factory, the designers had to rely on favours from friends with access to the machinery, which was an unreliable process that resulted in more frustration that progress.
The end tables are CNC cut from ½" Baltic Birch.  The parts are then thoroughly sanded; top surface painted, sanded and stained.  Post processing is involved and the time it takes has to be taken into account when designing a product for production, especially when there's a substantial volume of order to fulfil.
Interview with Brandt after the jump: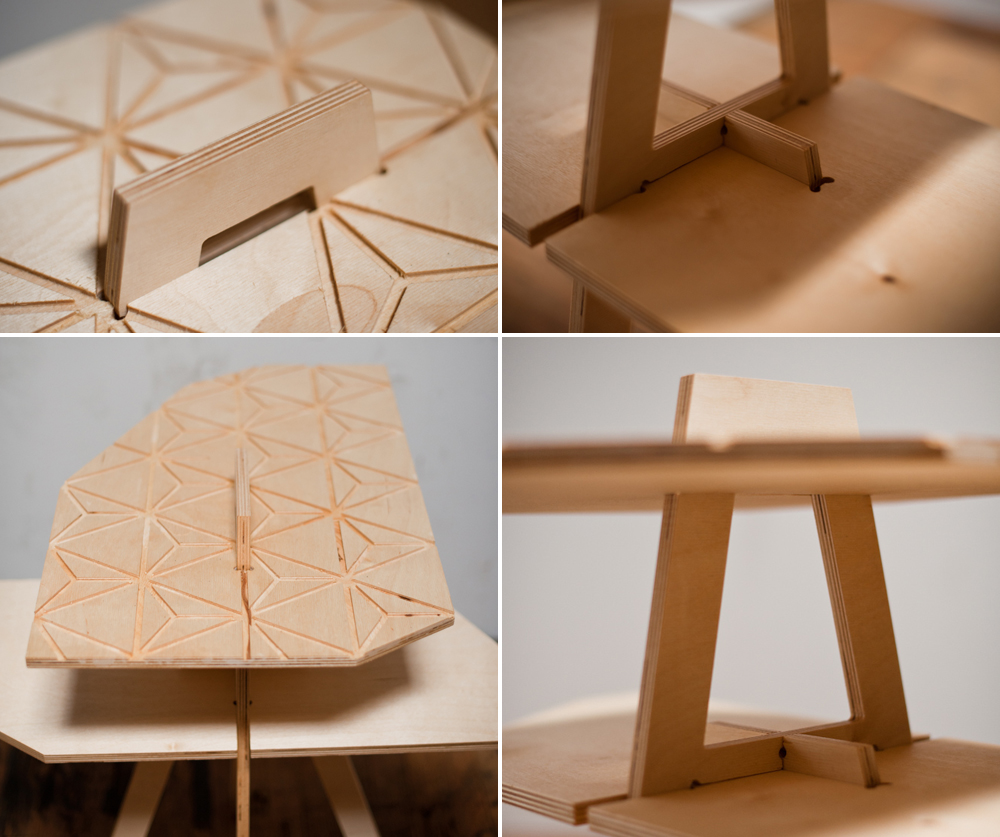 How would you describe your creative process? -Our creative process stems from our background as architects.  We utilize the same tools that we do in our everyday design processes, and readapt them for our products.  Our first product was developed from a Grasshopper script that Carrie had been playing with to generate faceted shapes.  We thought it would be an interesting concept to create jewelry where each piece is essentially unique – we change a parameter for each piece to generate a different rock form.  We've tried to incorporate that same aesthetic into the table, and add a level of variety through etched patterns and colors.
Have you been surprised by anything in the PF process: -We had a couple of mistakes with our first cut which we initially assumed to be on us.  But after reporting it to the Ponoko team and carefully diagnosing the problem, it seems that it was a strange machine error.  Ponoko was very responsive to the issue and overall I've been super pleased with the service.
I love how easy and informative the templates are and how it updates the status of the order through each step of the process.  It would be great if it accepted files other than from Illustrator, but it's not too much of a hassle.  It's surprisingly simple.
Also, I would love to see the option of surface contouring become available.  While 2D profiling and etching allow for a lot of creative design, surface contouring (and different bits!) would open up a lot of possibilities.
Do you have any tips for other makers? -Measure twice, cut once.  Always allow tolerances!  And get a digital caliper.  Everyone's going to have their own thing, but what was most helpful for us was to build a 3d model, extrapolate the outlines, then rebuild the 3d model from extrusions of those outlines with tolerances built in.  That way I could completely verify that it would work out.  Also, once the profiles were laid out, I was able to offset to the radius of the bit and clean up the tool path.