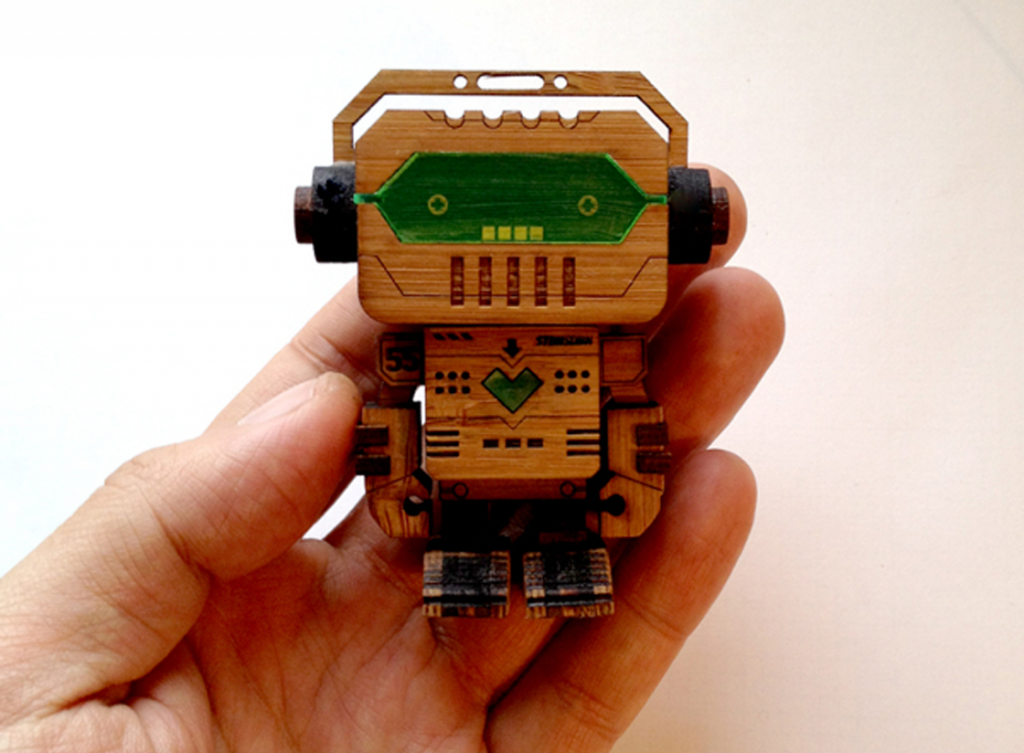 Ponoko-made pocket sized robots by Junichi Tsuneoka.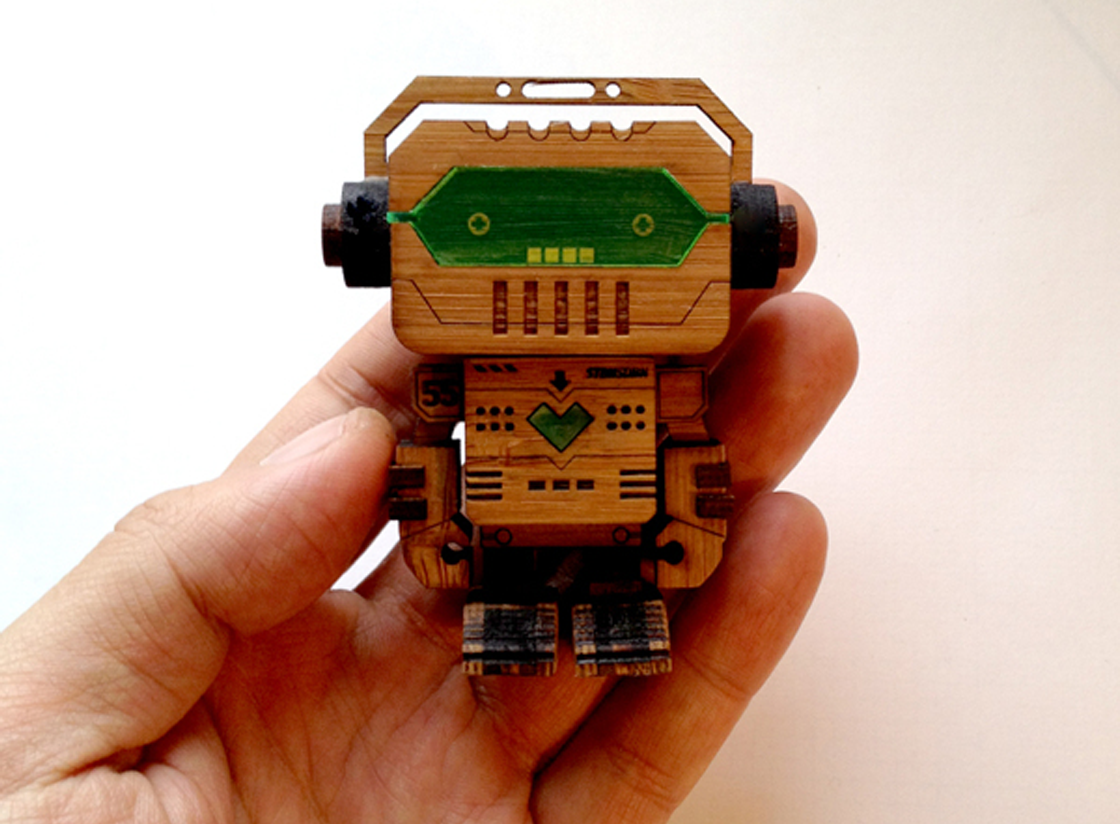 Junichi Tsuneoka is the illustrator and designer behind CHIBIPOCKET – collectable laser cut robot toys that combine traditional woodworking techniques with digital laser fabrication.
Junichi has been a graphic designer since 2002, creating vibrant character-driven illustrations for his company Stubborn Sideburn. In 2012, he was inspired to jump into making three dimensional art when one of his clients hired him to design their vinyl toys:
"When I first got the sample I really liked the idea of my design becoming a 3D form. I had been doing only flat print projects till then so it was very refreshing for me. I wanted to do more 3D projects to expand my design possibilities."
Junichi experimented with several production methods ranging from soft vinyl, plastic mold and 3D printing before landing on laser wood cutting. "It's very close to how I usually design graphics and print digitally" he explains, "yet there is a bit of crafting quality."

His first robot figurine was meant to be more of a personal project rather than a product line, but after showing it around it became clear there was a lot of interest in the idea. "I got a lot of good feedback plus I really enjoyed making it," he says, "so I decided to expand the project."
Junichi used his Personal Factory to instantly price lots of design iterations while expanding his new product line:
"It's very handy that you can see the price right away when you upload the file" he said, "it gives me a chance to modify the file so I can control the price really easily."
By digitally prototyping with in this way, Junichi was able to control costs early so he could stay competitive at the retail level later on.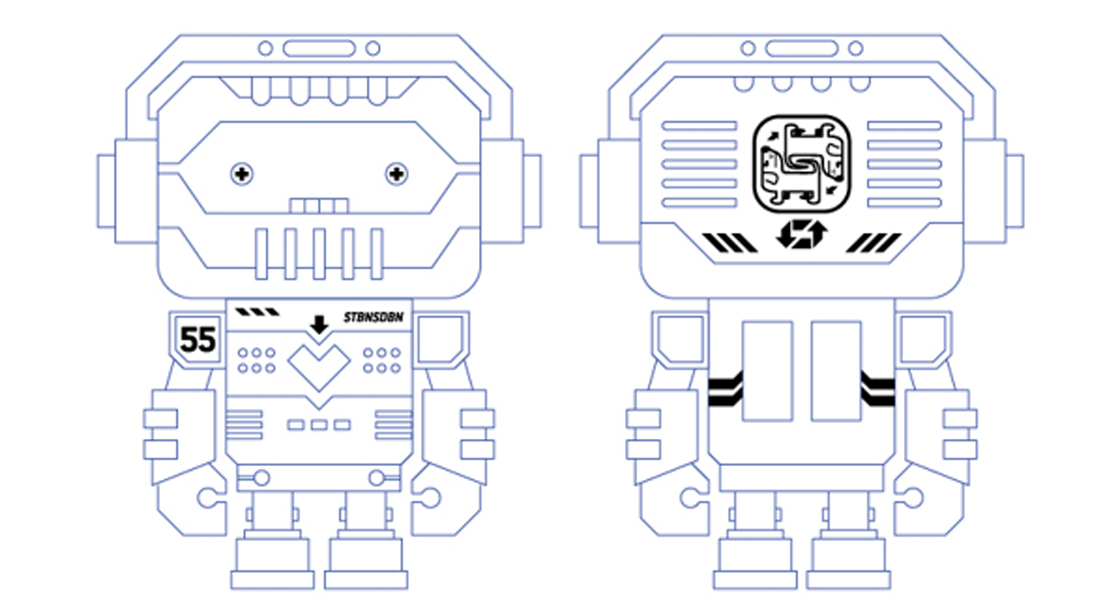 CHIBIPOCKET was inspired by the types of toys Junichi grew up carrying around in his pocket. 'Chibi' is a Japanese term for 'short person' or 'small child'. In popular culture, chibi has mostly referred to characters with oversized heads and small bodies – similar to babies – to emphasize cuteness and child-like spirit. "My original concept of the whole product line is about my childhood memory." he says, "So I decided to do pocketable art/toys."
When I asked what initially drew him to Ponoko, Junichi explained that speed is key:
"When I work with individual laser cut service, I had to spend quite a bit of time giving instructions for custom jobs and communicating back and forth." he explains. "That would cause errors and a lot of extra time to spend. I don't have to experience that with Ponoko."
Each figurine combines several pieces of laser cut bamboo and fluorescent acrylic, which is then hand-sanded and finished with Sumi Ink to bring the characters to life.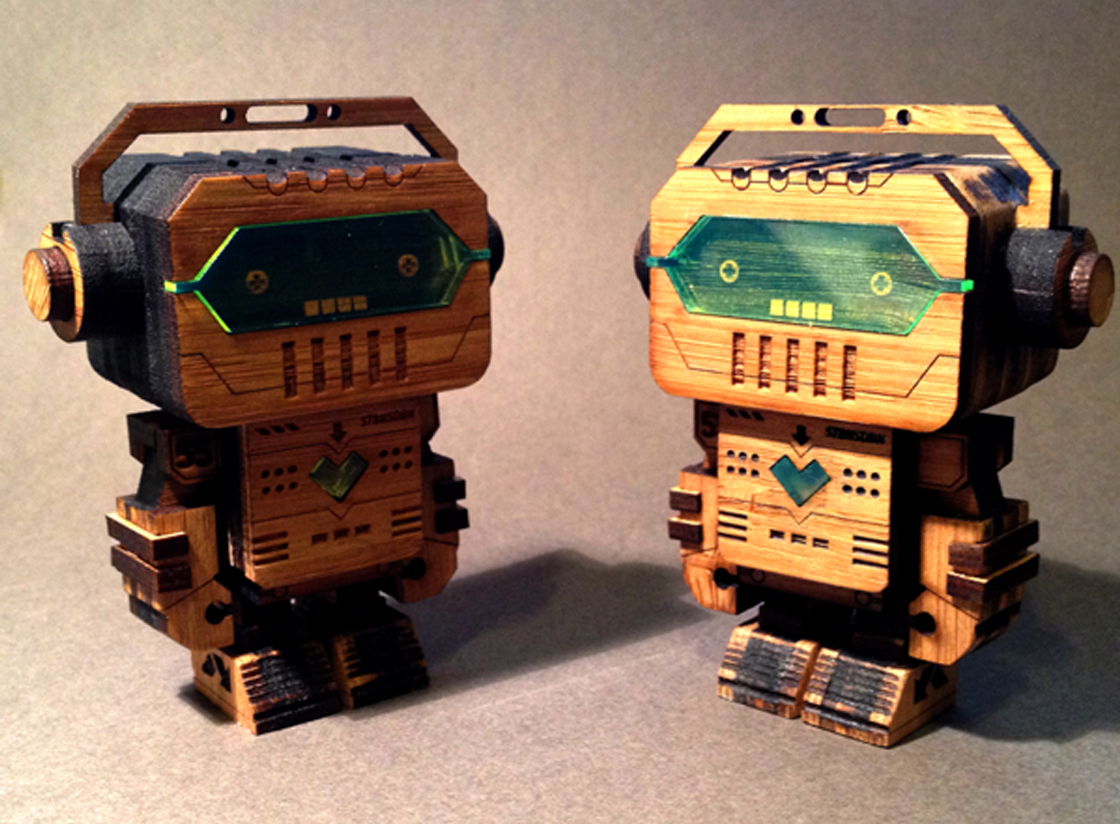 What's on the horizon for Junichi? CHIBIPOCKET was recently commissioned by totem resolve to make all the 10 Wu Tang Clan members into handmade bamboo toys:


Left to right: GZA, RZA, UGOD, Cappa Donna & Ghost Face
Junichi's robots are available at CHIBIPOCKET.
Inspired to create your own product line? Make it with Ponoko!