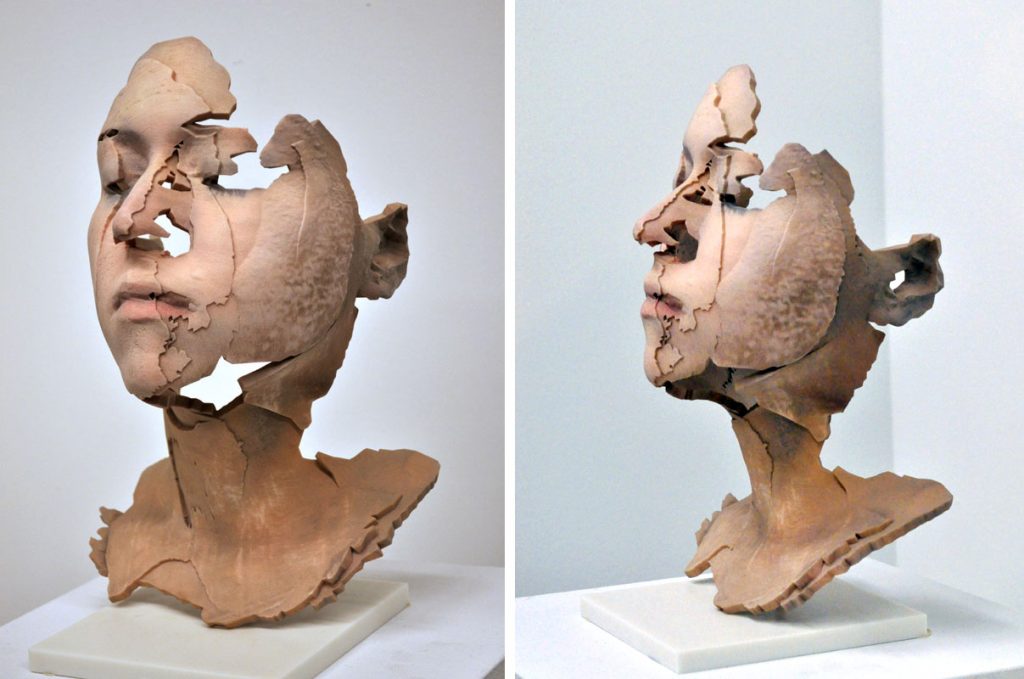 Sculpture created with 3D technologies by artist Sophie Kahn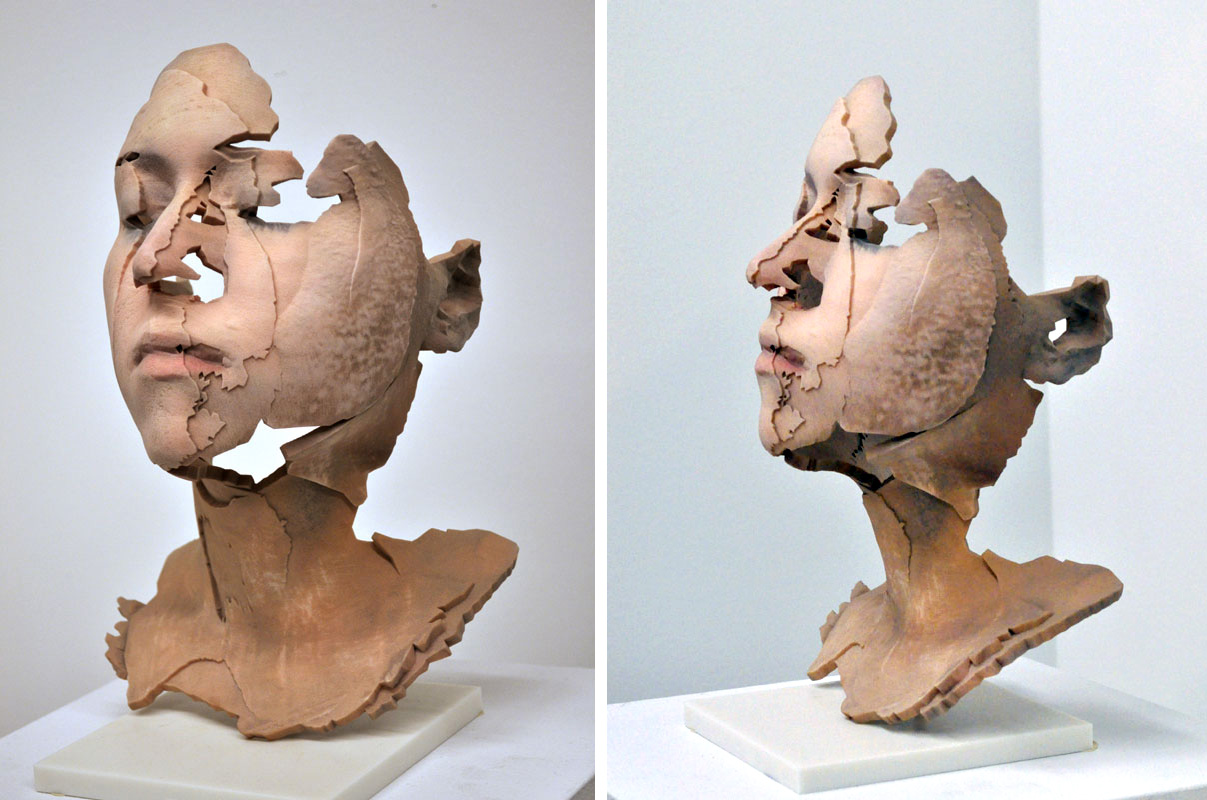 The world of Chicago based digital artist Sophie Kahn is firmly embedded in 3D. Originally from Australia, Sophie trained as a photographer and came to perceive 3D scanning and 3D printing as post-photographic processes. Much of her work over the last eight years has revolved around these digital processes.
Initially Sophie used wax stereolithography for lost wax casting in bronze. More recently, she has been experimenting with full color 3D printing for which the digital model was generated using a laser scan and a photograph of a model. The final 3D print then requires sandblasting and sanding to create "the appearance of an unearthed ancient artifact." The option of on-demand online fabrication has allowed the artist to experiment and test ideas quickly without much capital, whereas earlier work involved using large service bureaus that were often prohibitively expensive.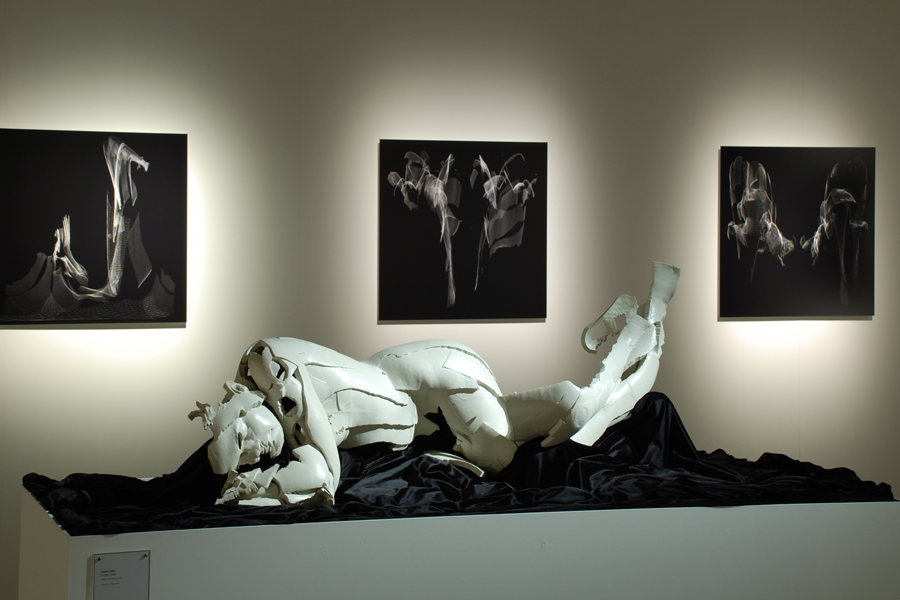 Sophie's fabrication process is an involved one that expands beyond the computer screen and various scanning and printing technologies. 3D printing is often only an intermediate phase in creating the final art piece. The artist uses 3D prints for molds as part of wax casting or ceramic clip casting. She's hoping to be able to 3D print in ceramic once it is possible to print larger objects. The goal is "to move away from plastic and towards more natural materials with longer histories".
Sophie's most recent project was a miniature printed in stainless steel. In this case the print was intended as the artefact.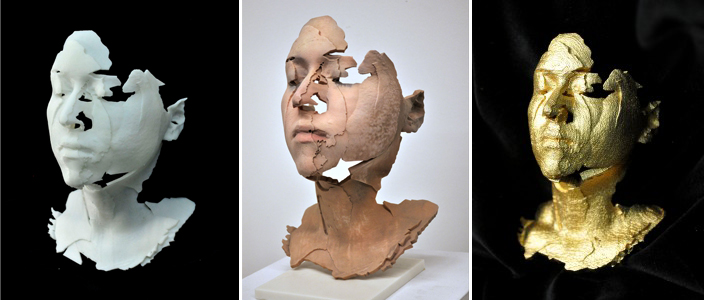 A few words from the artist after the jump:

How would you describe your creative process?
Both photography and scanning involve light and a lens, and they 'capture' and freeze a few seconds in time. What fascinates me about 3d scanning is the way it reveals the incompleteness of our own vision. Many of the holes and gaps in my sculptures are due to occlusion: the parts of the face that are hidden from view at any one time. My sculptures can look complete from one angle and very incomplete from another. I'm also interested in the art-historical resonances in technology, like the fact that 3d scans can look like fragmented classical sculptures, or plaster death masks, for example. I'm trying to make a connection between the digital and the handmade object.
Do you have any tips for other makers?
I recommend Netfabb Pro to everybody. It's so much more user-friendly and accessible than some of the more expensive programs out there, and it's really revolutionized my ability to prepare laser scan files for 3d printing.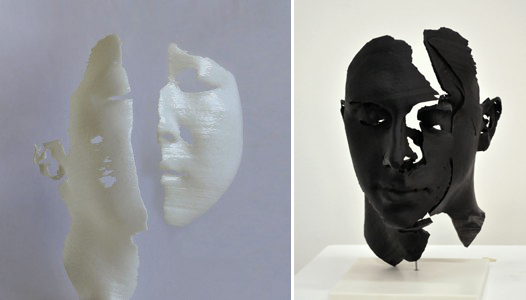 www.sophiekahn.net