experimental footwear from a fool in love


Even though I wasn't exactly impressed with fall's runway offerings, I do love fashion — very much. So I'm excited to share this guest post from 3D printing expert Joris Peels about an innovative shoe company called United Nude. (Which, by the way, started off with a designer's attempt to woo back his girlie with an architectural shoe. Certainly not the worst way to impress a lady.) ::
I'm a man so have never really spent much time lusting after high heels. Actually perhaps I have, but what I mean to say is that I've never wanted to own a pair. We once had opposite sex day in High School and one glimpse of me in my mom's dress was enough for my little sister to run away crying and simultaneously end my cross-dressing days forever. That is until I walked into United Nude's flagship store in Amsterdam.
The brand has been around since 2003, and the flagship store has been open for around a year. United Nude is inspired by design, architecture and materials. The brand was started by Rem D. Koolhaas (no not this Rem Koolhaas, a younger relative) and Galahad Clark (as in Clarks). And they make shoes that bring footwear kicking and screaming into this century.
Shoes have always irritated me. I'm terribly annoyed that most shoes cost $2.50 to make and yet retail for $150. I'm also annoyed that services like Nike ID promise customization while they really are examples of false customization because they only let you customize the color of the shoe and do not increase actual functionality. The mark up on shoes is incredible and yet they're still mostly only available in 13 different sizes. I want to have an affordable shoe 3D printed for me, my size, my weight, my gait. I want shoes that are a perfect fit for me, not empty promises by overpaid marketeers and athletes.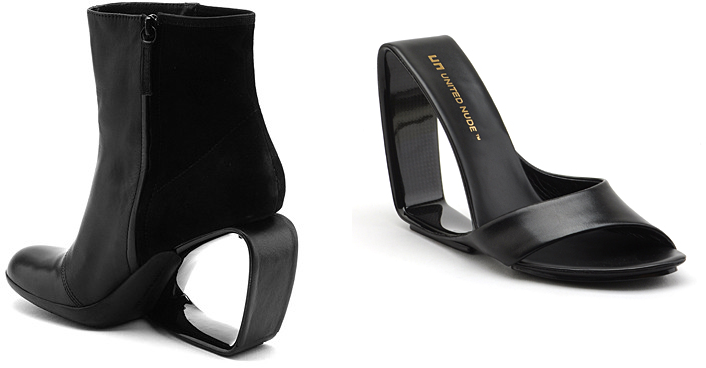 The point where I wished that their shoe sizes didn't stop at 41 (10 US) was when I turned over their United Nude Ultra Möbius (pictured above) to discover that the radical design was made possible because the shoe had a carbon fiber sole. Should you be skimming through my rant, please re-read the last sentence. And just in case you don't: the high heel pictured above has a carbon fiber sole. I don't think I've ever really understood what it is like to be a woman, but at that moment I came close.
(Editors note: the Mobius would be that design I was talking about earlier. Maybe Koolhaas and Peels should get a cup of coffe sometime…)

The Eamz shoe (above) looks improbable when worn. And yes it is Eames inspired.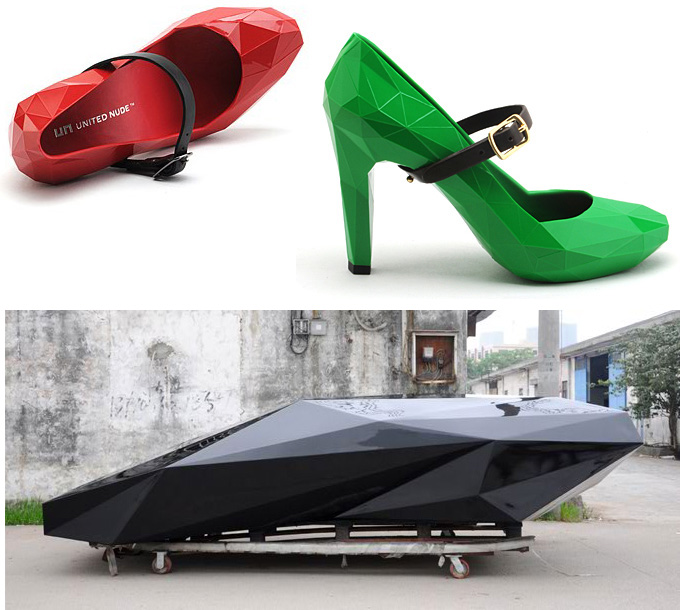 And as a 3D printing guy, I had to love the Lo Res shoe where they basically reduced the poly count in a scan of the shoe so you can see the individual triangles in the design. They also have made a low polygon count Lamborghini. Both the Lambo and the Lo Res are made by using generative design software.
By using the materials and techniques of today rather than hundreds of years ago, United Nude is pushing footwear design into modernity finally. What do you think, would you like them to make these shoes in your size as well?
Joris Peels blogs about the future of manufacturing and 3D printing on his blog VoxelFab and is the Community Manager of consumer 3D printing platform i.materialise.
Editors notes: United Nude also had these laser cut shoe designs
And why doesn't the United States have Opposite Sex Day in highschool?!?