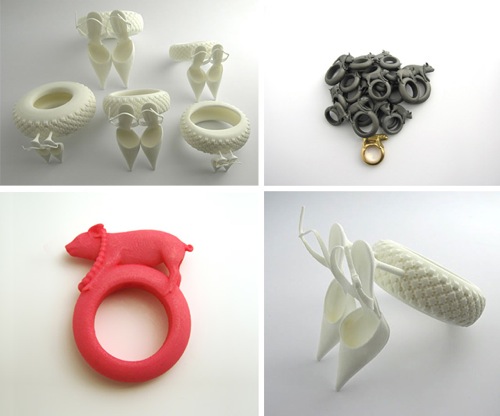 Haunted by 36 Women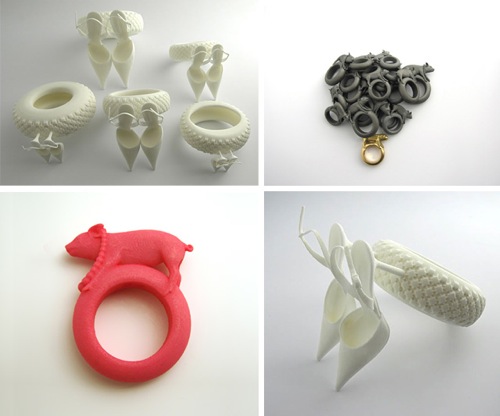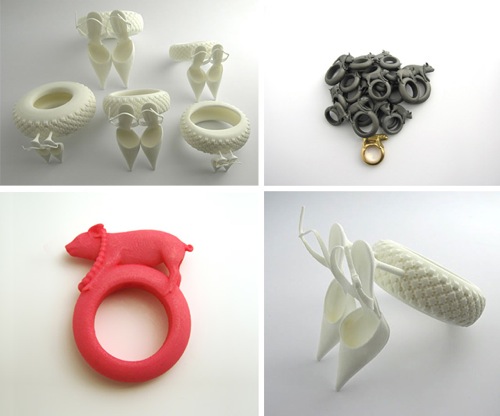 Many types of women have inspired Ted Noten in making his new series of work. Assemblages, rings, necklaces, bracelets and brooches in many different colors, materials and sizes are the result of a one year survey through the world of women. Featuring: the Fashionista, the Icecream Girl and the Femme Fatale. These assemblages are translated into jewels by 3d printing technique.
During Design Miami, Atelier Ted Noten presented his first 3d printed jewellery in 24 krt. gold in a live show where the buyer can decide himself at what point in the design process he wanted to print his design so the buyer himself becomes part of the design process.
The Japanese artist Hokusai immortalized the most enchanting landscape he knew in a group of woodprints: '36 views of Mount Fuji'. These images inspired Ted Noten to develop 36 jewels for just as many types of women. Noten also made images: each woman was portrayed in a three dimensional collage. The shoes, car tyres and other 'objects trouves' he used, seem a far cry from regular jewellery.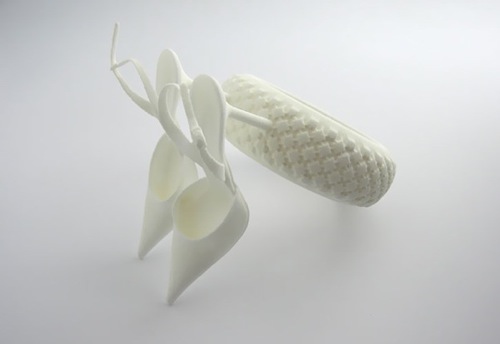 When Ted Noten started using cad-cam to realise his most recent collection 'Haunted by 36 Women' (2009), he initially used the 3D printing technique in a rather slow way. It started by making sculptures from assembled found objects(HAUTE COUTURE). These sculptures, assemblages of shoes, chairs, tyres and other found objects, were 3d scanned and then computer manipulated and rapid prototyped to become pieces of jewellery in either gold(COLLECTORS ITEM), titanium, steel etc.etc. and coloured nylon. The sculpture Night Bird was the model for two gold rings and a limited series of 25 titanium rings. To find out later that this ring was a perfect prototype for an unlimited series, now with a new and independent name and identity, 'Miss Piggy'.(PRET A PORTER)
Miss Piggy is a collection of rings, 3D printed nylon with glass fibre, 2009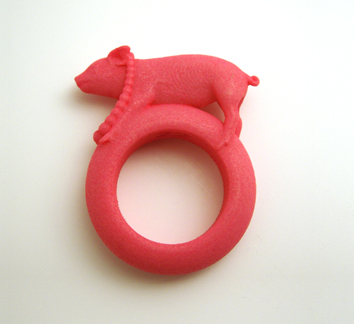 A democratized ring for everyone, available for a low price, and manufactured in an unlimited series. With this rapid prototyped ring the artist tries to conquer the world: a genuine Ted Noten ring for every woman on earth is his ideal.
via Say Hi To Design