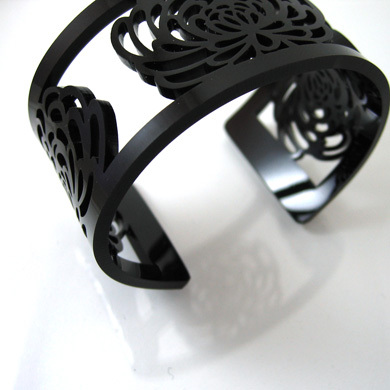 Silversmith Sinead Buckney embraces Ponoko materials.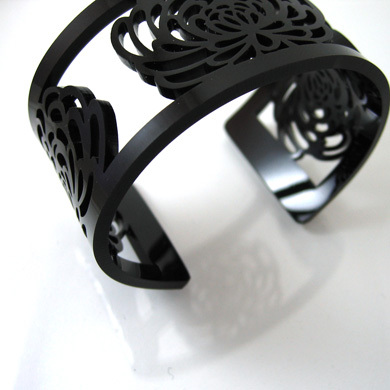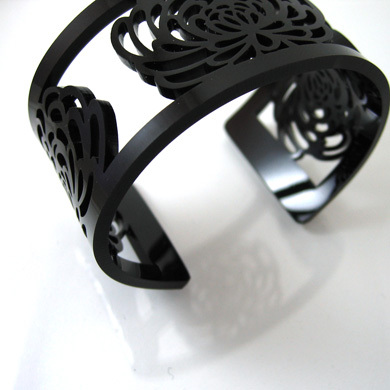 Encouraged by Moyou's experience, jeweller Sinead Buckney decided to expand from working only with precious materials
What type of products do you make with Ponoko?
Mainly jewellery items, pendants, earrings, brooches and cuffs.  I have experimented with belts, place mats, a jewellery tree and would love to make wall pieces too!  I love that Ponoko enables me to make fast easy fun inexpensive versions of my silver jewellery so that everyone can afford my  designs!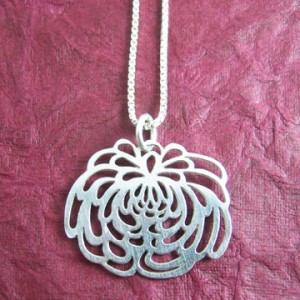 How would you describe your design process?
…lots of research and drawings of things.  Once I settle on a flower I draw many different designs, simplifying and stylizing each time.  Then I hand cut a sample in silver to see the 3D object.  After that I scan the drawing and converted it to a smoother illustrator file where I'm able to do it in many variations of size and even the cuff.  Once I receive the designs I am then able to edit my files to make the pieces stronger where and omit sizes that are not durable (small intricate felt designs just disintegrate).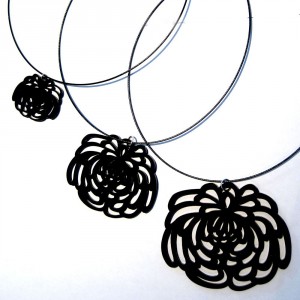 What material/s do you use/ have you used and why?
Acrylic – durable and options of colours – although not many good colour options.  Plus it can be heat formed which brings a great 3D possibility to the pieces.  Felt  – soft, warm and light with colour options. (I would like to make in recycled felt).  Leather – a natural material, flexible and durable (beautiful when engraved).  Bamboo – I love bamboo because it is environmentally sustainable.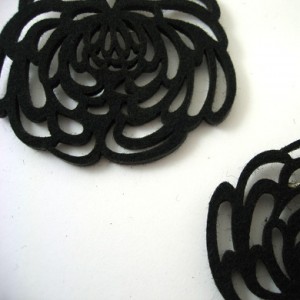 Have you been surprised by anything in the Ponoko process?
Any issues with the process and problems are always taken on board by the team at Ponoko and the site is constantly being improved – these problems are just really little issues compared with the major hassle of dealing with industry not geared towards small makers!  It has been a steep learning curve for me but the team are always very prompt and easily spot the places where the problems are occurring on my work!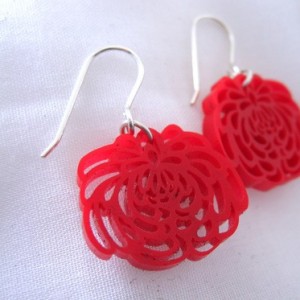 Delighted you?
The speed with which my orders arrived, the absolute ease of the whole system (minus a few tweaks) compared with having to approach industry and do lots of back and forth and expensive prototypes to finalise a design.
Do you have any tips for other users?
Take notes on the sizes / version / cost of each file / order so you can quickly and easily work out which file you want to use and compare costs.  Save every file in a final and editable format so you can easily tweak it to whatever you need for each order (and resolve uploading issues).  Always order more than you think you need!  Read up on note about materials, check user forums – it pays to be forewarned of the design tweaks needed for each material.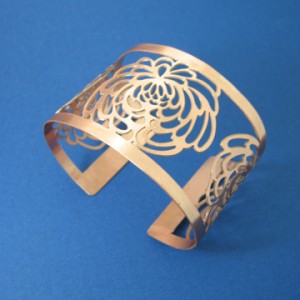 http://www.ponoko.com/showroom/sineadbuckney/chrysanthemum-acrylic-cuff-3244, http://www.etsy.com/shop/sineadbuckney, http://www.sineadbuckney.co.uk/index.php?L1=collections&L2=&R1=showcollection&R2=12&R3=0