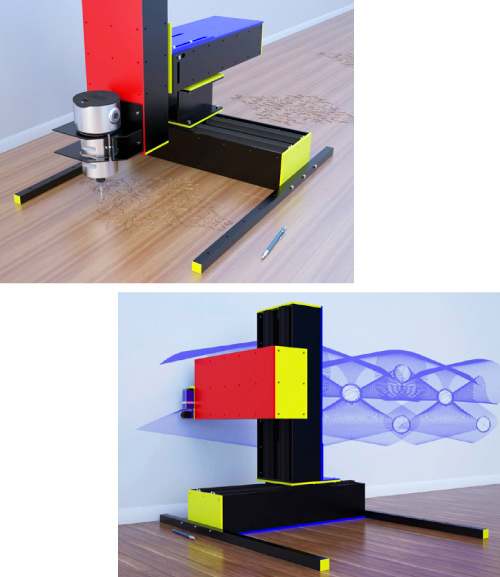 Versatile Student Concept: modular 3-axis CNC machine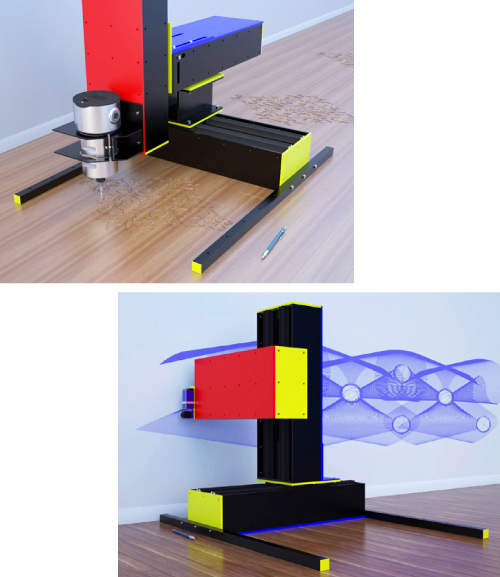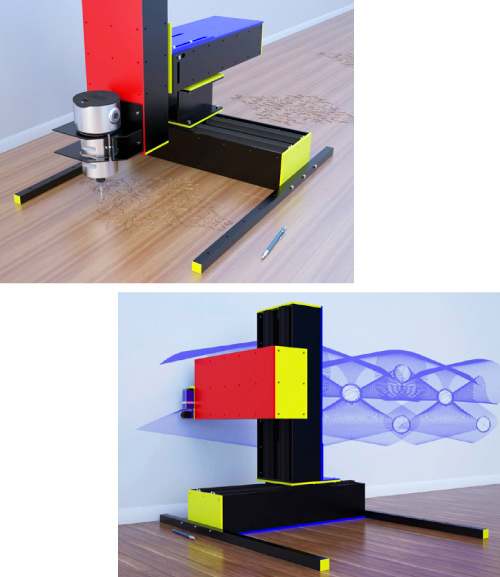 Sure, it's been prettied up for the photo shoot – but even without the shiny colours there is something interesting about this finalist from Canada in the current James Dyson Awards.
The Red Blue CNC is the brainchild of Industrial Design graduate Nick Santillan. His goal was to create a versatile platform from which a CNC device could be used to engrave/cut/mill beyond the boundaries traditionally offered by tabletop machines.
Because of its simplified minimal design, the user can bypass complex knowledge on how CNC machines work in order for them to create their own machine.
So, while this little beauty can engrave above and below the bed, the head can also be mounted sideways to print directly onto vertical surfaces.
Had enough subtractive manufacturing? Change the tool head to a plastic extruder and you've got yourself a 3d printer. Of course, you could also fit it out with friggin' lasers, if that's more to your liking.
To round off the versatility checklist, in minutes the whole contraption can be reconfigured into a wheelable trolley. Who exactly needs a mobile CNC machine is another question entirely… but it is still a pretty neat idea to include this capability in the mix. See how it all happens in the following clip.
There may indeed be a future for Nick and his Red Blue CNC machine, which certainly lifts the bar from the bare basics of the DIYLILCNC.
Stay tuned over at the James Dyson student design awards – from over 500 entries internationally, this project is currently in the top 20 shortlist with the top 15 to be announced in mid-September, and then overall winners will be revealed on October 5th.
See more at the James Dyson awards.
Tetris fans: head to the project blog where you'll catch a clip of the machine's stepper motors beating out the Tetris theme song!