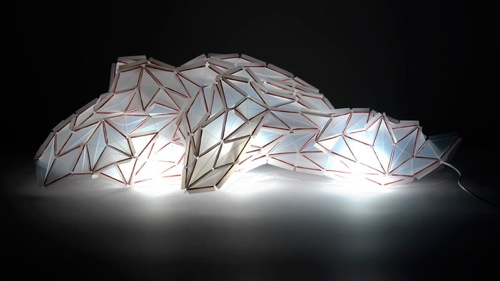 Folding Tessellations of Light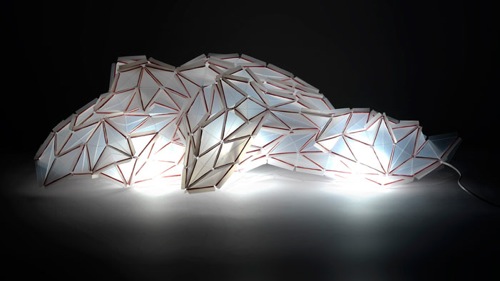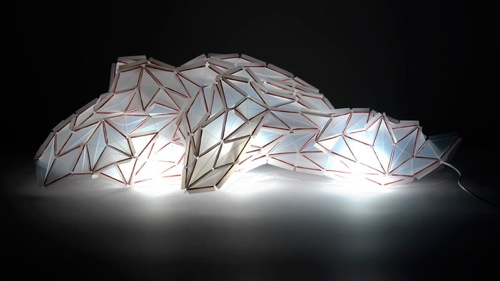 Using the inspiration of the playful forming of origami and Lego, a German design student Alice Gruhle has created a lamp which can be adapted into different sculptural shapes.
Alice Gruhle won a competition at Hochschule fur Gestaltung Offenbach with her Polymorph concept, which is formed from diamond-shaped modules that link together and allow "folds"at the join. For her end of term show, Gruhle made the lamp from modules cut and milled from polypropylene sheets.
To take the product further, she used Protmold's ProtoQuote and ProtoFlow analysis software to optimize the design for rapid injection moulding production. She has since received her first delivery of injection moulded modules and is very pleased with the outcome.
"It's really like Lego, she says, "every part must be right so that they all fit together perfectly."

Initially, Alice Gruhle experimented with a grid of squares, each divided into four triangles of equal size. She then transferred the grid onto a thin sheet of polypropylene, cut out the triangles and then joined them back together in their original arrangement with tape so they could be folded along the dividing lines. Alice kept on experimenting by stretching the squares into diamonds. To join these diamonds, she then added wings that could flap back and attach to the long-sided wings of the neighbouring module. With her paper prototype she used simple paper clips to join the wings but when it came to the modules cut from sheets of polypropylene, she chose ordinary rubber bands to make the connections.
Alice explained, "You can produce more complicated structures using diamond-shaped modules than you can with comparatively rigid squares. It is possible to, not only construct regular and closed bodies from them, but also open and chaotic structures. This really appealed to me!"
For the university's end-of-term show, Alice produced 500 modules and joined them to create a single sculpture.
Alice has called her design "Polymorph" and has since used some 150 injection moulded modules to create a cocoon-like hanging lamp. Her design has subsequently been featured in German design magazines and you can see it on display at the forthcoming Euromold exhibition in December 2009.