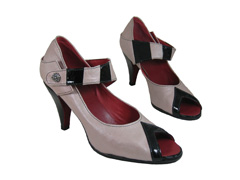 Following on from the previous interview with Monika Desai of Sole Envie, here is part 2..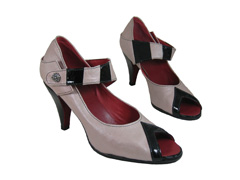 Who do you see as the target market for Sole Envie, and what differentiates them from you average shoe consumer?
Sole Envie is targeting upwardly mobile, fashion forward women between the ages of 18 and 54. These women are web savvy shoe lovers that are comfortable with purchasing online and who want the opportunity to be creative but don't have an outlet. To these women shoes are a vehicle for self expression. They will come to Sole Envie for various reasons – they want something unique, they want a fun shopping experience, they are looking for shoes that match a specific outfit, they have hard to fit feet, or they want something special for an occasion such as a wedding.
Based on preliminary responses from a 50 question marketing research survey we are currently conducting, we think Sole Envie will have broad appeal. We sent out separate surveys to the Hello Stiletto Shoe Club (a group of self professed shoe lovers) and our network of friends and family (who we think is a fairly good representation of the overall population within our target market). Over 200 people have responded so far and the differences and the commonalities between the two types of respondents has been very interesting to see.
Here are just a few responses:
When asked "How much does the concept of designing your own shoes appeal to you?" Here's how each group responded:
Shoe Club Respondents
65% "loved the idea"
32% "liked the idea'
3% were indifferent
My Network of Friends/Family and their friends
49% loved the idea
39% liked the idea
11% were indifferent
2% didn't like the idea
When asked, "What would motivate you to purchase customized shoes?" The majority in both groups checked "I want something unique that expresses my style." Clearly women have the desire for customization.
Also, I had asked people in the survey why shoes were important to them and here are some of the responses.
I love the novelty of a new pair of shoes. Shopping for shoes taps into my creative side because I can envision how the shoes will complement certain outfits. I also feel exhilerated when I see a pair of shoes that fits my personality and style perfectly. It makes me feel understood, and I feel that when I wear these types of shoes, I am expressing myself and my personality to the world without having to say a word. My style can speak for itself.
It feels good when a strangers says Hey great pair of shoes!
A great pair of shoes just makes you feel good, like a great piece of chocolate.
Shoes allow me to express different parts of my personality without going overboard (e.g. wild, sexy, etc), and you can make the same outfit take on a totally different vibe based upon shoe choice alone. A great pair of shoes makes me feel stylish and beautiful. My legs are the part of my body that make me feel most insecure, and a great pair of shoes can help to override that insecurity.
Wearing a great pair of shoes, regardless of price, give me confidence and emotional satisfaction. Sometimes in the morning I plan my outfit around what shoes I want to wear that day. A great pair of shoes can make you feel sexy and flirty!
I like to look fashionable. Also when I don't have a lot of money for clothes, I can always buy shoes. Shoes are like comfort food.
I have always been a lover of shoes since my days as a child. The right shoe can not only make or break an outfit, it can set the tone for your day or that special outing you may be attending. When I look at myself in the mirror with say those fabulous Gucci grosgrain ribbon sandals, I think of myself in a different light. There is no doubt that the compliments will be flowing that evening.
Shoes can change an outfit and change a mood I am in. When I put on a pair of great shoes, I feel confident and happy. It makes me feel really good when I get complimented on them.
I am such a unique person and it shows in the shoes that I own. One of a kind, now that's sexy.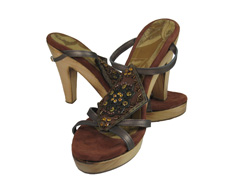 What manufacturing process do you foresee being used to produce customized shoes?
In an ideal world we'd implement a lean manufacturing process from the start. This includes having small teams, inventory bins that are replenished on demand, and relentless focus on reducing waste at every opportunity. Information managment is also critical. Desiging your products for ease of manufacturing also plays an important role.
Having small teams in a shoe manufacturing context means that each team can make an entire pair of shoes by themselves as opposed to the traditional long assembly line where seweres are in one place and cutters are in another. These small teams allow for a more flexible process that can handle one custom shoe at time. Small teams keep each other focused on quaility, reducing re-works at the end, and avoiding mis-configured shoes.
To ensure rapid turnaround on orders as they come in, we will need to make sure that all of the required materials are available near the teams, so that manufacturing can begin immediately and proceed uninterrupted. Processes need to be put in place to ensure that the inventory bins are replenished when they drop below a certain threshold. To make this happen, we'll need the cooperation of our suppliers. In an industry that is typically based on high volumes, it's challenging to find suppliers that will provide components in smaller quantities on an on-demand basis. Typically,even if a supplier is willing to work with small quantities on demand, ensuring that they can get you the same exact component (a specific color for example) every time you replenish your inventory is tough. You have to find reliable suppliers that are willing to integrate with your process. A lot of time is spent educating potential suppliers on what customization means, how it works and how they can make money from it.
Information management is key to ensuring that the shoes get build with the proper configuration. In the early stages this might be a simple as putting all of the components for an order in a bag, and sticking the work order on it.
You also have to design your product in such a way that allows for ease of manufacturing. When designing a collection of base styles, I'm always thinking about how to make the shoes configurable yet easy to build. You want to to be able to use interchangeable and standardized parts that can support a family of styles to provide you with a number benefits: speed up the manufacturing, minimize your inventory of materials and accessories (while making it seem to the customer that they have lots of options), and maximize your investment in lasts, dies, and molds.
Having lean manufacturing in place will also ensure that we can get quick turn around on orders, so that we can deliver orders to our customers within 3 weeks. .
Once we have the process in place and some traction, than we can start to leverage more sophisticated technology that is out there for producing custom shoes such as CAD and digital shoe design, laser cutters, rapid prototyping etc. At this stage, though, we're more focused on finding a manufacturer that is willing to even consider small lots (or in our case "one at a time"). This has been our biggest challenge. It's kind of the chicken and the egg situation – factories are hesitant to work with us because we don't have orders but we can't get orders if we can't nail down a factory to work with us. We are currently working with a factory in India that does a lot of work by hand. While this is enough to get us going for the short term, we recognize that we will need to find a more scaleable solution as we grow. A really important factor in our future success will be establishing a repeatable process that we can continuously improve upon and that can be implemented regardless of what country we are producing in.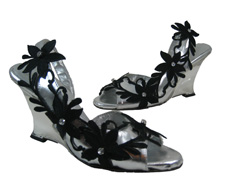 And finally, I have heard that customs agents always judge passengers by their shoes, what do you think a customized shoe would say to them?
I think that would depend on the shoe! The beauty of designing your own shoes is that you can create shoes that express your individual personality. Each shoe is going to be unique and will reveal different characteristics about the wearer. A strappy sandal could indicate you're in a flirtatious mood, a pointy stiletto may express confidence, and a leopard print platform may show you have a playful side, you like to be the center of attention and you like to make bold statement. Regardless of what the shoe looks like, I do think if a woman is wearing custom shoes, she probably places a high value on uniqueness and individuality, she's creative and she wants to be able to express herself. What else can her shoes reveal? Can a woman's shoes reveal who she is going to vote for at next week's election? Now that would be an interesting study!
One thing we should mention is that Sole Envie are right now only focusing on offering "custom design" vs. "custom fit" which means that they are offering shoes in standard sizes. They will have a wider range of sizes than most (4 to 12), and a wider selection of widths, but the shoes are not custom fitted. In the future Sole Envie will also explore custom fit.
Thank you so much to Monika for sharing such in depth insights into mass customization and women's shoes. To find out more details of her research underlying Sole Envie you will have to attend the MIT Smart Customization Seminar. And to gather inspiration for your own shoe design check out the gallery at Sole Envie. And yes it would be interesting to see what woman's shoes reveal who she is going to vote for at next week's election? or what would Palin design????
More interviews from the MIT Smart Customization Seminar to follow..