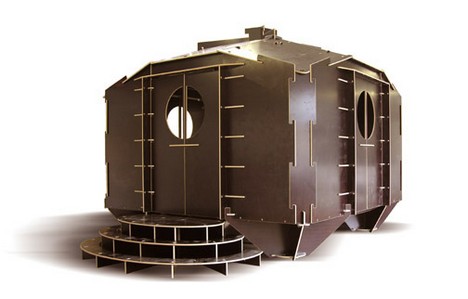 Gregg Fleishman's Flatpack House (TreeHugger)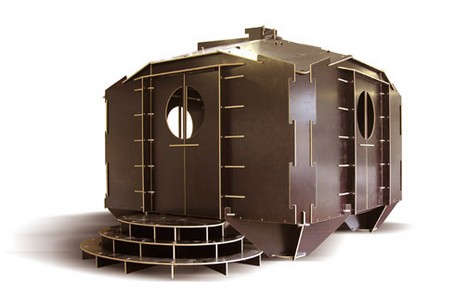 Ikea has proven that people love prefab flatpack furniture – for the convenience, ease of shipping and assembly, design, simplicity and price. Now you can have that same flatpack experience – but with a house. Architect and designer Gregg Fleishman from southern California has designed a flatpack Disaster House and Shelter System made of router-cut European sustainable birch plywood pieces that fit together like a 3D puzzle, requiring no nails, screws or glue. Although it needs some sort of rain cover, it's still a very cool concept and design. It's available through Swarm Studios for US$22,000 + tax including assembly.
This 14′ square house could provide the shelter needed for different occasions – for either emergency or fun reasons. Check out his "Playgoda", a fun and cool option for keeping the kids busy in the backyard. No need to work with countless nails and screws to put the swingset/jungle gym together.
via Treehugger