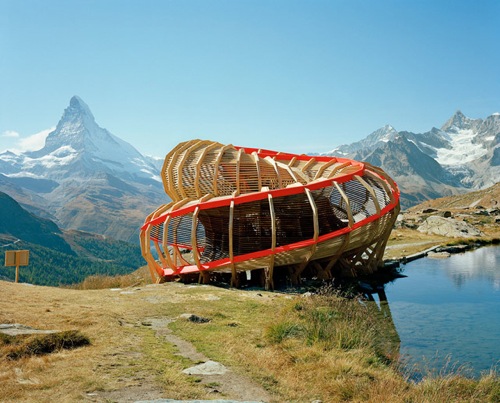 wow…….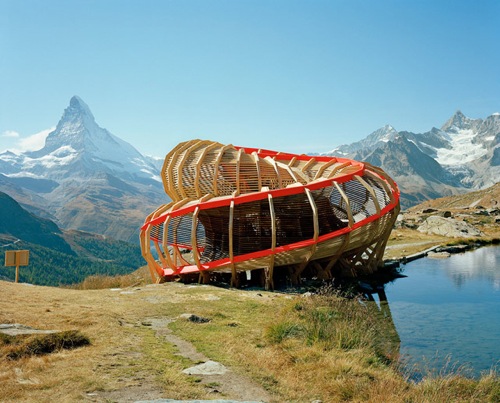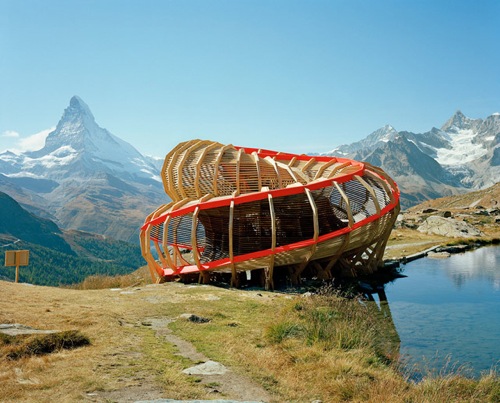 Evolver is a wooden construction built by 2nd year students from the ALICE Studio at Ecole Polytechnique Fédérale de Lausanne (EPFL), Switzerland. Like a timber Guggenheim, when you walk through it, you'll make a 720° turn and have an amazing panorama on the surroundings of Zermatt.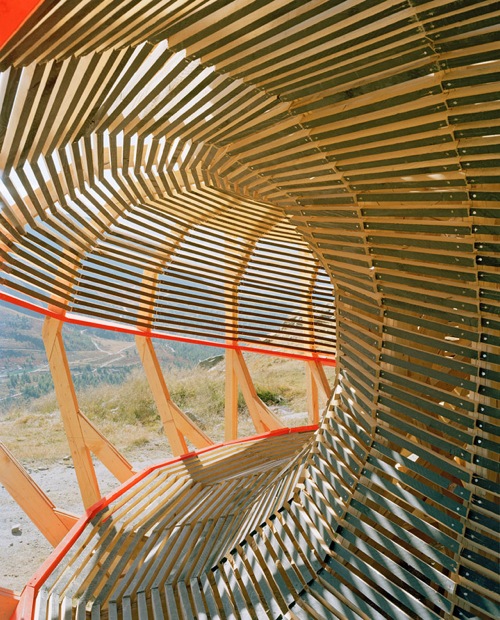 Check out their blog documenting the entire process from maquette to site measure to videos of the panoramic experience..

Who are these people doing this amazing work in second year????
The atelier is focusing on the relations between language and object of language that exist in the process of making in architecture: for example treating the construction of a drawing before drafting.
If architectural space is conceived as a primary property of architecture and as prior to two or three dimensional representation, as well as prior to structural enclosure or object serving functional needs, what will be the essence of that space and how can we explore its depths with the tools that can be employed by the architect? ALICE offers critical approaches to the questions that rise when we look at architecture both as a cultural praxis and as a profession in the socio-political context.
We will examine specific conditions imminent in representational tools and techniques. Representational tools, such as architectural models and plans, or digital constructs like Google-Earth, possess their specific qualities. At the same time they both have their hidden and apparent limitations. To give an example: While simulating time and space, Google-Earth is also a constructed (virtual) interaction, a collage of disparate, strongly manipulated, frozen moments.
The Spring Semester 2009 is a continuation of our investigations on altitude. We will develop a project in a mountainous, alpine condition in several resolutions at different scales. First, a series of mountain passes will be looked at and transformed into panoramic site models. Subsequently the program of Entrée Alpine will be introduced as a first step towards a project proposal: the design of an Alpine Motel. After the Entrée Alpine phase 16 proposals will be evaluated in a jury with external experts in a public review. One or several proposals will serve as the basis for a one-to-one structure to be erected on location in one of the mountain passes or at an art festival of our choice.

To realize a construction of a pavilion or an installation with a second year design class is an experiment. The basic idea behind it is to expose students to processes in architectural production, from conception, to planning, to realization, to the ultimate removal of the architectural artifact — thus, the full life cycle of an object.

At the same time, such a project calls into question the position and the viewpoint of the designer. Here, the architect is not just a creator, he is also a craftsman, a producer, an engineer, a manager, etc. Thus the designer is not only acting from without or above — from a top-view position or a bird's eye perspective so to speak — but also from within. The employment of digital and physical tools, in combination with the actual building of a one-to-one structure, presents a framework of multiple reference frames for the maker of the design, while at the same time transgressing these frames. This altered position of the designer-architect implies understanding architectural design as an emergent process.
Truly amazing student work that sets an extremely high benchmark for design education..
Evolver photographs © Joël Tettamanti / ALICE Studio EPFL
all other pictures by meredith adrian llewelny and nicolas feihl
via Today & Tomorrow