Textile designers rejoice; there's a Ponoko for us too!
Laser-cutting? Pssh. You don't want holes in a pot holder or oven mit. 3D printing? Big deal. No one wants a crusty plastic pillowcase or a metal-sintered tote bag. DIGITAL FABRIC PRINTING — that's the future… of aprons and napkins and place mats at least. Okay, so those comments don't do anything to elevate the field of textile design, but a new company is stepping up to the plate. (And not to wash it!)


Envelop is an "online print-on-demand platform where [designers] can create, promote and sell high quality cotton items to textile lovers worldwide." With Envelop, designers submit their designs which are digitally printed in Belguim and sewn into one of a number of finished products on-demand. Digitally Printed = unlimited color. On-Demand = no inventory. And the best part? Envelop = 12.5% royalty earned on each order. The worst part? Belguim = 21% tax.
Setting Envelop apart from many mass-customization start-ups is the company's dedication to true designers. This isn't the place for your mom to print the kids pictures on place mats. In order to register with Envelop, you must submit a link to an online portfolio that showcases creative, original graphics or illustrations. It doesn't have to be fancy, just a simple collection of work on a community profile or blog. There are currently 80 independent designers from around the world signed up. Designs can be printed and made into aprons, napkins, oven gloves, pillow covers, place mats, pot holders, table runners, and tote bags.

Envelop is still in beta, and I hope that the company meets the success they need to grow their material and product offerings. With that in mind, I picked out some of my favorite designs to promote.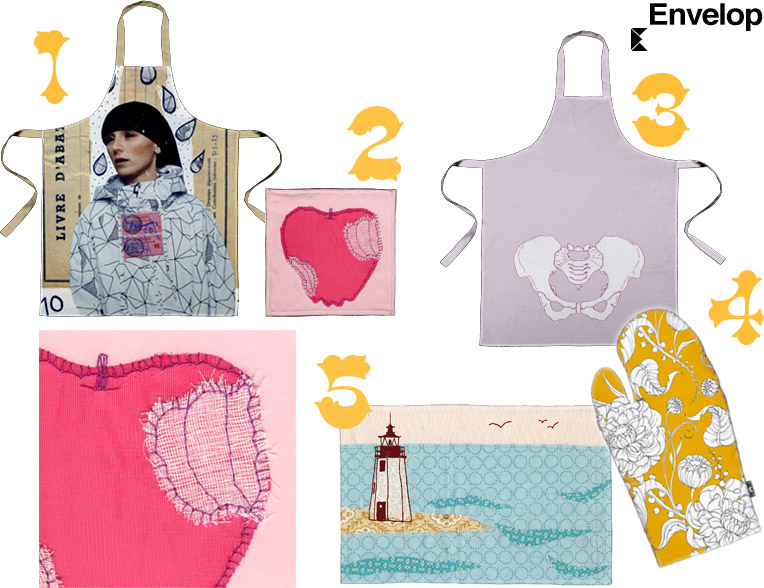 1: apron by friandises of Dampierre en Burly (FR); 2 & 3: napkin and apron by Monica Greco of Pavia (IT); 4: oven glove by Tamara Weiss of Philadelphia (US); 5: place mat by Alli Coate of Providence (US); 6: totebag by komraids of Dubai (AE); 7: place mat by the lilipinsson company of Amsterdam (NL); 8: tote bag by Michael Bojkowski of Prahran, Victoria (AU); 9: oven glove by choppingtools of Valencia (ES); 10: pillow cover by Carolyn Alexander Illustration and things of La Plagne (FR); 11: pillow cover by siebe of Brugge (BE). Wow.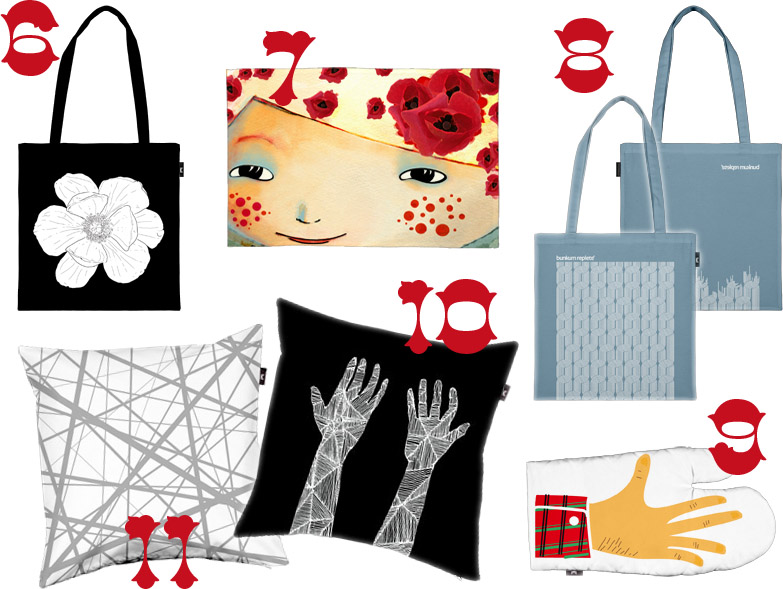 via Swiss-Miss