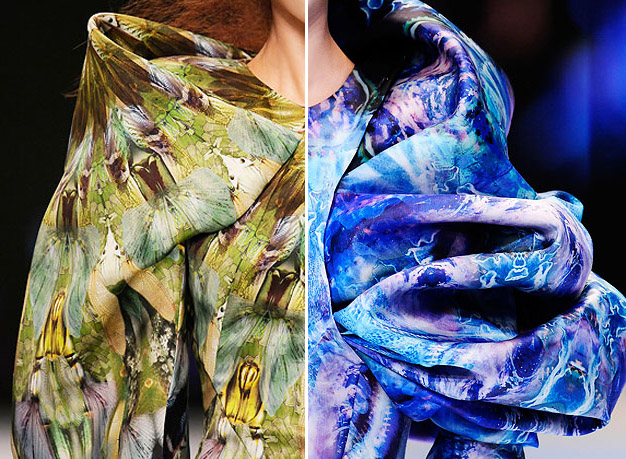 six spring collections of digitally printed textiles + the awful loss of Alexander McQueen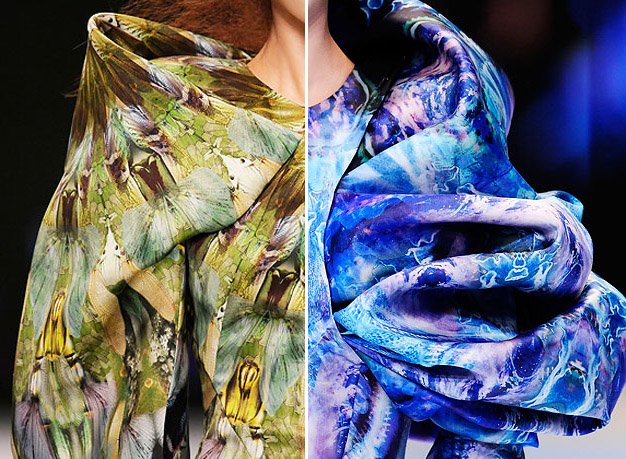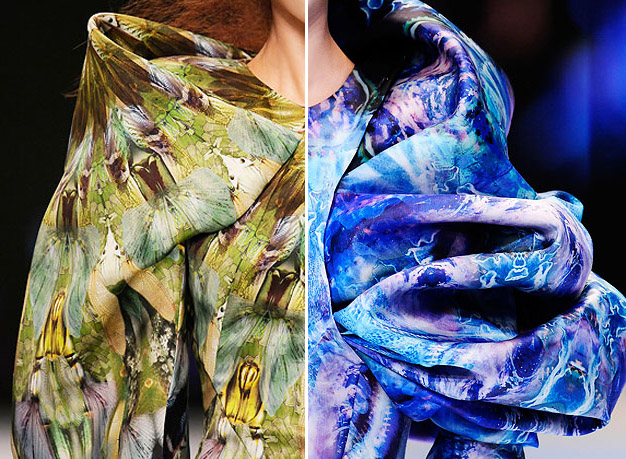 Fashion was my first design-love, and Alexander McQueen was my first designer crush. His collections were ceaselessly astonishing and their presentation always a work of performance art. (I remember reading in Vogue how McQueen held his fashion show on a pier during a hurricane. It was one of those brilliant and sinister moves that makes you fall instantly in love with a troublemaker.)
As a nod to the late and great Lee Alexander McQueen, here's a look at the Digital Print Storm that took the Spring 2010 fashion runways. While the "Enfant Terrible" pushed the look to extra-terrestrial limits, Basso&Brooke as well as Mary Katrantzou delivered bright CGI graphics that still cling to the 80's trend of recent springs. Elie Saab followed suit with digitally printed splatter paint in neon colors. And Nathan Jenden and Prada chose to go photo-real.
Peruse the Digitally Printed Fashion Revolution after the jump.
all photos from Style.com
Alexander McQueen Spring 2010
From ultimate animal prints to collages of interstellar clouds, McQueen rocks digital printing like I've never seen. Rows of elaborate braids crowned the alien empress models who walked the runway in something closer to a claw than a stiletto. It was a master's collection that both pinned the technology-enhanced trend proliferating in every discipline of design and blew away expectations the way real art should.
Basso&Brooke Spring 2010
Described as "the Pixar of clothes" by Tim Blanks of Style.com, Basso & Brooke were trailblazing digital fabric printing in fashion back in 2004. Jumping ahead six years we simultaneously fly back to 1986 for an Adventures-with-April-Greiman graphic scheme.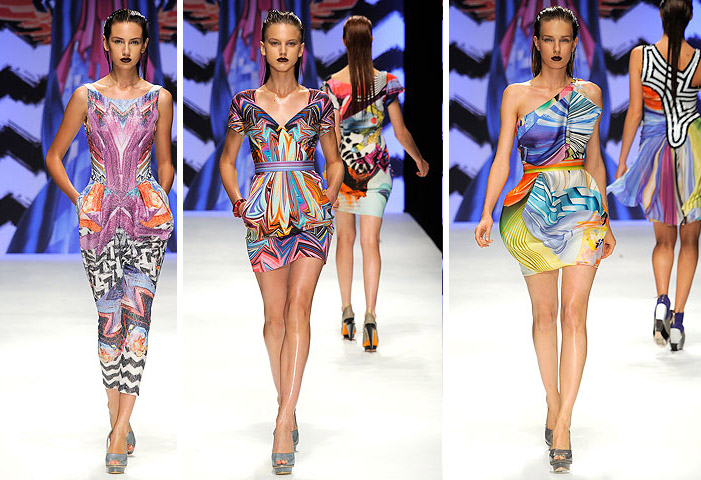 Elie Saab Spring 2010
Lisa Frank grows up and moves to New York — that's my take on these splatter paint pieces from celebrity-fave Elie Saab.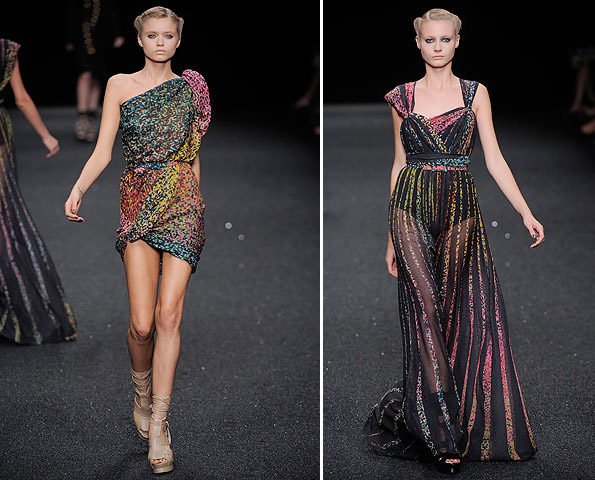 Mary Katrantzou Spring 2010 + Spring 2009
Recent Central Saint Martins graduate Mary Katrantzou moved from engineered prints of strange, over-size jewelry imagery in Spring 2009 to all-over collages of graphics in motion for Spring 2010. While the new stuff is certainly in tune with the rising dominance of streaming media, I personally find the more subtle trompe l'oeil dresses much more ready to wear.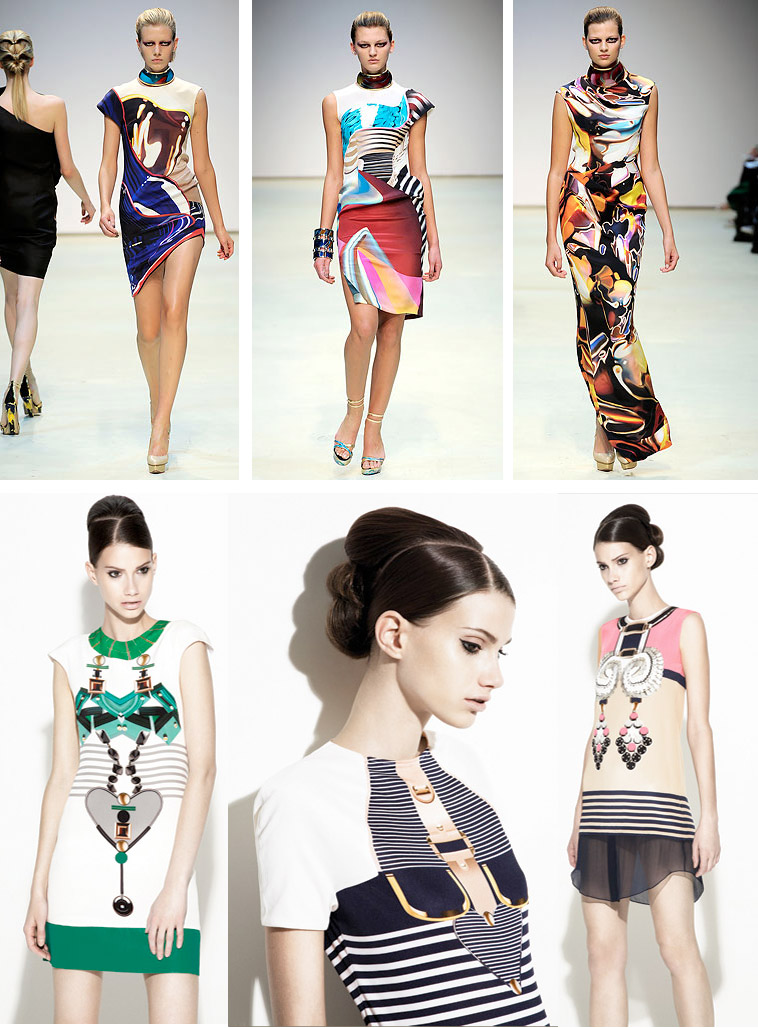 Nathan Jenden Spring 2010
Nathan Jenden steps down as creative director for Diane von Furstenberg at tomorrow's fall show for New York Fashion Week. He'll be focusing full-time on his own line which showcased business and party looks alike in hyper-pastels and photo-real collage for spring.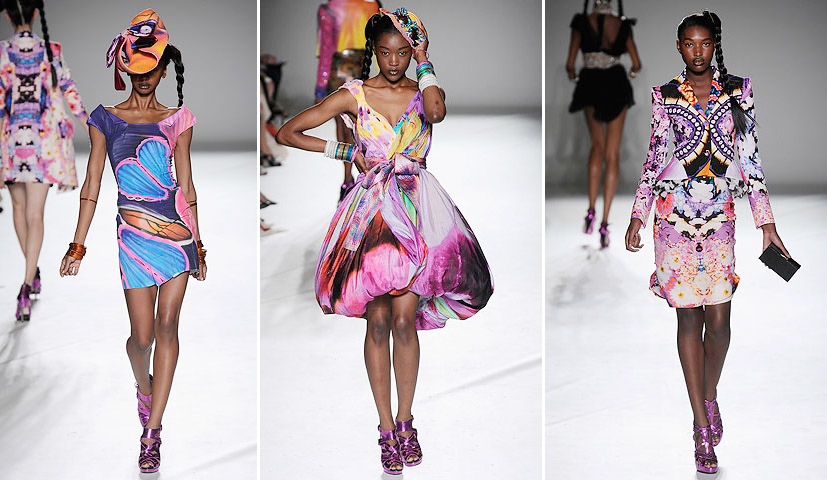 Prada Spring 2010
By playing it safe with photographic floral and beach imagery, Prada's take on the digital print is a wearable alternative to the 80s/future obsession.