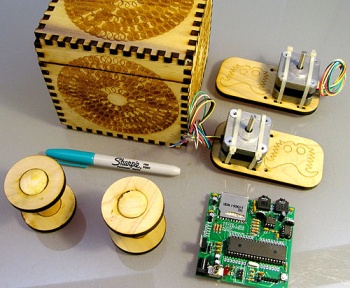 rethinking technology and speed an X-Y coordinate at a time.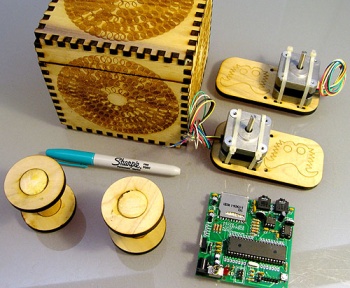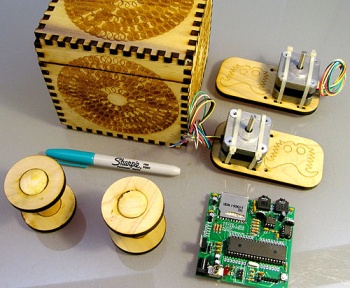 In direct opposition to the thehumanprinter the AS220 Drawbot kit includes two wall-mountable DC motors, two string spools, a pen clip and a controller board built around a Sanguino microcontroller. The whole kit comes inside a laser-cut wooden box engraved with the mandala pattern that comes pre-programmed on the Drawbot.

No programming skills are required to make the Drawbot work out of the box, but tinkerers are encouraged to load their own patterns and code on to the board, which can also interface with the popular, open-source Arduino platform. You can download the Arduino Drawbot code here for the Erik Satie Print as shown in the window of the The Print Lottery show.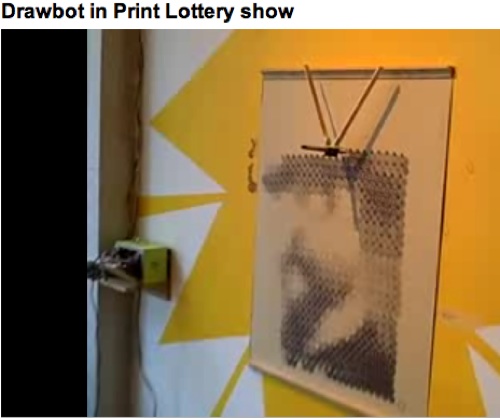 Click image to see a video of the Drawbot in action
AS220 Labs is a teaching space, workspace and community junk pile for supporting open hardware and software projects. They help build new technically literate audiences and communities of artists by running workshops and providing access to tools such as those of the Providence Fab Lab. AS220 Labs is physically located on the second floor of the Empire Street Complex as part of the Broad Street Studio space but emotionally located at the center of our collective hearts….
If anyone knows of any other collectives such as this creating community around design, experimentation and consumer empowerment please let me know.
via cnet