American Federal Furniture meets Multi Axis CNC

Paul Loebach's Vase Space is utilizes CNC technology to merge vase and table just as he merges art and design. Realizing the links between his German craftsman heritage and emerging design practice.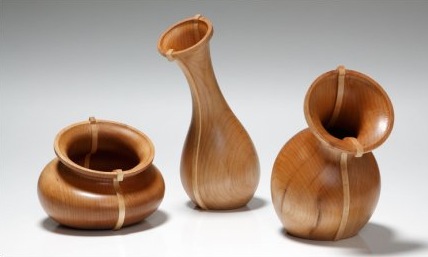 Recent works by Paul Loebach also include an experiment in wood construction and CNC machining. Blocks of solid maple are milled in two separate halves and joined together with an accentuated 'parting line', articulating the profile of the polymorphic shapes.
Paul Loebach was raised in Cincinnati, Ohio amid the industrial landscape of the Midwestern US, where he left to graduate from Rhode Island School of Design in 2002. Descended from a long line of German woodworkers, his father is a manufacturing engineer who developed new plastic forming technologies for Union Carbide in the 1970's. Paul sees his projects as an idealistic fusion of his family's distant and more recent histories.
Via Design Spotter and Free Form Fab..