Ok,
I have found my favorite publishing house for design based books and journals (among others).


Berg is an international, independent publisher. We have built our name through publishing in Anthropology, Fashion, Cultural and Media Studies, Film, Food, Design, Interior Design, Textiles, and Visual Culture.
They publish a wide range of different books: large introductory textbooks and readers, advanced level undergraduate and graduate texts, cutting-edge monographs, books designed for a general readership, desk-top and library reference, and journals.



Of interest to Ponokosters will be journals like Design and Culture, The Design Journal & The Journal of Modern Craft.
The stand out publication here as an original publication touching on designer makers is The Journal of Modern Craft.



The Journal of Modern Craft is the first peer-reviewed academic journal to provide an interdisciplinary and international forum in its subject area. It addresses all forms of making that self-consciously set themselves apart from mass production — whether in the making of designed objects, artworks, buildings, or other artefacts.
The journal covers craft in all its historical and contemporary manifestations. It starts in the mid-nineteenth-century, when handwork was first consciously framed in opposition to industrialization, through to the present time, when ideas once confined to the "applied arts" have come to seem vital across a huge range of cultural activities. Special emphasis is placed on studio practice, and on the transformations of indigenous forms of craft activity throughout the world. The journal also reviews and analyses the relevance of craft within new media, folk art, architecture, design, contemporary art, and other fields.
The Journal of Modern Craft is the main scholarly voice on the subject of craft, conceived both as an idea and as a field of practice in its own right.
Also of interest are books such as Thinking Through Craft,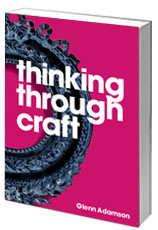 Beautiful Thing & Design Futuring.
Design Futuring systematically presents ideas and methods for Design as an expanded ethical and professional practice.
Design Futuring argues that responding to ethical, political, social and ecological concerns now requires a new type of practice which recognises design's importance in overcoming a world made unsustainable.
Illustrated throughout with international case material, Design Futuring presents the author's ground-breaking ideas in a coherent framework, focusing specifically on the ways in which concerns for ethics and sustainability can change the practice of Design for the 21st Century.
Design Futuring is "a pathfinding text for the new era" that extends far beyond Design courses and professional practice and will be invaluable also to students and practitioners of Architecture, the Creative Arts, Business and Management.