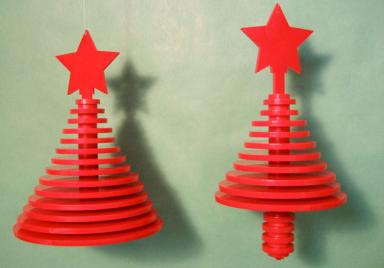 Ben Light, whom we have blogged about previously, has been making some Christmas ornaments over at NYC Resistor's laser cutter. He is quoted over at Make's blog:
"The laser cutter is such a cool tool. To be able to design something and have the final piece in your hands 10 minutes later, it's like living in the future."
Ben was taking advantage of NYC Resistor's classes – every time I look at that site I get an inexplicable urge to live in NYC!
More cool happenings via Bre and NYC Resistor's laser cutter: Jennifer Whalen's animated horse and buffalo.
via Bre's excellent Things videos
and via Make