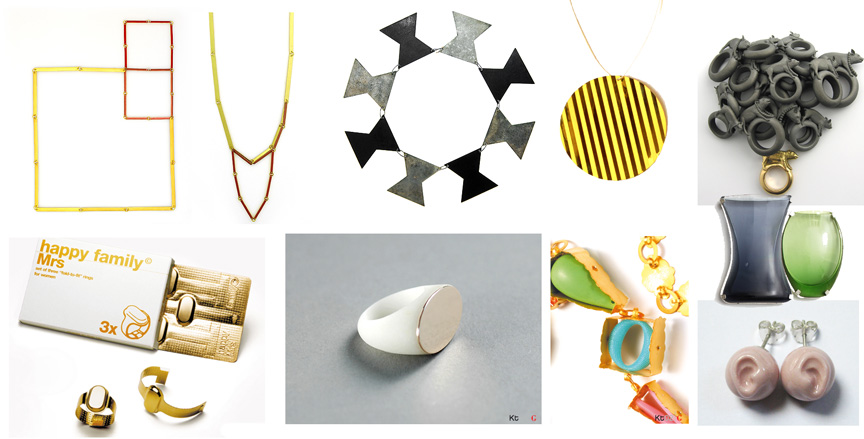 Selections from the Klimt02 2010 Collection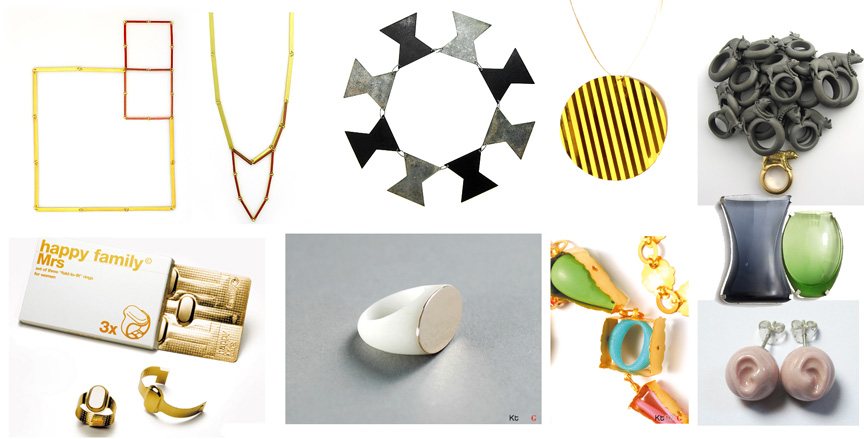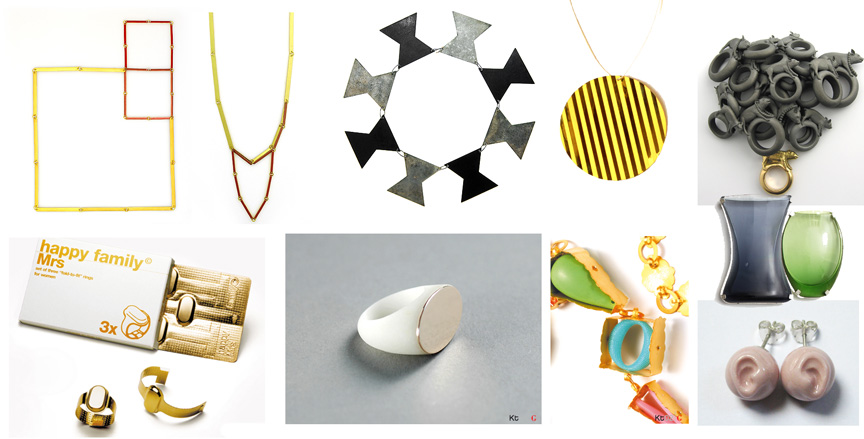 Klimt02 is *the* site for contemporary jewelry artists. There's an extensive list of exhibitions, showcases, fairs, and calls for entry going on around the world, a directory of jewellers and galleries, and an online store.
Klimt02 recently announced their 2010 collection, "a selection of essential and benchmark jewels in contemporary jewellery." 140 pieces from 26 international artists were included this year, and each piece is for sale through Klimt02. Ten of my favorites, after the jump.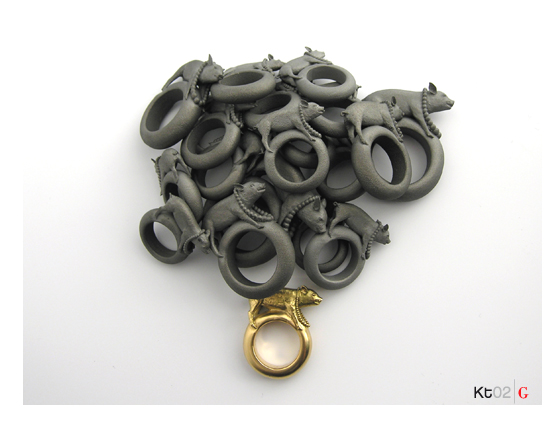 Avondvlinder by Ted Noten: Noten's 3D printed jewelry was previously mentioned on the blog HERE. These piggies in pearls were 3D printed in titanium and gold. The cost of the gold ring changes each day, fluctuating with the price of gold.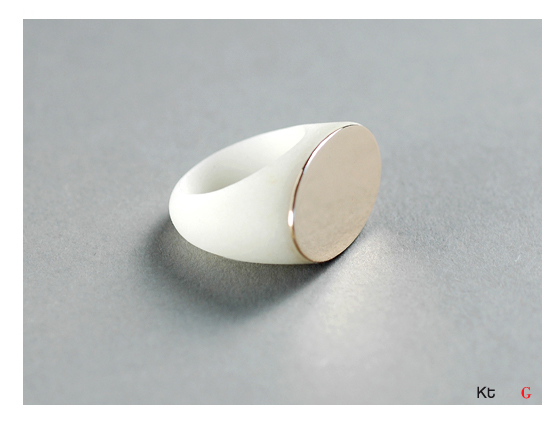 Fisherman's Ring by Stefan Heuser: I absolutely love this ring; it's gorgeous and sort of gross. The white part of the ring is made from breast milk that was turned into a powder and then combined with a special glue. The oval is gold.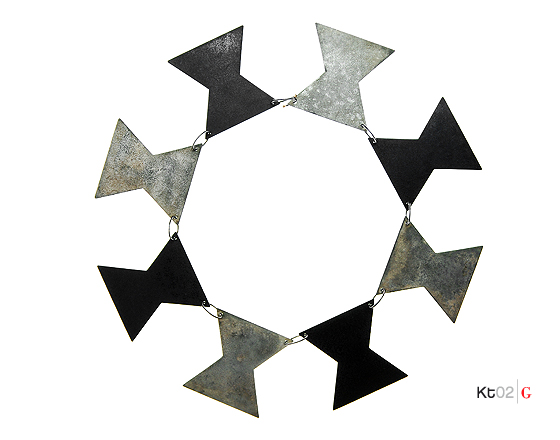 untitled by Tore Svensson: Not something you wear everyday, and maybe not something you wear ever. But I love Svensson's approach to treating flat surfaces of geometric shapes.
Blue/Green Still Life & Purple Still Life by Gésine Hackenberg: Broaches – no matter what they look like – have always seemed so un-contemporary to me. But being able to pin on a still life changes everything.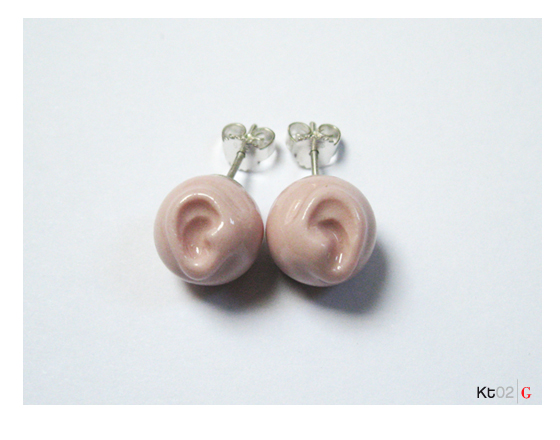 Pink Pair by Manon van Kouswijk: Truly strange.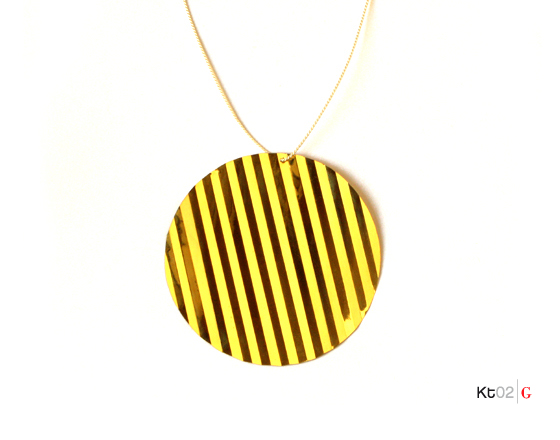 Sun by Marc Monzó: This 18k gold pendant reminds me of Miami.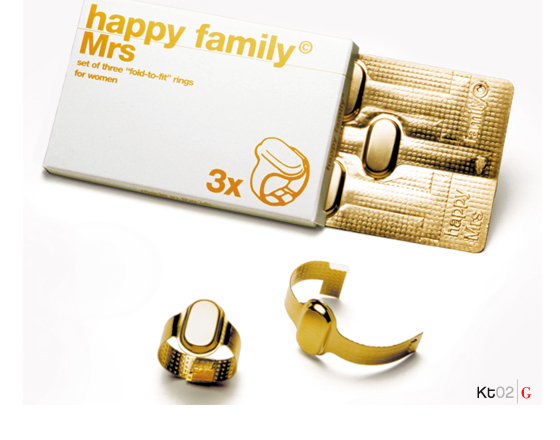 Happy Family Mrs by Benjamin Lignel: "Think of it as an aesthetic band-aid," Lignel writes about his gold-plated paper wrist bands.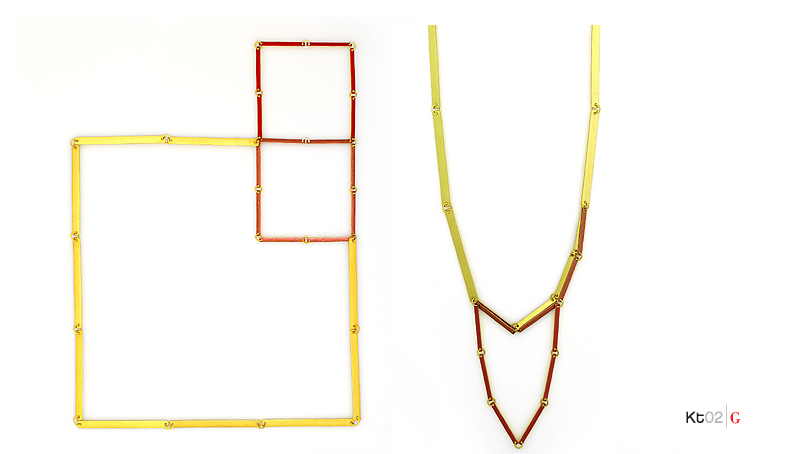 Beautiful City – Red Pink Cabinets by Annelies Planteydt: I love how Planteydt plays with the effect of gravity on such mathematical designs.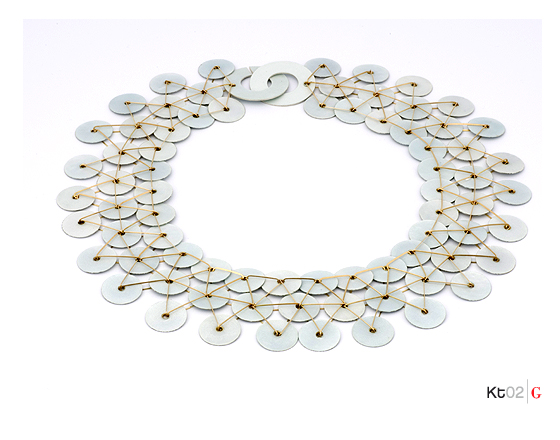 Lace by Ralph Bakker: Silver discs strung together with gold takes simple to striking.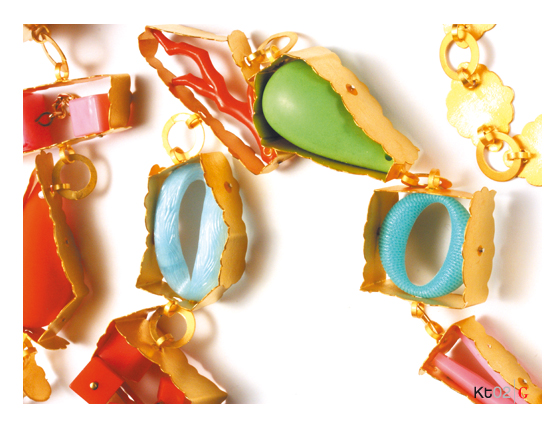 Boxes and Components by Helen Britton: "In having been produced quickly and cheaply, I enjoyed the freedom of design I found in these small objects," Britton says of the plastic pieces she found in an old warehouse. "I wanted to give the elements the chance to continue their lives in a new context, without denying their roots."
CLICK HERE to view the entire Klimt02 2010 Collection.
CLICK HERE to see more Jewelry posts on Ponoko.