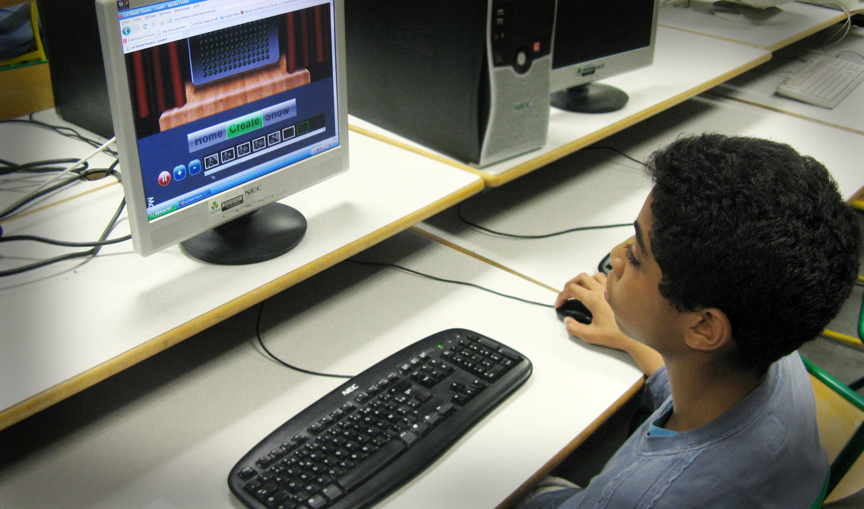 guest article by Thomas Maillioux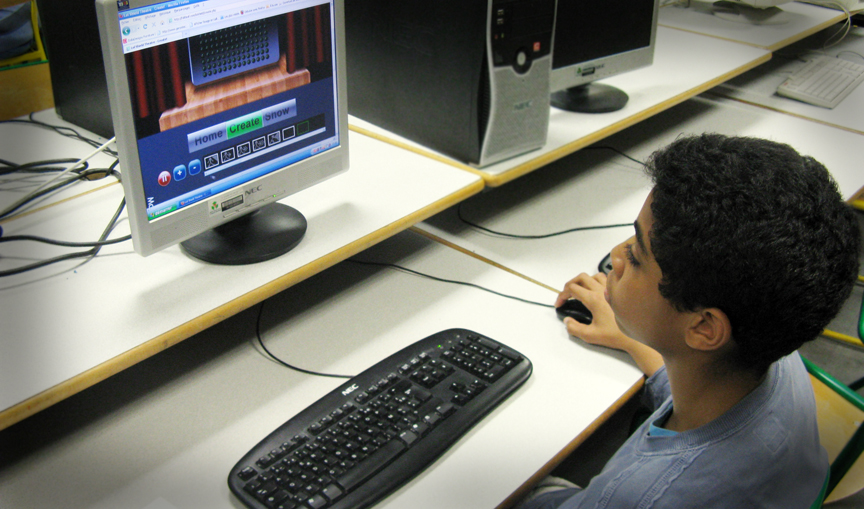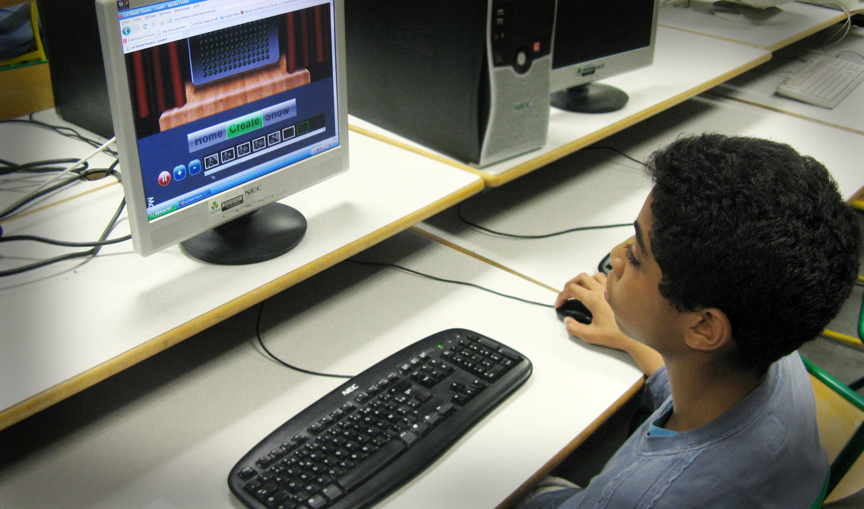 above: David designs an animation for his LoL Shield with LoL Shield Theater
Editor's note: Several months ago I put a call out on this blog for a DIY electronics blogger, and I couldn't believe how many funny, friendly, fantastically qualified people from all over the world responded.
One such person was Thomas Maillioux, an unconventional librarian in France. He told me about his work to bring hackerspaces into the libraries of public schools in metro-Paris to teach kids about electronics, programming, design, and even 3D printing.
He graciously accepted my invitation in broken franglais to tell his story here on the blog. I hope you enjoy!
---
What happens when you turn a middle school library into a hackerspace?
by Thomas Maillioux
A hackerspace at school
I was lucky enough to work through the 2010 school year with a bunch of brilliant, curious pupils at the Evariste Galois middle-school in Epinay sur Seine in the northern suburbs of Paris.
2 hours a week, we'd meet up at the library to try and answer — through research and tinkering — all the questions they had about computers, electronics, gaming and programming.
We created a small hackerspace where the kids programmed RFID tags, designed a logging system of their own with Touchatags and Google Docs, created animations with Arduinos and LoL shields, compared automatically-generated and human-written code, and even designed their own video games. So what did I learn from this teaching-meets-tinkering experience?

"My project, my pace"
All of the projects I mentioned were chosen by the students themselves. For them, being able to decide what to work on was a huge motivator to actually doing the work — something which might also explain the amazing amount or work the pupils achieved over the few months of the hackerspace experiment. They wanted to come to school early and stay late so they could tinker together!
Making stuff, one mistake at a time
The projects these kids took on were a little tough for 1st and 2nd year middle-schoolers. But working without pressing deadline and outside the classic structure of a classroom allowed them to fail — and to figure out what needed to be fixed and how to fix it.
Learning that mistakes are an opportunity and a natural part of learning rather than evidence of not being good at something is an extremely valuable lesson.
Teaching each other, teaching the instructor
Throughout the year, the members of our little hackerspace had the occasion to teach each other basic programming, electronics and 3D design. They were pretty wowed at the fact that they could teach each other skills and share tips. But the kids were totally surprised when they saw one of their own teaching me the basics of a 3D design program called Blender!
Knowing that you have something special to share, no matter your age or that of the person you're talking to, is definitely an empowering experience for a teenager.
What now?
I have since left my position as Evariste Galois middle-school's librarian and taken a new position as an ICTE librarian at the Académie de Créteil, but the Galois pupils and I have taken the time to write down all that they accomplished and all they want to do next year — starting with designing a video game for [local/national/international] competition. Keep your eyes open for their next achievements !
---
Tom Maillioux @bookmore