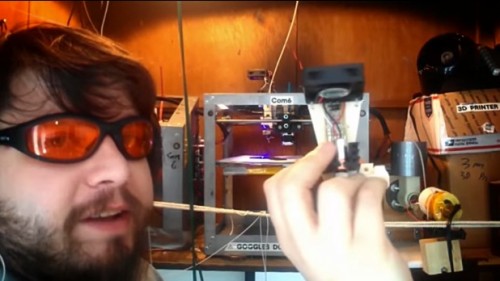 L-CHEAPO conversion kit brings laser cutting to the masses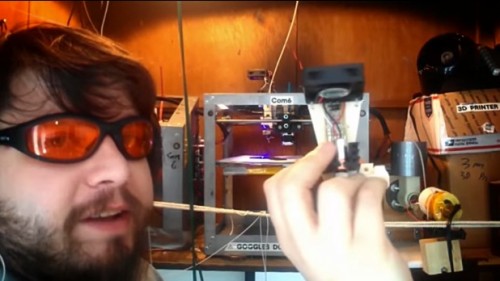 Imagine turning a desktop 3D printer into a laser cutter without compromising its printing capabilities. That's what Matteo Borri from Robots Everywhere has done, and the L-CHEAPO laser cutter attachment is now the focus of a wildly successful Indiegogo campaign.
Capable of cutting 3/16″ wood and 1/4″ acrylic on any hobby grade 3D printer or CNC mill, this clever little attachment runs off the existing machine's power supply and software environment. Once the attachment is set up and configured, in a matter of minutes you can swap back and forth from laser cutter to 3D printer functionality.
"you can switch from laser to printer mode and vice versa in less than two minutes, with no tools"
Why would you want to do this? For one thing, laser cut parts tend to be much tougher than the thermoplastics used in 3D printers. This means the scope of making possibilities is significantly widened, all from the one machine.
Matteo is looking out for the little guys with this project, with the goal of making laser cutting accessible to those who might otherwise be hindered by the substantial initial investment that is traditionally associated with purchasing a laser cutter.
"I hope that this allows high school shop classes, small universities and local hackerspaces to be able to work with a wider variety of materials and techniques"
He also promises that there are larger, more powerful lasers in the works. It will be interesting to see what the big brother to L-CHEAPO is capable of.
The 3D printed component is available to download from Thingiverse and you can head to Indiegogo for further info and project updates.
Here's a little extra, just for fun. Proving that he is serious about his DIY laser cutting prowess, Matteo uploaded this geekily amusing clip of the Tetris theme song, as played by an L-CHEAPO laser cutter in action.
via Hackaday