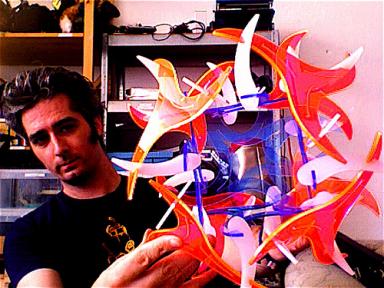 I first came across Bre Pettis' work when the hacker collective to which he belongs, NYCResistor got their hands on their own laser cutter and started getting very busy with it! Since then his name just kept popping up so I caught up with him via email to ask some pertinent questions about his recent project, Thingiverse, and the future of making in general..
I read that you used to be a teacher – how from that did you come to the maker scene and to help set up the
NYCResistor
group? Are there many similarities between the jobs?
"When I was an teacher, my mission was to give students as many different pathways to personal expression as possible so I taught drawing and painting, but I also filled the gap that appeared when shop and home economics were wiped from the national education map by teaching sewing, ceramics, and sculpture. Children are the absolute lowest priority of the American people as a collective community. I see the main goal of teaching to inspire young people to explore possibilities and develop skills and support them to find their path in life. That's nearly impossible to do that as a teacher these days with the "No Child Left Behind" policies of the last 8 years that have focused on schooling on test taking."
"While teaching, I started making videos for my students and their parents to showcase student work and let parents see what their kids were up to. I started dedicating all my energy to doing videos that showcased people who make things and tutorials. I just taught in the day and shot and edited video until I collapsed at night. I became a bit obsessed. After that year, I switched over to video production full time. Every week I would decide to make something and by Friday, I had to a have a video tutorial showing people how to make it too. For ambitious projects, I collaborated with the community at Hackerbot Labs to make hovercrafts, drawing machines, near space balloons. Now, with my video series, "Things," which you can find on my blog at
http://brepettis.com/blog
, I'm making short form videos that are a mix of howtos and interviews with people who share their projects and their passion."
Can you talk a little about your the
Thingiverse
website and how Zach and yourself hope it will develop in the future?
"Thingiverse is a place where anyone can share their digital designs. It's wonderful. We made it because we wanted a place to share design files and we thought other people might want to do this too. It turns out it's really fun. Amazing things pop up every day! Our main goal for the future is to support people in making the digital designs in their imagination become reality."
You're clearly a great facilitator for other people, does this come at the cost of not being able to pursue your own creative projects?
"It's a bit of a balancing act to make things and support other's creativity but if I make something for myself I can't help it, I have to share it. There is such a powerful sense of satisfaction from sharing ideas, designs, and tutorials so that other people can benefit from what I've done, improve it, and take it further. Being able to support others' creativity is an act of service for me and if at the end of my life, someone can say that their life was a little more creative for having encountered me, I'll be happy."
How do you see groups like local hacker collectives, local digital fabrication businesses, online maker communities and the rest of Joe public interacting in the future? Will everyone be able to make everything, locally, to their specification one day?
"Everyone may not want to make everything in their life at their local fabrication space, but I think having the option to get wonderfully designed things that can be manufactured nearby and customized to your specifications is having a powerful impact on the world."
"I think hackerspaces and creative communities with access to rapid prototyping equipment is what is going to de-stabilize the widespread dependence on corporate, centrally manufactured goods and I'm happy about it. We all know that the way the world works right now is shifting and I believe strongly that small groups of creative people with access to tools and the motivation to make their dreams a reality is the future."