Stability of MDF with beauty of natural timber grain
MDF is possibly one of my least favourite materials.  It has no soul, although it's certainly very practical.  There is also something unsavory about the word "veneer".  The connotation of falseness is ever present and is at odds with my like of material honesty.  But you cannot argue with practicalities of using a wood material that won't warp or shrink or crack.  Besides, the veneer is a real timber – thinly peeled off a rotating tree trunk and laminated onto the MDF sub straight.   The different grains do look authentic and beautiful, and their surface can also be treated with various waxes and varnishes to both seal the surface and enhance the grain.  Check out the surface treatment options for the US and NZ wood materials.
The practical and aesthetic properties of veneer MDF make is an ideal material choice for display design and furniture.  Colin Francis uses Rimu to make engraved wineracks and similarly planar flat-pack Test Tubed vases.  The Hands shelf is by Studio Wun and is available in various finishes.

Wall art is another common application for this month's material.  We've interviewed MODULA.R.T's Donald Rattner in the past – MODULA.R.T have designed a whole customisable system of wall ornamentation using a combination of veneer MDF and colour acrylic or felt.  Otto Gunther's approach to wall art is entirely different – combining digital fabrication with painstaking finishing by hand to produce one off pieces.

Veneer MDF engraves beautifully, and both raster and vector engraving can produce outstanding detail, like in Peppersprouts coasters cut from Cherry.  Blimp Cat Studio create custom cake toppers from Walnut veneer, and Kai Howells offers customised Rimu veneer trophies.

Even little objects like jewelry can be successfully cut from veneer MDF.  Australian designers Little Miso and Nevertheless are big fans of the American Cherry, and Bonnie Poplar uses also uses this material for her brooches, along with the Rimu.

On the topic of jewelry, this month's free design files are for jewelry trees.  The small Swirl stand is designed for US veneers, while the large tree is designed for the NZ stock.  Of course, the base slots can be adjusted in thickness to accommodate materials from either hub.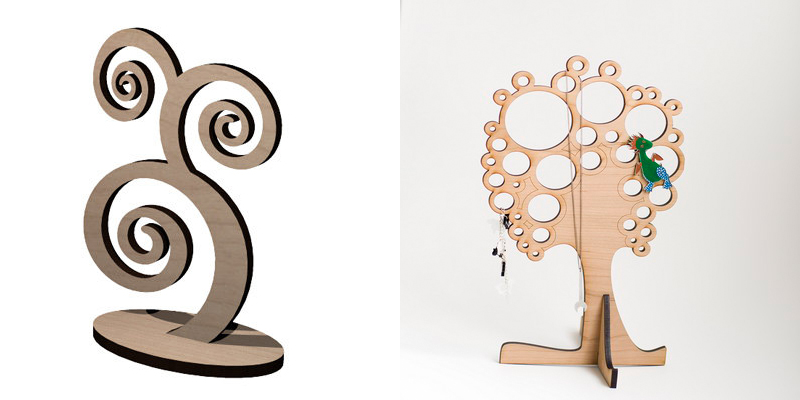 Ponoko US offers Cherry, Walnut, White Oak
Ponoko NZ offers Rimu, American Cherry, Maple, Tasmanian Ash, White Oak
Get your material samples of US: Cherry, Walnut, White Oak; NZ: Rimu, American Cherry, Maple, Tasmanian Ash, White Oak