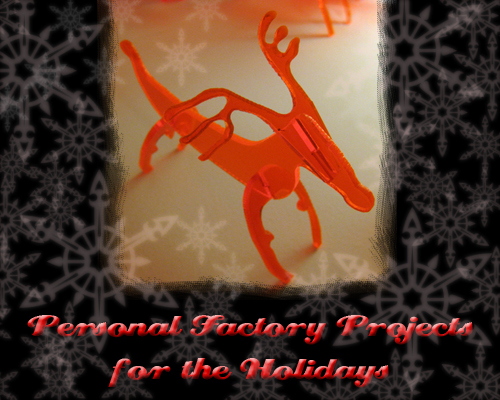 Plus make-your-own Christmas decorations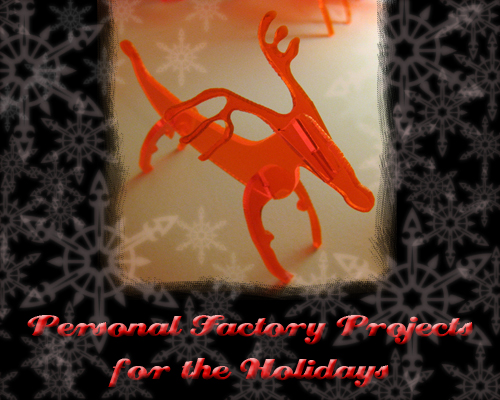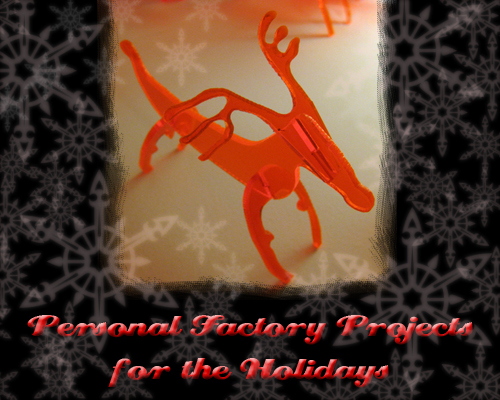 The time for giving is almost nigh, and the best kind of giving involves designing something yourself and beautifully crafting it, or finding something unique that wasn't made by pre-schoolers in a third world dungeon.
We've got gift ideas, design inspiration as well as free files for making your own Christmas happiness.  There is the annual checklist: decorate the tree, decorate the house, decorate yourself.  Of course, some people decorate their pets also, but there's something not quite right about puppies in acrylic tiaras.
Lots of designs under the cut:
Decorate the tree: Whether your tree is real, plastic, cardboard, a pot plant or an old twig, there is probably enough space on it for some ornaments.  The adorable Sheep Ornaments are made from bamboo by Girl on the Rocks.  They are sold 'shorn' to be custom 'fleeced' in your own yarn.  Once they are off the Christmas tree, they can be used as bobbins for scrap yarn or thread.  Digits' much blogged about Controller Ornaments will geeken up any tree.  A closer observation of PepperSprouts snowflakes reveals that they are made up of animals!  Hanging them off a present before hanging them on a tree is an efficient use of the proverbial one stone.  Skruff's bamboo and plywood ornaments are made for the New Zealand summer Christmas and won't look too out of place on a back yard pohutukawa.

Decorate yourself: If you don't want to tell grandma what you really did with the Christmas sweater she made you, you can always say that you're not wearing it because it clashes with your holiday jewellery.  Santa obviously thinks you've been naughty this year, hence the wrathful appearance.  Wear the pendant to scare the kids into going to bed early, so Santa can't get them.  Alternatively, a more conventional snowflake design or SuperVery's elegant Reindeer brooch may more appropriately convey your holiday spirit.

Decorate the home: You may want to balance out your interior of red and green tinsel and blinking fairy lights with something chromatically subtle.  Kyle A Koch's coasters are available in different materials and will protect your antique cabinet from the guests' many beverages.  Chromatophobic durable flat pack Christmas Trees can stand up to abuse on any dinner table.  Vanilla Design fruit bowl is one gigantic snowflake.  The greenedge acrylic looks just like glass.  And if you're after an animal head trophy that won't offend your vegan friends, a faux reindeer head from SuperVery is a sure winner!  The flatpack parts are perfect for decorating and would make for a fantastic Christmas day craft project.  SuperVery is also offering free pre-Christmas shipping in New Zealand with a LOVEPONOKO shipping code.

Free designs: We have a few free design files to give away: a laser cut reindeer that you can engrave with someone's name, a laser cut snowflake and 3D printed Christmas tree decorations, which are very cheap to make and can be dyed (or even covered in glitter).

Don't forget the holiday making deadlines!