You can even get some of it for free

If you're in an office environment, you probably see melamine whiteboard every day.  It's a very common material for shelving inside cabinets.  Your bathroom cabinet is also likely to be made from this stuff.  Whiteboard, and no, not the type you find in a classroom, is MDF that's been coated with a thin, durable veneer of melamine.  The veneer is cleaner-friendly, and unlike uncoated MDF, it is moisture resistant.  Laser cutting whiteboard provides a very useful bonus: the heat from the laser seals the edges, making them more hard wearing.  Provided, the carbonised surface is not sanded off, the laser cut edge is considerably less susceptible to absorbing moisture than a conventionally cut one.
I have a whiteboard version of the madebydan coffee table that's at least four years old.  It's practically never free of clutter, it is frequently used as a step ladder (sorry, Dan), a crafting surface, drinks are spilled on it, food gets dropped on it.  Right now I have my feet on it.  Yet, after a quick wipe with a damp sponge, it's nicely white again.
Whiteboard products and projects after the jump:

Furniture is a common application for this material.  Carla Diana has created a variety of different objects out of 9mm whiteboard, and Chris Molloy used it to make a flower shaped headboard for his daughter's bed.  Chris also laser cuts routing templates from the whiteboard to use for woodshop furniture projects.  The smooth coating of the melamine allows the router to glide with ease.

Homeware and displays are other areas where whiteboard is a suitable material.  Madebydan laptop stand is durable, very easy to assemble, and you can download the file to make one yourself.  The modular winerack is also easy to assemble with no glue required to hold it together.  It comes with two types of connectors: single slot for either top or bottom and double slot if you want to stack two modules into a bigger winerack.  You can make your very own by downloading a FREE file.  One P3 sheet of material makes one module.  Jewelry designer Isette used whiteboard to make a display for her products.  This is where this material really shines: it's more refined than uncoated MDF, has a completely even finish that's not found in plywood, and it's much more durable than acrylic.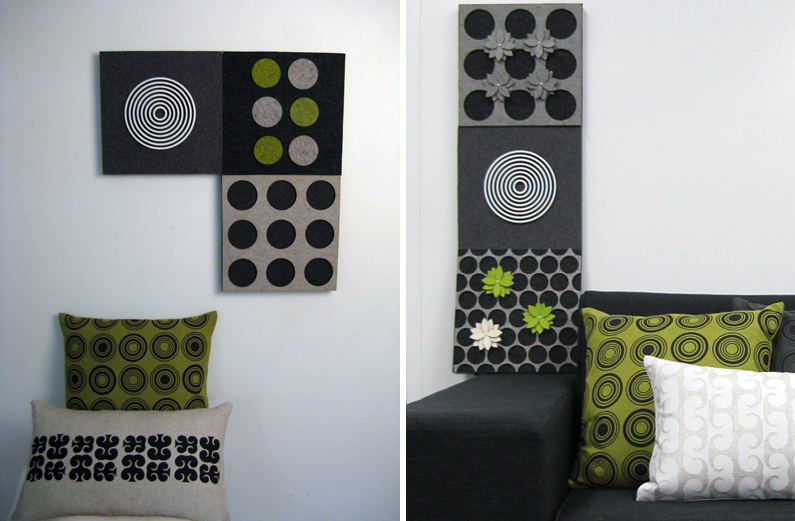 A more unusual use for whiteboard is art.  Wellington artist Michelle Smithard works mostly with textiles, but she also uses whiteboard in her wall panels.
Whiteboard is available in several thicknesses from Ponoko US and Ponoko NZ.
Don't forget that you can get FREE 9mm whiteboard from Ponoko NZ until the end of the month!