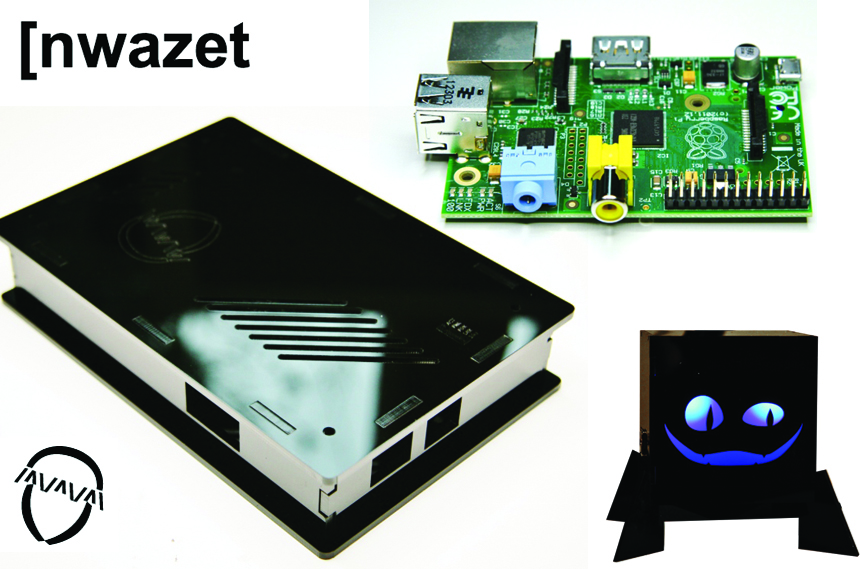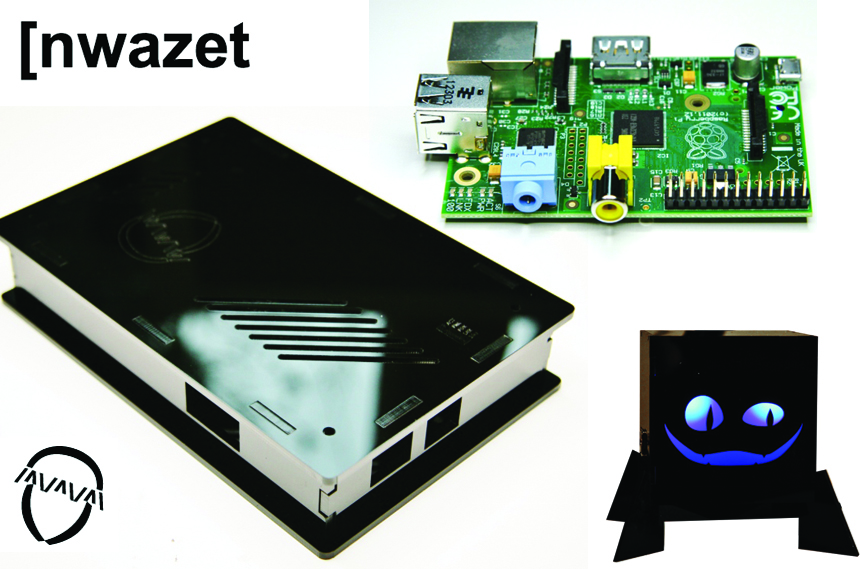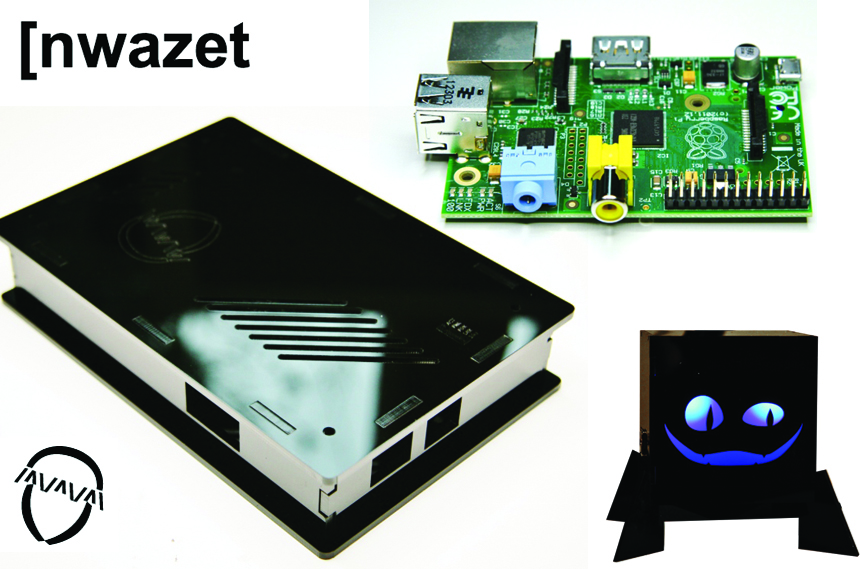 Ponoko-Made Products From Fabien Royer And Bertrand Le Roy Of Nwazet
Nwazet develops and sells a range of unique electronic kits, parts and components. Recently, the company has been focused on creating new cases and enclosures for the Raspberry Pi.
As it says in the Raspberry Pi FAQ, "The Raspberry Pi is a credit-card sized computer that plugs into your TV and a keyboard."
Your Guide To The Raspberry Pi
Everything you need to know about Raspberry Pi.
Nwazet founders Fabien Royer and Bertrand Le Roy started experimenting with the Raspberry Pi late last year "and we just fell in love with it" Fabien tells me. "We felt that the educational goals of the foundation were very much aligned with our own, and we appreciated the sheer versatility of the product, which sits in a sweet spot between bare-metal microcontrollers and full blown computers."
For many of their Raspberry Pi products, they use Ponoko's laser cutting service as a "quick, cost-effective means of creating custom project enclosures without investing in our own laser cutter."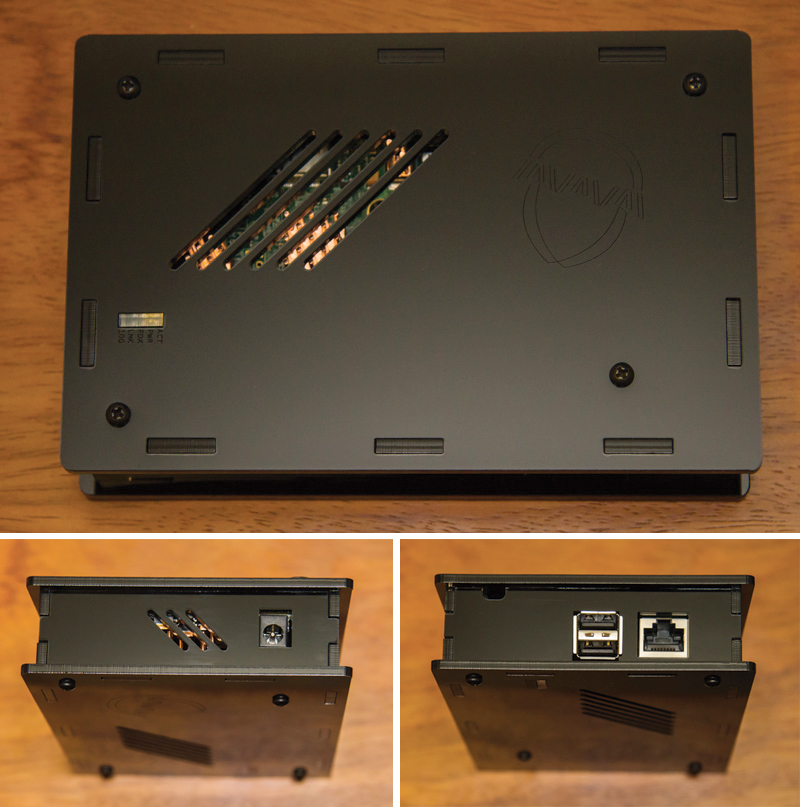 The Nwazet Pi Tuxedo case was specifically designed to house a Pi computer, a right angle stereo cable, the Nwazet Pi IR receiver and an optional Nwazet Pi power supply.
It was laser cut from our black acrylic and comes with all the pieces necessary for assembly.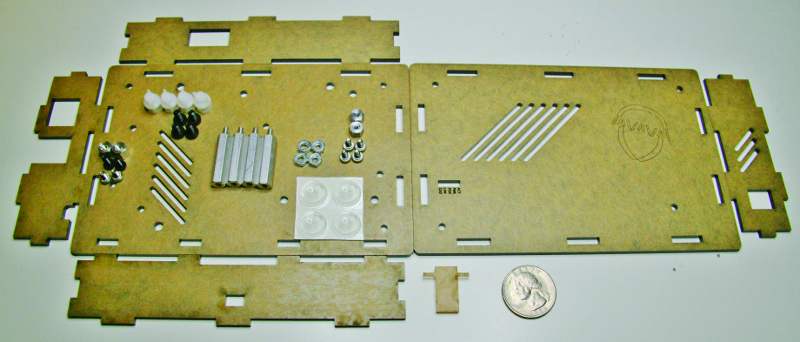 The Tuxedo case by itself is $16.50. It's also included as part of the Nwazet Pi Media Center for $99, which comes with a Pi computer plus software to enjoy photos, music and videos.

Nwazet's latest project is the Pi Head Case, a series of cute and colorful enclosures for the Raspberry Pi inspired by the computer game Minecraft.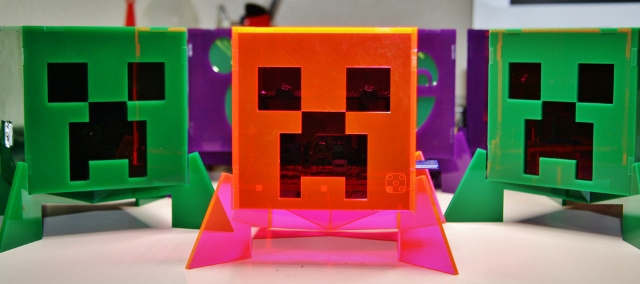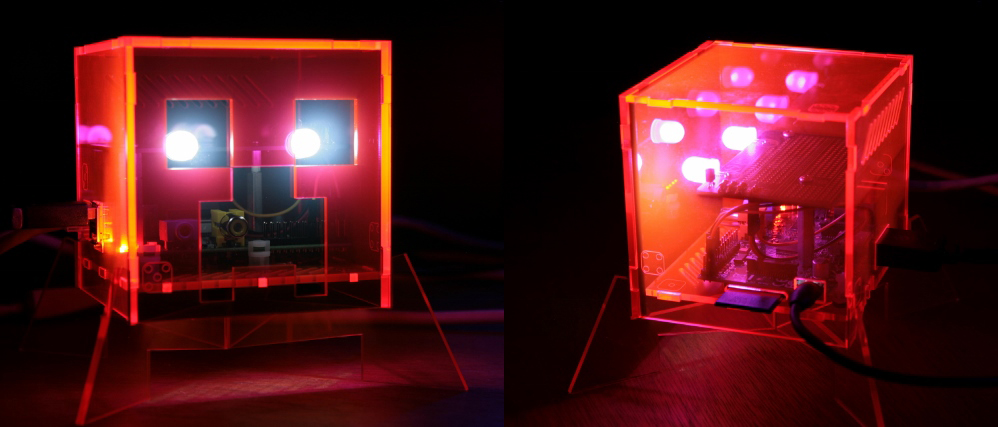 "Bertrand and I have kids who are avid Minecraft players," says Fabien, "and we got very excited last year when Minecraft announced a new Pi edition." To commemorate the release, Nwazet created blocky Pi cases in the shape of a Minecraft Creeper character.
To avoid any Minecraft copyright infringement, they re-designed the front panels of the case with different faces. You can choose from four different characters and five different acrylics. And if you've got some vector design skills, you can download their SVG file and design your own faces.
The Nwazet Pi Headcases are $25, and you can add LED lighting for $6.50.

Making 3D designs with laser cutting isn't easy as Fabien can attest: "Designing the 'Pi Head Case' proved to be a challenging undertaking. It was our first attempt at creating a screwless 3D case from 2D acrylic parts. It took several prototypes to get the correct fit for the various pieces. We were pushing the tolerance limits of the material and the cutting precision of the laser throughout the entire process."
To learn more about making your own electronics enclosures, check out Your Guide To Making Electronic Project Boxes.