Seriously, it's not just flooring material.

Bamboo, either in laminate form or as plywood has been a popular material choice in interior finishes since the 90's. The sustainable growing and harvesting reputation has aided bamboo's popularity, and it's now featured more and more in product design.
The wood products' prominent grain and warm hues make it stand out from a myriad of other plywoods and timber laminates. Bamboo also laser cuts beautifully and is one of the most popular material choices in Ponoko US and NZ. Both hubs offer different thicknesses of bamboo in plywood and natural laminate form.
The thin, durable plywood can be cut to a fine detail and is perfect for jewellery making. It is, by far, the single most popular material in the NZ catalogue. Many jewelry makers work with this material almost exclusively. Daphne Olive makes nature inspired pendants and brooches in stainless steel, silver and bamboo. Bamboo is a wonderful choice for the Gilded Butterflies range of jewelry, as it's not too thick, durable and easily finished. The Harbinger Co is also a big fan of the ply.

In the case of Kimono Reincarnate bamboo is not only a practical choice, but also a semantic one, as it helps express the designs' Japanese influence. Other jewelry examples are a bracelet from Paul Krix and Tiger & Hare's tiny ear studs.

Bathsheba Grossman's sculptural Trilo light is designed for Bamboo Plywood. And yes, the much blogged about Folding Ukulele by Brian Chen is also made from none other than bamboo! These ukuleles are casually dancing through the US Bamboo Plywood stock like there's no tomorrow. Because it's thin, the plywood is fast, and therefore cheap, to cut. This makes it an excellent choice for little projects that don't want to look like a cheap prototype. Ruth Korver made really cute dioramas for a Monsters exhibition. We didn't think they would cut well because of the intricate detail, but Ruth proved us wrong!
The Natural Bamboo is laminated from strips of bamboo that are square in section. It's a pretty solid and weighty material – great for making various homewares. The US 3 Ply version is also thicker than the standard ply. Here we have Jordan Waller's Figgi G lamp that holds itself together without any glue or fasteners; Josh Reuss' Sushi Board and a sheep knitting gauge from Girl on the Rocks.

Another popular application for the thicker bamboo is clocks. Serious clocks, fun clocks, wall clocks, table clocks…. You get the idea. There's the interlocking Hex Clock from Random Walk Design Lab, which can be either free standing or wall mounted. And there can be no talk of clocks without mentioning DecoyLab's impressive range.

This month's material giveaway file is an animal puzzle. It features all kinds of Natural Bamboo animals snuggly fitting together without any carnivorous carnage. Download the design file for free here.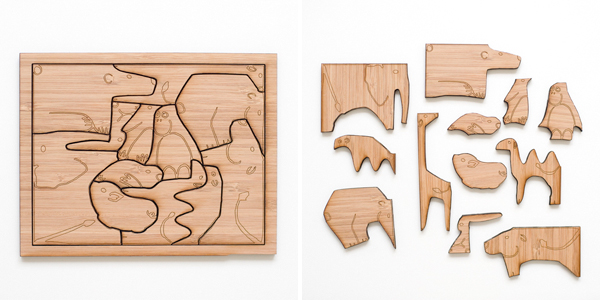 Ponoko US offers Amber, Amber 3 Ply, Blonde
Ponoko NZ offers Ply and Natural
Get your material samples of US Amber, US Amber 3 Ply, US Blonde, NZ Ply, NZ Natural