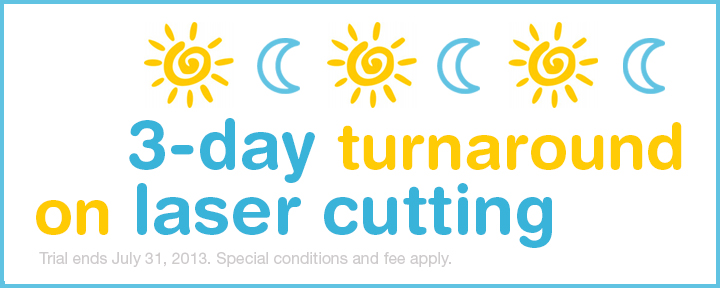 Trial period through July 31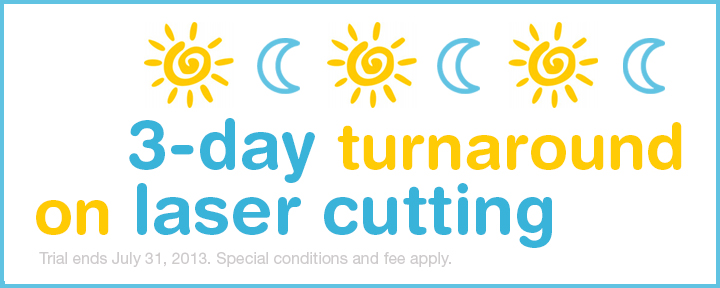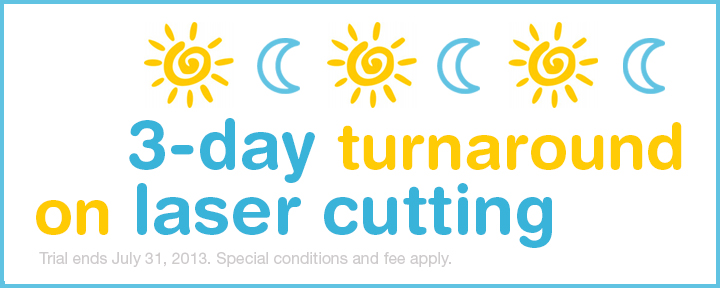 We recently surveyed everyone on our newsletter list, combed through the results, and put together a top 10 task list of things to change, improve, and generally get done here at Ponoko. One of the key requests was faster turnaround.
So for the rest of the month, we're going to offer guaranteed 3-day turnaround in the US and NZ for a small fee. By 3-day turnaround we mean cut, packaged, and sent within 3 days. Shipping times will remain the same.
This trial is to get a sense of the actual demand for 3-day turnaround and what pricing might work for you and us. So let us know you want faster turnaround by placing a 3-day order (or leave us a comment).
How to get 3-day turnaround on your order:
---
1. Upload your file, and place your order.
2. Type "3DAY" in the *special shipping instructions* —AND— include your PAYPAL email address!
3. We will email you a PayPal request for a fee based on your order amount (see fees below). If for any reason we can't get your order out (such as out-of-stock materials or your files literally take 4 days to make) we'll email to let you know and work something out.
3-day turnaround fees:
---
(Order amounts below *do* include shipping charges.)
• Orders up to $50 = $10 fee
• Orders from $51 to $100 = $20 fee
• Orders from $101 to $150 = $30 fee
• Orders from $151 to $200 = $40 fee
• Orders from $201 to $300 = $60 fee
• Orders from $301 to $500 = $100 fee
• Orders from $501 to $1000 = $150 fee
• Orders over $1000 = contact us at service-at-ponoko-dot-com
Why faster is better:
---
You guys asked for faster turnaround so you could prototype new products quickly and deliver the products you make and sell to your own customers asap. We tested faster turnaround in NZ in May. Here's what some of our customers had to say:
"Cutting my prototyping turnaround from 2-3 weeks to just one week is a HUGE benefit to me." – Jenna of Jenna Appleton jewelry
"The rapid turnaround time allowed me to make design changes and test them on my prototypes fast, keeping the creative flow and enthusiasm for the project strong." – Marc of l8ter.com
"I loved the peace of mind that came with the quick turnaround, not having to worry about how long a queue my work was in." – Melanie of Kimono Reincarnate
Get 3-day turnaround on your order now:
---
Place your order. Type "3DAY" in the special shipping instructions AND type your PayPal email address.
---
Got questions?
Leave a comment or drop us an email: service-at-ponoko-dot-com
P.S. 3-day turnaround is NOT available on metal laser cutting.